Never a dull moment when it comes to Ovechkin
November, 13, 2008
11/13/08
3:25
PM ET
You have to give credit to
Alexander Semin
.
As much as I disagree with what he said about Sidney Crosby a few weeks ago, the Washington Capitals winger has put his money where his mouth ever since, continuing his torrid start to the season.
[+] Enlarge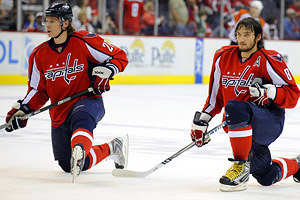 G Fiume/Getty ImagesAlexander Semin, left, and Alex Ovechkin have combined for 40 points so far this season.
His five-point night Wednesday again gave him the NHL scoring lead over Evgeni Malkin. Semin's 27 points (13-14) in 15 games a truly amazing start.
"He's great right now," Caps linemate Alex Ovechkin said Thursday. "It's just the beginning, but I hope he plays the same all year."
Ovechkin joined us on an NHL media conference call. I started the proceedings by asking him how much fun he was having playing on a line with Semin and Nicklas Backstrom. Talk about an offensive juggernaut.
"You're right, we're having so much fun out there," Ovechkin said. "We're just controlling the game, I think. ... It's very cool."
Ovechkin was less thrilled with our resident ESPN.com blogger about 10 minutes later when we asked him about the Semin/Crosby controversy.
"I think it's just the translator and it's about media guys -- about you," Ovechkin said. " ... but I think Sasha [Semin] can say that [Crosby] is a good player. I talked to him about it and he said it was just a bad translation.
"Everybody knows who Sidney Crosby is and how he can play hockey and how he's good."
(Note to Ovechkin: Blaming the media is an old, tired game.)
Ovechkin, meanwhile, is also on fire of late after a slow start. He has eight points (2-6) in the five games since returning from Russia, where he was visiting his ailing grandfather.
"I feel great, I feel great. I feel free right now," said Ovechkin, who has 13 points (4-9) in 13 games this season. "I'm enjoying my time again right now. I'm not thinking about nothing other than enjoying the game."
He admitted to Lynn Zinser of The New York Times on the media call that his grandfather's situation had been weighing on his mind earlier in the season.
"Oh yeah, it was a hard time for me," he said. "I was thinking about what was going on over there. But now I know he's fine ... and I tell myself, 'You can do nothing.'"
We leave you with the funniest part of his 20-minute media call. Someone asked him about whether he would considering switching to a wooden stick for key moments in a game so that his one-piece doesn't break at an inopportune time, like they often do.
"Wood stick? No. It's not the '70s or '60s," he said.
Never a dull moment with Alex Ovechkin.
Rutherford in Toronto?
Nice scoop by TSN's Bob McKenzie today, reporting that veteran Carolina Hurricanes GM Jim Rutherford actually turned down the GM job from the Maple Leafs back in August 2007.
"I have no comment," Rutherford told ESPN.com on Thursday.
Interestingly, it was right around that time that Rutherford signed a five-year extension to stay as Hurricanes GM. Never hurts to be wanted!