QOTW answers: Backstrom, Lundqvist, Thomas getting your early Vezina votes
November, 26, 2008
11/26/08
3:29
PM ET
[+] Enlarge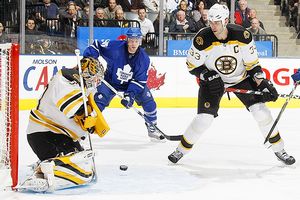 Dave Sandford/Getty ImagesThrough Nov. 26, Tim Thomas led the league in save percentage (.944).
With
Martin Brodeur
and
Roberto Luongo
out with injuries, we asked the ESPN.com puckheads to come up with their Vezina Trophy contenders for this season.
Of course, if Luongo is gone for as little as two weeks, you can bet he's still in the running. But if it's a month or so, he's probably out.
We should also point out it's the NHL's 30 GMs who vote on this specific award, not the Professional Hockey Writers' Association.
Let's take a look at some of the banter:
---
NikolaiJumba: How Do You Not Mention Nabokov with Brodeur and Luongo? Last Year He WAS the RIGHTFUL Winner of the Vezina, He Beat Brodeur Across the Board In Stats and Had More Wins. Bias Sports Writers. Obviously at This Point In The Season It Would Be Thomas.
My take: Again, just to be clear, the GMs vote on the Vezina and not my crowd, the venerable hockey writers. So, get it right, people!
---
KepowOb: Being from Montreal, I hate to say it, but Tim Thomas is putting up some very impressive numbers right now. His play so far has been off the charts. Now, I don't know if he'll be able to keep this up for the rest of the season, but even if his play drops off a bit, there aren't many starting goaltenders who are doing half of what he is at the moment. He's proving a lot of scouts really missed out on him throughout his journeyman career right now.
MarkX8oP: Without a doubt the Vezina goes to Tim Thomas … after starting the season in the middle of a goalie controversy, Thomas has established himself as the No. 1 goalie for the Bruins. Thomas has led the Bruins, a team which barely made the playoffs last year, to the top of their division. Perhaps what is most impressive is the fact that Boston has been able to knock off Montreal twice this season after losing every regular-season game it played against the Habs last season. Without the stellar play of Tim Thomas, the Bruins would most likely be at the bottom of the division with the struggling Senators. Not only should Thomas win the Vezina, but he should be a legitimate contender for league MVP.
troy.theberge: How is this even a question? If all things stay as they do right now for the rest of the season, there is no question whatsoever that Tim Thomas is far and away the most deserving for the Vezina. Even with Brodeur and Luongo healthy, the way Timmy is playing right now is phenomenal. He is playing like a true Hart candidate, much less Vezina. This isn't even a question, Timmy by 5 lengths.
dropkickmurph14: It's absolutely laughable to go with anyone but Tim Thomas at this point. As a die-hard Bruins fan I have watched the entire country completely disrespect Thomas' underrated efforts since he started here. … The fact that he was left off the All-Star ballot while a guy like Vesa Toskala was put on the ballot is just another example of mismanagement that has put the NHL in the hole that it is just now attempting to climb out of. But while the award will likely end up going to someone like Henrik Lundqvist because he is a great goaltender playing for the Rangers in the New York market, Tim Thomas won't complain, he'll just humbly continue to lead the Bruins, happy to have an NHL job.
My take: Well, well … another week, another platform for Bruins fans to weigh in on -- heavily! They dominated the board again this week, and why not, with the way their team is playing right now. Thomas absolutely deserves to be considered in the mix for the Vezina right now. He's been a rock. The numbers back it up. It took him longer than most elite goalies to figure it out, but we can no longer ignore the fact he's among the best 10 netminders in the entire world. And that's saying something for a guy who played in Finland just a few years ago. If he can keep his overall numbers in the top five throughout the season and the Bruins don't tail off too much, Thomas should be among the three goalies to get a nomination come the spring.
---
rebelsofchaska: If the votes were given out based on overall performance (not just W-L-OL, GAA, SP, SO), it would have to go to the Minnesota Wild's Niklas Backstrom. His sudden turnaround from last year's dismal shootout record to tops in the league shows he is starting to earn the big contract Minnesota signed him to two seasons ago. Given the recent absence of key blue-liners Kurtis Foster (injury) and Brent Burns (moved to forward), it is obvious that the netminder is the strongest piece of this team. I do not see them falling out of the playoffs with Luongo out in Vancouver. Backstrom all the way.
butters031: it's gotta be Niklas Backstrom. the offense, or lack thereof, is the reason he's not perfect. the only game in which things got away from him was the Buffalo OT game, and in that case the defense kinda left him hangin'. Tim who? Pascal Leclaire had 10-plus shutouts last year and now he's only an average goalie. Thomas is very capable of the same fall from grace. Backstrom, on the other hand, has been a Greek statue the last three years; he just won't crumble and fall apart.
backflipboi19: It's gotta be Backstrom. I'm a die-hard Devils fan, and with apologies to Luongo, Marty is still the best in the game and would have won another Vezina this year if he didn't get hurt. But if there's a Marty in the West, it's Backstrom. Minny has little offense, especially with Gaborik hurt constantly and the only solid point production coming from Koivu. Yet they've been tremendous all year and that can be credited directly to the play of Backstrom. Nabokov is gonna post great numbers, but look at the team playing in front of him. Lundqvist is good too, but Backstrom is more valuable to his team and carries them a lot more than Lundqvist has too. Thomas has played out of his mind so far, but he's a smaller goalie who has a good chance of breaking down later in the season because of his stature and style of play. I'd have Backstrom winning, with Henrik finishing second and Thomas third.
My take: I'll tell you this much, if these readers are right and Backstrom gets nominated for the Vezina, there will be no greater benefactor than his pocket book. Backstrom is slated for unrestricted free agency on July 1. Cha-ching! I'm actually surprised Backstrom got this much support from the readers, although I probably shouldn't be because Minnesota fans are among the very best and most knowledgeable in the NHL.
He is indeed a fabulous netminder, but hurting his Vezina case (when it comes to voting) might be the fact some GMs will say his numbers are only that good because of Jacques Lemaire's defensive philosophy. Martin Brodeur had to overcome that bias in New Jersey before finally winning his first of four Vezina Trophies, in 2003 (I mean, even Jose Theodore won a Vezina before Brodeur!).
---
michaelhertzberg: King Henrik, for sure. Rangers would barely be a .500 team without him.
Rangers52386: Definitely Lundqvist. If you watch this guy, game in and game out, he is the by far the best player on the ice. He is top 5 in wins, GAA and SVP … what else do you want? He flat out does not give up bad goals. The Rangers do not score and they still have a good record. He has given up 2 or less goals in every game except 3! Now that's a Vezina winner.
riz1182: I feel that even if Brodeur and Luongo were not hurt that Henrik Lundqvist would be the front-runner anyway. As good as Jagr was and as good of a coach Tom Renney has been since the lockout, Henrik Lundqvist is the main reason the Rangers have been a factor for the last 3-plus years. He has been a candidate the last three years and this is the year he takes it. I have seen him take his game to another level this year and the Rangers will always be in a game because he is in net. If he continues at this pace for the whole year, maybe we start talking about King Henrik for the Hart Trophy!
BxBigDrew: First off, even with Marty "I'm a sore loser and I can't shake Sean Avery's hand after the Rangers destroyed us in the playoffs" Brodeur and Roberto Luongo not injured, Henrik Lundqvist woulda won the Vezina this year. After handing it to Brodeur last year, when he clearly was not the best goalie in the league, King Henrik will win it this year. Tim Thomas might have a chance, but there is no way he is gonna keep playing at the level he is playing at. Lundqvist is the best goalie in the NHL and he will win the Vezina this year.
My take: Regardless of what happens with any other goalie this season, it would be a shock if Lundqvist does not get nominated for the Vezina. The NHL's 30 GMs have already nominated him three consecutive seasons since the lockout and they're not going to knock him off that elite list unless he's seriously injured or finishes the season on a bad note. And, right now, he's once again having a monster year.
---
Sorothlisberger: Even with his injury, Evgeni Nabokov has to be considered the next in line to win the Vezina. Nabby placed second in the running last year, and based on how well the San Jose Sharks are playing, it would not be difficult for him to come back from his injury and run away with it. Tim Thomas will cool off and it would be very surprising if Backstrom did not do the same. Henrik Lundqvist is the only other option, mostly because the Rangers rely on him much more than the Sharks rely on Nabby.
My take: Nabokov was fully deserving of his Vezina nomination last season. The question now is whether missing seven games over three weeks will hurt him. The guy was 10-2-0 before he got hurt, so he had a good head start in wins (and, believe me, GMs look at wins before they look at any other number). Given the way the Sharks are playing and how many games are left in the season, Nabby still has a shot at being nominated again.
---
free2rhyme_jc: There is a goalie who is injured but coming back soon and his name is Marc-Andre Fleury. Listen, he might not top the list of goalies right now but once he gets one or both of his top D-men back, he will be a stud. Sometimes goalies are only as good as the men in front of them. The goalie position is not as solo as most would think. Fleury has been without Gonchar and Whitney, and Whitney is getting ready for his return. … Fleury will be the leading goaltender in the league along with his teammate Sabourin, who is a stud too, and both make the best tandem in the league. I rest my case -- Marc for Vezina 2009.
My take: No chance. Not this season. The day will come when Fleury gets his due, but with yet another injury this year, the GMs won't give him enough support to get in this year.
The last word ...
You did a good job narrowing the field. As I said at the top, Luongo is the wild card because, if he comes back in two or three weeks, he's definitely still in the mix. But if he's out longer than that, he's probably out of the Vezina race. To me, Thomas and Lundqvist are the two favorites right now, followed by Backstrom, Nikolai Khabibulin and Carey Price.
But to predict the winner, let's get in the mindset of the 30 GMs who will vote. The GMs traditionally believe strongly in seniority. When it was essentially a toss-up between Brodeur and Luongo two years ago, the GMs gave the Vezina to Brodeur, while the Professional Hockey Writers' Association actually gave Luongo more votes over Brodeur for the Hart.
My point is, if Thomas and Lundqvist are in a dead heat at the end of the season, there's no question the GMs will lean toward Lundqvist because he's already been on their radar with three Vezina nominations. It's not fair, but that's how the GMs usually think.
We'll see in a few months.