New outlook has Panthers' Anderson on top of game ... Tim Thomas style
December, 2, 2008
12/02/08
12:09
PM ET
Major Le-Brownie points for those of you who can guess off the top of your head which goaltender leads the NHL in save percentage with a sparkling .948 and is second in goals-against average at 1.87.
[+] Enlarge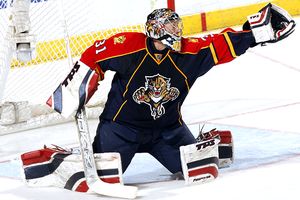 Eliot J. Schechter/NHLI/Getty ImagesHeading into Tuesday's games, Craig Anderson leads the league with a .948 save percentage.
Ticktock, ticktock, ticktock …
That would be Craig Anderson, who tonight is making his third consecutive start for Florida as the Panthers play at Washington.
"You just have to seize the moment when it comes and be ready for it," Anderson told ESPN.com last night, explaining his recent success. "If you're not ready when you get your opportunity, you'll look foolish."
Rookie coach Peter DeBoer told Panthers beat reporters after Sunday's 4-0 win at Madison Square Garden that, right now, he's riding the hot hand. That means Anderson is starting again over regular No. 1 Tomas Vokoun -- at least for tonight.
"I think [DeBoer] was quoted as saying the guy who is playing well and getting the team points is going to play," Anderson said. "I haven't really had too many conversations with him. But the bottom line is that it's a business. You're paid to win games and that's your job, and his job is to put the best players on the ice at any given time. So, we need points and we have to keep winning."
The guy sitting on the bench tonight makes $5.5 million this season, $5.7 million next season and $6.3 million in 2010-11 -- the last year of his deal. The guy starting tonight earns $575,000 in the last year of his deal.
Anderson is 13-8-5 over three seasons for a Panthers team that hasn't been any good since rats were flying on the ice more than a decade ago. At 27, he appears to have figured out his craft and, for our money, would be a nice signing next summer if he hits the market. Good insurance for a team. Kind of like Ty Conklin in Detroit this past summer.
Anderson's journey, which included being picked up on waivers by three different teams during a four-week period in January and February 2006, made me think about star Boston goalie Tim Thomas. He was 30 when he finally got his real NHL shot with the Bruins after years of playing in Finland and Sweden and wherever else. As fate would have it, one of Anderson's waiver drop-ins in January 2006 was in Boston.
"I was there for two weeks when Tim Thomas got called up and started his run there," Anderson said. "I was there when he kick-started his NHL career. I learned a lot from him. He just enjoys the game. Every day that he would come to the rink was a blessing for him. I kind of took that mentality. Because when you're in a rut ... I remember being in Chicago, being sent down, being put on waivers, it's mentally tough and it's draining. You don't really know where your career is going at that time. By being around him and seeing him smile every day at the rink and enjoying life as a hockey player, it really changed my mentality."
Anderson joined up with Thomas again at last spring's World Championships.
"Credit to him, he's taught me a lot," Anderson said. "He's got me to the mental part where I am at today, where I'm just enjoying the game and enjoying every moment that I have because you never know when it's going to end."