Briere frustrated by latest injury; Ducks trying to elevate game
December, 5, 2008
12/05/08
12:17
PM ET
We respect
Daniel Briere
for phoning us back.
"[Wednesday] was a tough day," Briere told ESPN.com on Thursday.
[+] Enlarge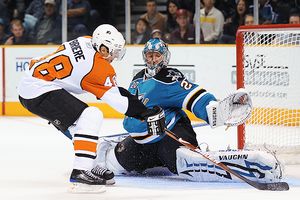 Kyle Terada/US PresswireDaniel Briere is expected to miss another 4-5 weeks with a groin injury.
An MRI revealed a significant groin strain, knocking the Philadelphia Flyers forward out of the lineup until the new year.
"We found out exactly what the problem was and we found out I'll be out another 4-5 weeks," Briere said. "It's very frustrating. It feels like I'm letting the fans down, my teammates, the coaches, the whole organization.
"But I can't control it. It is what it is. I have to move on. I did my pouting [Wednesday] and now it's time to get back to work. I need to rehab and get ready to come back in 4-5 weeks and be at the top of my game."
You have to love this guy -- he speaks from the heart. Briere has played only nine games this season, knocked out first by a sports hernia and then by a separate groin problem.
"The good thing in all this from the doctor's point of view is that the injury I suffered a couple of nights ago he thinks is the one that's been causing all the problems all along," Briere said. "So at least if that's the case, it's a good thing we found out what the problem was, and from now on things should be better and more positive."
At least the team is winning now after a slow start to the season, Briere said, and that helps mitigate the frustration.
"It's a little easier when the team is winning," he said. "Everyone is in a good mood, you can't wait to get back, you know you're coming back to a good team and a team that's been rolling. The excitement pushes you even more. But yes, it's still frustrating to watch games from the stands when you know you should be out there helping out your teammates."
Not so Ducky
A heartbreaking, late-game loss at Chicago on Wednesday night left the Anaheim Ducks with a 14-10-3 record, still comfortably sitting in a playoff spot in the Western Conference.
But it's not good enough for Ducks coach Randy Carlyle.
"We haven't played that well, to tell you the truth," Carlyle told ESPN.com. "We still have a lot of work ahead of us from the standpoint that we think we can play to a much higher level.
"For whatever reason, it's not happening consistently right now. In a 60-minute game, we might have a good period and then we get outshot badly in another period. We have to find a way to push for a higher level. I think it's our execution. It's one of the things we have to harp on and continue to improve on. We can't play with the elite-level teams if you're not playing for 60 minutes."
The Ducks are 5-3-2 in the last 10 games -- again, not bad, but not up to the standards of a team that's been among the NHL's elite for a few seasons. The 2007 Cup champs believe they still belong with Detroit and San Jose in the West and want to start playing like it. Being outshot 47-16 in a 2-1 loss at Detroit on Monday night doesn't help the cause.
One player we believe they really miss is Andy McDonald, whose presence helped fortify the second line. It's a moot point now, since he's out for the season in St. Louis, but somehow the Ducks have never been able to replace him.
Perhaps that's an issue that new GM Bob Murray will try to address, salary cap allowing, before the March 4 trade deadline.