Stamkos closing in on 50-goal plateau
March, 11, 2010
03/11/10
4:50
PM ET
TORONTO -- Steven Stamkos still has his own bedroom at his parents' house just north of Toronto, a bedroom that still has a picture of Sidney Crosby in it.
"It's not autographed, though; we need to get it autographed somehow," his father, Chris Stamkos, joked Thursday while watching his son practice at Air Canada Centre.
It's a reminder, perhaps, that less than two years ago, Steven Stamkos was just a Canadian kid and a big NHL fan. He looked up to "Sid the Kid." Now, the Tampa Bay Lightning star is chasing down Crosby and Alex Ovechkin for the NHL goal-scoring lead.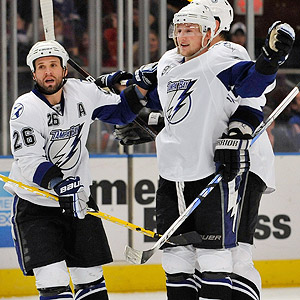 Paul Bereswill/Getty ImagesSteven Stamkos' father says Martin St. Louis, left, has had a positive effect on his son's play.
With 42 goals in 66 games this season, Stamkos, who turned 20 last month, has a shot at becoming the third-youngest player in NHL history to reach the 50-goal plateau (Jimmy Carson and Wayne Gretzky were 19).
"It's surreal when you think about it, but I'm not quite there yet," Stamkos said Thursday. "Maybe if I reach it we can talk about it more.
"It's tough not to think about it, especially since I'm asked about it all the time, but it's definitely in the back of your mind," he added. "But that's not my main focus right now. If I get to it while helping this team make the playoffs, then it's an added bonus."
Just 18 months ago, Stamkos stood in the same spot where he stood Thursday in the visitors' room at the ACC, but the scene was drastically different. The hometown junior star and first overall pick in the 2008 NHL draft had to explain to hordes of media why he hadn't recorded a point in his first seven NHL games.
"I do remember that," Stamkos said, recalling that morning of Oct. 28, 2008. "I've learned a lot since that time. I've matured a lot as a person and as a player. I just try to keep improving every day."
In fact, he recorded only four points in his first 17 NHL games, struggling to gain ice time under former coach and current ESPN analyst Barry Melrose.
"It was kind of tough," Chris Stamkos said. "I probably took more phone calls than normal. But I just told him to stick with it and stay positive, that being a rookie you had to wait for your opportunity."
After Melrose was fired and Rick Tocchet took over behind the bench, Steven Stamkos took off in the second half of last season, collecting 32 points in his final 39 games. Dating back to Feb. 17, 2009, Stamkos has scored 58 goals in 92 games; only Ovechkin has scored more during that span.
"It's kind of a surprise, at least to me, that he's got more than 40 goals so far this season," Chris Stamkos said. "I know he finished strong last year and had a good World Championship [11 points in nine games for Team Canada], and he was feeling strong coming into the season and was pretty positive.
"But to have 40-plus goals right now, my expectations were probably around 30 to 35 for the whole year. Good for him. He worked hard in the offseason with Gary Roberts. A lot of it has to do with confidence, and he's playing with, in my mind, one of the best players in the league in Marty St. Louis."
Roberts, a former NHL star, got to know Steven Stamkos last season, his last in the league. This past summer, Roberts oversaw Stamkos' offseason workouts north of Toronto, which Stamkos said was huge in helping him achieve his success this season.
"It helped me a lot," Stamkos said. "I learned a lot about what I needed to improve on. There are certain aspects of my game that have improved because of that, and I'll be there again this summer working hard. It definitely gave me that extra jump for this season."
Roberts is starting a business in which he'll be working with 17- and 18-year-old hockey prospects, helping them work on specific training routines. On hand Thursday at the Air Canada Centre to say hello to Stamkos, Roberts said the big thing was making Stamkos' legs and back stronger.
"Any young player at that age, it's usually what's lacking and what's going to get them to the next level, to increase their strength in that area," said Roberts, known as a fitness freak during his NHL career. "Steven was already a fast skater, but the key was to make him strong without make him slow."
Roberts, 43, said had he known what he now knows about what he believes is proper training for hockey players, he would have done things differently during his own career.
"You know, over the course of my career, I trained to be strong but not fast," Roberts said. "The game is about speed and explosiveness, and that's how you have to train your athletes now, and we did that with Steve last summer. We did a lot of speed and explosiveness training and tried to keep away from the bike or too much endurance work. Because too much endurance work makes you slow.
"That's why hockey is such a tough sport to train for, because you need speed, you need explosiveness, you need strength and you need endurance. It's the toughest sport in the world to train for, I think. You have to be real careful about what you do in order to become a better player on the ice."
Stamkos also returned here to Toronto during the Olympics to spend time with family and friends. It was bittersweet; he had a strong case to make Team Canada.
"Obviously, it was tough; I thought I had a chance to be there," Stamkos said. "I'm actually more disappointed Marty [St. Louis] wasn't there. I thought we both had legitimate chances. But you can't really complain when they bring home a gold medal. I was just another Canadian fan enjoying the Olympics and watching them bring home the gold."
Again, another mature answer. His birth certificate has to be a forgery. There's no way he's only 20.
"He's a grounded kid," Tocchet said. "His practice habits, everything he does, I've played against those types of guys like [Steve] Yzerman and [Joe] Sakic, those guys were professionals. And he's got that pedigree."
His father credits the influence of St. Louis, his linemate for the better part of a calendar year.
"Marty St. Louis has so much heart, and his practice ethics are unbelievable," Chris Stamkos said. "I think that's kind of rubbed off on Steven, as well."
His parents deserve some credit, too. His upbringing is clearly a factor in the fact that he is a delight of a player to be around.
"I spent a lot of time with him last summer," Roberts said. "He's a great person from a great family. It was a real pleasure to be around him. He came to work out every day at my home, and our whole family looked forward to seeing him every day because of the type of person he is."