Stars taking chance on Jonathan Cheechoo
September, 10, 2010
09/10/10
12:13
PM ET
Of the many training camp subplots around the NHL this month, Jonathan Cheechoo's arrival in Dallas is intriguing to say the least.
Just five years removed from a Rocket Richard Trophy as the NHL's top goal-scorer, Cheechoo arrives at Stars camp next week, hat in hand, on an NHL tryout.
Has there been a more dramatic fall from grace this decade? After scoring 56 goals in 82 games with the San Jose Sharks in 2005-06, Cheechoo tallied 77 goals over his next 272 regular-season games.
[+] Enlarge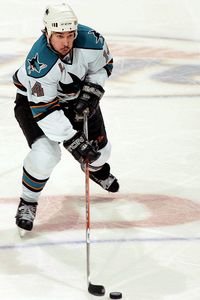 Debora Robinson/NHLI/Getty ImagesJonathan Cheechoo led the league with 56 goals as a member of the San Jose Sharks in 2005-06.
"You don't score 56 goals in this league and not have something to your game," Stars GM Joe Nieuwendyk told ESPN.com on Thursday. "I do know he's a real competitor. I know he's a high-character guy. He's had a few injuries, but he's not that old. He's been through a lot the last couple of seasons. To me it's a no-brainer. We get to look at Jonathan over the next three weeks and make a determination on him."
The 30-year-old native of Moose Factory, Ontario, isn't trying to make the team as a checker. The Stars will take a look at him on the wing with Mike Ribeiro and Brenden Morrow. Talk about a carrot.
"For a goal scorer, you have to get an opportunity," Stars coach Marc Crawford told ESPN.com. "We think we've got an opportunity here to give him a real good look in the preseason and see if he can find some chemistry between him and Ribeiro and Morrow. They need a shooter on that line and he is a shooter. He finds open spots and Ribeiro finds open people. Morrow goes hard to the net and is a hard, hard guy.
"It is a great opportunity, and who knows how it's going to turn out. That'll be determined by Jonathan. I'm hoping that we get a surprise and he's able to make our club and be a contributing guy for us."
It's not a coincidence Crawford is giving Cheechoo the chance.
"I'm pretty familiar with Jonathan," said Crawford, who reached out to a few Senators players this summer to talk about Cheechoo. "My dad was the guy that drafted him in junior in Belleville [OHL]. My brother coached him in Belleville. I would often take the opportunity to say hello to him when we were playing against his teams. When I worked for CBC, I did a playoff series between San Jose and Anaheim two years ago and I thought he was one of the better players for San Jose in that series. He's a competitive guy. So much of every person's ability comes from feeling good about yourself. I know I talked to my brother, especially, and he said that when Jonathan was feeling good, there was a marked difference in how he played."
The Ottawa Senators soured on Cheechoo so much last season, they demoted him to the AHL and then bought out his contract after the season. His downfall in the past five years has largely been pinpointed to a series of injuries. There were also whispers out of Ottawa that Cheechoo could have been in better physical shape.
The Stars, though, should see a motivated Cheechoo, given his career is on the line. And really, what's there to lose for Dallas? If he doesn't have a good camp/preseason, the Stars cut their ties and don't spend a dime on him.
"I think he has some intangibles that really give him an opportunity," said Nieuwendyk. "No. 1, we don't have a ton of right shots in our lineup. It was really evident last year on numerous occasions on the power play, and that's where Jonathan has really thrived over the course of his career. There's going to be an opportunity for him."
If the experiment doesn't pan out, the Stars have plenty of depth up front.
"We're not putting all our eggs in one basket," said Crawford. "We know we've got the fallback plan that Jamie Benn can move in there [alongside Ribeiro and Morrow]. It allows us, though, to keep Jamie at center in preseason, where we'd really love to have him."
The Stars, still in ownership limbo, don't have a lot of money to spend (Nieuwendyk confirmed they'll stick to a $45 million payroll this season), so they have to take gambles like this one.