We hear some NHL announcers continue to bash the "new NHL" phrase against the sides of our heads and it feels like a frozen canned ham.
Stop. We get it.
A hook is a hook, a trip is a trip, a hold is a hold. It was always in the rulebook, but for 10 years, the NHL corporate office was more concerned about expansion fees, spreading the game across the 48 contiguous states, getting in bed with as many corporations as possible, planning its season and squashing the pugnacious Bob Goodenow, who fought the NHL on every issue down to the conference table centerpieces. The on-ice product was way down on the list of "things to do" on the NHL agenda. The neglect showed.
That front-office model was the same in the NBA, and not surprisingly, the NBA also saw a decline in ratings and national interest over the past 10 years as its game slowed down and produced lower scoring. Last week, we talked about how the NHL plays in arenas too big for the intimacy the game demands. The same is true of the NBA, even more so because the NBA court is smaller than the NHL ice surface. The fans are farther from the game and intimacy is gone. When intimacy leaves a relationship, the relationship is over … unless you can afford $1,000 courtside seats.
The NHL game is still compelling because the players are so damn tough, so likable, so skilled. And the task at hand (winning a Cup) is so difficult. The passion of the NHL fan is significantly greater than the NBA fan's, the fan base is just significantly smaller. And as Jon Mandel of MediaCom ad agency told USA Today back in June of 2003, "Hockey has become the curling of professional sports. The NHL just disappeared from the consciousness of American sports."
The two biggest reasons: a slower, lower-scoring game caused by that neglect, and rapid expansion that diluted talent and sent the most talented young players to expansion teams in places with no NHL fans outside of the arenas. Expansion also helped, along with inept and unlucky front offices, destroy some Original Six teams with strong brand names that the casual American public was accustomed to watching. When those casual fans saw teams whose sweaters sported a cartoon duck, a shark eating a hockey stick and, later, something called a thrasher, I imagine they thought they were watching an ECHL game.
Established teams who were very good in the early 1990s tried to rebuild in the face of expansion teams, plucking the best players at the top of the draft, and some bad luck with weak mid-90s drafts. To compensate, some teams let the wrong players go and overspent for average ones. The game, on and off the ice, was changing fast, and unless you were blessed with a corps of young Hall of Famers like the Devils were in the mid-90s (along with a Hall of Fame talent evaluator in Lou Lamoriello who always knew whom to keep and whom to trade or let go), you had to spend smartly to compete. Detroit, Dallas and Colorado spent on the right players. For nine seasons, New Jersey, Dallas, Colorado or Detroit won the Stanley Cup.
But as the Stars, Wings and Avalanche aged, the effects of expansion became greater, and with the introduction of the salary cap, we all now know those semi-dynasty days are long gone.
Parity is here in full force, and that is fine for a league like the NFL.
But for a hard-cap league that has guaranteed contracts like the NHL, we could see a string of non-traditional, smaller-market champions, which virtually prevents any chance for a lucrative national television deal in the United States. This means ticket prices will remain high and new fans will be hard to find.
Keep in mind, the NHL had double-digit percentage losses in attendance in St. Louis (-20 percent), New York Islanders (-18 percent), Chicago (-13 percent) and Boston (-11 percent) in October. I imagine we will see losses in Philadelphia, Los Angeles, Tampa and maybe Phoenix, too. Those are some big markets that help get hockey inside the national consciousness of American sports fans. For hard-core fans, we don't care. We love and live the virtues of the game. But for the NHL fan in the U.S., it's a dangerous time with the game teetering on the edge.
Yes, the new NHL is more about economics than it is about rules, and we need to keep a close eye on that in the coming years.
OK, let's keep the economic theme going by playing the NHL like the stock market.
Do we buy or do we sell?
The season, on average, is about 18 percent done. It's not the best number, but it's a decent sample size with which to evaluate teams.
In my mind, on a national level, the NHL story is what is going on in Pittsburgh. If the Penguins are on television, they are my primary watch. We are in the beginning stages of a future Stanley Cup champion. Let's take a closer look at the Penguins and give some quick stock tips on other teams.
This was my preseason capsule on the Penguins here on ESPN.com:
Evgeni Malkin's "Coming to America" script is the story of the offseason. He is an immense talent with size, grit and skill. He projects at least Mats Sundin-good. That's the low side. He enters into a perfect environment in Pittsburgh. He has a Russian mentor in Sergei Gonchar and a locker room of young players to help him be himself. The Penguins have better centers than the Maple Leafs and probably better goaltending. They don't have the defensemen or the wingers. The Penguins are going to be much better than last season. They will win more than 10 road games and my heart tells me they can make a major jump. Gonchar will be much improved this season. The Penguins' power play will be among the best in the league.
Well, Malkin will probably score 40 goals, Sergei Gonchar is a plus-player averaging 25 minutes a night, Marc-Andre Fleury has a better save percentage than Toronto's Andrew Raycroft, the Penguins have won four road games already (last season, they won 10 total), and their power play is converting over 20 percent of chances. My point projection before the season on Sidney Crosby was 52-80--132. After 11 games, he was on pace for 45-75-120. Why do I point all of this out? Because I have very low self esteem and need you to love me. But I also point it out to remind you I didn't pick the Penguins to make the playoffs. Why should I have?
1. The Penguins gave up 316 goals in 2005-06. This season, they are on pace to shave that by over 100 goals! Has anyone ever done that? I never imagined that would be possible.
2. Jordan Staal will be 18 years old through the entire season. His brother Eric turned 19 a couple of weeks into his rookie season with the Hurricanes and Jordan is having a better rookie season than Eric. I didn't think he would be this good and never thought he would stay on the team the whole season as it appears he will.
3. Ryan Whitney has made a major leap forward. The 23-year-old defenseman is playing with poise, skill and edge. I always thought he was good, but I didn't expect this big a leap this season. He looks like a seven-year veteran out there. He leads the Penguins in ice time. Tom Poti, another Boston University defenseman, never learned to play with nastiness in the NHL. Whitney has. He is a stylish player and a real leader on this team. There were eight defensemen taken in the first round of that very strong 2002 NHL draft. I would take Ryan Whitney over all of them. Former Penguins GM Craig Patrick made an excellent choice when he chose Whitney fifth overall.
4. Fleury doesn't turn 22 until November, so the inconsistency factor is still very possible. But, so far, Fleury has been outstanding. He is seeing 32 shots a game and stopping 92 percent of those shots.
The verdict is still out on the Penguins. They have had a light schedule. When this week began, the Penguins had played only 11 games. This allowed for plenty of practice time and the ability to play Fleury in every game. Also, the Penguins' wins have come against Philadelphia, the New York Rangers, the New York Islanders, Columbus, New Jersey, Philly again, and the Los Angeles Kings. I would say the Devils and Rangers are the only playoff teams in that bunch. The schedule will get more difficult.
That being said, the Eastern Conference is not as strong as the West. There is a very good chance that by April 1 the Penguins will be in or very close to a playoff spot. Malkin and Crosby are quickly becoming two of the best players in the league. They both have five-star vision and are finishers. Malkin will win the Calder and Crosby should be a Hart finalist for league MVP. Pittsburgh has cap room, and as the season progresses, teams will be looking to shed some payroll. The Penguins should be poised to pounce. Jarkko Ruutu, Dominic Moore and Nils Ekman were great signs. With a couple of good trades and continued health, the Penguins will be playoff bound.
Penguins stock: BUY. This is Google circa 2000.
Others:
Anaheim Ducks: BUY. They control the tempo every night and thus they are the Presidents' Trophy favorite. Scott Niedermayer is the MVP of the NHL right now.
Atlanta Thrashers: BUY. Good skill and sandpaper on this team. The goaltending looks good. Now, if people would just start going to the games.
Boston Bruins: BUY. There is enough here to make a playoff run. They need Brad Stuart back in the lineup. Zdeno Chara is playing too much. Watching Marc Savard in person gives you a whole new appreciation for his offensive talent.
Buffalo Sabres: BUY. We could have a Buffalo-Nashville Stanley Cup finals. NBC will LOVE that!
Calgary Flames: SELL. This team looks to be stuck in the mud. I wonder if they need a major shake-up.
Carolina Hurricanes: BUY. They need blue-line help. Their forwards are very good. This team will be as good as Cam Ward is.
Chicago Blackhawks: SELL. Injuries to Martin Havlat, Nikolai Khabibulin and Michal Handzus will put them into a hole too deep to scale.
Colorado Avalanche: SELL. A decent little team and a vastly improved wardrobe by coach Joel Quenneville. Good for Joel to bring sexy back.
Columbus Blue Jackets: SELL. This team feels like the New York Islanders with Rick Nash. No playoffs again for the Blue Jackets. 0-6. Any chance Ken Hitchcock ends up here?
Dallas Stars: BUY. Incredible defensive hockey team. We'll just have to focus on the health and the offensive production of some of the veterans. How about Eric Lindros, who was tied for the team lead in scoring when the week began?
Detroit Red Wings: BUY. They are doing it with little Henrik Zetterberg and a 9-percent power play. We project these things will improve.
Edmonton Oilers: SELL. This was a tough call, but you wonder if this team has recovered from last year's Stanley Cup run. Losing Chris Pronger will only hurt more as the season goes along. They are well-managed, well-coached and have loads of heart, so believing in this stock is not imprudent.
Florida Panthers: SELL. I think the Panthers just won't be able to score enough and they have veterans who will get hurt. Good, young players here, but no elite ones.
Los Angeles Kings: SELL. Keep Marc Crawford away from sharp objects and out-of-work actors. What in the hell happened to Craig Conroy?
Minnesota Wild: BUY. This team is exceptional and will have a big home-ice advantage in the playoffs.
Montreal Canadiens: BUY. This is one of those balanced teams that I should have recognized in the preseason. Nothing will come easy for the Habs and they will need to work, but I like their chances.
Nashville Predators: BUY. The hottest team over the last 10 games. This team has great balance and could very easily win the Stanley Cup. Balanced teams win championships.
New Jersey Devils: BUY. Their defense is no longer Cup-worthy, but there is enough up front to get them into the postseason.
New York Islanders: BUY. This team is playing well of late and has a nice roster of veteran forwards. The playoffs will be unlikely with that blue line, but they should stick around the eighth spot for much of the season, so you never know. I would trade Jason Blake because he has high value. I bet the Isles would get a good return. They need to get younger.
New York Rangers: BUY. The Rangers are getting a low rate of return on Henrik Lundqvist this season, but his stock should only rise. Don't sell him. The Rangers are a solid playoff team, but not an elite team.
Ottawa Senators: BUY. I'm going to buy low here. This team will get better as the season goes along. Losing Havlat and Chara is a gigantic adjustment. They need to find new ways to play and win. I say they do.
Philadelphia Flyers: SELL. We told you before the season they were not a playoff team. They lack speed and skill. They need to trade Peter Forsberg to the highest bidder.
Phoenix Coyotes: SELL. A well-balanced, average attack with bad goaltending. Get your tickets now! They are easy to play against because no one on this team scares you.
San Jose Sharks: BUY. This is another bona fide Stanley Cup contender. The Sharks have plenty of balance and good goaltending. When you are looking to invest in a team, this is the kind of team that will pay you good dividends.
St. Louis Blues: SELL. The veterans are playing well, but don't expect the pace to continue.
Tampa Bay Lightning: BUY. I have to buy them! I picked them to win the Southeast. I must admit, I see no signs of that. But I do see a couple signs of 2004 Lightning hockey.
Toronto Maple Leafs: SELL. Off to a good start, but I just have a bad vibe here and I can't explain it. Sorry.
Vancouver Canucks: BUY. Barely. The top half of the Western Conference is stronger than the top half of the East. But the bottom half of the East is stronger than the bottom half of the West. So, I'll cautiously buy Vancouver.
Washington Capitals: BUY. They desperately need blue-line help and they probably are not good enough defensively to make the playoffs, but they will be a tough team to play every night and they should expect to be near that No. 8 spot.
We start off this week's Mailbag with a picture that we couldn't keep from the masses. It was sent to me from reader Kenneth Decore. Enjoy!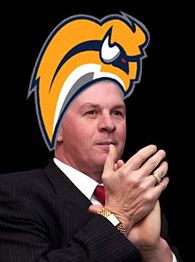 ---
John,
I finally found something to dislike about Chris Drury. He is a Yankees fan.
Sean Skehan
We can only hope that with offseason intervention, we can rid Chris of this awful ailment. He also has webbed feet, but the Yankees feet are much ickier.
---
Hi, John!
In your column on Oct. 30, you wrote about Scott Niedermayer: "He has a son named after me, another named after one of my sons, and another named after U2's best CD." He has a son called Achtung Niedermayer?! Wow, that's cool! ;)
Jani Virta
Turku, Finland
---
John,
Scott Niedermayer called his son Rattle And Hum Niedermayer? Now that I have it on CD, I still listen to my original cassette tape, must be 18 years old now.
Neil Dunn
---
John,
Why would Nieds name his kid "War"?
Jeff Edlund
For the rest of my insignificant days, I can't imagine there ever being a CD recorded that can possibly rival the quality and impact that "The Joshua Tree" had on me when it was released on March 9, 1987. And still has on me. There are not many albums or CDs recorded with threads anymore, but this one weaves through the veins and around the world. It conquers the head, heart and guts. Tracks 4, 5, and 6 are my favorite musical natural hat trick of all time. 13:42 seconds of ache. It's an October-March CD for me. I have a soft spot in my heart for sadness and solitude, and mining towns.
---
John,
Please use every chance you get to keep the focus on the failures of the new USA Hockey policies. I can assure you that the problems don't simply infest the Mite level. My son plays in a high school league, and four games into the season, both he and I are ready to pull our hair out. The game is simply not fun anymore. Urge your readers and writers to voice their complaints to USA Hockey. I wrote my protest letter today, even referencing your column as a national voice of reason! Imagine that!
Mark Hettish
Allen, Texas
As the USA Hockey season continues for me, watching my boys play, one Mite, one Bantam, I've noticed that the good referees are letting the players play more. They are essentially ignoring the ticky-tack mandate, which is good. The ones who are making the game a power-play fest are fostering a culture that I knew would happen: DIVING. This is what happens when you call the game this way. You get diving, lots of screaming and tentative play. My son's Bantam team had 15 minors called against them last Saturday. Therefore, there's a coach suspended for bad refereeing. Nice.
And I'll say what I've been saying all along: There wasn't a problem at the non-elite level. Maybe there was a problem at the high-level leagues, and if you want to fix that, fine. But leave the majority of the kids who are playing for fun and not college scholarships alone. Penalize the hits from behind and the hits to the head SEVERELY, but please bring back the tag-up offside and let these great kids play hockey. Taking away the tag-up rule and calling all of these penalties has turned a fast game into a boring one. But, like I said, the good refs are calling the game with their hearts. There is nothing like an airplane landing with a good, experienced pilot, and there is nothing like a well-called hockey game with an experienced, bright referee.
---
Hey John,
I was damn glad to see you use Cute is What We Aim For in your hockey preview, I just saw them last night at Irving Plaza (double-dipping again at the same venue) and they rock. They sound even better live, and Shaant (yes, his name is Shaant) sang his heart out even with being noticeably sick. These guys are the next big thing, or at least they should be.
Peace, Love and Pucks,
Matt
I'm watching the Ducks-Coyotes game and as the sideline reporter was talking a goal was scored. Attention John Shannon, NHL vice president of broadcasting: Thank you for the extra 20 seconds of TV timeouts so the better players can play more and we can see some cool replays out of commercial breaks. But please, ban sideline reporters from talking while the play is going on. Let them sing show tunes in between periods, but I want to hear the announcer yell score! Having sideline talk once the puck drops SHOULD NEVER HAPPEN.
---
Bucci,
When searching for Hockey's Holy Temple, one has to look at the Xcel Energy Center in St. Paul. Home of the Wild and the State of Hockey, it embraces the sport from high school to the pros. We take slap shots on penalty shots.
Who would win in a fight? Boogaard or the 1985 Bears?
Hanney
St. Paul, Minn.
There is no theory of evolution. Just a list of creatures Derek Boogaard has allowed to live.
---
Hey John,
I'd like to say that I'm sitting in class right now reading your column. It's become a Monday tradition, the only way I can get through this class. Going to Rutgers, I'm an endangered Rangers fan surrounded by Devils fans. I'd like to know what's wrong with my boys in Blue and when they'll start playing with fire like last year?
(P.S.: Two good bands for you: TV on the Radio and The Decemberists! Both of their new albums are great.)
Go Rangers!
Mike Vorkunov
If the Internet had been invented while I was in college, I would have been kicked out of school by spring break of my freshman year. But, God Bless You, Mike Vorkunov. God Bless You, Rutgers, your computer, college in general, and your fingers. What Colin Meloy is to the Decemberists, Mike Vorkunov is to Rutgers. Program note: Undefeated Louisville at undefeated Rutgers on ESPN, Thursday night at 8 p.m. ET.
---
John,
Please tell me the Pens are for real. Not necessarily "Stanley Cup" real, but at least "6-to-8-seed" real in the East, especially in the wasteland that is the Atlantic Division. And tell me that Marc-Andre Fleury is finally the goaltender the Penguins took first overall a few years ago.
Finally, tell me that you picked up "Magic Potion" by the Black Keys. Lo-fi scuz blues at its finest.
Sean Fagan
John Carroll '09
The Black Keys song, "I'll Be Your Man," is on the "Rescue Me" sound track, which is an outstanding sound track. It's a great CD to introduce a variety of artists you've never been introduced to. Like The Black Keys, The Von Bondies, Stereophonics, The Subways, Ray LaMontagne and Griffin House. When you get your next paycheck or your next check from Mom and Dad, buy the "Rescue Me" soundtrack.
---
Hi Mr. Buccigross,
I am not going to lie, I am not a devoted reader of your column each week. But over the years, I check it out from time to time. I know you like to reference good music in your column, so here are some bands for you to check out. Check 'em out and let me know what you think. All the best!
1. The Walkmen (best band around)
2. French Kicks
3. Camera Obscura
4. Sound Team
5. Cold War Kids
6. Tokyo Police Club
7. Voxtrot
8. Mazarin
9. Chinup Chinup
10. Arcade Fire (tie)
10. Yeah Yeah Yeahs (tie)
Regards,
Brendan
I want to have some response to every e-mail in the e-mail bag, so here are some notes from last week you may have missed:
Minnesota Wild president and GM Doug Risebrough and coach Jacques Lemaire announced that forward Brian Rolston will serve as team captain for the month of November and Kim Johnsson and Wes Walz will continue to serve as alternate captains.
Jere Lehtinen's assist on Modano's goal was his 400th career point.
Rob and Louisa Davison announced the birth of their first child, Sawyer Louis. Born on Friday, Nov. 3 at 10:17 a.m., both Sawyer and Louisa are doing fine. Sawyer, a nimble 6-pound, 6-ounce defenseman, will be available for the National Hockey League Entry Draft in 2025.
Jim Rutherford, president and GM of the Carolina Hurricanes, announced that Ron Francis has joined the Hurricanes' front office as Director of Player Development. In his role, Francis will work with and assess players in the Hurricanes' system and report to Director of Pro Scouting Marshall Johnston.
Until their win Saturday night, the Capitals were 0-15-1 in their last 16 trips to Philadelphia.

---
John,
I have a dilemma and I need your help. It's time for a new hockey jersey, and I can't decide which player to get. The choices are: Marty Turco, Brenden Morrow or Sergei Zubov. I already have Modano, so he's out, but I can't decide among these three. Any suggestions?
Thanks,
Jessica
Sergei Zubov is a Hall of Famer and the others are not. Go with the Hall of Famer.
---
John,
As Pittsburgh is home for a couple guys in the crew, the bus lounge was swarming for tonight's Kings/Penguins game. I'd seen the Crosby/Malkin/Staal highlights on ESPN, but I was intrigued to get my first true look. By the second shift, I could tell I was watching something special, something I haven't seen in a few dog years.
It's bordering blasphemy and certainly over-the-top, but I'm thinking 1981 Oilers. It's not the hockey sense of Crosby or the Kurri-like laser that Malkin fired in OT. It's the impression that these kids are already a step beyond the men they are playing against, that they don't know it yet, and that we groupies are just catching a glimmer of the domination to come.
And that Elvis, is scary.
John Ondrasik
Lead Singer, Five For Fighting
Los Angeles
Any reader of this space knows I have soft spot for piano-playing singer/songwriters. Billy Joel, Elton John, Bruce Hornsby, Nat King Cole, Ben Folds and John Ondrasik of Five for Fighting are some of my favorites.
If I'm taking 20 songs to a desert island, "100 Years" by Five For Fighting is one of them. Five for Fighting's latest CD, "Two Lights," is out now. I heard the song "The Riddle" driving to Jackson's Mite game Saturday afternoon. Another great tune.
John is a huge hockey fan and a big Kings fan. He sang between periods at the 2002 All-Star Game in L.A. He wore my game-used, L.A. Kings Ray Ferraro sweater from Ray's 1000th game. Ray wore three sweaters that night, one each period, and was kind enough to give me one. I tried to return the favor with my wedding gift to Chicken Parm and Cammi Granato, when they got married in September 2004. I got them an autographed Bobby Orr photo from his flying Stanley Cup winner signed, "To Ray and Cammi, two great players, one great team. All the best, Bobby Orr."
Oh, by the way, Mr. and Mrs. Cammi Ray Granato Ferraro are expecting their first child on Jan. 7, which is former goaltender Guy Hebert's birthday. Guy Ferraro? Guy Granato? This may be the greatest hockey reproduction experiment in North American history. USA Hockey meets Hockey Canada. Herb Brooks meets Scotty Bowman. Pat LaFontaine meets Bobby Orr. Barry Melrose meets Don Cherry. Budweiser meets Blue. Pamela Anderson post-augmentation meets Pamela Anderson pre-augmentation. R.E.M. meets The Tragically Hip. The restroom meets the washroom. Chicken Gumbo meets Chicken Parm.
John Buccigross' e-mail address -- for questions, comments or cross-checks -- is john.buccigross@espn.com.