Bloghat time. Rangers vs. Sabres. Sunday Night Hockey. Western New York
against Eastern New York.
We have the Madison Square Garden feed on the Center Ice package. Bob Wischusen, filling in for the great Sam Rosen, and Joe Micheletti have the call. Micheletti played hockey for Herb Brooks at Minnesota and is a top analyst. Gord Dwyer and Mike Leggo are the referees.
First Period
20:00: Sabres win the faceoff. Buffalo has five regulars out of the lineup.
They enter the game with a 10-1 record on the road, while the Rangers are just 5-3-2 at home in front of their great fans.
17:18: A 20-foot wrist shot by Paul Gaustad, save by Henrik Lundqvist.
Lundqvist has let in some soft goals this season, but he seems to be finding his legs after what must have been a very draining 2005-06 campaign. Nothing takes the life out of a team like a soft goal. That, and rampant scurvy.
15:48: The Jagr-Straka-Nylander line has a good shift. They move so well, so fluidly together. I wonder if Europeans are sometimes more creative because they played more soccer growing up. In soccer, you want to keep possession, keep moving, pass to dead areas. Martin Straka's game-winning goal against the Penguins last Saturday night was very soccerish to me.
9:29: Sabres' second power play. Good pressure by Buffalo. They are outplaying the Rangers, but the puck isn't quite bouncing their way yet. Penalty over.
6:29: Jaromir Jagr is the MVP of the league right now. He is still so strong on the puck, has amazingly fast hands and a Hall of Fame release. He has a lot of financial incentive to do well the next couple of seasons, and considering the history of his financial acumen, he appears to be playing like he needs it. He is again carrying this team and it's again going to wear on him. He needs lots of help.
4:24: An underrated NHL skill is the ability to make good, accurate, hard backhand passes. Some players can't do it because they are very right-handed or left-handed. They are like tennis players who run around to their forehand because their backhand is not strong. Thornton, Jagr, Kariya and Crosby have great backhand passes. Thomas Vanek just made a weak backhand pass.
2:45: Wow, there is no one more breathtaking over the open ice than Maxim Afinogenov. That is unless Jessica Biel were to appear, walk out to center ice on a red carpet, leave and go back to Derek Jeter's house. Maxim is a close second.
2:20: Hockey God Chris Drury goes to the penalty box for high sticking.
Drury grew up about an hour a way in Trumbull, Conn. I'm sure mom, dad, the Ferguson Brothers and a bunch of Chris' friends are at the Garden. And these tickets are not cheap. The Rangers fans are a bit quiet. They are acting like the Giants blew a 21-0 lead against the Tennessee Titans or something.
(The MSG sponsored trivia question is: Which European player recorded the most points as a Ranger? Hedberg, Nedved, Kovalev or Sandstrom. My guess would be Hedberg or Sandstrom. My Malcolm Gladwell "Blink" first intuition was Sandstrom, but I'm leaning toward Hedberg. I'll go Gladwell and select Sandstrom. I know it's Hedberg. I used to watch the Rangers' home games on cable when the fledgling USA Network showed a lot of Rangers games.)
Second Period
20:00: The Rangers begin the period with a 5-on-3. Speaking of Europeans, the Rangers have four of them on the ice … and Brendan Shanahan. Shanny hits the post. Yo, ding dong, ding dong, yo. The zip in Shanny's step is amazing. The move to New York was good for him and the Rangers. He'll be at the All-Star Game in Dallas, but I don't think he alone provides the offensive depth in 5-on-5 situations for the Rangers. Over half of Shanahan's points are on the power play and he is a minus-3. Sabres kill the 5-on-3.
16:48: Now the Sabres have a 5-on-3. Great setup by Afinogenov to Drury.
Save Lundqvist. Afinogenov is an underrated passer. He sees the ice well and makes crisp passes. He also will be in Dallas for the All-Star Game. He is my pick for fastest skater. Rangers kill the power play. Lundqvist has a sense of royalty about him. He needs a nickname that plays off that. Prince? The King? Just King? Tut? It's good to be the King. Another save on Drury. Drury is playing well offensively. Maybe he slept in his boyhood bed the night before?
9:31: The game is now moving up and down, this will benefit the Sabres one would think. Ryan Miller just made an amazing save. He has great feet and light legs. He has a body by Niki Taylor and that's good for a goalie.
8:02: Maxim. Good magazine. Good hockey player. No. 61 makes it 1-0 Buffalo. His slapper caught a piece of Rangers defenseman Aaron Ward and flutters by Lundqvist like a Scott Norwood field-goal attempt. These Sabres are too fast for the Rangers. Luckily, it's a special teams game and that has slowed things down.
5:53: Bad turnover by the Rangers and Thomas Vanek roofs it glove side to make it 2-0, Buffalo. Sandis Ozolinsh is a Ranger by the way.
5:25: Rangers score to make it 2-1. Jagr made an amazing move in the corner. A blistering pass across the goal line to the tape of "Marty, Marty, The One Man Party, Straka," whose one-timer shoves it in. The banged-up Sabres are going with five defensemen. We'll see if the Rangers can wear them down. Adam Mair just tackled Jagr and referee Mike Leggo calls nothing. Rangers fans scream "Leggo my Jagr!" Or maybe it was "Potvin sucks!" One of the two.
(Here comes the trivia answer: The European-born player with the most points as a Ranger is Anders Hedberg. Damn you, Malcolm Gladwell! Blink this!)
Third Period
20:00: Tom Renney, Rangers coach, looks good again behind the Rangers bench. He's a future AARP pamphlet model.
16:47: The Sabres are trying to milk this one-goal lead. Rangers fans are booing Ozolinsh. Enter Sandman, exit Sandman. He'll be an Oiler by the new year.
10:34: The Rangers have the ugliest breakouts in the league. That wears on a team. They are not the greatest in their own end as result. I'm not confident this roster can do damage in the playoffs. They need to think about this roster as they go forward. The big line still dominates the team. The Sabres, meanwhile, have beautiful breakouts and mad depth.
6:39: Time is winding down on the Rangers. They need something to happen here. There goes No. 51 Brian Campbell. I like him. How about that analysis? He's playing a lot in this game.
4:55: Straka ties the game. Thank goodness the Rangers have the big line. There is nothing else here. They will have to win with Vezina and Conn Smythe-worthy goaltending. Straka is playing unbelievably well. He's been the best Ranger in this game. What a wrist shot over the right deltoid of Miller. We are tied at 2 with under five minutes to go.
(Both teams play for the guaranteed point and we go to overtime; Sabres are 7-2 in overtime and the Rangers are 5-1. The Rangers' lone overtime loss this season was against the Sabres on Nov. 5.)
Overtime
4:35: Afinogenov is the most feared man on the planet during this OT.
3:14: The Rangers keep turning the puck over in their own end. Lundqvist saves the day. Faceoff to the right of The King with 3:26 left. Here comes Drury to take the faceoff against Matt Cullen. This is what we call a mismatch. Drury is 13-for-18 in faceoffs so far.
3:12: Goal by ... guess who? The Hockey God strikes again. Drury wins the faceoff on his backhand to Teppo Numminen. He then gets his shoulder in front of Cullen, gets up on his toes, throws his Easton in front of Lundqvist and the puck luckily deflects off his stick and into the net. Jason Pominville set a nice pick on Shanahan to allow Numminen to get a clear look. Buffalo is now 19-3-2.
Determination and skill. Perhaps a scouting report showed that Cullen could be beat to the net on faceoffs. The hand-eye coordination to redirect a 90-mph slap shot. Drury seizes these kinds of moments. When he was 12, Drury pitched the U.S. to a Little League World Series title. What was true then is true now. In big moments, the baseball or hockey stick usually holds the player. Drury has always held the ball.
Today's specialty? Chicken Parm.
Ray Ferraro is calling games with Kevin Quinn for the Edmonton Oilers. They are really one of the up-and-coming broadcast teams. Kevin is the egoless play-by-play man that I prefer, while Ray is honest and tells it like it is. Every game sounds like a playoff game. Enthusiasm and passion.
Ray should one day be the color man for the second game of the "Hockey Night In Canada" double-header. Although, it probably won't be called "Hockey Night in Canada" when TSN gets the broadcast rights starting in 2008-09. 2009 is also the year when Ray's son, Landon, likely will be drafted by an NHL team.
International Scouting Services' early list of the top draft-eligible prospects for the NHL's 2009 Entry Draft has Landon Ferraro ranked third among all Canadian skaters. Ray Ferraro was a fifth-round pick in the 1982 draft. Landon Ferraro has an excellent shot to go in the first round.
But back to dad. Ray is set to continue as an NBC analyst for a second season. NBC's coverage begins Jan. 13 with the Bruins-Rangers, Penguins-Flyers and Kings-Blues. Five of those six teams are currently not in the playoff picture. Can I get some NHL flex scheduling please? This season, Parm will be joined in studio by Brett Hull. That's 1,149 total goals! 741 for Hull and 408 for Ray. That is an NHL record for a NHL studio set. Add in Bill Clement's 148 and Pierre McGuire's NHL goal total (0) and you're still at 1,297. Let's chirp with a Hall of Fame chirper, Ray Ferraro.
Question from Bucci: Compare this year's Edmonton Oilers team with last year's.
Answer from Ray Ferraro: Way better goaltending. Their defense is nowhere near as mobile or efficient with the puck, and that makes their forwards not as effective as they should be. They rarely get a clean, direct pass. They always seem to take a pass swung around and along the boards. So, I would say, in general, the team is not as good. But there is no chance this defense is going to be the group that they go forward with and I don't think they will wait until trade deadline time. If a puck-mover becomes available, I think they are interested.
(Hockey Fact: The Oilers began the week 10-2 at home and 3-6-1 on the road. They have three home games this week, including Chris Pronger and the Ducks on Tuesday night in Edmonton. Mrs. Pronger will drop the ceremonial first puck.)
Q: What do you miss most about Chris Pronger?
A: Aside from his puck moving and power-play poise, the 28 minutes a game he plays allows everyone else to slow down to where they are most comfortable and most effective. Asking Jason Smith and Steve Staios to play heavy minutes is too much. So, you lose Pronger's 27 minutes, and they're kind of being replaced by Daniel Tjarnqvist, and there of course is no comparison.
(Hockey Fact: Pronger began the week leading NHL defensemen in points
and assists. He is a plus-16 and is staying out of the penalty box. He averages 27:14 of ice time a game.)
Q: Ryan Smyth, who turns 31 in February, is in the last year of his
contract. This next contract will be his most important in terms of his portfolio and should set him up for life. He is making $3.5 million this season. What will it take for him to sign in Edmonton?
A: For the guys who signed in the $5 million range, Smitty is better than that and more important than that. I bet that five years at not quite $30 million is what it will take for him to sign in Edmonton. He wants to stay, but I don't think he will sign at $4.5 million a year when Daniel Briere, who hasn't been as productive, is making $5 million.
(Hockey Fact: Smyth begins the week tied for eighth in goals with 14. Drury and Jason Blake, also unrestricted this summer, also have 14. That is my dream second line on a really good NHL team: Drury-Blake-Smyth.)
Q: What's your take on the head injury debate going on and will the league
ever have full helmet protection like the NFL?
A: I think the full face shield in minor hockey and college hockey has resulted in higher NHL hits. I think the full facial protection hurts the game. The more we protect the players, the more dangerous it gets because there is no regard for safety. They haven't done enough with the equipment. They are way too hard. The elbow pads are way too hard. The equipment is too hard and the contact is too hard because guys are coming faster because the clutching and grabbing is gone.
When I played, you had an extra second to defend yourself from the hit. Now, the hits go right through the players. Look at the helmets they wear in the NFL and they still get concussions. I don't think the NHL penalizes the hits strongly enough, either. I think they should consider more 2:00's and 10:00's [two-minute minors, 10-minute misconducts] and five and game misconduct.
Q: What about Ken Hitchcock in Columbus?
A: I think it's a great fit and I don't think he went there just to coach. Why would he give up millions to wait and pick his spot and go to a team going nowhere unless he had player personnel say? I have no knowledge of this, but I believe he has a lot more to say than just coach.
Q: Give us an update on your pregnant wife, Cammi Granato.
A: Not as mobile as she used to be. She is due Jan. 7. Doing well. We don't know if it will be a boy or a girl.
Q: Tell me about your hockey playing sons.
A: Landon is just coming back from a sprained knee. He will play his first four games for Red Deer in the Western League starting Jan. 3. Martin Hanzal, Red Deer's leading scorer, will be playing in the World Juniors. Landon will take his roster spot. What's cool is that his games are in Everett, Seattle, Portland and then Vancouver. The Portland game will be in the same rink that I played in when I played in the Western League. Landon is better than I was. He skates way better than I did, he is bigger, and he can really shoot the puck, an excellent release. What does appear to be genetic, is that, like me, he scores a lot of crappy goals to go with his pretty ones. That's a goal scorer.
Hey John,
WHY ARE YOU ANTI-DUCKS, ANTI-THRASHERS, ANTI-BRUINS, ANTI-SABRES, ANTI-FLAMES, ANTI-HURRICANES, ANTI-BLACKHAWKS, ANTI-AVALANCHE, ANTI-BLUE JACKETS, ANTI-STARS, ANTI-RED WINGS, ANTI-OILERS, ANTI-PANTHERS, ANTI-KINGS, ANTI-WILD, ANTI-CANADIENS, ANTI-PREDATORS, ANTI-DEVILS, ANTI-ISLANDERS, ANTI-RANGERS, ANTI-SENATORS, ANTI-FLYERS, ANTI-COYOTES, ANTI-PENGUINS, ANTI-SHARKS, ANTI-BLUES, ANTI-LIGHTNING, ANTI-MAPLE LEAFS, ANTI-CANUCKS and ANTI-CAPITALS?
Sincerely,
AN ANGRY FAN
This is one of my favorite e-mails of the year. This reader understands a part of my world completely. There isn't one cell in my body that has any negative vibe toward any player, coach or organization, yet some fans are convinced I do.
I have programmed myself to look at the game evenly. As a reporter/journalist/columnist/observer, Peter Gammons has been a great role model in this regard. When I was in the seventh grade at Aquinas Elementary School in Wintersville, Ohio, I would have The Sporting News spread out under my Science notebook and textbook and read Peter's "AL Beat." Now, I work with the Baseball Hall of Famer. When he talks about a team, Gammons sounds like a beat reporter and fan of that team, all rolled into one. That was my goal when I started this column -- to look at the league as a whole, and thus hopefully, a bit more clearly.
I started this ever-evolving column in October 2001 because I thought the U.S. hockey fan deserved a "national" hockey column written with love, passion and lame attempts at humor. And lots and lots of words. (There are over 3,000 in this e-mail bag alone. 3,076 to be exact. Unless you count these. Then add nine. Well, now four more. I'll stop now.) Not hundred of words. Thousands of words. Then, I realized, as I started to receive e-mails from Australia, Brazil, Canada, England, Ireland, Israel, China, Japan, Iceland and Sweden, maybe the rest of the world wanted that, too.
The Internet is rife with unnecessary meanness. It seems everybody wants to take a shot at everything, and everyone, in a relentless fashion. Yes, it's important to call out arrogant, stupid sellouts when they deserve it. For lawmakers, it's the law they are bound to uphold. For the hockey hierarchy, it's the love and passion. When hockey leaders don't uphold that, or don't feel the love or the passion, they should get out, move aside and let someone else in. The game and the fans deserve that. The law and the love starts at the top. But some people don't deserve the meanness; they deserve a more civilized, smart and clear prosecution.
You have to be fair and that can be done only with an independent mind. We all have some biases and predilections; at times, we fail to put them all aside. But there are people who come real close to sympathizing and empathizing with all sides of an issue when forming their argument. It's challenging, and maybe impossible, for passionate humans to reach fully, but we can come real close. This e-mail answer is turning into a column. Someone tell me to shut up already.
So, no, I am not ANTI-ANYTHING, oh angry fan. I'm not even Antti Laaksonen.
I'm Pro Laaksonen, pro bono publico, Pro Bono, Pro V-1, Quid Pro Quo Powers, low-pro-ho should be cut like an afro, and pro Life cereal.
---
John,
With everybody going gaga over the Ducks, I thought I'd see how they fare in Jeff Sagarin's rankings. He has them ranked eighth, in large part because, according to him, they've had the easiest schedule in the league thus far.
The Sabres, on the other hand, come out on top by a large margin over the No. 2 Red Wings because of their excellent record and tough ninth-ranked schedule. Now, I'm aware of all the caveats that come with computer rankings, but I haven't been as impressed with the Ducks as the media have been this year and I'm glad to see that Sagarin's rankings reflect what I've been thinking. Plus, they're fun to compare with ESPN's power rankings.
Alan
Atlanta
Jeff Sagarin is waaaay smarter than me and there is some validation to numbers and computers because they can prove that the game, a team, a player are not always really what our human eyes are seeing. But computers can't measure emotion. They can't feel. They can't measure confidence, fear, the feeling of a smooth ride on the sweet spot of your inside edge.
Trained human eyes, in concert with some data, are the best measuring stick. Computers exaggerate discrepancies. Yes, the Ducks began this week having played 17 home games and eight road games. Buffalo has played 12 at home and 12 on the road. In a make-believe ranking system (which ultimately doesn't matter because we have the Stanley Cup playoffs), Buffalo deserves to be a bit ahead of Anaheim. But in watching the Ducks and Sabres, some might say one team has a distinct advantage and would definitely win a best-of-seven series. I don't see that with those two. I like Buffalo's goalie a bit more, I like Anaheim's power play a bit more. Anaheim has some size, Buffalo is dangerously agile. It's a close call. But Anaheim has never been the eighth-best team this season. For the record, here are my Top 10 power rankings:
1. Buffalo
2. Anaheim
3. San Jose
4. Nashville
5. Minnesota
6. Montreal
7. Dallas
8. Detroit
9. Atlanta
10. Toronto

---
John,
Does Barry Melrose think (Slovenian Forward) Anze Kopitar is Czech or Slovak?
Steve
Whether Czech, Slovak or sometimes Darko Milicic, Barry believes everybody is from Czechoslovakia. Barry doesn't seem to want to recognize that on Jan. 1, 1993, Czechoslovakia split into the Czech Republic and Slovakia. Of course, when that happened, Barry's Los Angeles Kings were in the middle of a five-game losing streak in which they were outscored, 32-9!
On Jan. 1, Czechoslovakia was no more. The next day, the Kings tied the Canadiens, 5-5. Then, 158 days later, the Kings lost to the Canadiens 4-1 to lose the 1993 Stanley Cup finals, 4-1. That bit of world history slipped by our Mulleted One. (And by the way, Kopitar is from Slovenia.)
---
Hi John,
I was wondering where Valeri Bure has disappeared to. Any idea?
Regards,
GY
Stockholm Sweden
He is busy cashing in all of his wife's "Full House" residuals. I know because my daughter watches 37 episodes a day. Candace Helaine Cameron, 30, is most known for her role as D.J. Tanner on "Full House." Today, Candace is married to Valeri Bure and they have three children, Natasha Valerievna, Lev Valerievich and Maksim Valerievich. So, he now has a full house. Val played in 621 NHL games and scored 174 goals. He played in 22 Stanley Cup playoff games and failed to score.
---
Hey John,
In reference to your "NHL 2Night" nicknames, "Funky Cold Hrdina" will forever be one of my favorites!
Tracie Van Horn
Washington Twp, N.J.
John,
As a big fan of a certain band from up north, I was always partial to "Tragically" Kip Miller. Speaking of which, I hope you've heard "World Container." I think it's the Hip's best in quite awhile.
Alan
Atlanta, Ga.
John,
I remember Vinnie Lecaval-YEAH, baby! (which I still scream in my living room when he "puts the lotion in the basket").
Go Stars,
Derek
Lewisville, Texas
Thanks for remembering everybody!
---
John,
I just met George Parros for the first time after last night's Anaheim/Phoenix game. I must say, his "porn-stache" is much better in person than on TV. I highly recommend it for all to see.
Thanks,
Robert
Fullerton, Calif.
There is no skin behind George Parros' 'stache. There is only another fist.
---
John,
What is going on with Rod Brind'Amour? With the new rules last season, I expected his point production to increase, but the guy is getting old and having an even better season this year on a team not nearly as good!
A.J.
Boston
Rob Brind'Amour is on pace for 33-75-108! He's never had a 100-point season. Never had a 70-assist season. He has scored at least 33 goals four times. When this week began, he had 103 points in his last 103 games. He's 36. This is an unbelievable story. We've got to talk to Rod the Bod.
---
John,
I'm a USA Hockey referee, have been for years. The concerns you voice about your son's hockey games are the same concerns I hear from parents all over. Two quick points. First, players ARE getting it. It's not consistent yet, but penalties are going down, players are skating harder and it's becoming a better game.
The second point (and this is important), according to the Referee in Chief for my district, this new rules standard for USA Hockey was brought on by the coaches' association. He said that this past offseason, the coaches approached the officials and said, "We want what the NHL has." So, I would just say to parents out there who are unhappy with the calls, this wasn't brought on by the refs. And (in my association) we've been instructed that if we do not call the new standard, we will not work.
Nick LaFave
Lansing, Mich.
Got to have a referee J.O.B. if you want to be with me.
---
Bucci,
My hubby and I are addicted to Center Ice and wonder how we have survived this long without Don Cherry, "Hockey Night in Canada," and those fabulously retro Canadian commercials. What an amazing country! We have one question: What in the world does "Satellite Hotstove" mean?
Missing you terribly on "NHL 2Night,"
Heather
"Hotstove" is a term for sports discussion -- debate, trade talks and rumors. Satellites rotate around the earth and enable us to talk to people around the world. "Satellite Hotstove" is talking about hockey with people via satellite.
Peeping tom for the mother station
Winters cold spring erases
And the calm away by the storm is chasing
Everything good needs replacing
Look up, look down all around, hey satellite
Rest high above the clouds no restrictions
Television you bounce from the world
And while I spend these hours
Five senses reeling I laugh about this world in my satellite eyes.
-- "Satellite" by Dave Matthews Band

---
John,
With the number of concussions due to late hits and hits at the head seemingly on the rise, I was bewildered to see Colin Campbell's nonchalant attitude when questioned by the CBC's Ron MacLean on "Hockey Night in Canada" (Nov. 25). For those not fortunate enough to see this invaluable hockey resource, suggestions were proffered, including reducing shoulder pad size, stiffer penalties/suspensions for late hits, and an outright ban on hits to the head.
Campbell's answer for the shoulder pads was a non-answer: It's hard to limit equipment once it enters the dressing room. Isn't his job specifically rules enforcement? For the other two suggestions, Campbell merely threw up his hands saying there was nothing the league could do short of taking all of the physicality out of the game. It could send the message through stiff suspensions that a play designed to injure will meet with serious consequences. And the league need look no further than the NFL for a ban on hits to the head.
I love the physical aspect of the game. I will grant that some of the players have put themselves into a bad position by watching their pass (which can be a necessity depending on the position to know how the play will develop) or otherwise having their head down. But a good shoulder-to-shoulder or shoulder-to-chest hit will accomplish the
same goal without creating serious repercussions. I seek your input on this matter as the voice of reason.
Michael Kovach
Farmington Hills, Mich.
I'm afraid to do anything that continues to take contact and physicality out of the game. We are at a very tenuous spot in the NHL's history, I believe. I probably fear this more than most. All is not rosy. The league is losing traction. Making the game less physical is not the answer. At some point, the players and the NHLPA are the ones who are most accountable. If they can stand together in economic terms, they should also stand together in terms of sportsmanship and safety.
Yes, they are employees of the owners and ultimately Gary Bettman and the NHL hockey operations department. But if they believe their working conditions are that dangerous, then come out and say it and demand change. Strike over safety. If you are going to be a union, then act like one. But I don't hear massive amounts of players complaining about their working environment.
Yes, some of these hits are a bit much. Willie Mitchell's hit on Johan Franzen should have been five minutes. Colby Armstrong's hit on Trevor Letowski was unnecessary. The puck was long gone. So, you either make up a new penalty of "hit to the head," stretch the interference penalty further, so a player can't be hit unless they are still in the follow through of a pass or shot, or let the players deal with it themselves.
Mario Lemieux, Paul Kariya and others complained about the neutral-zone hooking and tugging, and eventually things were changed. If the players want this concussion environment slowed down, they have to take the lead. Everyone is affected in this deal. The players' health and the fans' entertainment dollar is devalued when players miss games fans attend and owners have paid employees on the sidelines wearing expensive suits. One thing is for sure, if Sidney Crosby takes a shoulder pad to the head next week, you can bet we'll have a rule change during the All-Star break.
---
John,
Do you think Chris Drury will re-sign with Sabres at the end of the year? I believe he will, considering they won't be able to shell out another $5 or $6 million or more a year to keep Briere, plus Vanek and Hecht are also both up for contracts. I think keeping Drury, Vanek, and Hecht will be worth more to this team down the road than spending huge dollars on Danny. Don't get me wrong, I love Briere, but even though they share the captaincy, everyone in Buffalo knows Drury is the team's true captain. He is a straight Pucker dude!
Rock 'em Sabres!
Jeff Mazurek
My guess, and this is my own guess, is that Chris Drury will be somewhere else next season. This probably will be his last big deal. A five-year deal for about $20-25 million. He just turned 30, and with the way he stays in shape, five years is a safe bet. With all of the Sabres' challenges in terms of salary, it probably makes sense to keep the younger guys.
---
John,
While I cannot claim to be familiar with every team's respective broadcasting squad, I was surprised to see Terry Crisp and Pete Weber of the Nashville Predators left off your list. It doesn't matter if I'm listening to them of the radio or watching a broadcast, Webber's energy and Crisp's insight balance out to be a near-perfect broadcast every night. And the best part is, they've been with us since Day One.
Toby Atkins
Music City, USA
Good point, Toby. The day after last week's column came out, I said to myself, "I should have but Pete and Terry on that list." Pete is a pro. Terry is goofy. And they work great together. That is always a great listen. A big criterion for my list is how well the two jell and play off each other. Pete Weber and Terry Crisp work off each other as well as any tandem in the league.
---
Bucci,
You have mentioned the possibilities of the Fly-guys dealing Forsberg several times. However, the Philadelphia Inquirer just ran a story in which the captain said, "I don't want to go anywhere else and I have a no-move [no-trade] clause." Do you believe he (or management) will succumb to frustration and waive the no-trade clause, or do you see him sticking it out with us helpless Philly faithful?
Best,
Aalap Sabnis
Arlington, Va.
Peter Forsberg said that because he has good manners. He always says the right thing because he has good manners, because he is smart and respects people. He doesn't want to offend Philadelphia fans by intimating he wants to be traded. And until his feet are healthy and he is feeling good, I somewhat believe him. But if the Flyers are out of the playoff picture for sure in early February and Forsberg is feeling OK, of course he will be traded. He wants to play in the Stanley Cup playoffs, he'll only be owed about $1.5 million and the Flyers can get a first-round pick and a solid body for an aging, soon-to-be unrestricted free agent.
Maybe they can move Derian Hatcher or Mike Rathje instead of taking a prospect. Just take the draft pick and lose some bad salary. Imagine Forsberg in Boston? Or Pittsburgh? Or back in Colorado? Or in Dallas? In Calgary with Iginla? Atlanta with Kovalchuk? My goodness, how tasty are those scenarios? GMs would be salivating. The Flyers really could generate a lot with a Forsberg trade-capade.
---
Hi John,
Here in Sydney, Australia, we can only catch some NHL games on our FOXTEL network, but for the bulk of information, we rely on ESPN's Web site and on
guys like yourself and Barry M. to feed us daily shot of hockey. I decided to attach a photo of my son Daniel, he is 10 months now but already developed an appreciation for the stick and the goal. He is loving it so much that I am projecting him to one day play with the big boys. :)
I was wondering whether there is a place on ESPN where fans could send their photos and where they could be published for all to enjoy, at your discretion, of course. Please keep up a good work for all those fans that are not in North America but can't live without the NHL.
Faithfully Yours,
Dmitry Shtifelman
Red Wings Fan
Sydney, Australia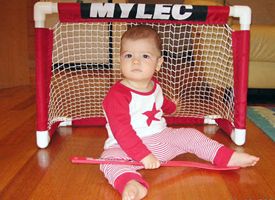 OK, why didn't I think of this a long time ago? Let's start a reader photo of the week for you hockey moms and dads out there. Dmitry, you're the first. I'm a huge Men At Work fan. I'm the guy who has their THIRD album, as well as the first two. G'hockey'day, mate. Have a vegemite sandwich on me.
John Buccigross' e-mail address -- for questions, comments or cross-checks -- is john.buccigross@espn.com.