Bucci,
I am writing this e-mail from my 8-man B-hut in Afghanistan. Luckily, my internet is working today.
I would just like to thank you for your column. In a war zone, hockey is hard to come by. There is the occasional NHL game on the Armed Forces Network, but that is not enough. Your weekly columns and my subscription to The Hockey News (when it doesn't get sent to the wrong place) get me by. I have had occasional reminders of the hockey I am missing while deployed. I played saxophone in a ceremony for Canada Day, and while awaiting a flight at a southern coalition camp, I discovered something amazing. The Canadian soldiers have a Tim Hortons and a hockey rink that they have built right in the middle of a war zone! It was amazing! Around two weeks from now, I will be back home in upstate New York with my Center Ice package, a frothy glass of Canadian, and my high-speed internet. I hope every other person fighting in these wars will also be home soon. Again, thank you for the morale boost.
SGT Jason Shade
10th Mountain Division Band
Bagram, Afghanistan
What can you say after an e-mail like this one?
Examples of courage, sacrifice and teamwork make my eyes wet, and no one is a better example than soldiers are. No matter what their task. We wish we had no need for the soldier; some of them die, some are horribly injured, and some just can't get over the pain and suffering. Add the vast and sometimes confusing political landscape, and it's not always clear to us what the brave are fighting for, and whether, in the end, it will do any good.
The soldier has no control over any of that. Soldiers try their best to keep a clear and alert head; be smart, be decisive, be a good teammate. Get the job done and make life better for those around you. These men and women are common people with uncommon courage and selflessness, and I think about them every day.
Watching Ron MacLean and Don Cherry on "Coach's Corner" during CBC's "Hockey Night In Canada" the past few weeks, I have noticed episodes in which Cherry shows the pictures of fallen Canadian soldiers. I work every Saturday night, so I am in the ESPN newsroom during "Hockey Night." When those pictures come on the screen at the tail end of "Coach's Corner," tears well up in my eyes. Cherry can say a lot of culturally inane things, but his genuine and raw emotion for these soldiers is real. It's the one area, and probably the only area, where we are exactly alike. Nothing is more beautiful than selflessness, and nothing is sadder than when we lose some with so much selflessness. In the end, only kindness matters.
In this age of celebrity and self-promotion, the common man has never stood taller. In a lot of ways, the soldier, in nearly every case, is the living patron saint for the common man and woman, representing the finest model of consistent, hard work. The common man and woman lives, works and attempts to make his lot better one day at a time. The common people are not given their position. They earn it. They don't have millions of dollars to fall back on. They don't have comforts or many options. They approach things with a hunger and a zeal that the rich and famous can't possibly have. They have two paths -- they can give up, give in, lose their ethic and lose their way, or they can stay the course, be humble, treat people with respect and stick it out. Never lose the human touch.
Back in 2003, I wrote a column espousing my four values of hockey: Heart, Courage, Mental Toughness and Artistic Expression.
My entries for heart, courage and mental toughness:
Heart: Hockey is a blood sport and the heart is the essential blood organ. A life can only be a life with something to be enthusiastic about. That is living from the heart. The act of skating -- with stick, puck and net -- is pure enthusiasm. All heart. It's the great mystery of the game and hockey's greatest value. A divine-like feeling of freedom, movement and action. When you think back on those moments on frozen outdoor ice, alone, can you ever imagine feeling more ALIVE?
Courage: This is the value that is needed to turn heart into a commodity. Everyone who loves skating has heart, but everyone who skates isn't a hockey player. Courage carries the heart and the dreams around the rink. There are nine other skaters, boards and glass. Courage enables the player to play as if he or she is skating on Lake Michigan, to play with freedom in narrow, cluttered spaces, ignoring the obstacles and charging on. A life can only be a life if you have the courage to go for your dreams.
Mental Toughness: The winners grind out shift after shift, day after day, with 100 percent effort. To relent is to die. Every stride, every shift, every day has purpose. Hockey is not meaningless for it is life and every bit of life should be purposeful. A life is only a life if you have the mental toughness to make every breath purposeful.
Lately, I have more and more regard for the common hockey man and woman, the common hockey fan who lives a life and loves a game. Ticket prices continue to rise; the media covering the sport continue to get softer, acting more like a public relations arm than an independent entity; and American coverage continues to decline at a rapid and alarming rate both locally and nationally. This is a perilous time for hockey in the United States, and I don't think many are realizing it. I mean, what does Sidney Crosby have to do to get on the cover of Sports Illustrated?
Yes, writing a column analyzing Wayne Gretzky's Phoenix Coyotes track record has no upside. It won't get you invited to Wayne Gretzky fantasy camp or score points with Gretzky's fans, but that's not my job here and the aftermath from readers this week reassured me as to why I write this column.
I love the NHL, the players, the coaches, the GMs, the broadcasters, the referees, Wayne Gretzky, the snow-shoveling Dallas Stars Ice Girls, the Zamboni drivers, and everyone from the NHL offices in New York to the guy selling hot dogs in Nashville. But I don't write about hockey in this space to be anyone's friend. "Anyone" has enough friends, enough support, enough of a voice, and a posse of supporters and benefits. I don't write one word for any of those people. I write (hopefully fairly and honestly) for those in need of a voice, especially when they are so far away from home during the holiday season.
I write for you and for SGT Jason Shade, 10th Mountain Division Band, Bagram, Afghanistan.
I have to admit, I could never quite get my hands around the "Vote for Rory Fitzpatrick" of the Vancouver Canucks thing as I read about and watched it being halfheartedly covered on television. Don Cherry said on the matter, "The league is not a joke. This is a joke."
For me, I was numb to "Vote for Rory." I didn't seem to have a feeling either way. On the surface, it is obviously absurd. It's like inviting Spud Webb to a dunk contest or nominating Milli Vanilli for a Grammy. An actual Grammy. Absurdly, they both won. Upon further review, one had that victory overturned. People still talk about those events that were wrapped around an insignificant award show and an insignificant dunk contest. All-Star Games are unequivocally insignificant. They are fun. Part celebration, part job fair, part meet and greet.
I had a backstage, all-access pass to the previous six All-Star Games -- Tampa, Toronto, Colorado, Los Angeles, Florida and Minnesota. They were a great way to meet a lot people running, playing in and covering the NHL. It was also a great way to meet all the people who enjoyed "NHL 2Night."
The NHL did an amazing job organizing, planning and pulling off those All-Star Games. A number of those people no longer work for the NHL, having either moved on or lost their jobs because of the lockout. I would like to tell you how things went in Dallas after this year's All-Star Game, but my All-Star streak will sadly end at six.
So, who is Rory Fitzpatrick? According to NHLPA.com:
He played in a career-high 60 games with the Sabres in 2003-04. At the minor-pro level, Fitzpatrick has played for the Rochester Americans, Hamilton Bulldogs, Milwaukee Admirals, Worcester IceCats and Fredericton Canadiens.
In 2004-05, he played 20 games for the Americans as the team finished first overall in the American League with 51 wins. In 2000-01, Rory won the Bulldogs' top defenseman award. In 1997-98, Rory scored a pro-best 30 points in 62 games with the IceCats.
Before turning pro, Rory played major junior hockey with the Ontario league's Sudbury Wolves. He was an OHL Third Team All-Star in 1994-95 and an OHL First Team All-Rookie in 1992-93. After his OHL rookie season, he was drafted in the second round of the 1993 entry draft by the Montréal Canadiens.
At the international level, Rory represented the United States at the 1995 World Junior Championships.
Yawn. Not much there. This isn't Tony Twist or Tie Domi or Darren Pang we are talking here. Not a fighter or a guy with a unique name or unique set of circumstances like a 5-foot-5 goalie playing in the greatest hockey league in the world. And playing well. Now that's something I could get my hands around. Everybody Pang Chung tonight!
But, as I exchanged e-mails with Steve Schmid, founder of www.voteforrory.com, and thought about the theme for this column, I realized that even in a hut in Afghanistan, the common fan's voice is the strongest, most important and most passionate of them all. They deserve a say in something, and if it's in an absurd way for a meaningless game, well, even better.
If you are not doing something to upset the status quo, you are not doing your job. Especially in these times when giant corporations and entities continue to foist the "You're lucky you have a job" mentality on their workers while a precious few at the top get wildly rich and think of the citizen, worker and fan last.
So, I rethought my position and passion for www.voteforrory.com, thought about bigger ticket prices, took the Billy Bragg "Great Leap Forward," and went online and voted. Crosby, Ovechkin, St. Louis, Brian Campbell, Souray and Brodeur in the East. Iginla, Selanne, Thornton, Scott Niedermayer, Giguere and, yes, Rory Fitzpatrick in the West.
Power to the people, yo.
Question from Bucci: Give us your bio. Age, job, birthplace, favorite pie …
Answer from Steve Schmid: Well, I'm 22 years old and I work in advertising sales for the local newspaper. I was born in Ithaca [N.Y.], home of the Cornell Big Red. Favorite pie? Hmm, I'd have to go with cherry.
Q: Why did you start Vote for Rory?
A: First off, I'd known of Rory from his years with the Buffalo Sabres. I'd always admired the way he went about his job -- he knew his role as a third-pair defenseman and seemed to step up his game when he was called upon. The thing that planted the All-Star seed so to speak was when I'd heard about him winning the Canucks' most accurate shot competition. Combined with the fact that he won the hardest shot (96 mph) back in the late '90s (unsure of the exact year) in the AHL All-Star Game, I figured he was a good match for at least the skills competition. The more I got to thinking about it, I realized that he's a great representative for all the "lunch pailers" of the league who work hard and never get any recognition for it.
Q: What was your response when you read or heard people who were against it?
A: Everyone is more than entitled to their own opinions, but I still have a hard time seeing why anyone could be so vehemently against it (a la Don Cherry, Kelly Hrudey, Nick Kypreos, et al). I think much of the opposition comes from an idealistic view of what the All-Star Game really should be, but isn't. It'd be great if the All-Star Game meant something and was a showcase of all the talent we have in this league, but with the minimal effort put in by most of the players and the "I'd rather not be here" attitude, it comes off as hockey at its lowest level. A big part of getting Rory in is to infuse some hard work and work ethic into the All-Star Game to go along with the talent. As we saw during the Olympics, you have to have a mixture of both to have a successful team and an entertaining product.
Q: What have you learned from all of this?
A: I've learned that it's nearly impossible to take media requests without making the bosses mad. Seriously, though, I've learned that the fans really do have a voice, even if it's just in the All-Star Game … which is a good thing, because the fans probably shouldn't have a voice in anything with implications (the regular season, playoffs, Olympics, etc.). It's also great to see people come together from all 30 teams and unite in trying to get Rory into the game.
Q: Will you do something like this again?
A: Absolutely not. I'll offer my services to the NHL to help them with some marketing ideas for next year's All-Star Game, but this is absolutely a once-in-a-lifetime thing.
Q: Anything you want to add? The floor is yours.
A: I would like to add that no matter where this ends up, I'm very glad that I've been able to draw so much media attention to hockey in general. If Rory does make it in, even if only a few hundred people tune in to the game out of curiosity, it'd be worth it. Since the lockout, I think it's every die-hard fan's responsibility to help the game grow as much as they can, and we're all doing our part here. The biggest thing, though, is that I really hope that no matter how this ends up, it will be a special thing for Rory that he can fondly look back on in five, 10, 20 years from now. The fact that I've already been able to generate almost $1,000 for the Canucks For Kids charity due to running ads on the site just shows the generosity of people, and I'm extremely thankful that I'm in a position to do this. The only thing now is that I hope I can get a bunch more and then present the check to Rory in Dallas on Jan. 24.
John,
I just read the article you wrote about the Phoenix Coyotes ("Coyotes could use some work, from top to bottom" ) at ESPN.com. Now, we all have the right to our own opinion, but I couldn't disagree more with the article. I don't think you can question Wayne Gretzky's passion for the game of hockey and his team. For someone of his caliber and magnitude there should be NO question at all about his love for the game. I think he, himself being such a great player, would be able to spot which prospects have the best potential. I feel he is leading this team down the correct path.
Now, I'm not at all saying that what you wrote is wrong, I just think that you're looking at it from a narrow point of view.
Jeff Rowan
My point of view came from performance. Obviously, most in the media are afraid to write negative things about Wayne because he could freeze them out or they have a personal relationship with him. But why is it fair to constructively criticize Doug MacLean's job performance, or Bob Clarke's or Sergei Fedorov's or Rory Fitzpatrick's or Gary Bettman's, and not others? I've written 378 glowing things about Wayne Gretzky in this space and never got a voice mail. I state a record of fact, raise some questions, wonder aloud to get a conversation going (the ultimate goal of this blog-umn, part blog, part column) and talk amongst ourselves. I paid for my autographed Wayne Gretzky sweater in my basement.
John,
Gretz saved hockey in Phoenix when he intervened in the summer of 2002. Here's hoping he can save it again by ending the nepotism that has further drained the franchise in recent years.
Matt,
Phoenix
John,
As a season ticket holder of the Coyotes, I couldn't agree more with your article. It has been really difficult, especially during the Mike Barnett era, with some of the trades, drafts and free-agent signings, to stay loyal to the team (the Yanic Perreault signing aside -- what a deal!). It is really frustrating when I get my Hockey News and see Daniel Briere as a star and on the cover (a former Coyote and great guy) and look at the lists of elite prospects and not see Phoenix's name anywhere.
I would be happy and lovin' it if I knew they were building toward something, and could deal with a few losing seasons while they played some of the young guys instead of guys either past their prime or in the twilight of their careers -- we look like the old New York Rangers West this season! I think they have a pretty good group to build around with Keith Ballard, Zbynek Michalek and some kids in the system like Peter Mueller, who could use more NHL ice time.
The other thing that you didn't mention in your article is our awesome assistant coach, Barry Smith, who should get poached for a head coaching job in the offseason by a lucky team that would make behind the bench even weaker than it already is. I LOVE Wayne Gretzky and everything he has done for hockey and the Coyotes, but we seem to be taking more steps backward with him as the coach and Barnett as the GM. I am still keeping the faith, but it does get really old reading about all the other team's great young players and draft day luck while watching yet another undisciplined, albeit hard-fought loss by my 'Yotes. Hell, for a fraction of the price, we should have kept Teppo (one of the most underrated players in the game) and wouldn't have needed Jovo!
Cheers,
Matthew Kinney
Surprise, Ariz.
Peter Mueller is too young for the NHL right now, but these young players can make major leaps very suddenly and unexpectedly. Like any team, the Coyotes will continue to try to build assets. They will have a lottery pick next June, barring a strong second half. There should be a good market for Shane Doan. They might even get a No. 1 pick for him. I wonder if they would be in the Chris Drury sweepstakes next summer. Like Doan, Drury is a good model for young players, but he probably can do a little more from the center position than Doan.
John,
Last week you wrote a scathing (albeit pretty accurate) critique of the Phoenix Coyotes. Immediately afterward, the team picked up five out of six points against division rivals, including a stunning 8-0 trampling of the Sharks. That game was a Curtis Joseph shutout sundae topped with a Jeremy Roenick hat-trick cherry!
Coincidence? Probably … but I prefer to regard your column as one of those oddball superstitions, akin to not shaving or wearing dirty socks, that keep streaks of good luck alive. Please continue to slam my beloved Coyotes on a regular basis so that we can keep winning and prove you wrong (for once!) by actually making the playoffs. *Stares longingly at drawer full of White Out T-shirts.*
Carolyn Markey
Phoenix
Glad to see I inspired the Coyotes. Whatever I can do to help. Do I get Coach of the Year honors?
JB-Diddy,
As a Coyotes fan and season-ticket holder, your last column made me a just a little sad inside. The poor play by my home team has changed the way I root for them. I find myself cheering the small things, like "We're finally above .500 at home" and "We went one whole period with out hooking anyone."
From what I can tell of our leader Wayne, is that he started with nothing but good intentions and passion that have now disappeared. Last season and the beginning of this season, you would regularly see Papa Wayne explode at a ref for a bad call or a non-call to the extent that his veins would pop out and his face would turn a fetching shade of purple. (Side note: There are ELEVEN Cup rings shared by the Coyotes' front office -- that has to count for something, right?)
On to Doan. Your analysis of his skill is something that I have been saying for quite some time, but what you can't see in his stats is his effect on the Phoenix community. He is a regular interview on Phoenix's most popular radio morning show, great with the media and very involved with many local charities. At most games at Jobing.com Arena (Yes, I know it's a horrible name, but $10 million is $10 million), as I would assume at most arenas, between periods before the ice gets resurfaced, we get to see a mob of peewee hockey players slip and fall and, every once in a while, poke a puck into the net. After all that cuteness (did I just make up a word?) is over, they have a peewee of the game that gets interviewed by our in-arena host on the big screens and the first question that is asked to the young hockey player is "Who's your favorite Coyote?" Every single one of the little tykes, and I mean EVERY single one of them, says Shane Doan. Did you know that Doan doesn't even use bad language? Think what you will about a grown man who refuses to say the "f" word, but if my kid was going to have some sort of role model, I hope it is one like Doan. If there was a stat for heart and character, I believe that Doan would be in the top 10 in the NHL, a league that is full of people with big hearts and lots of character. I'm no expert, but if I owned a hockey club, Shane Doan is just the kind of person I would want to represent that club. Sure, I'd rather Doan score more and make a bigger splash in the league -- who wouldn't? -- but there is no substitute for bettering the community that you live in.
Jim
Phoenix
Shane Doan is the kind of guy you like in 1.8 seconds. He is an amazing role model on and off the ice. My only take is that he, among others, should not have been taken over Sidney Crosby on the 2006 Canadian Olympic team and is a good second-line player and would be a great addition for a lot of teams looking to better themselves in the postseason. I read in Bruce Garrioch's column (in the Ottawa Sun) that Doan's agent is looking for more than $5 million a year! He has scored 30 goals once in his career, is 30 years old and has eight goals this year. $3.5 million, maybe. As far as Wayne not yelling as much, I'd have to study the tape, but I think that's just part of the maturation process as a young coach. It's a tough situation in a place with Phoenix. You are trying to load up on season tickets and get good walk-up numbers by having a competitive team, but signing veterans and robbing playing time from young players does a few things. You probably won't make the playoffs; you are delaying the NHL orientation of your young players; and you don't stink enough to get that No. 1 or No. 2 overall draft pick to get that really top-notch prospect.
John,
It's a sad statement, regardless of the sport, when the most talented person in the organization is behind the bench. Gretzky possessed a unique vision when playing the game, but the cast of characters he has surrounded himself after his playing days are more often miss than hit. Mr. Barnett hasn't proved himself as a GM in this league very often, other than the occasional trade to redeem his otherwise pathetic track record. For whatever unbeknownst reasons, Coyote management sees something in a plethora of third-line players who they believe can take them to another level. They haven't and won't. The Valley of the Sun is a pretty strong place to live, but it's the equivalent of purgatory for hockey players still lacing up their blades, looking to apply their trade.
Season's greetings
Terry McAndrew
Phoenix
Coyotes season-ticket holder :(
There have been some changes in the Coyotes organization since Wayne has taken over, and there might be more. The past three drafts look pretty good, but again, these aren't top-three locks we are talking about it. They could work out really well, or they could be just good players. But just good isn't enough. Everybody is good. The Great One needs great ones.
John,
I've been on this "Decade in the Desert" ride for far too long without any results to speak of. Media criticism of Gretzky and his pals is long overdue. Although, you missed one major item under the "talent evaluation" heading: trades. Briere for Chris Gratton, Daymond Langkow for Oleg Saprykin, Teppo Numminen for nothing, Mike Johnson for nothing, and a cavalcade of players to Philadelphia for effectively nothing in return, just to highlight a few.
Thanks and keep up the good work,
Bill Weidner
Mesa, Ariz.
Wayne deserves to see his five-year contract through. It likely will take about that long to get the Coyotes to elite status in the West.
---
Mr. BucciGOD,
I don't know how to say this, but I love you. Don't tell my fiancee. Keep up the good work, and maybe reconsider your views on Radek Bonk. He's impressed me this year.
Anyhow, I've been waiting to do this ever since you first named a baby. My fiancee, Shelly, and I are expecting in July. We won't know the gender until the birth. Until then, we are calling the baby "Koivu" because it beat the odds during conception, but that's another story. Shelly's a proud German, and I want to sneak in a way to promote either my French Canadian heritage (despite my last name) or my love for the Habs. I'm working on Koivu for a middle name, but I don't think that will pass the mother-in-law approval court. Please, please, please, give me your advice on a name for baby Gustafson. Thank you and keep up the awesome columns. You make work enjoyable. By the way, give the band Voxtrot a listen. They played one hell of a show in Fargo.
Cheers and Go Habs Go!
Your hetero groupie,
Dustin C. Gustafson
Fargo, N.D.
Jarvis Koivu Gustafson -- Jarvis is a German name for "skilled with a spear."
Elsa Jean Gustafson -- You can tell your wife the Jean is pronounced like Gene, but you know better.
Hockey fact: One of the greatest hockey experiments of all time has been completed. Ray Ferraro, 408 career NHL goals, and his wife Cammi Granato, Olympic gold medalist, have created a human being. Riley Edon Ferraro was born Dec. 30, 2006, in Vancouver, British Columbia. Little Sparky shares a birthday with Tiger Woods, Sandy Koufax, LeBron James and former England cricket wicketkeeper, Dick Spooner.
---
Hey Bucci,
Yes, the Coyotes are somewhat of an embarrassment to the new NHL with lack of star talent, size and speed. I still think the man behind the bench is capable of doing great things with the organization, but maybe he needs to lose the idea of trying to mold a team in the vision of his old Kings or Oilers teams. The one thing that those teams had that the Coyotes severely lack now is a bona fide playmaker/superstar. Gretzky was that player in the past. If he wishes to envision the Coyotes to perform like teams of the past, he needs to find that player and fast.
On his choice to not pick Sidney Crosby for the Olympics, I think that was just to protect the NHL's future. I know that if Sidney were given that chance to perform on that kind of stage, he would have been lights out! But to throw the young guy out there so soon for most people would have been premature.
Kelala
My take on Crosby and the Olympics is that he was ready to play. What if he gets injured before the 2010 Olympics and can't play and then the NHL decides to bag the whole Olympic thing? He might never get a chance to participate in an Olympic Games. More important, he would have made the team better and perhaps helped it win.
---
John,
Why does Barry Trotz seemingly never get any recognition for Coach of the Year? Being the Hockey God that you are, I don't have to provide you with the details of the job he has done since Day One with the Predators. Yet, it seems at the end of the year, his name is nowhere to be found for the Jack Adams Award. Why is that?
Adam Roman
Murfreesboro, Tenn.

Coach of the Year awards are like a big pop song. They are, for whatever reason, based on a series of circumstances that are largely beyond a coach's control -- the team he coaches, the city, some of the players, the rhythm of the season and media coverage. Maybe it comes down to nicest neck. It appears Coach Trotz doesn't have one, so maybe that has been hurting his chances. He is the antithesis of Audrey Hepburn, who had the nicest neck in the history of necks.
---
Hey John,
I can't stand all this preliminary talk about Evgeni Malkin as Rookie of the Year when we have Anze Kopitar from the Kings sitting just one point behind him in scoring and playing on a team with half the talent.
Josh
Irvine, Calif.
Before the season, my preseason projection of Evgeni Malkin's output in my Eastern Conference preview was 31-40-71. I think I'll be close on that one. I don't think Anze Kopitar will get to 30 goals, so I would still give Malkin the edge. However, this is a definite race. Malkin looks a hair less explosive. He's been through a lot this season in his first experience as an NHL player. You wonder how he is dealing with the travel and the diet. Is his shoulder OK? Is the physical play wearing him down?
---
John,
I'm a blue-bleeding (again) Rangers fan and I hope my gripe gets some air. Last year was very exciting with all the new faces and the move to some younger guys -- even if they are short on finishing and the finer points of handling the puck. This year, it seems that management (even though we seem to have some strong prospects) has cast its lot with the vets again.
I can't beef about the likes of Shanahan, et al, in any way. But I'd much rather be watching Marc Staal mistakes than those of at least half of the D-men they march out there every night. It's getting embarrassing and I'm worried we're headed down the same old path. Half-rebuilding has never worked and it's failing again.
Healthy and Happy New Year to you and yours,
Tom
The Rangers have an older team, and their prospects are not high-end. They aren't good enough to win the Stanley Cup, and they are too good to accumulate major, high-end talent via the draft unless they get lucky.
---
Bucci,
You need to write a column ripping the L.A. owners and management like you just did with Phoenix. The Kings have a much bigger and loyal fan base, but AEG is a real estate company that only cares about developing the area around Staples Center instead of the team that plays inside. In the 11 years they have owned the team, there has been no success to speak of and this year's squad might be the worst.
They finally cleaned house last summer after a decade of misery, but only because the crowds started to dwindle. Marc Crawford and Dean Lombardi are solid, but signing Dan Cloutier to a ridiculous extension before the season even started and adding foot soldiers like Brian Willsie and Alyn McCauley did nothing, not to mention blowing $12 million over two years for over-the-hill Rob Blake. Please help expose to the rest of the world what we in L.A. are going through. I won't even mention how the L.A. Times thinks hockey rates below the WNBA, and that is with All-Star reporter Helene Elliott on staff.
Thanks for your help,
Jenny
I don't think I am a ripper. A columnist's job is probably to incite. I like to look at things analytically, break them down and ask some questions to get a dialogue going so we can learn from each other. I'll throw a dig in there once in a while, but it's all in fun. Your reader contributions in this column are tenfold of what I have to offer. As for the Kings, I think they are a little better off than Phoenix at this stage, and they have a brand-new administration, so we have to give them time.
---
Bucci,
Have you heard anyone suggest allowing players to intentionally kick the puck directly into the net to increase scoring? I think this would be better for the game than making the nets larger (yuck!). It seems that it could allow for much more creativity in front of the net and on the shootout if players have two feet and a stick to shoot with. What do you think of this idea?
Go Ducks!
Ryan Gregston
Lake Forest, Calif.
Ryan, players have razor blades on their feet almost a foot long. We cannot have them kicking anything.
---
John,
I'm confused about all of these meetings to rework the schedule for future seasons (and now realignment is being discussed, but that's a whole other issue). Anyway, the schedule problem seems to have an easy solution. Now it's possible I'm missing some glaring error with this, but how about:
Five divisional games (20 overall), three intraconference games (30 overall) and two interconference games (30 overall). This maintains an emphasis on division and conference rivalries, but doesn't force ridiculous schedules (such as Detroit playing six consecutive games against Columbus and Minnesota). More importantly, it gets every team into every arena every year. The only possible problem is that you have an odd number of games against your division and conference teams, but the extra home game can simply be rotated every year. Also, that formula only adds up to 80 games (which is fine with me), but if you really want 82, just add an extra game against between the three teams in each conference that finished the previous year in the same place in the divisional standings. (For example, Philadelphia, Ottawa and Carolina all finished in first in their divisions last year and would play each other four times instead of three). Maybe this is too simple a formula, but it makes perfect sense to me.
Dan Mahon
Alexandria, Va.
I've got to tell you, nothing interests me less than the schedule talk. Now, loving all 30 teams equally and watching 90 percent of the NHL games on television, it doesn't affect me like perhaps a season-ticket holder. And I'd go one division in each conference. I shall call it the Eastern Conference and Western Conference. You can keep the schedule weighted for travel or rivalry sake, but no one cares about divisions, do they? They care about 1-8, right?
---
Mr. Buccigross,
How about them Blackhawks? One early-season coaching change, a few healed injuries and suddenly they're playing like a contender in the West. Martin Havlat is a beast and Nikolai Khabibulin is playing out of his mind every single night. I've seen attendance go from the usual below 10,000 earlier this year to 18,000 when Peter Bondra scored No. 500. I've never been this excited about the Hawks. Please tell me I'm not insane to be having playoff dreams right now.
Thanks,
Alex
Chicago
The Blackhawks should stay close. Their special teams need to get better, and I think they need to add a really good player to get into the top eight.
---
Hey, Bugsy!
As far as the Canadian fans writing in complaining about the Pens staying in Pittsburgh, there are a few facts that need to be straightened out. I have listed below the Penguins' average attendance over the last decade-plus:
2000-01: 99 percent capacity
2001-02: 92 percent capacity
2002-03: 87 percent capacity
2003-04: 70 percent capacity
2005-06: 93 percent capacity
2006-07: 93 percent capacity
The 10 years before 2000 … 98 to 100 percent capacity.
Now, does that look like a team that does not get enough fan support? Don't quote me attendance figures, you Canadian crybabies. We cannot sell more tickets than what the building allows. The arena sits 16,800. So, selling 16,500 isn't too bad. I could be wrong, but I seem to remember both Quebec and Winnipeg having SERIOUS attendance problems when their teams left. That however, is NOT the case here in the 'burgh.
Sean
Pittsburgh
John,
I realize this might not register with a Vancouverite, but in Pittsburgh, there are three major professional sports franchises, all with long and storied histories, all have won championships, and all wear the Black and Gold. Vancouver, with its population of 2.2 million, couldn't support the Grizzlies. Pittsburgh, with its population of 380,000, supports the Penguins, Pirates and Steelers. The Pens might not sell out every Thursday night game in December when everyone's wondering about the Steelers' chances of making the playoffs, but they do have a young and loyal fan base in Pittsburgh.
Michael
Erie, Pa.
---
John,
I'm sick of reading all of these WCHA and Eastern fans yapping at you. How about some love for Michigan State and the CCHA? My Spartans are going to turn it on in the second half and make a run at the NCAA title. Well, maybe, or, something like that.
Steven Birn
2000 Michigan State alum
Grand Rapids, Mich.
---
John,
Since you seem to have a major crush on Sweden and a penchant for underground music, I thought I would share my picks with you and your readers for the best Swedish releases of the last few years, aside from Nicklas Backstrom (the Cap, not the Wild):
Dungen: Ta Det Lugnt (amazing psych-rock gods; Dungen means "forest" in Swedish)
The Knife: Silent Shout (doom-techno brother-sister duo on many critics' best-of lists for '06)
Peter Bjorn and John: Writer's Block (masterful pop/rock)
Love Is All: Nine Times That Same Song (the Swedish Yeah Yeah Yeahs)
Jens Lekman: Oh You're So Silent Jens (a singer/songwriter with a wild sense of humor; see "Pretty Shoes")
That should get you and your readers started. I recommend working from the top on down.
Go Caps!
Jim
Baltimore
---
Bucci,
My first ever favorite NHL player, Alexander Mogilny, is he a Hall of Famer? He only scored over 100 points twice, but despite his injuries, he still has more than 1,000 career points in less than 1,000 games. He scored 76 goals in 1992-93. Also, he won a Cup, a Lady Byng, five All-Star nods and a slew of milestones as a Russian defector. I'd say he's in the Hall, but I don't have my own national hockey column.
Joe Dunman
Louisville, Ky.
---
Dear John,
Jim Balsillie is Canadian, and you were not in favor of him buying the Penguins. Why do you hate Canada? I have also heard that he owns a puppy. Why do you hate puppies?
Mike Yedinak
Boston
My grandma was born in Newfoundland, therefore, I AM CANADIAN! My wife brought home a puppy the other day. Then a bill came. I thought someone stole my personal identification and opened up a line of credit when I saw the balance on this new account. Then I realized it was the bill for the dog. Yes, at this moment, I hate puppies.
---
John,
I say 10-minute overtimes. I can't stand using the shootout to decide a team game unless absolutely necessary. With 10 minutes of 4-on-4, 98 percent of games would have a real finish. Shootouts should be last resorts.
Andy
N.C.
Readers of this space know this has been a consistent plea of mine the past few years. Ten minutes of 4-on-4 would help preserve the buzz of a shootout, doesn't take up much more actual time and will make a victory more team-oriented.
---
Hello John,
We've communicated in the past regarding our sons, who both play mite hockey. I saved your column describing your son, Jackson, because it was as if you were describing my son to me, and your description of his first goal was fantastic.
My son recently scored his first goal as a second-year mite. This year, he switched to defense instead of forward and changed his number to 51 to match that of his favorite player, Brian Campbell of the Sabres, so I doubted he would score a goal for quite some time. But in our sixth game, he pounced on a neutral-zone turnover, skated in to the low slot, and lifted a shot over the goalie's shoulder. I could not believe my eyes when I saw it. Making it all the more memorable for me was being on the bench coaching his team -- I was able to reach out and touch his hand as he skated past the bench to high-five teammates in celebration.
David
Syracuse
David, you'll never forget your son's eyes, as big as faceoff dots, as he skated by the bench for his post-goal high five. I can still see Jackson's look. At that moment, he could have generated enough electricity for the state of Nevada for three months.
---
John,
Here is a submission for the weekly hockey kid photo in your column. It is of my 18-month-old son, Landen. I'm hoping this is just the first of many times that he finds the back of the net at our local roller hockey rink.
Kurt Summers
Dixon, Ill.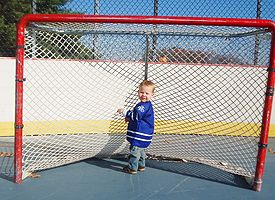 Great photo, and a fine exhibit in my case for bigger nets!
John Buccigross' e-mail address -- for questions, comments or cross-checks -- is john.buccigross@espn.com.