I'm half the man I used to me
This I feel as the dawn
It fades to gray
Well, I'm half the man I used to be
-- "Creep" by Stone Temple Pilots
Peter Forsberg is half the man he used to be.
The Flyers center turns 34 this July and is clearly on the back nine of his nearly peerless NHL career.
All-time assists per game:
1. Wayne Gretzky
2. Mario Lemieux
3. Bobby Orr
4. Peter Forsberg
Read that a few times while listening to Scott Weiland sing STP's "Interstate Love Song" before reading on. That song came out in 1994, the same year Peter Forsberg put his stamp on the world's hockey consciousness. He first led the Swedes to a gold medal in the Winter Olympics (scoring the game-winner in a shootout), and then went on to win the NHL's top rookie honors for the 1994-95 season.
I've always compared Foppa to Larry Bird. Back in 2002, the first full year of this column, I wrote the following about Forsberg during the Stanley Cup playoffs:
No one is playing better right now. I call him Larry Bird on skates because of his vision, I.Q. and how he plays better in more meaningful games. However, he is also Bird on blades because he will have to retire at a young age. Forsberg plays like Bird -- with no regard for his body, to win and not for money. They are comets that burn so brightly, they tan your face. Then they go away and you feel like crying.
Larry Bird retired when he was 35 and a half. Forsberg will be 35 and a half in January 2009.
In the end, Bird's body was ravaged by all the running, diving and pounding he took by playing a physical, all-out interior game. Bird and Forsberg both could have played a style that was more conducive to a longer career. Stay on the perimeter, avoid contact and use vision to stay out of harm's way while still being a productive, All-Star-caliber player. But, as we all know, Bird and Forsberg loved to paint and sculpt. Bird had no interest in being Glenn Rice and Forsberg had no interest being Pierre Turgeon.
Bird rebounded, dove for balls, took charges. Forsberg took poundings behind the net during the NHL's clutch-and-grab era, exchanged post-whistle face washes and loved making his living in the NHL's mosh pits.
But playing this way comes with a price.
Bird had his last great season at age 32. Forsberg is paying that same price as he approaches his mid-30s. This season alone, Forsberg has suffered back, head, wrist, groin, ankle and foot problems. There is little tread left on his tires. That being said, I have seen enough glimpses this season when Forsberg has enough in the tank to be a major postseason factor for the right team. Like Bird at the end of his career, Forsberg needs someone else to carry the load. At this point, his body is too fragile to carry a team.
Len Bias was going to be that "relief" player for Bird after the Celtics drafted him in 1986. But his tragic death -- a tragedy always should be about the Bias family first -- seemed to drain a spirit out of the Celtics, and Bird.
That "Bird Factor" -- trying to carry a franchise as an aging, injured player -- is the biggest reason Forsberg should waive his no-trade clause and move on before the Feb. 27 trade deadline. Forsberg can help the Flyers via trade since the team likely will receive a first-round pick and a decent prospect next month before the 3 p.m. ET deadline. Then, if Forsberg wants to return to Philadelphia this summer as an unrestricted free agent, he can sign with the Flyers.
But, at this point in his career, Forsberg is better off going to a place where he can be a second-line center on a good young team. He can play fewer minutes, take a game off here and there to stay fresh, and be a mentor to younger players. This will extend his career, make him more money, possibly win him more championships and solidify his Hall of Fame credentials. Although, to me, Forsberg already has earned a spot in Toronto.
Looking at the standings, I conservatively can see 26 teams that could benefit from Forsberg's help. Any of those teams would be inheriting a hockey god. There are just a handful of athletes who have that special aura, that can revitalize and reinvigorate a team like an evangelist can move a congregation. Tom Seaver, Ray Bourque, Mark Messier and Shaquille O'Neal are forces that give a cause more purpose. Seaver and Bourque were unequivocal monuments when they were dealt in the December of their careers.
When Seaver arrived in Boston in 1986, it was like Opening Day at Fenway Park in the middle of the summer. Had Seaver not gotten injured, the Red Sox probably would have won the 1986 World Series. In 1999-2000, Ray Bourque had scored 10 goals in 65 games with the Bruins. When he was traded to Colorado, Bourque scored eight goals in 14 games with the Avalanche. I would expect Forsberg would be reinvigorated in the same way. Bourque's presence helped the Avalanche win a Stanley Cup the following season.
Monitoring Forsberg's future will be the most compelling story this season. I wonder if he will give the Flyers a list of teams and say, "If you can make something happen in any of these places, then let's do it."
Trying to choose the team that makes the most sense for Forsberg, the Flyers and the team that lands him is close to impossible. We just don't know about Forsberg's health. He could be done for the season sometime next week. But, let's assume he's healthy and at least talk about it now that we are at the All-Star break.
Other than the Flyers, let's assume that that Columbus, Chicago and Los Angeles have no shot at the postseason. Let's look at the other teams' chances of landing Forsberg, starting with the highest points total.

1. Nashville Predators
This is intriguing. In a market that is teetering on failing, a name like Forsberg clearly would break through some of the hockey ignorance and sell tickets. Paul Kariya was a similar sign, but Forsberg takes it to another level. Nashville could use a little better power play and a center to make its wingers more productive. Forsberg could do that and Nashville has young players to deal. This is the kind of move that could win a Stanley Cup for Nashville.

2. Buffalo Sabres
Buffalo also has a power play with room to improve and Forsberg would give this team a monumental lift going into the postseason. There are young players (Derek Roy) to deal. But, like Nashville, Buffalo has such a cohesive unit that it probably doesn't want to disrupt the flow and take a chance of compromising its depth for a guy who either might suffer another long-term injury (at the worst) or miss small chunks of games (at the least).

3. Anaheim Ducks
Never count out GM Brian Burke. Forsberg would be a positive because it means no one else in the West gets him. What if Burke dangles 19-year-old Bobby Ryan in front of the Flyers? The big right winger was born in New Jersey and was the No. 2 overall pick of the 2005 draft behind Sidney Crosby. I was shocked when the Ducks did not choose Jack Johnson, although it now appears the Kings' Anze Kopitar might end up being the second-best player from that draft. Some of the Ducks' key players are young. Forsberg would take some of the scoring pressure away from them, and Teemu Selanne.

4. Detroit Red Wings
This makes a lot of sense for the goal-challenged Red Wings, although would Forsberg waive his no-trade clause to go to a team that was a heated rival of the Avalanche? That rivalry is no more, but imagine longtime Avs season-ticket holders watching Forsberg take the ice with a winged wheel. The boys at Downstairs at Eric's would be puking in their chili cheese fries watching that one. That might matter to Forsberg.

5. San Jose Sharks
This makes a lot of sense because you still have to wonder if San Jose has the experience to win 16 playoff games. You can't play Forsberg with Thornton because they are pass-first players, but imagine bringing out Forsberg on the second unit of that power play? Thornton is shooting more this season and is on pace for his first 200-plus shots-on-goal season despite battling injuries. He could have a monster second half. But to plug in Forsberg on the second line with Patrick Marleau would give the Sharks a devastating offensive and a boosted self esteem in the playoffs.

6. New Jersey Devils
The Flyers trading Forsberg to the Devils? Fuh-get-about-it!

7. Atlanta Thrashers
The Thrashers need a tougher defense -- 19 teams have allowed fewer goals than Atlanta. Still, 17 teams allowed fewer regular-season goals than the Hurricanes last season and they won the Stanley Cup. But, this season, goals are down and shutouts are up, so defense might be a major key this postseason. The Thrashers certainly could use a center like Forsberg to feed Ilya Kovalchuk. This is the first season when Kovalchuk won't see his goals increase since he entered the NHL in 2001. I don't think the Thrashers are going to finish as well as they've started. I'd like to see them do something.

8. Dallas Stars
Forsberg for Eric Lindros? Just kidding! The Mike Modano and Brenden Morrow injuries have hurt the Stars' offensive output, but they are still light in that department. The roster isn't as good a fit for Forsberg as some of the teams mentioned above.

9. Montreal Canadiens
Their style of play certainly affects their offensive output, but they have offensive talent that is begging for someone like Forsberg. He would set such a charge through the city of Montreal that Jean Beliveau would suit up and play for the rest of the season. Looking at the Canadiens' roster of young players and their need for a playmaker, I can see why Montreal fans believe a Forsberg trade is possible.

10. Ottawa Senators
Don't sleep on the Senators. They are in the weeds right now, but they have a Stanley Cup roster. Add Forsberg to play with fellow Swede Daniel Alfredsson, while Jason Spezza feeds Dany Heatley. A delicious thought. This team has speed, toughness, smarts and experience. Add Forsberg and it might give the Sens the confidence and swagger to finally win it all.

11. Calgary Flames
Creativity and the Sutters long have been rumored to be synonymous. However, trading a defenseman for Alex Tanguay showed that the Flames knew they needed more offense. Their power is putrid. If they could ever become a force in that department, they would really be a tough out in the playoffs. Forsberg to Iginla would redden the complexion of Flames fans because that inferno blast they send into the air after goals would be happening a lot more.

12. Vancouver Canucks
This team has the goalie. Throw in Forsberg to play with Markus Nasland, and that kicks the Canucks up a notch as they look to get their game up to the level of the Ducks, Preds and Sharks. Luc Bourdon for Forsberg?

13. Carolina Hurricanes
The Hurricanes need defensemen and probably can't afford the luxury of Forsberg.

14. Minnesota Wild
The Wild need more goals, a better power play and a big wake-up call for the rest of the way. They are heavy at center, so that helps a trade chance for a Flyers team that needs everything but a slow, overpaid defenseman. Forsberg in Minnesota would be front-page-of-the-newspaper kind of stuff. He and the Wild fans deserve each other.

15. Tampa Bay Lightning
Not here. Plenty of goals here. This team needs to worry about the back end.

16. Colorado Avalanche
This ship has sailed. It would be cool to go back for a few months, but the Avalanche need to let their young players log meaningful minutes and they need to be committed to the rebuilding process. Trading a No. 1 draft pick or a young player would be bad over the long term.

17. Pittsburgh Penguins
My god, this would be a beautiful thing for hockey. I'd put Jordan Staal with Crosby and Mark Recchi, and Forsberg with Evgeni Malkin and a cardboard cutout of, yes, Kelly Monaco wearing a terrible towel. Talent plus experience plus major distraction equals a plus/minus of 467. This won't happen because Flyers fans would burn down the rink and because I won't give up my cardboard cutout.

18. New York Rangers
Marc Staal for Forsberg? I could see GM Glen Sather doing something like that. Is that smart? Maybe. Maybe not. The Rangers need defensemen first. They are allowing too many goals. They also need secondary scoring. Their No. 1 line is one of the best in the NHL, but after that, the rest of the team drops off. This team is also begging for a jolt of excitement to give the veterans a boost and overcome their shortcomings.

19. Edmonton Oilers
This is a team in need of goals and a better power play, but I don't see a roster fit for a trade between the Flyers and the Oilers.

20. Toronto Maple Leafs
Not here, either. They need to get younger and better. Forsberg would make them better offensively, but they don't have the horses to keep the puck out of the net. This team needs to pimp its ride, and you don't start with an engine with 90,000 miles on it.

21. Boston Bruins
The Bruins have two problems. They don't score a lot of goals and they give up a whole bunch. If this team was closer to a playoff spot, I would say Forsberg's a maybe, but this is still a "loose" team with not enough "safe" players. The Bruins should realize there is no way they can win the Stanley Cup and move unrestricted-free-agent-to-be Brad Stuart, who really should garner lots of value. I'm thinking, he is thinking, five years for $25 million, at least.

22. New York Islanders
This is a veteran team that has made some nice draft picks of late, like Kyle Okposo of Minnesota. The Islanders need to get more Long Islanders "hot for the hockey." This team is a decent defensive team, but they need to score more. The roster isn't conducive to a trade, but maybe they'll throw in an autographed Bob Bourne stick and a nice lob wedge. I love a nice new lob wedge.

23. Washington Capitals
Yummy. This would be huge for ticket sales. It would also increase the Caps' playoff chances and make them more interesting than the Washington Wizards. Maybe the Capitals then can convince Forsberg to stay another couple of years and groom Swedish prospect Nicklas Backstrom, while promising to stay active in the free-agent market.

24. Phoenix Coyotes
Shane Doan would be a good Flyer, but he's set to become a free agent, so Philly might as well wait until it can get him for nothing. The Coyotes are getting better. They are a good skating team, but lack a real scoring dynamic. That's why they probably will be a streaky team all season. Forsberg would be good for ticket sales and help the Coyotes land the No. 8 playoff spot. Still, trading draft picks and young players is not the way this team needs to go, although I'm sure Wayne Gretzky would like to coach one of the few guys who sees the ice close to the way he did.

25. St. Louis Blues
If I was running a used stapler store, I would probably hire Dave Checketts and John Davidson to run it. They will make it work in St. Louis. I think the West's current top eight teams ultimately will be the top eight come April. I don't think St. Louis quite has enough. I would trade veteran assets instead of adding them. I'd get good draft position and acquire more young assets. Besides, the Blues will be aggressive in the free-agent market next summer.

26. Florida Panthers
Who knows what the Panthers are thinking? My guess is they probably will shed payroll as opposed to adding, even if it's short term. But, like a lot of teams, much will depend on how things go over the first 10 games after the All-Star break. The Panthers, for instance, have 13 games before the trade deadline. If they go 8-2, they might add players; if they go 2-8, they probably will dump salary.
John,
I read your comment about not having the rink in this year. Get it in this weekend! You are great at your job forecasting the game, but I am great at my job of forecasting the weather. Winter is finally here in the Northeast and it's here to stay (for at least two months).
Scott Mayer
WETM-18 Storm Team, Chief Meteorologist
Elmira, N.Y.
I think I'm putting in the backyard rink liner this week. You sold me, Scott.
---
Hey John,
Is there anything that would keep a player from having two different stick models on the bench? I was watching the Devils play the Lightning last night, and John Madden's composite stick broke while he was trying to kill a 5-on-3. It just seems obvious for players who log a lot of penalty-kill time to have a heavier, wooden stick that they use for those instances.
Cheers!
Gary Carlson
New Brunswick, N.J.
Gary, this probably would never happen because it's so obviously prudent. It's like when I flew on Delta Song. It was my favorite flying experience of my life. I really enjoyed it. That's why they discontinued that service. They found out it made sense and I liked it!
---
John,
Is Curtis Joseph a Hall of Famer? He has never won a Cup or Vezina Trophy, but he is now fifth all-time in wins for a goaltender. Hopefully by season's end, he will have passed Terry Sawchuk and add to his résumé.
Nick
Minnesota
You just answered you own question. Like Roy, Plante, Brodeur, Dryden, Sawchuk and Hall, among others, you don't think "legend" when you hear CuJo. Still, Joseph's record cannot be ignored.
---
John,
Until I see it in a mailbag ... and if that doesn't work, I'm holding my breath ...
I think it was Gretzky and Lemieux that got voted into the Hall right away without having to wait. Don't you think Yzerman deserves that same respect?
Chris Drouin
Rochester Hills, Mich.
Yes, but the Hockey Hall of Fame has said no more to no more waiting so we don't have to debate things like, "How many sausage-bacon-egg-and-cheese sandwiches can I consume until my heart explodes? I need a ticker to keep track.
---
John,
Imagine if this new NHL was being played on Olympic-size rinks? WOW! But bigger ice surfaces will not happen because owners would lose seating. 4-on-4 would be awesome to watch, but would never happen. The guys today are so big and so fast that I think the ice surface is getting too crowded. What are your thoughts on that?
Joseph Bevilacqua
When the philosophy is forcing teams to the outside and collapsing on the goaltender, ice surface is largely irrelevant Yes, the game might look more visually pleasing because you may allow more puck-carrying time, and then less stick-on-stick play that isn't entertaining. I do think 4-on-4 has a chance down the road. I'm a traditionalist by nature, but I want the game to stay beautiful. The fewer players on the ice, the less coaching there is. That would allow for more artistry and fewer technicians.
---
John,
Despite having the talent to back up the media attention, do you get the sense that the NHL's heavy marketing of Sidney Crosby has generated a general dislike or lack of respect toward him from other players (e.g. the Jason Blake incident)?
Rebecca,
Arlington, Va.
I would say you are right. Crosby plays a highly competitive game. He yaps and complains, but that comes from his ultra-competitiveness. Old-school establishments like the NHL prefer its young players to shut up and play. I don't understand this thinking. The player leads the NHL in scoring. How much more validation does one need? How he reacts or what he says to the referees should be of no concern to any opponent. Will he receive the benefit of a doubt? Yes, but he's the best offensive player in the league. That's how it works. It's astonishing to me the Penguins haven't found an enforcer to send a message.
By the way, in an unrelated note, I have a new favorite anthem singer. He is Jeff Jimerson, who sings the anthems for the Pittsburgh Penguins.
---
John,
What's right with the NHL:
1. Finally calling the game by the rules;
2. The most humble athletes in any pro sport.
What's wrong with the NHL:
1. Gary Bettman;
2. Anschutz in L.A., Wirtz in Chicago, Jacobs in Boston, and other owners who seemingly only have their teams for tax purposes and should be removed for the good of the game;
3. Fighting (should result in immediate ejection as in other major sports which would therefore still allow fisticuffs);
4. Media exposure (TV, radio, newspapers).
Hope that helps,
Sally
---
Hi John,
I am a lifelong Flyers fan, and the lockout lost me as a fan.
Not intentionally. I wasn't making a point to stop following hockey, it just happened.
Football is my No. 1 sport, but hockey was a close second. Now, I've lost almost complete interest in it. With minimal TV coverage, it is very challenging to follow the NHL. My local daily paper has minimum coverage of hockey, and it's hard for me to shell out the bucks to get the NHL package when I'm not sure I'm interested in hockey enough to make it worth it.
I'm sure I'm not the only one, which I think is a huge reason why the NHL is slipping in the U.S. The lockout locked me out of hockey. It's kinda sad.
Derek Houtz
Mifflintown, Pa.
This is a virus that is prevalent in the United States and it needs to be dealt with quickly and forcefully. Derek, you are not alone.
---
John,
Lend me your ears my friend, I need to vent. I just spent another wonderful evening watching the New Jersey Devils win another 1-0 game. This time, the defeat came at the hands of my New York Rangers. I've never heard a Rangers-Devils game as quiet as I did tonight, and that is reason for concern. No, not just for Rangers fans, but for the entire league.
R.I.P., hockey, it was nice knowing ya,
Chandler the golf pro
The virus is growing.
---
Bucci,
Do you think the Blues have any shot of making playoffs this year, in lieu of their recent run?
Michael J. Techner
Iowa State University
Blues fan forever!
No. However ... I'm going to be 90 years old soon, and even though I'll be old and tired, I still think that if I see the "dancing guy" from the Mighty Mighty Bosstones in a video, I'll remember everything I smelled in seventh grade. The dancing guy is named Ben. Although he didn't play an instrument or sing anything, the band let him dance around. He's probably 59 percent of the reason why I liked that band. Are you familiar with them? If not, download the song, "Wrong Thing, Right Then."
---
Hey John,
My mom is a huge R.E.M fan, and always appreciates the "'Driver 8' take a break" reference. I thought in honor of them entering the Rock and Roll Hall of Fame, you could give us your Top 10 R.E.M songs.
Thanks John,
Corey
Illinois
"Fall on Me"
"Shaking Through"
"Exhuming McCarthy"
"Disturbance At The Heron House"
"I Believe"
"What If We Give It Away"
"Cuyahoga"
"Voice of Harold"
"Try Not To Breathe"
"The Lifting"
---
Hey John,
Got a question. Since the NHL is concerned with its exposure, why is the All-Star Game in the middle of the week? I would think that if the league wanted to showcase its talent, the game would be on the weekend, when more people can watch. Any thoughts on this?
Thanks,
Crossan Barnes
Boston
I like the decision. Stay away from NFL Playoff weekends, keep the strong weekend gates and give the league some prime-time placement. I think it was a good decision. Baseball plays its All-Star Game during the week, as well.
---
Bucci,
Like you, I agree that the collapse is the problem in hockey, not the number of players on the ice. What do you think of the idea of adding a key, like in basketball, as suggested by Doug Riseborough?
Cheers,
Patrick
While scraping the ice off of Chris Berman's windshield last week, I was thinking of allowing only four players in the attacking zone, thus you would have 4-on-4 at least in that area. It is something that has to be looked at.
---
John,
I know you don't care about scheduling, but why do these rivalry games (32 of them), and generally almost all games, lack the passion and intensity they had five or 10 years ago?
Sheri
New Jersey
I don't think that's necessarily true. So many games are broadcasted now, the feeling of it being special is gone. That's the power of the NFL. One game a week. Hockey is probably best suited for one game a week. Imagine the energy of the players and the intensity of the fans if they played once a week? Of course, the NHL first needs $100 million a year, per team, of television money before it can consider this.
---
John,
I remember being a Peace Corps volunteer living in Jamaica back in 1996. I was missing winter, missing ice (I played bad hockey in a beer league in Gunnison, Colo.), missing watching hockey.
My girlfriend's landlord had a satellite dish, and one May day, the landlord was gone for the night. So, I searched the channels and found Game 4 of the Colorado-Florida Cup finals. I watched Colorado clinch the Stanley Cup over Florida off an Uwe Krupp shot (I've been a lifelong Isles fan, so I took solace that Krupp scored).
I think I might have been the only person in Jamaica to be watching the game, and I loved every second of it. Just like I love watching every second of any hockey game, even the B League games from the league I play now in Moscow, Idaho. That night was one of my best nights in Jamaica. I love hockey.
Sean Prentiss
Moscow, Idaho
I love that e-mail. It put me in Jamaica for 28 seconds and I enjoyed that.
---
Hello John,
I also have enclosed a photo of my daughter Lauren. She will be three on Feb. 27. Her musical tastes are the Goo Goo Dolls and Jack Johnson.
Thanks,
Tibi Bolla
Chesterton, Ind.
"Put your arms around me
What you feel is what you are
And what you are is beautiful."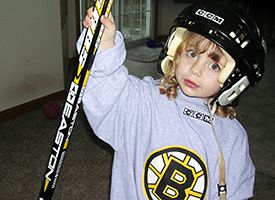 John Buccigross' e-mail address -- for questions, comments or cross-checks -- is john.buccigross@espn.com.