We are all certifiably insane.
All of us who let this game of hockey wash over us for most of the cold winter months.
If you play the game, go to a game, watch it on television or the computer, or have a son or daughter who plays, none of it is easy.
Playing hockey requires coordination, courage, balance, hands, strength, vision and ice time. It also requires parents and coaches who have the patience, tenderness and care to usher you along. This selflessness is a bigger gift than the actual skating.
Watching the game requires an innate understanding of the sport, usually gained by playing at some level. It also requires a thick skin as the media bashes the sport, whether it be ignorant radio-show hosts or most sports anchors who treat the game like a carnival show by making fun of European and French-Canadian name pronunciations and not taking the time to understand the context of each game.
Going to a game requires a large wad of cash for tickets, parking, $8 beers and a Hal Gill bobblehead for little Sparky. You won't have extra money for a stamp collection. Hockey will have to be your hobby, as well as your life.
Having a son or daughter who plays hockey requires the ability to write large checks that allow another adult to scream at your child four times a week. Every weekend, you'll drive for countless miles, stand in freezing rinks and yell "PASS!" and periodically observe the commandment, "Remember the Sabbath and keep it holy."
If you have two children playing at the same time, multiply all of that by two. The check-writing, tire wear, oil changes and screaming; your assertion that the opposing coach, at one point in his life, served time; and understanding that you will spend the afterlife in hell for never keeping the Sabbath holy.
Once again, we do all of this because we hockey folk are all certifiably insane. To quote the Todd Rundgren-produced band Bourgeois Tagg -- and I know I'm just a follower in a long line of writers who have played that card -- "I [We] don't mind at all."
But, for some of us, that's not enough. We have to take this insanity one step further.
We build a backyard rink.
After the temps hit 70 earlier this month, winter came back to Connecticut last week. An arctic blast of Canadian air was forecast by Todd, the local weatherman (it's a scientific fact that 65 percent of all weathermen are named either Todd or Jim Cantore).
The low temperature was expected to hit single digits for two successive nights. That was my cue.
I had planned on storing the giant white liner I purchased from nicerink.com and using it next year, but this sudden blast changed everything. Time to move. You can't be a hockey parent and be lazy. The two don't mesh. It's perpetual and maddening, but not as perpetual and maddening as Kiss' 1991 song, "God Gave Rock and Roll to You." Believe me, I think Kiss rocks, but if you can listen to that song and not staple gun your ears shut, you, my friend, are brain dead.
Now, the construction of a backyard rink is pretty elementary. In most cases, it involves the following:
• Find a level piece of real estate approximately 60-by-40 feet. I say 60-by-40 because that's the size of my surface and I can't imagine going much smaller and enjoying a good fast twirl without perpetually going around in circles. I do wish it were 90-by-50, but family life is largely about compromise.
• The surface must be surrounded with some sort of boarding. I have 2-by-6s that keep as few pucks as possible from leaving the surface. At one of the end zones, I have 5-foot-high boards to keep as many pucks in play as possible.
• The boards are kept in place by a stake system. Mine are durable blue plastic stakes that slide into the 2-by-6s. I bought everything in 1999 and it still works. The only thing I buy every autumn is the liner. A couple of years ago, I purchased a liner designed to last for a few years. But after storing it in the shed, field mice made the liner their home and nibbled millions of holes in it. Now, it's one and done. Nothing is worse than trying to find a leak in a gigantic white liner. For some, it's like trying to find a hockey game on TV.
(I keep my boards up all year round to allow for summer street hockey. This makes the whole backyard rink experience much more sane for me. As you can see in the photos, I have a couple of basketball nets. We've had many good on-ice basketball games. Personally, I would watch more NBA games if they played on ice. I imagine Canadian Steve Nash would still be the MVP. Although, Yao Ming might average 67.8 points per game considering he would be 8 feet tall on skates. I'll still take the Nash.)
• Once you've securely fitted the boards, you are now ready to put the liner on the surface and over the boards. You'll then need to secure the extra lining with something. I use yellow bumpers with slits on one side. Pulling them apart with your fingers, the bumpers then clasp on the boards and keep the liner in place. You are basically creating a swimming pool, the more shallow the better. Then, pour water from the garden hose into the liner. My initial water dump requires 24 hours of constant flow.
• Then, you wait and pray for cold weather (no snow or ice storms) and low humidity.
When you have a backyard rink to maintain, the cold is now your friend. I've tried to make the best of every situation. Dealing with the winter cold is actually a pleasing experience when you have a backyard rink. You root for it. From Christmas to March 1, I root for 29-degree days and 18-degree nights. Once the March sun basks more direct sunlight on my ice cube, it is Slurpee City, baby.
From time to time, you'll need to spray water on the surface for resurfacing. Unless you are Denis Leary. I went to the actor/comedian's home in rural Connecticut two winters ago to skate on his backyard rink. Leary has piping underneath his surface to allow for a colder base and better freezing probability. He had a homemade Zamboni and the coolest skate-changing shed full of Cam Neely, Bobby Orr and other memorabilia from Leary's beloved Bruins. There were also many trees to supply shade.
The biggest negative of my setup is the lack of shade. My hope is to one day star in an FX drama that will enable me to purchase large pines to surround my rink. This will provide shade and wind blockage. The résumé tape is in the mail.
So, now I have backyard ice. Over the weekend, the rink was in full use. On Sunday night, my son Jackson (wearing his Shjon Podein hat) was playing shinny with two neighborhood squirts, Joshua and Stephen. The sun was falling fast and the only thing you could see is what you could hear -- pucks, sticks, boards and laughter. Skating invariably brings smiles and laughter. There is no such thing as a bad skating day. I took my turn on the rink, skating by myself, with my Dell Jukebox playing the latest Shins album. I shoot pucks in the upper left-hand corner of the net, always the upper left-hand corner. This is life and how I live it.
The next thing you hear is a knock on the sliding glass doors and the sight of a 7-year-old nose, reddened by the January chill.
This is why we go through the toil, expense and sacrifice of being a hockey fan and building a backyard rink -- because of all the possibilities and promise shining through that 7-year-old's face. The hope that even a portion of what the game has to offer will seep into his soul and be passed on to his 7-year-old. We do it out of love, honor, guilt and reconciliation. We do it for the love of a game that will just not go away no matter how hard we wiggle and squirm.
And we do it because we are #@%!#%! nuts.
Hey John,
Is there any way to get Barry Trotz to put his head on a produce scale to find out just how much it weighs? I'm thinking his head has to make up at least 25 percent of his entire weight.
Robert G. Russ
Well, let me begin by saying that I speak from experience when it comes to the topic of abnormal craniums. For me, finding a baseball hat that fits is like Paris Hilton spending a quiet Saturday night alone in prayer.
My "head" issue is more like an oddly shaped skull problem, rather than a massive head along the lines of Pat Quinn, John Kerry and Kevin Mench. I also believe my ears are too low. Perhaps some of you have seen the current "SportsCenter" commercial where I have an anchor cam bicycle helmet on top of my head. True story: We had to rip the foam out of the helmet to get that thing to fit my noggin!
As far as Predators coach Barry Trotz, I think it's rather obvious. His head is so heavy, it's sinking into his body. Pretty soon, probably by late 2015, his head will completely submerge into his body and he will become a human bottle opener. He'll have to use a periscope to see the ice and make line changes. Maybe then he will get the attention he deserves for the job he is doing with Nashville. If I had a vote for Coach of the Year, it would be Trotz.
---
John,
Do you really think the Rangers would have to part with Marc Staal to get Forsberg? I know he is one of the elite players in the game when healthy, but he hasn't been healthy in a long time. Don't you think a package of Brandon Dubinsky or Marc-Andre Cliche and a first rounder would be enough to pry him away from the Flyers?
Dennis Gunder
Bayside, N.Y.
Marc Staal is a 20-year-old defenseman playing Junior Hockey for the Sudbury Wolves. His 16-year-old brother, Jared, is also on that team, the fourth and final in-STAAL-ment of the great laboratory experiment conducted in the late '80s using Thunder Bay, Ontario, soil, camel's hair and spare parts from a used 1977 Datsun 280ZX once owned by Ron Greschner. Oh, the stories that car could tell.
Back to Marc. I understand defensemen usually take longer to develop. But, with the league geared toward younger, mobile players, you have to wonder why he isn't in the NHL right now, considering the Rangers need help on the back end. Maybe the Rangers' plan was one more year in junior, reevaluate, and either bring him up at the end of this year or let him play another postseason run in the AHL. I'm just interested to see what the Rangers are going to do as the deadline approaches, especially if they are out of the top eight in the East. It is doubtful the Rangers would move Staal. Do they deal Al Montoya, who has been playing better in the AHL?
---
John,
I really enjoyed your article about the possibilities for Peter Forsberg and I wanted to weigh in with a couple of thoughts. The teams that should go pretty hard for Forsberg are Montreal, Atlanta, Calgary, Vancouver, Pittsburgh and the Rangers. Pittsburgh and New York will have to give up a pretty good amount so Philly fans don't riot. I can't see it happening, and I can't see the Pens giving up their young talent when they are still a year away.
Montreal could really use a center to anchor a second scoring line with Kovalev. A first-round pick and a prospect like Kyle Chipchura could do it. Atlanta would be a really good fit as well. I agree that Atlanta cannot keep up their current pace without either a true No. 1 defenseman or a No. 1 center.
Vancouver may not have the prospects if the bidding goes high. Calgary could also use another scoring center, and Forsberg certainly has history with Alex Tanguay and could help spark his play. They also have some good young prospects like Dustin Boyd, Daniel Ryder and Kris Chucko. It wouldn't hurt so much to lose one of those three for a chance at the Cup. Edmonton also could be a dark horse as they always have many good young players and could afford to rent Forsberg for a few months.
Andrew Warren
Well done, Andrew. As I wrote last week, predicting where Forsberg will be traded -- AND HE WILL BE TRADED -- will be difficult because so many teams will be involved. His salary won't be a factor. Everyone has a creative way to get it done. It will come down to which team has the best package of draft picks and prospects to give to the Flyers. Unless a team blows them away in the next three weeks, the Flyers should wait until the last minute. Wait for a team to falter, wait for a team to have a key injury at center, wait for time to pass. Flyers fans? Pray that the men in charge have the ability to evaluate talent. It's a characteristic one is born with. Either someone has it, or he doesn't.
---
John,
Dany Heatley doesn't wear a visor. He wears the windshield of a 1970 Camaro.
Jeff Wilcox
Los Angeles
---
Bucci,
I just returned home from the U.S. Pond Hockey Championship in the Twin Cities. Although I played in the Rink Rat Division (cheaper and less competitive for our mixed team of coed players and various levels of experience), I had a blast. From bundling up in the morning to removing each layer until all I had was a T-shirt and jersey to rifling the puck into the little slits of wood on each end of the "net." This was a perfect atmosphere for anyone remotely interested in hockey since its 25 rinks were filled with competition, sportsmanship and the basics of the great sport of hockey.
Frank
Winona, Minn.
Hockey at its most beautiful.
---
JB,
My No. 1 R.E.M. song is "Superman." It was my first R.E.M. song. Always something special about your first. Speaking of firsts, my first favorite player was Luc Robitaille. I say Hall of Fame. Others say no, too slow. Your thoughts?
David Chapman
Let's Go Kings!
Orange County, Calif.
668 goals. Eight-time All-Star. Great head of hair. Hot wife. Perfect kids. Rookie of the Year. Stanley Cup champion. Nicely shaped skull. Hall of Famer.
---
Hey John,
I'm sure you've received a number of e-mails about the new jerseys. My question is, what impact will it have on fighting? The jersey is tighter-fitting, meaning there will be less free jersey to grab on to during fights. Also, if the pads are held tighter into place, it will be harder to slip an elbow pad off and let loose.
And a quick question regarding Chris Drury's free agency at the end of the year. Is it out of the question to hope the Rangers will make a run at him?
Doug
Trumbull, Conn.
I think there will be enough material to grab on the new uniforms for NHL fighters. These guys are so strong they could grab a pane of glass. If they can't, we'll have better fights.
Chris Drury? He does have a home in Southern California, and with that in mind, I would think the Kings, who will shed payroll before the deadline and would be the perfect fit. They will have cap room and Drury fits perfectly with Anze Kopitar and Michael Cammalleri.
Still, Drury will be in high demand. He does everything well, which now, for the first time in his career, includes prolific scoring. He had his first 30-goal season in 2005-06 and will be flirting with his first 40-goal season this campaign. Drury turns 31 in August, so this will be his last monster contract. I'm sure he will get at least five years at $5 million per season. That would likely be the starting point. It might push $6M since there will probably be a bidding war.
---
John,
The Bruins have taken some major steps forward in putting a legitimate NHL roster on the ice after last season's disaster. The additions of Zdeno Chara and Marc Savard have been great and Murray's game has been revitalized. What are the chances the Bruins can get an above-average goaltender for free-agent-to-be Brad Stuart?
Kevin
Medford, Mass.
I wouldn't think a team would trade a goaltending prospect for a player who'll be a free agent in July. The Bruins would probably be better served dealing with their lack of grit and "safe players." Like other NHL teams, the Bruins went out and got a lot of so-called skilled and speedy players when the "new" NHL took hold. But having grit and toughness is also a skill. It's one of Sidney Crosby's overlooked qualities. The ability to play all styles. I agree that the Bruins need a solid, proven veteran netminder, but that will likely come via free agency or offseason trade.
---
John,
Just your fellow 'Berg alumni here, bringing you an update from Bowlmor Lanes in Sycamore. Sloan Rhoad threw a perfect 300 on Dec. 26, 2006, which was the first 300 here since 2000. At 24, he became the youngest bowler at Bowlmor to roll a perfect game. Three weeks later, Don Hannam, Jr., (yes, yours truly) rolled his first 300. I was on the same pair of lanes as Sloan, even using the same ball. The unique part: Sloan and I are the two bowling coaches for Mohawk High School in its first year of having a club bowling team. My 300 came the same night as Mohawk's first win against another school. How cool is that?
Go Student Princes!
Don Hannam, Jr.
I can see the pamphlets now ...
"Heidelberg College: We produce ESPN anchors and the finest high school club bowling coaches in the nation."
My best bowling score was 220, rolled in West Virginia. How strange is that?
---
Bucci,
Jeff Jimmerson is beloved by all at the Igloo. He plays in a band called Airborne at local bars around Pittsburgh. His band is pretty good, but his forte is singing that anthem. I hear it was Jimmerson who started all the fights with the belligerent Toronto fans in the stands at the game last Saturday night -- and he won.
Dan
Pittsburgh
Getting into a fight with a drunk Maple Leafs fan is the athletic equivalent to cow tipping.
---
Hey Bucci,
I've read your column for a couple of years now and can't wait until the new one is posted each week. You've inspired me to build my own backyard rink, name my dog and my child after hockey legends, and waste time at work.
I've attached a photo of my son Cameron (yes, you know where the name came from!) and my first shot at a backyard rink. Cameron is 3½, and with any luck, he'll bring the Badgers another title in about 15 years!
Later!
John Andrews
Jefferson, Wis.
Ice, Ice, baby.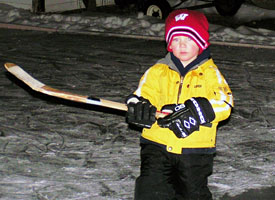 John Buccigross' e-mail address -- for questions, comments or cross-checks -- is john.buccigross@espn.com.