For the past few years, I have posted an annual "make-believe" chat room using real characters. While watching VH1 Classic's "Top 100 Songs from the '80s" this past weekend, I realized two things:
• Famous people used to have bad teeth and nobody really noticed or made a fuss. Today, all famous people, including Barry Melrose, have near-flawless teeth, whether straightened or capped. I implore you to do a before and after with Ben Affleck's teeth. Compare those "Good Will Hunting" choppers to the teeth Affleck shows while sitting next to Jennifer Garner and/or Phil Garner by the Boston Red Sox dugout this season. This includes you, Julio Lugo.
Humans are diphyodont, meaning they develop two sets of teeth throughout life. At some point, this needs to be amended to make humans polyphyodont like sharks, guinea pigs and Bobby Hull.
In the summer of 1983, when The Human League's Philip Oakey sang "(Keep Feeling) Fascination" on the then-new NBC show "Friday Night Videos," he did so with bad chicklets. Today, every celebrity uses some sort of performance-enhancing dentistry. I believe this only elevates the legitimacy and legend that is the Osmonds. I retroactively award them 11 Grammys. The Osmonds' 1975 album "Homemade" now replaces Paul Simon's "Still Crazy After All These Years" as Album of the Year. I'm working on the other 10.
• I also realized I have yet to provide a make-believe transcript from a make-believe hockey chat room this season. So, in the spirit of Ted Saskin and the NHL Players' Association, here is your chance to view the private chat room of some of your favorite hockey characters. "Don't Stop Believin'," Trevor Linden.
HAKANLOOBISGOD@bucci.org: OK boys, OK boys, here we go. Hey, that reminds me [Andy Rooney "60 Minutes" voice optional], you ever notice that during the last fighter plane scene in "Top Gun" and during NHL games, hockey players and Val Kilmer both do the same thing? In stressful situations, they say the same thing twice: "Mav! Watch your left! Watch your left!" and "C'mon boys, c'mon boys!" What's up with that?
Saskin@Sacked.com: I've never seen "Top Gun" and I've never seen a hockey game. I have seen Jaroslav Spacek's e-mails to his financial advisor in the Czech Republic.
HAKANLOOBISGOD@bucci.org: Teddy Ballgame! What's up? Man, you are my hero. PAID LEAVE?! God, I'd give my makeup bag for a paid-leave scenario. That would do wonders for my short game. I've never called in sick to "SportsCenter" in 10½ years of employment at ESPN. Paid leave is like ... like ... like beach volleyball with my girlfriend Marissa Miller. Yeah, that's the ticket.
TEDINMYPOCKET@NHL.com: Lay off Ted Saskin. He's a great American. Even if he was born in Canada. I think. I'm not really sure. The only thing more important than cost certainty is Ted certainty. And I really like that song "O Valencia" by The Decemberists. Where was I? The cap is rising!
HAKANLOOBISGOD@bucci.org: The Commish! I miss our talks.
BUBBA@Mullet.gel: HA HA HA HA HA HA. Czechoslovakia is still a country, right?
HAKANLOOBISGOD@bucci.org: Barry, Czechoslovakia was a country in Central Europe that existed from October 1918, when it declared its independence from the Austro-Hungarian Empire, until 1992, when Dr. Dre released his album "The Chronic." It's either Czech Republic or Slovakia. Go with one of those. If you are wrong, it will sound better than when you say Zdeno Chara is from Czechoslovakia. You'd be better off saying Chara is from Quincy.
BUBBA@Mullet.gel: HA HA HA HA HA HA HA HA! Screw you, Marty McSorley!
GOPHER@CarlSpackler.com: Anyone see my goal in the WCHA Final Five final?
HAKANLOOBISGOD@bucci.org: Wheels! Blake Wheeler from the University of Minnesota hockey squad. Dude, I was anchoring "SportsCenter" on Saturday night when you scored that goal. It was No. 2 on Top Plays. No. 2! That would have been the lead of the whole show if I was producing. Sick!
Ovechkin's goal last season in Phoenix is likely the greatest goal of all time. Perhaps, it's tied with Keith Jones scoring as a member of the Avalanche in 1998, when he blocked a shot in his own end and the puck wound up in Edmonton's empty net. Where have you gone Bob Essensa? A nation turns its lonely eyes to you. Wheels, your goal has to be the second or third greatest. Considering the circumstances -- overtime in the WCHA final -- I ain't arguing if someone says that was the greatest goal in hockey history. Certainly NCAA history.
I'm going to sabotage (Beastie Boys style) the ESPYS voting system to make sure you win for "Greatest Goal Ever Scored by a Dude Born in the Same Year 'Rock Me, Amadeus' was released by Falco." Good luck to you and all 16 teams in the NCAA Tournament. While everyone else will be watching the NCAA hoops this weekend, I'll be the guy watching the puck.
GOPHER@CarlSpackler.com: Is Falco that woman from "The Sopranos"?
HAKANLOOBISGOD@bucci.org: That would be Edie Falco. (The final episodes of "The Sopranos" begin April 8.) So, Wheels, you must be excited about playing for the Phoenix Coyotes next year. Although beware, Mike Barnett may trade you to the Red Wings for Chris Osgood, Gordie Howe and the rights to Ted Lindsay.
Mario@Century21.Rink: Edie Falco is hot.
HAKANLOOBISGOD@bucci.org: Mario! Congrats on the new rink! Great poker face you exhibited over the past few months. Very impressive. You have that uber-concerned look down pat! You should run for political office. I feel your pain. Just work on biting that lower lip. No, really, I'm happy for you. I was born in downtown Pittsburgh, a driver and 5-wood from the Civic Arena. Sorry, it will always be the Civic Arena to me. Saw my first NHL game there. For you, it might be two drivers and a lob wedge, but hey, I can give you some lessons if you want. Please Mario, build a fan-conscious arena. Build the PNC Park of NHL arenas. Figure out a way to put the luxury boxes in a location no one else has thought of. Get the fans closer to the ice. Get Paul Steigerwald and Bob Errey and Mike Lange closer to the ice. Give Paul's brother, John Steigerwald, lifetime season tickets and an autographed picture of Bud Selig. He loves that guy! Build an outdoor rink on the shady side of the new arena. Have "Mean Joe" Greene drop the first puck in the new arena because he was and is a man. I got all kinds of ideas!
Mario@Century21.Rink: I'm logging off and going to Oakmont.
87Flavors@Bing.Com: I put the "Ros" in Buccigross.
HAKANLOOBISGOD@bucci.org: Sidney C-ROS-by! N-N-N-Nineteen. Paul Hardcastle in the hizzy! You are going to win the Art Ross Trophy! And, yes, if I had a Hart Trophy vote, I would vote for you. You are the best thing to happen to Pittsburgh since Andy Van Slyke almost went 30-30 in 1988 and warmed my heart every time he threw home and did a somersault in center field. My favorite Pittsburgh athletes: 1. Willie Stargell; 2. Joe Greene; 3. Terry Bradshaw; 4. Andy Van Slyke; 5. Sidney Crosby; 6. Rod Woodson; 7. Donnie Iris playing squash.
87Flavors@Bing.Com: It's very special to be part of a special group of guys who do special things night after night. Very special.
HAKANLOOBISGOD@bucci.org: I decree we retire the word "special" from the lexicon of all hockey players during interviews. Special should be used only when speaking of Wal-Mart. And freshly caught cod. And cereal.
1980@Badger.Com: Can I get a shout out for the ladies?!
HAKANLOOBISGOD@bucci.org: Mark Johnson! Head coach of the Wisconsin Badgers women's hockey team! Congrats on another national championship! I watched it Sunday afternoon. I'm sure at least 800 other people were, too. Hey, a lot more people bought Culture Club's "Colour By Numbers" than R.E.M.'s "Murmurs" in 1983, but that doesn't make it right. It's so cool to win an Olympic gold medal and a national title at the same place (Lake Placid). I'm headed to Lake Placid at the end of the month to watch my 7-year-old play in a Can-Am Mite tournament. He'll be the kid wearing the same number as Mike Eruzione.
Saskin@Sacked.com: I read that e-mail and I'm holding Jackson to scoring the gold-winning goal for South Windsor, Conn. And if he doesn't, just have him blame Bob Goodenow. Worked for me.
CHELIOS@justice.usa: Don't worry, Jackson. I got your back.
John,
Enjoyed the column. But it was the Hermey the Elf who actually defanged the snowman, not Yukon Cornelius.
Regards,
Paul
That's a 10-minute misconduct for me. Yukon Cornelius coaxed him down the side of the mountain, but Hermey "I want to be a dentist" did indeed perform the surgery.
---
Hi John,
A simple question, yet the answer continues to escape me: Why is Brian Leetch not playing in the NHL right now?
Regards,
Eric Oterson
Patchogue, N.Y.
I was told he doesn't want to play anymore. The reason there was no announcement is because Leetchy would then have to get in front of a gaggle of microphones. Leetch is not a big fan of talking, although when he does, he is always pleasant and engaging. He'll have to face the microphone two more times. When the Rangers retire his No. 2 and when he is inducted into the Hockey Hall of Fame.
---
Hi John,
I just read the e-mail from the coach of the Dodge County Wildcat hockey team about Shjon Podein. He is a Hockey God. The Avs have never been the same since he left. Thanks for keeping me up to date with his comings and goings. I enjoyed reading about his year in Sweden and hope you can continue to keep me, and your other readers who care, up-to-date on his life and times.
One more thing -- the best song to listen to before a hockey game, playing or watching, is "Whiskey in the Jar" by Metallica.
Mark Taylor
Fort Collins, Colo.
Meanwhile, in other news ... Mike and Anne Grier (of the San Jose Sharks Griers) announced the birth of their first daughter, Brooklyn Kendall. Born on March 16 in San Jose, both Anne and Brooklyn, along with big brother Jayden, are doing fine.
---
Dear John,
I need your help. I am getting married. My fiancée and I agree on almost everything, even about letting my golden retriever Beukeboom sleep on the bed, but we cannot agree on a wedding song. Any suggestions?
Thanks for your help,
Michael Connors
GO RANGERS!
"The Luckiest" by Ben Folds. Game. Set. Match.
---
John,
I keep hearing that exciting races are the reason to keep the extra point for OT/SO losses, but that argument just doesn't hold water under inspection. If the standings were by wins alone, the East would be as follows: Montreal and Carolina tied for seventh with 35 and the Rangers, Islanders, Leafs and Bruins all tied with 34 on the outside looking in. That's quite possibly the most exciting race I've ever heard of. The West, while not as exciting, would be better than it is under the current system: Calgary in eighth with 37 and Colorado at 35.
I'm all for abolishing the extra point and being like the other three major sports. Besides, it makes it easier for the casual fan to follow, which is something the NHL should be trying to achieve. A move like that isn't going to alienate die-hards like me (it's only been around for a few years, anyway).
Dylan White
Country Harbour, Nova Scotia
I have no problem with doing this. Just as long as you provide more cowbell.
---
John,
This past weekend concluded another great high school hockey season in the state of Minnesota.
The championship game for the AA large schools was played in front of 17,567 at the Xcel Center. All the games in the tournament are also televised throughout the state. The winning team from Roseau High School has an enrollment of 325 and city population of 2,700. Roseau played Grand Rapids High School (enrollment of 877 and city population of 8,233). The two towns alone wouldn't fill the lower bowl of the arena if everyone showed.
Most of the schools in the tournament have enrollments of 2,000. Roseau chooses to play in the large-school tournament even though it could play in the small-school bracket. Roseau has made it 31 out 63 years and has won it seven times, including this year. I think it is just amazing how it keeps turning out great teams from such a small community in such a remote part of the state. I don't think I can put into words what a great event it is. During the same weekend, the Gophers are playing in town in front of 10,000 and the Wild played Sunday afternoon in front of 18,568. The attendance at the Xcel Center for the high school tournament alone was in the 105,000 range over three days.
Bill Danielson
Congratulations to all the high school and youth hockey state champions. You've accomplished a great thing, and you and your coaches should be very proud.
---
Hi Bucci,
As much as I love Marleau and Thornton, I agree with you that the Sharks lack a true leader. Purely hypothetically (especially with the trade deadline gone), if the Sharks could have anyone in the league, who would be their perfect leader?
Jonathan Solnit
San Jose, Calif.
Acquiring Bill Guerin was a good move for that very reason. He's played 96 playoff games and has been a part of a Stanley Cup-winning team. He can support the guys who will need to play well to win the Cup. Craig Rivet is another veteran presence who can have a calming influence. But, in the end, Joe Thornton must put the team on his back and carry them emotionally. He has it inside him, I know he does. This season, he has played with spurts of passion that, frankly, I haven't seen before. He needs to bring out more of that in the playoffs. That's why Sidney Crosby is an MVP finalist. He plays with a tireless passion. When your best and most talented player acts that way, it makes everyone better. That is the ultimate value in a team; to produce and implant a virus of effort, passion and sweat. Thornton can do this. He needs to quietly sit in a room and visualize playing like a little guy. Picture the Stanley Cup. Picture winning faceoffs. Picture blocking shots. Picture playing the best you ever played.
---
Yo, Bucci!
With all the playoff matchups starting to become more and more apparent, I gotta ask you, which playoff series is the most intriguing to you?
Chris Lix
Thunder Bay, Ontario
I would love a Buffalo-Toronto opening-round matchup in the East. Nashville-San Jose would be a killer opening series in the West.
---
John,
Great point about low expectations and high enthusiasm. I never thought about that, and I think I'm going to make it my new strategy with girls.
Cheers,
Sean Skehan
Mount St. Mary's 2010
"Don't Stop Believin'," Sparky.
---
John,
I though you might like to know that, for the first time in the history of the Quebec Major Junior Hockey League, an American-based team has won the regular-season championship. The Lewiston MAINEiacs (of Lewiston, Maine, my hometown) secured the championship this past weekend with a win over the P.E.I. Rocket. A big accomplishment for the team, and the city showed up in force to see it. It's nice to see another piece of the hockey landscape spread successfully into America. Now, it is on to the President's Cup (QMJHL playoff championship trophy) and, hopefully, the Memorial Cup (Canadian Hockey League Championship trophy)!
Luke
Lewiston, Maine
---
John,
It was awesome watching Mo get his 500th goal. I have a couple of questions: What are his chances of reaching 600? How does his international/Olympic résumé stand up? Hall of Fame? Yes?
Hayden Olson
Norman, Okla.
• He turns 37 this June. Five seasons of averaging 20 goals a year? Difficult, but possible.
• Ten points in 16 Olympic games, 12 points in 12 World Cup games, 20 points in 14 World Junior games.
• Hall of Fame? Of course.
---
John,
I am taking my youngest son to his first hockey game Sunday when the Pens play the Senators. He has become such a big hockey fan since the beginning of the season. He now owns a street hockey stick and goal, and all he talks about is learning how to ice skate. The excitement in Pittsburgh with the announcement of the new arena and the potential of this young team is fantastic. It reminds me of the '70s with the Steelers and the late '80s and early '90s with the Pens. It is a feeling that only comes along so often. If we are lucky enough to have a three-peat, we are truly blessed.
GO PENS!
Bob Small
This is the magic of the Pittsburgh Penguins. They are such a young, appealing team. They attract everyone. Hard-core and casual fans, women and children. The league, NBC and Versus will be rooting for the Penguins.
---
John,
I may be the only sports fan in America not filling out the basketball bracket this week. I have no interest. I will turn my attention to the Frozen Four in the coming weeks. In honor of that, here is a photo of my almost 2-year-old son Tate. In about a year, I'd like to get him on skates. Hopefully, one day, he'll lace 'em up for North Dakota. Go Sioux!
Jason Bullinger
Denver, Colo.
Tough loss in the WCHA final. Good luck in the tourney.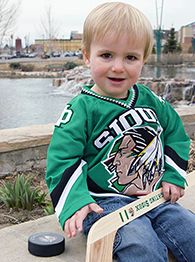 John Buccigross' e-mail address -- for questions, comments or cross-checks -- is john.buccigross@espn.com.