Hey, how are ya, casual hockey fan?
I understand this is the time of year when some of you start paying attention to the NHL. That's cool. One can't watch every sport, listen to every CD, see every movie and get immersed in every television show. We work, sleep, play, and then fill in the remaining gaps from there.
So, some of you wait until the best tournament in the world, the Stanley Cup playoffs, to pay attention to pucks. Personally, I think you are missing out on a great sports culture to watch and learn from, but we don't push away any visitors. Just bring a six-pack, any cheese-based food product, and get ready for two months of Bill Clement, Keith Jones, Brian Engblom, Ray Ferraro and Brett Hull.
The playoffs begin next week. So, for those of you who need a refresher course on what has happened this NHL season, here are some notes from while you were away.
• This season's story has unquestionably been what is happening in Pittsburgh. Last season, the Penguins had the fewest points in the Eastern Conference and the second fewest in the NHL. They had no arena and the future seemed bleak considering Kansas City was enticing Pittsburgh with a mortgage-free home and revenue streams from the next Hinder concert. Sidney Crosby, at 19, will win the scoring title, what we in the NHL call the Art Ross Trophy. We in the NHL like to give our trophies very confusing names named after people born in 1886. The kids today love that! Crosby is better at what he does than LeBron James is at what he does. That is not hyperbole, that is fact. I'm a better free-throw shooter than LeBron. That should not be the case.
ESPN The Magazine has put Ron Artest on the cover of its magazine this year and not Crosby. Sports Illustrated has put Chad Johnson -- CHAD JOHNSON! -- on its cover, but can't seem to find time to chronicle the best story in sports from the past 12 months. You have to wonder if people who cover sports really like sports anymore.
Crosby will also likely win league MVP. The Penguins went from the worst team in the East to a 100-point team. Crosby is not the only reason for the team's success, but everything in Pittsburgh starts in his fire-filled belly of competitiveness. The '70s Bruins started with Orr's never-before-seen comet. The Flyers' title teams of the 1970s began with Bob Clarke's will. The '80s Oilers started with Gretzky's joy and relentless passion. The Avalanche were Patrick Roy's maniacal will to win. The Red Wings began with Steve Yzerman's eyes. The Penguins' core is Crosby's core.
Evgeni Malkin, 20, will win the Calder Trophy as rookie of the year. He has huge game and plays big minutes for the Penguins. This college-aged Russian is more exciting than any college basketball player you've seen this year. He plays faster than Kevin Durant and his slap shot is more powerful than any Greg Oden dunk. Malkin is better at what he does than Andy Roddick is at what he does.
Penguins coach Michel Therrien is also the runaway coach of the year. From last to almost first?! Coaching teenagers?! You really can't overestimate or overemphasize what is happening in Pittsburgh this season. And two players who don't get enough attention are Ryan Whitney and Sergei Gonchar. If those two decided to retire and follow Panic! At the Disco around the country from gig to gig in a Toyota Prius, things would come tumbling down in Pittsburgh.
• What is happening in Buffalo this season is right on the heels of what is taking place in Pittsburgh. The Sabres don't have that transcendent, matinee idol in Crosby, but they have a pulse provided by fans that gives the Western New York experience a sense of community that is warm and pure. It is middle America at its finest.
Along with the Sabres, Buffalo had the NBA's Braves for eight seasons and it has the NFL's Bills, but has zero championships. Since 1960, Pittsburgh has three World Series titles, two Stanley Cups, five Super Bowls, "The Fish That Saved Pittsburgh" and Michael Keaton in "Gung Ho." That's why the Sabres' story is so compelling. A city and a fan base searching for their first championship. I'm getting excited just writing these words on the Buffalo story, a fan-first story during a time when so many sports stories are fan-last.
• There was more evidence this season that the NHL should probably just have two points for a win and nothing else. As I write this, the top eight teams in each conference have the most wins. Get rid of that OTL column and simplify things for fans.
• The NHL will have new uniforms next season, designed to repel water and sweat and protect the players, as well. I've been told there will be no third jerseys and home teams will return to wearing white, which is what every hockey fan wants. Every uniform you are seeing now will be a vintage uniform in two months.
• The NHL will again see large television markets, and traditional powers, not qualify for the playoffs, hurting national ratings on Versus and NBC for some games. New York (Islanders) is the No. 1 television market; Los Angeles, No. 2; Chicago, No. 3; Philadelphia, No. 4; Boston, No. 7; and Washington D.C., No. 8. On the other side, Pittsburgh and Buffalo are No. 22 and No. 49, respectively, and have been ratings darlings.
Versus and NBC will be rooting for the Penguins, Sabres and Rangers to advance in the East, and for Detroit, Minnesota and San Jose or Dallas in the West. The NHL will be working with Versus and NBC on two one-year television deals next season. Both have options to continue. Versus will pay around $70 million next season as the NHL's exclusive cable network, while NBC continues to pay no rights fees. The league recently signed a six-year extension with Canada's CBC at probably around $100 million a year. These kinds of television deals continue to make any comparisons with MLS, Arena Football, lacrosse, darts or poker incorrect and uninformed.
In case you missed it two weekends ago, the NHL on NBC (Bruins-Penguins and Rangers-Islanders, regionally) drew a larger national audience than ABC's NBA telecast (Suns-Kings).
• All of the Western Conference playoff participants will be 100-point teams. The East may very well have another Stanley Cup champion as the West teams will likely beat the living tar out of each other for the next two months. That would be four straight Cups for the East.
The West's strength is why I would probably pick Roberto Luongo for the Vezina Trophy as best goaltender. I'm all for Martin Brodeur winning as many trophies as possible -- he exemplifies everything cool about this game. He is stylish, consistent, good-natured and a champion. An icon. I would never argue on Marty winning anything, but my hunch says Luongo is the man by an eyelash. The Vezina is voted on by the general managers and they know the value of a goaltender. I believe they will look at Luongo as the biggest difference maker in net this season.
One reason the West is stronger than the East? The Joe Thornton and Roberto Luongo trades (both going from East to West) are the two most lopsided trades in the last 20 years and reasons why Mike Keenan and Mike O'Connell will never be NHL general managers again. Also, the two principals of those trades, Todd Bertuzzi and Brad Stuart, are now back in the Western Conference!
• The world continues to produce young hockey talent at an alarming rate. Malkin, Anze Kopitar, Paul Stastny, Wojtek Wolski, Dustin Penner, Travis Zajac, Jordan Staal, Matthew Carle, Alexander Radulov, Ryane Clowe, Phil Kessel and on and on.
We will see another batch next season. After learning from the European way, Hockey Canada and USA Hockey have implemented coaching and training techniques that have brought North America to the forefront of the world in producing hockey talent. The current top five leading scorers in the NHL are all North American. The continuing production of great talent will further reduce fighting and justify the NHL's wishes to expand within the next five years. Canada and Connecticut, baby. Canada and Connecticut.
Enjoy the playoffs, and next season, stick around for the whole season. You don't know what you are missing.
A pool or a pond. A pond would be good for you.
It is Stanley Cup playoff pool time. The playoffs are a time when every emotion is spent to the fullest by players, announcers and fans. So, why not throw gambling into the picture and just have our hearts explode?!
There are so many different playoff pools. The one I'm in uses the following rules:
• Pick one player per team in the playoffs.
• Lineup distribution: 10 forwards, four defensemen, two goalies.
• Points: Goal (2 points); assist (1); win for goalie (2); shutout (2); overtime bonus (1 additional point to above totals).
• Tiebreaker: Total number of goals in the Stanley Cup finals.
Toronto still has a decent chance of making the playoffs and hopefully it will come down to the "Hockey Night in Canada" game Saturday night against Montreal. But, for now, we will stay with this East postseason lineup: Buffalo, New Jersey, Atlanta, Ottawa, Pittsburgh, N.Y. Rangers, Tampa and Montreal.
As you can surmise from the points system, having a goalie go deep is vital. An overtime shutout alone gets you five points and each series win is a minimum of eight points. Barring a late injury or a first-round matchup that makes me feel uncomfortable, this will likely be the playoff pool team I submit next weekend.
Goalies
• Ryan Miller (Buffalo Sabres) and Jean Sebastien-Giguere (Anaheim Ducks). This is the safest bet for the Stanley Cup finals. The best teams don't always make it through three series; but, in terms of odds, the Sabres and Ducks are at least slight favorites in their respective conferences.
In this salary-cap NHL, all predictability goes out the window. Everyone has a chance. I think Buffalo's most difficult series will be in the second round. I think the Sabres will come out flying in the opening round. If they get past the second round, I think they roll in the conference finals in five. Anaheim will probably play Minnesota in the opening round and I think the Ducks can neutralize the amazing Marian Gaborik. Watching Gaborik right now is a breathtaking experience. You must watch him.
Defensemen
• As you can see, only one defenseman (Pronger) cracked the top 10. So, if you think a team will be a one and done, like Montreal, then taking Sheldon Souray might be a wise move since most of the scoring will come from forwards. With that in mind, I'll take Souray, Dan Boyle, Nicklas Lidstrom and Sergei Zubov.
Forwards
• Brian Gionta (New Jersey Devils): He has 12 points in his last 14 playoff games. You could argue taking Martin Brodeur and Daniel Briere instead of Gionta and Miller as your Devils and Sabres representatives. I still may do that. I like the Devils' chances of reaching the conference finals and Brodeur could get some multiple shutouts in the first two rounds.
• Marian Hossa (Atlanta Thrashers): Playoff experience for the Thrashers' leading scorer.
• Dany Heatley (Ottawa Senators): Heater had 12 points in 10 playoff games last spring. Any time you have more points than games played, you are a player. Heater will produce. He was born to be a hockey player.
• Sidney Crosby (Pittsburgh Penguins): I saw just about every Penguins game this season, and a great example of No. 87 playing at a different level was the "I'll show you for not picking me for the Olympic team" game against the Coyotes in Phoenix. I suspect we will see that, and maybe more, in the playoffs. The first five minutes of the Penguins' first home playoff game may be this year's most exciting sequence in all of sports.
• Jaromir Jagr (New York Rangers): The Rangers will likely play Atlanta or New Jersey in the first round. Rangers fans would obviously rather see the Thrashers than Brodeur. Jagr is really flying right now. He has fast feet and a lot of energy, which means he is healthy and winning at the blackjack tables. The Rangers are a dangerous playoff team.
• Daniel Sedin (Vancouver Canucks): I imagine the Canucks are rooting for the Sharks to finish fifth so they get Dallas in the first round. Roberto Luongo and that big defensive corps will be a tough matchup for anyone else, but the Sharks are a tough team to match up against.
• Paul Kariya (Nashville Predators): Kariya has only played in 41 playoff games, but he has always produced and it should help his Hall of Fame chances down the line.
• Joe Thornton (San Jose Sharks): I'm going to take him until he has his monster playoff outing. Martin Scorsese finally won his Oscar for his Boston-based motion picture. Joe Thornton "departed" Boston. I'll try No. 19 again.
• Marian Gaborik (Minnesota): Cue Berlin's "Take My Breath Away." Watching this man skate is a pure joy.
• Jarome Iginla (Calgary Flames): A playoff monster -- 35 playoff games, 19 goals, 13 assists, 32 points. Winner, winner, chicken dinner.
John,
Thanks for running the opposing viewpoint from a Nashville fan in your recent mail bag.
The Predators had a P.A. announcement, as well as a message on the Jumbotron ready to run after Modano's milestone goal. However, following the incident with Modano, Robidas and Tootoo, the team believed it was better not to embarrass Modano any further with fans booing his achievement. Thanks again for including both sides of the discussion.
Gregory Harvey
Nashville Predators, Director of Team Services
Sometimes the right thing isn't always the popular thing. If the above is true, it was probably to protect Nashville fans from embarrassing themselves if they had booed a classy player like Modano. I think we are all past this now and we can only hope Nashville and Dallas meet in the playoffs.
Dear John,
I am leaving you. It's not you, it's me and my blind love for the Nashville Predators. I simply cannot agree that the Preds should have stopped the Dallas game to acknowledge Mike Modano's "historic" goal. Please consider the timing of the goal: on the power play resulting from the penalty on Tootoo (deserved, of course, and I am relieved that Robidas is all right); on a power play where Modano should have been in the box for swinging his stick (and connecting) at a fellow player.
Modano is not well-liked in Nashville due to his opinion that our team should have been contracted. His actions on the ice on March 17 simply cemented his reputation in Nashville. The fact Modano was selected as one of the three stars of the game and his achievement announced at that time was more than enough for me.
In your world, the Preds should have stopped the game and acknowledged Modano. If that had happened, we would have been reading an article about the classless, clueless fans in Nashville who shouted down a great player with a chorus of boos after a significant achievement. On second thought, maybe that would have been the way to go. At least then I, and my fellow fans, would be demonized rather than our beloved hockey club. You may insult me all you wish, but leave my children and my hockey club alone, because you are not going to think better of your opinion and I am not going to see it your way. I think we need a break -- seven days should be enough.
Cheers,
Matt Robinson
And on that note …
Mark Smith and his band the Vinyl Trees performed as the opening act for The Tragically Hip on March 26 at The Fillmore in San Francisco. The Vinyl Trees played songs from their newly released debut CD "Pura Vida."
---
John,
This is the first piece of good news regarding televised hockey that I've heard in the last four years. CBC keeping "Hockey Night in Canada" is the peanut butter; getting "NHL 2Night" back would be the jelly.
Phil Kennedy
Yes, no network celebrates the DNA of its sport like the CBC covers the NHL every Saturday night. It is a weekly weekend revival for us passionate hockey souls.
---
JB,
I am so tired of every arena playing the "horn" sound when the home team scores. Wouldn't it be great if some new arena adopted a random set of sounds, such as a pig snorting, baby crying, carnival music, "Star Wars" sounds and the "horn" for good measure? The fans and players would never know what was coming and everyone would be anticipating the next goal. It would make for good TV highlights, as well. Picture Modano's face as he pots his 600th and Darth Vader starts breathing! Any sounds you would add?
Matt
Sudbury, Ontario
I would simply have Eric Cartman say, "He shoots. He scores." Or Will Ferrell screaming "Gouuuuulet!"
---
Hi John,
Since the playoffs are almost upon us and the Flyers' season will be ending soon, I was wondering, who do you think should be the next captain? I don't see Forsberg coming back, so I'm thinking it might be Simon Gagne. He is a player that has proven he can be counted on, and he is going to be around for a while. But what do you think?
Go Flyers!
Dan Hartman
Hamburg, Pa.
---
John,
Football is more dangerous than hockey. It's that simple.
Yes, there are sticks, blades, no face masks (so a good chance of an eye injury), bareknuckled fighting, the chance of hitting ice with the hardness of cement, and high speeds in ice hockey. But American football is far more dangerous than ice hockey. I'm a lifelong ice hockey fan and player, but what you wrote regarding which sport is more dangerous at any level is nothing short of ridiculous. I can think of five permanent paralysis incidents in the NFL and college football within the past 25 years; I have heard of none in ice hockey (not that any have not happened).
Hits in football just hurt more, period. As for size, ice hockey players are certainly much bigger than before, but they are comparatively normal in size compared to the NFL players today. I'll take a blind-side hit from Shanahan over an earhole block from Anthony Munoz any day of the week. Hockey is a faster sport than football because it's played on skates, and demands better aerobic conditioning than football. Playing in the NHL demands a certain recklessness and courage and passion because there is always a chance something bad may happen to you with the sticks, skates, ice and flying pucks, not to mention the flying bodies. But NFL players take more of a pounding, feel it more later in life and are virtually guaranteed a major injury at some point in their careers. Hockey players play hurt because they can given the kinds of injuries they routinely sustain. In the NFL, when a player is out for a game, it's because he can barely walk. You are just wrong.
Jim Hayes
I ask you to call Bobby Orr, Keith Jones, Derek Sanderson and countless others and ask them about this walking thing.
Bucci,
As I sit here delaying work for another five minutes, listening to The Clarks and reading your "Hockey Fights are a Double-Edged Sword" article, I'd like to offer two observations from this season. First, I hate to see any player taken off the ice on a stretcher for any reason, including a fight. Second, how many spears, butt-ends and cheap shots have been directed toward Sidney Crosby since the Pens traded for George Laraque?
John Denniston
Baltimore
---
Bucci,
Is your book with Keith Jones out yet? I have yet to find it on Amazon or other book Web sites. Looking forward to reading it.
Thanks,
Corey Pomeroy
Details coming.
---
Hi, John,
All right, all right. I'm a music fiend, but have, to this point, not expanded that universe to include much Ben Folds. You have finally persuaded me to do so; therefore, I need your Jedi guidance through Ben's offerings. Where do I start? Full-length CD or mix? BFF or solo stuff or both? My goodness, what would this world be without music and hockey?
Thanks,
Amy Matthew
A good place to start is Ben's live CD, then his two solo full releases, "Songs for Silverman" and "Rockin' The Suburbs." After that, buy "Sunny 16" and "Speed Graphic." Finally, go see him play with the Boston Pops on Wednesday, May 9.
---
Hey Bucci,
The media has practically given the Calder Memorial Trophy to Evgeni Malkin. Meanwhile, I haven't heard or read anything about Minnesota rookie goalie Niklas Backstrom's possibilities for the award. Right now, he leads the NHL in GAA and save percentage, and is helping Minnesota gain home-ice advantage in the playoffs. Do you think Backstrom will be a Calder Trophy nominee and what do you think are his chances for winning it?
Mikael Seppala
Helsinki, Finland
To be eligible for the Calder Trophy as the NHL's top rookie, the player cannot be older than 26 years before Sept. 15 of the season in which he is eligible. Backstrom is 29.
---
John,
From one Pittsburgh-area native to another, thought you'd enjoy a picture of my 3-month-old daughter Payton in her first Pens' outfit. Payton was born on Dec. 13, the day Sid took over the scoring race and had his first six-point game. Never miss your column, but do miss "NHL 2Night!"
Amy O.
Boca Raton, Fla.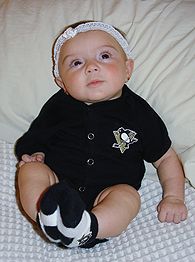 John Buccigross' e-mail address -- for questions, comments or cross-checks -- is john.buccigross@espn.com.