And with one Wade Dubielewicz pokecheck, here we are.
That one pokecheck on Sergei Brylin cost the Toronto Maple Leafs about a minimum of $3 million (assuming their playoff games average about $1.5M a contest). It gives Charles Wang and the Islanders millions in playoff revenue considering New York's smaller, older rink. Yes, the team which made preseason goalie news by signing hair-follicle legend Rick DiPietro to a $67.5 million deal was saved by a 28-year-old bald man making $495,000.
This is why sports are the best reality television.
Sixteen teams truly believe they can win it all. The next two months will be like the scrap between Tony Soprano and Bobby "Bacala" Baccalieri from Sunday's "Sopranos" premiere. Every day, you will wake up and, after monitoring your mandatory man noises to assure you're still alive, your first thought will be your team's game that night. The nauseating nervousness in your stomach will slowly build as the day goes on. You will sit at work and wonder what the Sedin twins are doing at that moment. (Are they napping? Do they nap at the same time? Are they dating Swedish twins? Will Tiger Wood's wife watch the Vancouver Canucks games? Will Tiger buy her the "NHL Center Ice" package for the playoffs?)
You will play out all of the scenarios in your head -- how your team might win and how your team might lose. If you're a Sabres fan, you will be confident. "We were the best for 82 games," you'll say. "What's 16 more wins?"
If you are a Tampa Bay Lightning fan, you wonder if your goaltending is good enough to last two months. If you are a Predators or Sharks fan, your team will be gone by mid-April, and that scares you. If you are a Red Wings fan, you look at Pavel Datsyuk (three goals and 12 assists in 42 playoff games) and sing Eminem:
"May I have your attention please?
Will the real Slim Shady please stand up?
I repeat, will the real Slim Shady please stand up?
We're gonna have a problem here."
It's the time of the season to love hockey like you've never loved it before. It's the time when more of the world sees what we see for nine months out of every season -- these athletes, these players, this game, cannot be matched. Nothing compares to the will, drive, skill and sheer desire we will see every playoff game from every player and coach.
No team championship is harder to win or has greater glory or a more glamorous and mysterious trophy. The NFL and NBA try to give their trophy ceremonies the NHL treatment, buy they look like Dodge Neons parked behind a Mercedes.
Recalling stories from Stanley Cup playoffs past was my favorite part of writing the biography for friend and former NHLer Keith Jones. You will continue see Jones during the playoffs as an analyst for Versus. I like Keith because he is generous, kind, perceptive, smart and competitive. The book we wrote together is titled "Jonesy: Put Your Head Down And Skate. The Improbable Career of Keith Jones." It is now available for preorder at MiddleAtlanticPress.Com. I asked the publisher to give you free shipping and they obliged. The book is $16.95 and proceeds go to Keith's favorite charity, "Alex's Lemonade Stand," which raises money to fight childhood cancer.
Below is an excerpt from "Jonesy." I thought this excerpt would be a good way to get ready for the playoffs. It's a chapter called "Hey, That's My Plus!" on Game 4 between the Flyers and Penguins during the 2000 Cup playoffs. You know, the epic five-overtime battle.
This chapter shows anything can happen in the playoffs. Expect the unexpected. The ride starts now.
So, it's Thursday, May 4, 2000 and Game 4 of 2000 Eastern Conference semifinals gets under way.
The Penguins score immediately on their first shot of the game. At 2:22 of the first period, Alexei Kovalev makes it 1-0 Penguins as he and Robert Lang combine to score against the Langkow-LeClair-Recchi line. I'm preparing to roll my thumbs and play my 10 minutes with Peter White and Valeri Zelepukin, when a couple of our guys get banged up in the first period, most notably Simon Gagne, who winds up taking just 36 shifts on the night. That's 10 fewer shifts than my 46 and 37 fewer than Eric Desjardins' 73 shifts!
So with the inevitable playoff injuries now upon us, I turn to Craig Berube on the bench, knowing I'm going to have to play more and say, "I better have another cup of coffee. It's gonna be a long night."
And it was.
The referees that night were Dan Marouelli and Rob Shick and they may as well have been practicing triple toe loops during the game. They called 11 penalties all night long. It was classic NHL 2K hockey. Clutch, grab, violate, pull, turn your head and cough hockey.
The Penguins fail to get double-digit shots in any of the seven periods that will eventually be played. This game was another example of how slow the game was getting. This was the "old" NHL.
We are down 1-0 entering the third period. Jaromir Jagr is playing a lot, but playing listlessly. His flu-like symptoms are wearing him down along with the virus that was my stick to his gut. Jagr wasn't the major force that he usually was. I'm hanging all over him like a cheap suit, which you could do in those days. It didn't matter if you could skate, and that was one of the biggest problems with the NHL in 2000. A guy like me with one leg could eliminate a world-class player like Jagr. That's not right.
Martin Straka of the Penguins goes off for slashing at 4:43 of the third period, and four seconds later, a John LeClair scores. The goal is reviewed to see if Johnny tipped the puck in while his stick was above the crossbar. Considering Johnny Vermont had already been credited with a goal in the previous Buffalo series that went in via the side of the net, we are confident the goal will stand. It does and the score is 1-1.
No one scores the rest of regulation and the game goes into overtime. The first overtime is a good one full of chances early. We are fighting for our playoff lives and the Penguins smell a 3-1 series lead. There are 14 shots on goal combined in the first overtime, one more than the two teams had in the third period.
We head back to the dressing room and now I'm hungry. Really hungry. All I've really had to "eat" the last five, six hours were those cups of coffee. For a guy who was playing about 10 minutes a night to now play around 20 minutes after the first overtime, that's a major shock to the system. Especially for a guy like me who wasn't in the greatest of physical shape.
In the second overtime, each team gets seven shots on goal, but can't get one by Ron Tugnutt or our Brian Boucher. Tugnutt would go on to make 70 saves in the game and Boucher 57. On March 21, 1991, Tugnutt stopped 70 of 73 shots to for the Quebec Nordiques in a 3-3 tie against the Boston Bruins.
We make our way back to the dressing room after the second overtime, and by now everyone is caveman hungry. So, we order some arena pizzas. The pizza comes and I'm sitting there with my shirt off, my gut hanging out and stuffing pizza in my pie hole. I'm there telling the boys, "Don't worry boys, I'm like a bear hibernating in the winter. I got all this fat stored up to use for 50 overtimes! I'm worried about you poor bastards with 3-percent body fat. Just get my fat back, fellas!" One thing you can say about the 1999-2000 Flyers, we were always loose. I made sure of it.
In the third overtime, I remember jumping on the ice for a line change. As I jump on the ice and float to the neutral zone, the play goes from our blue line to their blue line and back to ours again, as both defenses are playing a back-and-forth game of chip it out/bang it off the boards hockey. I'm standing there, not moving, and watching the puck go back and forth like I'm at Wimbledon. I move about three feet in all as this is going on. I then turn to our bench and scream, "CHANGE!" Afterwards, the guys were howling. I was all cramped up and had to be airlifted over the bench. My legs felt like two anvils.
As the third overtime ends, guys continue to eat pizza, some are on the IV machine, and the game is turning slow motion. By the time the fourth overtime comes along, guys are worn down, not only from playing in the seventh period, but from all of the clutching and grabbing you had to fight through in those days. That added to the exhaustion.
We are 11 minutes into the fifth overtime and I jump on the ice for what will be one of my longer shifts of the night. My line has a real good shift, sustaining a lot of pressure in the Pittsburgh zone. For the first time in the game, I actually feel like I have legs under me. Maybe with the dire condition of my knee, I just needed 7 ½ periods to warm up. I'm flying around the Penguins zone and I even get a good scoring chance, rifling one just wide. I'm feeling great! The Penguins finally clear the puck out and I'm thinking, "Man, I just used up everything I got for the night."
Luc Richardson retrieves the puck behind our net and is looking to for the breakout, so he moves the puck up along the boards. I come back as quickly as I can for some support and I'm just looking to chip Luc's pass out of the zone so I can get to the bench. I take a swat at the puck and get it out toward the neutral zone and in the direction of the Penguins net. Meanwhile, Keith Primeau comes off the bench and heads toward the Penguins zone.
I am now trying to get to our bench, which is on the other side of the ice, diagonal to where I am on the opposite side of the ice. As Primeau skates in on Tugnutt, I'm not even watching the play. I have my head down, gasping for air after a long shift. As I get to the bench, I see Rick Tocchet get up and climb over the boards to replace me on the ice a little early. Then, I see the rest of the bench jump up and start to climb over the boards and I'm thinking, "Oh, my god! We're gonna get a too-many-men-on-the-ice penalty!"
But I looked down the ice and see the guys hugging. It now dawns on me that we must have scored the winner.
With the game being in Pittsburgh, and with only about 5,000 fans left in the rink, there wasn't a sound when Primeau scored. Later on, I see the highlight of Keith's wicked wrist shot over Tugnutt's shoulder. I have to skate over to the pile to get in on the celebration, even though I'm almost too tired to skate another stride. As the rest of the guys converge on the celebration hug, I end up next to Tocchet, the guy who was initially coming over the bench to replace me on the ice. As I skate up to Tocchet, I give him a nudge and the first words out of my mouth are, "Hey, that's my plus!"
Picking winners in a salary-cap sport is nearly impossible. Everyone has a chance. Certainly, Anaheim has a better chance than Tampa Bay, but scenarios exist where just about anyone can reach the Stanley Cup finals.
We'll do the best we can here. By the way, my preseason predictions correctly identified six of the eight Eastern Conference teams and seven of eight Western Conference teams. Not bad. Once again, I love all 30 NHL teams equally. I pick who I think will win, not who I want to win. Just because I don't pick your team to win doesn't mean I hate you. I love you. Let's hug it out.
Eastern Conference
• No. 1 Sabres vs. No. 8 Islanders: The combined volume of these two arenas will not be matched by any other opening-round series in the East. The Islanders can only win this series with a healthy Rick DiPietro standing on his concussed head. The Sabres are too fast and too deep for the slow-footed Islanders. Sabres in five.
• No. 2 Devils vs. No. 7 Lightning: The playoffs are about goaltending, and this is the biggest mismatch in the opening round. The Lightning need Martin Brodeur to eat a raw catfish that's been lying on the side of the New Jersey Turnpike for four months if they are going to have a chance in this series. The peripherals say the Lightning don't stand a chance. The Devils have Brodeur, John Madden to check the Vincent Lecavalier line and Brian Gionta back in the lineup. Devils in six.
• No. 3 Thrashers vs. No. 6 Rangers: This is a tough one. Jaromir Jagr is flying right now. Henrik Lundqvist is playing out of his mind. He's even cursing at ice girls, so you know he is ready! The Thrashers are better than the Rangers at every position but in net. The Thrashers are the better team and should win the series, but I'm taking the Rangers in seven.
• No. 4 Senators vs. No. 5 Penguins: This is the best series in the East as most 4-5s are. The Senators will try to hurt Sidney Crosby, and that's where this series gets interesting. These two teams are going to beat the living cheese doodles out of each other. Crosby will be unreal to watch in Game 2. After two days off, he'll unleash a fury of moves around the net. I like Crosby and the Penguins to win in six.
Western Conference
• No. 1 Red Wings vs. No. 8 Flames: I keep going back and forth on this one. Calgary has the experience to win this series. Detroit has some injuries, but the Red Wings are well coached as opposed to the past when the Wings would play into opponents' hands. Just when I think I'm going to write Calgary in seven, I want to write Red Wings in seven. That's it. Red Wings in seven.
• No. 2 Ducks vs. No. 7 Wild: Minnesota will be tough to beat at home. Steal a road game and the Wild are on their way. Anaheim must prevent that. Scott Niedermayer needs to be on the ice every minute with Marian Gaborik. Minnesota is dangerous, but I will take the Ducks in seven.
• No. 3 Canucks vs. No. 6 Stars: Here are two goalies, Vancouver's Roberto Luongo and Dallas' Marty Turco, who need this series for their personal résumés. I love Turco and will openly root for him. I would love to see him at least play well. But the Canucks have a big defense with a big goaltender and the Stars will have a difficult time scoring. The Sedin twins are playing with confidence and the Canucks' overall assurance is high. Canucks in six.
• No. 4 Predators vs. No. 5 Sharks: Time for Joe Thornton and Patrick Marleau to show some real adult leadership. Man up! Be serious about your work. Act like it means a lot to you, and everyone else will follow. If you don't, your teammates will let you down. Do you think Mark Messier's teammates wanted to let him down? Wayne Gretzky's? The Hurricanes and Oilers knew how much it meant to Rod Brind'Amour and Ryan Smyth last spring. Bono to U2 and Eddie Vedder to Pearl Jam – their bandmates don't want to let them down. The Stanley Cup playoffs are about wearing your heart on your sleeve. Show your teammates the price you'll pay, how much you will bleed, and they will follow. Sharks in six.
Hey John,
I am a freshman at Boston College. Last Thursday, the Penguins played the Bruins in Boston. The Celtics were playing on Wednesday, so the Penguins practiced at our Conte Forum on Wednesday morning. I did not previously know this, but I came out of class around 3 o'clock to see a couple gentlemen walking in suits. For some reason, I said to myself, "They look like hockey players." I kept walking and slowly turned to a third man behind the first two, slowly I thought in my head that I had seen Sidney Crosby. I thought, "Why would Sid the Kid be on our campus?"
So, I quickly do a double take, and triple take, and realize that it is THE Sidney Crosby and the Pittsburgh Penguins walking on my campus. I quickly walk up to one of them, whom later I realize to be Maxime Talbot, and say "Do you guys have a game tonight," and he says, "No, tomorrow." I do not know their destination, so I quickly ask someone to take a picture of me and Sidney on my phone, just in case. I walked with them a little while longer and they were heading in the direction of my dorm, so I just continued to walk with them.
I forgot to mention that at this point I realize that Rob Scuderi, who went to BC, is giving the guys a tour. … So they continue walking, passed one dorm that has a fleur de li on the outside, which Scuderi points out for his Canadian teammates. As we are going up a staircase, I started talking to Colby Armstrong. I mention that I am from New Jersey and he said something to the effect of, "Do you enjoy being bored a lot then?" To which I laughed and replied, "Bored of winning, I guess." He laughed, too. Colby said that this is weird for most of them because they never got to go to college. And to my surprise and delight, Jordan Staal turns around from a step in front of us and says, "Yeah, I've never even been to a college campus before." These young guys were walking around and looking in on the life that is a college student.
Thanks a lot,
Chris Fitzpatrick
Bayonne, N.J.
That's a great e-mail, Chris. College is an amazing experience as long as someone else pays for it. It's a time when one makes numerous friends and has numerous time to really find out about one's self. I can't imagine my life without my four years at Heidelberg College in Tiffin, Ohio. Making a million bucks at age 19 is pretty cool, but the chill time at college? Priceless. And the naps? Oh, the naps. Best. Naps. Ever.
---
Hey John,
My question to you is what you think about Ryan Smyth and his chances staying of on the Island. I have always been a big fan of Smyth, and when he came to the Island, I was ecstatic. I would love for him to stay, but I have heard so many rumors. What is your inkling?
Anthony Orza
Red Hook, N.Y.
My inkling is the Islanders won't give Ryan Smyth, who turns 32 during next season, the six-year contract he probably will receive from someone else. As we saw with Pavel Datsyuk, players will get more years than before in exchange for a slightly smaller yearly figure. This, of course, is because of the cap. But this is a very dangerous trend for NHL general managers. Hockey is a violent, rough game, and handing out guaranteed seven-year contracts is a big gamble. But, back to Smyth. I think he will play somewhere other than the Eastern Time Zone. The Islanders need to sign Jason Blake and get younger, not older.
---
Hey John,
Two things:
1. Claude Julien's firing just reeks like a set up to get Pat Burns back behind the Devils' bench next fall. In a recent interview, he basically said he's got the green light to coach again, something he's itching to do. He's still under contract in Jersey, and I have never seen Lou warm up to a coach as much as he did Burnsie since Jacques was guilted out of the swamp by negative media types.
2. If you still haven't listened to Clutch, you really should. Their new disc is amazing. The chorus of "Electric Worry" should be in an NHL commercial/highlight reel (BANG BANG BANG BANG/VAMANOS VAMANOS) and "The Devil and Me" kinda reminds me of Julien's canning.
Cheers!
Bill
It appears the Devils players had as much input in the Julien decision as the General Manager/King/Czar/Landlord/Lord of the Manor/Mayor McCheese/The Big Lebowski/Big Papi/Captain Lou/Gladys Knight did. In a conference call after the firing, Julien said, "Lou's been nothing but fair with me and treated me well."
Booch,
I am three hours removed from hearing the Devils fired Claude Julien. WHY!? Does Louie the Lam have Pat Riley syndrome, where he has to usurp a team to win a Cup as a coach?
Chris Fitzpatrick
Ramsey, N.J.
Comparing Lou Lamoriello to Pat Riley is like comparing a piece of barbecue chicken to a mailbox.
---
John,
Is there something in the NHL's TV contract with Versus/NBC where the network is supposed to ignore and deny the existence of the Nashville Predators? Except when they play the Red Wings or Avalanche, and when that happens, they only talk about those teams and mispronounce the Preds' players names and use the terms "clutch and grab" and "boring" to describe Nashville? I know ESPN had that in its contract. When will the Preds get a game on national TV?
Kenneth Hall
NBC and Versus have had enough of a sample of NHL games to know what teams rate well and what teams don't. The Predators don't garner a large national rating, and therefore generally won't be on national television in the future unless they play a team that does rates very well.
A few Predators players made interesting comments to reporter Paul Kuharsky of The Tennessean about the team's third jersey, a jersey that likely saw its last game. As we reported here months ago, the NHL will revert to home white uniforms next season and will eliminate the third jersey as they introduce the new Reebok uniforms. Scott Nichol told the paper he hopes he doesn't see the third jerseys in the postseason, saying, "They are a heavy jersey. If we go a long way in the playoffs, when it gets hot out, those would be like wearing a fur coat." The Predators went 11-1-2 in the mustard sweaters this season.
---
Johnny,
I just found out that my sister is getting engaged to her boyfriend and I want to get them an engagement gift. He is a D-1 hockey player and she enjoys hockey on some levels. What should I get them? Any ideas? Please do not show my e-mail address because I do not want to ruin the surprise.
Thanks you, Royal Highness of Hockey!
E. Munster
Mocking Bird Heights
Get them something that has nothing to do with hockey unless you can get a lock of Wayne Gretzky's hair or a game-used Sidney Crosby stick. I can't tell you all of the cheap golf crap I've gotten over the years because people know I play golf. Either get me a dozen Titleist Pro-V1s or buy me some deodorant. I can always use that. Get your sister a spa gift certificate and get your future brother-in-law a DVD of "Old School" and "Anchorman."
---
Hey John,
What do you think of what Avery has brought to the Rangers? Personally, I feel he has really carried this team, is already a fan favorite, and his outspoken nature has been very entertaining. I'm just sick of everyone complaining about him. You don't have to like the guy, but I think he's earned some respect on this team. Also, do you think the Rangers should try to lock him up with a long-term contract?
Thanks a lot,
Trevor
Port Jefferson, N.Y.
Sean Avery has found a home in New York since he joined them in early February. He brings energy, speed and toughness. We'll see if he can control himself in the playoffs. That's where his style can really help the team, but it could hurt the Rangers, too. Either way, it will be fun to watch. Avery probably can develop into a 18-25-goal guy over the next few seasons. He's just now entering the more productive years of his career.
---
John,
So I guess the question is: What do the Caps do now? It has been suggested that if the team can't sign a top center in the opening hours or first day of free agency, then no one will sign here. Is this true!? It would seem so according to a recent Hockey News player poll. Is there any hope for us Caps fans or should we not be surprised to see Ovechkin and Semin both demand trades come July?
Matt
Herndon, Va.
Players will go for the best contract 80 percent of the time. If the Caps make a competitive offer with the caveat of playing with Alexander Ovechkin, they will get a good player. I don't know if they had their eye on Pavel Datsyuk, but it would have made sense. They could have played him with Ovechkin and Chris Clark and then plug in Swedish prospect Nicklas Backstrom with Semin and Matt Pettinger. It looks like the Capitals probably will get the fifth overall pick in this summer's draft. I imagine they have their eye on hulking defenseman Karl Alzner. American-born Patrick Kane will be the first player chosen in this summer's NHL draft.
---
John,
I've been watching waaaay too much "Center Ice." The Phillies lost in extra innings last night and I thought, "Well, at least they got a point out of it."
Jim Hayden
Exton, Pa.
If the game would have gone 12 innings, it would have been decided by suicide squeezes.
---
John,
I am currently in the championship game of my fantasy league, but it's never too early to start planning one's title defense. Next season, do I pick Jonathan Toews or Peter Mueller? I'm leaning toward Mueller because he's had a great year with the Everett Silvertips and the Coyotes have a massive hole with regards to offensive pivots.
R.T.
Norfolk, Va.
If Toews plays in Chicago next season with Martin Havlat, I project him to go 25-52-77. Mueller will not do that next season.
---
Hi John,
Thought I'd share this picture with you. My 10-month-old daughter, Janie, got into a tussle in the stands with Derek Boogaard after the last Sharks/Wild game. Janie may have ended up with a nice shiner, but you should see Boogaard!
The true and far less-interesting story: The tussle was actually with a wooden stool in our family room, and the wooden stool won. But she still looks good in a Sharks shirt with that shiner. I think she may be a fourth-line scrapper for the Sharks someday!
Best,
Ken Hughes
Morrison, Colo.
When she goes in her diaper, do you say Black-Eyed Pees? I'll be here all week. Enjoy the Chicken Parm. Wild Cherry is next.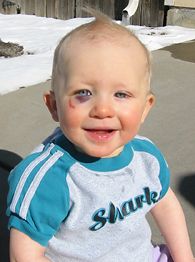 John Buccigross' e-mail address -- for questions, comments or cross-checks -- is john.buccigross@espn.com.