In our Western Conference preview from early October, we forecasted the Anaheim Ducks to be the best team in the West. The key cherry-picked phrases are:
"Once again, Brian Burke is all in. He had multiple forward chips to deal and used them to get a gigantic presence in Chris Pronger. Scott Niedermayer is already a Hall of Famer with his Norris Trophies and three Stanley Cups. Pronger just has to get a few more seasons under his belt and he'll be a Cup winner, too. (And a Hall of Famer) The Ducks should have a massive power play. ... The Ducks have the speed to be one of the best defensive teams in the league. I like this team because it appears to be able to play a multitude of styles, and that usually equates to a great team. ... Ryan Getzlaf's hair is amongst the top 5 in the league. He needs to show that hunger around the cage."
SHOT OF THE WEEK
Every week, we present an NHL photo and I provide a caption. We'll be back with more photos in the fall!
THIS WEEK: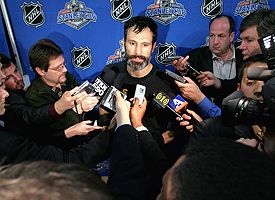 "Mr. Loggins! Mr. Loggins! Explain your decision to sing "Footloose" over "The Star-Spangled Banner!"' (Getty Images)
Your submissions:
"Scott, Scott! Try this new electric razor, please."
"Scott, this razor's better!"
(Rick S, -- Pittsburgh)
"King Leonidas, is this really Sparta?"
(Brian -- Maryland)
"Teen Wolf, when can we talk to Scott Niedermeyer?"
(Joe Harmon -- St. Paul, Minn.)
"Wait, I know I've been marooned on an island for years, but they have a hockey team in Anaheim, and they're called the WHAT?!"
(Larry Edwards -- Odessa, Texas)
Brian Burke is the obvious NHL executive of the year. He continues to build his résumé to the point where he seems like an obvious choice to be the next NHL commissioner if he ever chooses such a task. My guess is he enjoys the fire of competition that being commissioner would not bring. But with his smarts, passion, ability to evaluate talent and propensity to act progressively, Brian Burke gives the league a little vision and a little jolt it needs.
I thought Jean-Sebastien Giguere was the obvious Conn Smythe Trophy winner, but I have no problem with Scott Niedermayer taking home the hardware. Giguere has a Stanley Cup and a new baby, and is about to get pizz-aid with a gigantic free-agent contract. Niedermayer was there for each game and each series and has a talent and style that is very appealing. As we have written here for the past two seasons, no defenseman has an impact in all three zones like Niedermayer. This award is cool for his late-career résumé.
Chris Pronger has a Hart, a Norris, and now, Lord Stanley. He is a Hall of Famer player who should be good for five more seasons. That said, I wouldn't totally disagree with trading Pronger to a team like the Blackhawks or Flyers, or a team with good young players and a desperation that might result in them overpaying for Pronger. He turns 34 in October and makes $6.2 million. That's not a bad combination for a trade. His value never will be higher. The flip side is Pronger helps keep the Ducks in contention now and should help keep them profitable with multiple playoff gates and a chance to win another title.
Getzlaf's Q rating rose this spring. It was no surprise here as we expected a lot from this player. He was our playoff pool pick. I was pleasantly surprised to see how Getzlaf raised his competitiveness during the postseason. He played mean and hard. Hopefully, as he gets more comfortable and confident in the NHL, he will carry that over to the regular season. I'm sure he will become the Ducks' No. 1 center next season, playing between Dustin Penner and Corey Perry. It will be interesting to see how much Getzlaf improves on his points totals – he was tied for 85th in scoring this season with 25 goals and 33 assists in 82 games.
So, congratulations to the Anaheim Ducks, including those in the team's past like administrator Al Coates, coach Mike Babcock and player Steve Rucchin. They all had a hand in this season, as well.
This is the last column of the year. Thanks again for reading. We'll be back in the fall after a summer of preparing for the annual NHL music previews and nervously awaiting the release of "Jonesy" (available for pre-order now at www.middleatlanticpress.com. Last plug of the year!).
Thanks for reading. I really appreciate it. Here's a big ol' e-mail bag goodbye.
Peace out, Loob.
Issue No. 1 -- Low-scoring games
Hey Bucci,
In Bettman's "State of the Game" address, he said that playoff scoring is down and that the competition committee will look into it during the offseason. The fact that scoring is down is more than likely true, but the idea that he may want that changed prompts me to ask why. I don't have a problem with a low-scoring defensive battle. If the idea is to make the game more marketable to the casual fan, I submit Game 2 of the finals as evidence. Low scoring, yes, but nonetheless very exciting and going down to the wire. Does it really need changing?
Tommy Ciampaglia
Washington Township, N.J.
The best thing about low-scoring games are they are competitive. That's what makes them exciting. But I believe we need a few more goals in the game, and the easiest way to do that is to make the net fractionally bigger. Baseball lowered the mound. Football made it more difficult to cover wide receivers. Unless you incorporate rules where each team has to keep one player out of the offensive zones to have offensive-zone 4-on-4, goals will continue to get harder and harder to come by as players continually get bigger and faster and equipment becomes safer and safer. Teams will continue to collapse on the goaltender in stressful situations.
Hey John,
I am new to being a hockey fan and I watched Game 2 of the Stanley Cups finals. I have to say, I don't know what people are talking about when they say that low-scoring hockey games are boring and that the sport needs more scoring. I watched the entire second game and I don't think it could have been more exciting. That one-goal game was more exciting than basically any high-scoring basketball or football game I have ever seen. Every minute was full of action and the physical, low-scoring game was great to watch as the Ducks finally got to the Senators and scored. Critics of hockey need to stop focusing on the low scores and start watching the great pressure-packed moments that keep you on the edge of your seat.
Anthony Clericuzio
Again, I'm not a low-scoring-game hater. I just want to see more hope in the offensive side of the puck. It's easy to defend right now. It should be harder.
---
Issue No. 2 -- NHL on TV in the United States
Mr. Buccigross:
OK, seriously. What's it gonna take for the NHL to get a decent TV contract? 523,000 are said to have watched Game 1 last night. We don't even get Versus here; though if hockey went back where it belonged on ESPN, it would be more accessible. NBC, bless 'em, will cover as many games as it takes starting Saturday, but this is the network that Leno regularly roasts every night in his monologue. More promotion? More accessible network? NHL bending a bit on money it wants? Seems to me I remember that ESPN passed on broadcasting rights because NHL wanted too much. How much is too much? I know this has been discussed to death, but rise from the ashes for me and discuss it some more.
Hopefully,
Diamond Jim
Fayetteville, Ark.
John,
I'm writing this to you and I hope Gary Bettman reads it. I am on a business trip in New Orleans and I am staying two blocks from Bourbon Street. Needless to say, as Game 1 rolled around, I set off to have several Hurricanes and watch the game. Now, my hotel is on the quiet side, and I walked from bar to bar from one end of Bourbon Street to the other until I found a bar that had Versus. John, there was only one bar carrying the game. I don't know how you can support Mr. Bettman. It's no wonder the ratings are so small. You can't find the game.
Big Rob in Big D
Hi John,
I really enjoy reading your opinions on the NHL. Do think it could be possible for the NHL to have its own channel? I believe that the channel could promote the sport the correct way. Golf, soccer, NBA and even tennis have their own channels. Why not the NHL?
Christian Rigamonti
Wow, the television e-mails poured in during the postseason. NHL broadcasts in the United States continues to be a major issue.
As a blog from SportsMediaWatch mentioned: "The ratings for the Stanley Cup finals are embarrassing; as mentioned before in this space, Game 2 of the series was watched in fewer households than the 2006 WNBA All-Star Game."
But, also keep in mind this from SportsMediaWatch:
"Game 2 of the NBA finals fell 24 percent from a 9.1 rating last year; the 6.9 rating is the lowest overnight since at least 1981 for an NBA finals game. The PGA Tour continues to draw horrible numbers. With race coverage moving to TNT for the next six weeks, the question becomes whether or not NASCAR's ratings slide will continue.
"Both ESPN and ABC saw major viewer erosion during the postseason; both networks drew over a million fewer viewers than last year."
The NHL is not alone. So, when you read these numbers, don't let them affect your self-esteem. Imagine the television ratings if the Toronto Raptors and Memphis Grizzlies met in the NBA Finals. That was what we had with the Senators and Ducks in the States.
You have to take Canada's viewers in account when you talk about NHL interest -- 20 percent of the NHL's teams are based north of the border. Whether it's ratings or money, you have to combine the two. It's a North America game and it is healthy.
---
Issue No. 3 -- Nashville Predators
John,
I read your latest on the Preds leaving Nashville and was wondering if there is any chance that they may move to the greatest city in New England (well, the greatest city between New York and Boston -- OK, the only city between New York and Boston). I'm a resident of Connecticut who is dying for the opportunity to have the NHL back in Hartford.
Best wishes,
Anthony G.
If Hartford, or any city like it, wants an NHL team, they better build an NHL arena. If the State of Connecticut believes a professional hockey team can further help in the revitalization of downtown Hartford, it needs to start the process of building an arena.
John,
As a frequent reader of yours and a devout Penguins' fan, I felt compelled to comment on your recent column. You are absolutely correct in your assessment of the Nashville situation. As Pens fans experienced earlier this year, Jim Balsillie does not care about fan base, community involvement or the good of the league. I do not begrudge him for moving the team; he will have earned that right as the owner. However, the writing is clear he will not even give Nashville a try. Someone of his enormous wealth could be a viable part in turning the franchise around. Unfortunately, his main objective will be to cash out on the Kansas City arrangement and turn even a larger profit. Look how quickly he dropped his bid to buy the Penguins when the league wanted a guarantee that they would stay in Pittsburgh. I know it is all conjecture and speculation at this point, but, as we all know, history is a great indicator of future actions. Thanks for giving me the chance to add my comments.
Mark T. Del Duca
John,
I used to be a huge fan of your commentary, but you have gone to the dark side -- those media people that will not give Nashville the benefit of the doubt. Nashville's attendance problems are because of corporate support, not individual support. As you might know but failed to mention in your article that based our franchise, the Predators have the largest individual season-ticket base in the entire NHL!
John Fesler
Predators' season-ticket holder
Dear John,
I have spent the majority of my working life in the hockey business. I have my share of stories about owners of all types. Craig Leipold is one of a kind -- in a good way. I wanted to share the following because in light of the sale of the Nashville Predators, he deserves to be lauded for his efforts.
For the first three years of the franchise, I was the scouting coordinator for the Predators. Thanks to Mr. Leipold, David Poile and Craig Channell, I received my opportunity to work in the NHL (and even have Cliff Ronning pick me apart at practice once in a while).
My first and most vivid memory is from my first week on the job, when Mr. Leipold called out to me from across the street in downtown Nashville, to join him for a drink. This was just hours after meeting me, having little reason to even remember my name. I spent that evening, along with the other young employees of the Nashville Predators, soaking in the enthusiasm of a hockey entrepreneur. Mr. Leipold held no pretense. In fact, he insisted that he was "Craig" to us.
Craig Leipold was the reason that a group of young kids with little experience, sold 12,000 season tickets, ensuring that the Nashville Predators would see their first game. From Day One, Craig put himself on the frontline to bring the NHL to Nashville. Over the years, it is important to note that he invested in players, they way that most small-market owners never would, to bring a winner to Nashville -- he just did it with business intelligence. He stood by Mr. Poile and Barry Trotz (two more great people), trusting their expertise and showing loyalty and confidence that is by-and-large missing in the pro sports culture.
In recent years, he worked to secure local ownership partners that would allow him to stay in Nashville with the team for the long haul. Unfortunately, it just did not happen, though I doubt it was from a lack of effort.
So, now, Mr. Leipold has sold the team for a healthy profit -- good for him. It is a lesson in American capitalism. None of us would turn down such an offer and neither should he.
He is a smart business man, but Craig is a better person. If you ever saw him with his family, or shared a conversation with him on the street in Nashville or in a New York hotel, you would be a big fan. It is the NHL's loss that he is no longer a member of the fold.
Sincerely,
Stuart Judge
I do not care what Jim Balsillie does with the Nashville Predators. I don't care if, or where, he moves them. I will watch their games either way. For all of Nashville's die-hards, I hope they stay. The NHL is a fun companion during a long, dark winter. The arena experience is bright, loud and exciting. The NHL is a young sport in this country. There were only four teams in the United States up until the late 1960s. The NHL is really only a 35-year-old league in the U.S. I'm on record as believing the more NHL teams in the U.S., the better. It creates fans.
I believe here is enough talent around the world to add teams. Contraction would not improve the NHL product, it would make it worse. Games would bring even lower scoring, more defense and less contentiousness. My column take on the Predators was that I believe Balsillie probably will move the Predators at some point as he probably would have the Penguins; an Ontario-based hockey team would probably be greeted with greater corporate and individual support than in most U.S. markets. NHL hockey in Ontario is like college football in Florida. That's all.
---
And more issues
Bucci,
Do you think the Bruins can make enough moves in the offseason to become relevant next year? What do you think the chances are they will get Giguere? Who do you think they need to pick up?
Thanks
Dan S.
Weymouth, Mass.
The Bruins' roster is still a mess. As a result, quality goaltending is a must. The chances of getting Giguere are as good as anyone if Anaheim doesn't sign him before July 1. He has to wait because you never know what kind of offer you'll get. With Giguere's style and age, I would be very aggressive if I were the Bruins. I'd offer him an eight-year deal for $50 million. That's where I would start.
John,
As a die-hard Rangers fan, I am hoping they can go even further next season and maybe even win the Cup, but I think they need one of the "big three" free agents out there: Daniel Briere, Chris Drury or Scott Gomez. Who do you think would be the best fit? I think Drury in a Rangers' uniform, along with re-signing Michael Nylander and Brendan Shanahan and signing a decent power-play defenseman, could make the Rangers the team to beat in the East next season. Your thoughts? And by the way, the new Wilco is the best album of '07.
Best regards,
Vince Martell
Oakdale, N.Y.
If I were an NHL team, I would stay away from Briere if it's going to cost you more than $5 million. He turns 30 in October and is small. Any team who gives Briere something like a six-year deal for $40 million is nuts. N-V-T-S. ("History of the World: Part 1") Drury is a no-brainer. He does so many things well. I'm big on Scott Gomez. He is only 27 and durable. I think he would be a great sign for the Rangers.
John,
Barry Melrose's playoff hairdo looks like it could have only been inspired by a bizarre combination of Richard Marx meets Paulie Walnuts.
B. Campbell
Waltham, Mass.
My fans. I love them.
Bucci,
Maybe you can mention the franchise I recently started working for, the Lake Erie Monsters, in one of your columns? We have some great things going on here with our team (the success of the Cavaliers definitely helps – and everything Dan Gilbert touches, it turns to gold). Keep representing for the Ohio Valley and I hope to hear back from you!
My best,
Ben Shank
Ben Shank. Great pro golfer name.
John,
How about Captain America, Chris Clark? I saw his natural hat trick live at the BankNorth Garden and noticed he was the captain of the national team at the worlds. It's great to see him finding such success.
Thanks for reading,
Chris Cook
Brighton, Mass. (South Windsor, CT, once upon a time.)
Connecticut. The home of NHL captains.
Bucci,
Blue Jackets?
Pete Potenzini
Mingo Junction, Ohio
In Hitchcock we trust.
John,
I know that most fans here in Philly would love to see the Flyers acquire a top center this summer (Briere or Drury), but I feel that a top defensemen (power-play quarterback) is their biggest of many holes. Do you think it would be wise for them to make Kimmo Timonen their top priority?
Joe
Philadelphia
At Briere's price, I'd rather see Timonen than Briere in Philadelphia.
Hi John,
I haven't heard anything recently regarding the Penguins' newly proposed arena. Any chance of the Penguins going retro and designing a state-of-the-art arena that has the look and feel of old arenas? Basically, I'm thinking back to what the Baltimore Orioles did when they built Camden Yards, ultimately ushering in a sort of renaissance in old-school baseball architecture that followed in Chicago, Texas, San Francisco, etc. Certainly they could do it in hockey, as well, making a fan and viewer-friendly rink that also has a nostalgic aura to it, as well.
John
Erie, Pa.
I've been writing this since July 2005. Here's what I wrote then:
"Attention, Pittsburgh Penguins: Please consult me before designing your new arena. You have a baseball park beyond compare, so expect and demand the same for the house The Kid built. Here's a few of my 1,000 ideas:
It should hold no more than 17,000. The smaller the better. It doesn't matter how big a football stadium is, but baseball parks and hockey rinks are meant for a more intimate setting. See Fenway Park, PNC Park, Wrigley Field, Boston Garden, etc.
Build a huge outdoor ice skating area on the shaded side of the arena and call it The Craig Patrick Backyard Rink. The outdoor rink should have a statue depicting Patrick helping a young child to skate. Charge $5, keep $2.50 for facility maintenance and give $2.50 to Children's Hospital. Keep a running total of money contributed under the statue in perpetuity.
Whatever you call the barn, don't use the word "Arena" or "Center." They are cold, lifeless words. Give me a Lemieux Gardens. For the other 995 ideas, hit my cell."
Aloha John!
In any NHL game, in every camera shot of players on the bench, you'll see at least one guy taking in a mouthful of water and spitting it right at his feet. Hydration and physical fitness rationales aside, if you multiply one mouthful every 15 to 20 seconds over the course of a 3-hour game, we're talking about gallons of backwash on what's got to be the world's funkiest carpet. Where does this tepid moat of nastiness go?
Many mahalos,
Derek
Honolulu, Hawaii
It goes into one of two places: Jiffy Lube or Melrose's hair.
Hey John,
Yet another long-suffering Blackhawks fan here. Now that the Hawks have signed Jonathan Toews (I went to UND myself and the kid can play), what kind of cap room are they going to have? Dale Tallon isn't answering my phone calls, and I am hoping we can fit Chris Drury or Scott Gomez in the budget. Whatcha think?
Andy Jonathan
Illinois
The Blackhawks have about $30 million committed to salaries for next season. I'd use all assets on defense.
Hey Bucci,
Please don't forget to pick Ottawa to lose in the finals, just as you predicted they'd lose to Pittsburgh, New Jersey and Buffalo. At this point, you have become our good-luck charm -- our American-audience-pandering, lame-music-loving good-luck charm.
As you were,
Thomas Anthony
Ottawa
In June's Esquire Magazine, the great Chuck Klosterman writes, among other things, the following: "I have slowly come to realize that any two randomly selected Canadian residents are smarter than any five U.S. citizens."
Chuck has obviously not been privy to my Inbox, Todd Bertuzzi or Mike Keenan's ability to get equal value for goaltenders.
John,
My wife and I found out several days ago that we will be having our second child sometime next January. We then made a pact that if the Ducks win the Stanley Cup and our child is a boy, we would give him the name Teemu as either a first or middle name. I'd love to hear your suggestions as to what his full name would be if we used Teemu as a first or middle name. Thanks for all the good work!
Daniel Flude
La Palma, Calif.
Frederick Teemu Flude. Freddy Flude. Now, there is a hockey name.
Hey John,
So I'm starting up a kickball team (bunch of 20 somethings, beer, kickball, getting drunk and making some bad decisions). I need to come up with a quality team name. Any suggestions?
Thanks,
Dan
Hakan and Loobs, dude. Hakan and the Loobs.
John,
I am a big fan of your column, and since I grew up in Connecticut and went to high school with Chris Drury, I always enjoy it when you talk about him. A couple months ago, I was reading your column and someone asked your advice on what song they should dance to at their wedding. You said without a doubt the "The Luckiest" by Ben Folds. I had never heard of the song and immediately went to iTunes to listen. When I floated the idea to my fiancée, she was very lukewarm at first; but once she listened again and played it for some of her girlfriends, she became convinced it was the perfect song for us. During the dance, I looked around and all sorts of people were tearing up as they listened to the words.
Chris Beaudin
Atlanta
I am the luckiest.
John,
Attached is a photo of the team I coach -- the 2007 Spring Mite regular-season champs, the Little Canes. My 5-year-old Nick is on the left, flexing his muscle!
Thank you,
Mike Young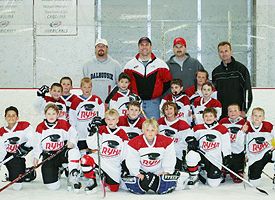 John Buccigross' e-mail address -- for questions, comments or cross-checks -- is john.buccigross@espn.com.