Jerseys, J.R. & McGeough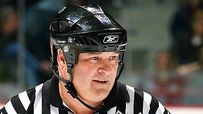 It's a young hockey season, but not so tender we can't praise the Hawks, mock those jerseys and giggle at Mr. McGeough.
[Editor's Note: As promised, here is Bucci's weekly Mother of All Mailbags. This section of his column will appear every Thursday on ESPN.com along with his regular rants and raves on Tuesday.]
Hi Bucci,
Just wanted affirm that you were calling [Chris] Drury a god before he became a god, and that you were also calling [Henrik] Lundqvist a king before he became the King.
Good to have you back!
Paul
I would now like to become the first to call Patrick O'Sullivan, "Sully."
---
Dear John,
I am a five-year subscriber to NHL Center Ice and I just found out that my cable service will no longer be carrying the package. I am devastated. As you know, Center Ice is critical for a die-hard fan such as myself due to the almost complete lack of NHL coverage in this country. Apparently, [subscriptions] were so low that the NHL is demanding a $2 rate hike across the board for cable subscribers in my area in order to offer the package. My cable company [is] unwilling to accept these terms. I just invested hundreds of dollars in a new TiVo HD because I could no longer stomach the cable company's DVR. Because of this, it makes no sense to switch completely to satellite. So now I must get a dish and keep my cable in order get all the programming and features I want. I just pray I can get a satellite signal at my house. I don't think I can live without NHL Center Ice.
Steve
Rochester, N.H.
At this point in my existence, the top 8 things I couldn't fathom living without:
• Monster (green can) energy drinks
• My TaylorMade 3-wood
• All of my Ben Folds CDs
• Angels & Airwaves on my MP3 player
• Baked chicken parm at Ruby Tuesday (hold the swiss)
• The gospel according to Chuck Klosterman
• Sufjan Stevens' song "Chicago"
• The NHL Center Ice package
Steve, this is travesty, but you must get this rectified. If it takes going full-bore satellite, do it. Ask a satellite company to reimburse you for your TiVo HD if it can't be used with satellite television (why can't it?) or ask for a trade in. Make a deal with the satellite company. Negotiate. You can make this happen. It has to happen. The winter will be too cold.
---
John,
I ran across this while reading the local paper Friday -- the University of Minnesota-Duluth inducted Podes into their Athletic Hall of Fame.
J.
Duluth, Minn.
Shjon Podein of Rochester, Minn., played three seasons for the Bulldogs hockey team and posted a team-leading 39 points in 35 games as a senior in 1989-90. Podein's professional career included 826 NHL games for Edmonton, Philadelphia, Colorado and St. Louis from 1992-2003. He also played in Sweden. He also did the following, which appeared in this space in June 2004 as the Flames battled the Lightning in the 2004 Stanley Cup finals:
"Podes has good friends on both Calgary and Tampa Bay, so he decided to pay tribute in true Podes style. Before leaving Minnesota for Calgary for Game 3, he painted his entire body red, put "Yelle 11" on his back, and sported a red Jofa hockey helmet sans the padding. And made it through airport security.
"Let me clarify that: He spray-painted his entire body. Podes couldn't find body paint, so he risked poisoning himself for the good of the team by emptying four cans of Krylon on his skin. Anyway, he flies on the plane painted red, walks around Calgary all day painted red, and goes to Game 3 … painted red. Of course, the best part for me is when I met him after the game for a nightcap; he was very easy to find. A hostess doesn't often hear, 'I'm looking for the guy spray-painted red and wearing Hakan Loob's Jofa helmet.' Pretty good chance you are the first guy to utter those words to her.
"Well, Podes needed a place to stay for the night and I said, 'Stay with me.' So Podes comes back to the room and collapses from his long day in my bed. The only bed in the room. Now what? Well, the beds are Montana wide. You could comfortably fit Ken Hitchcock, Barry Melrose and Mark Hunter in there without incident. So, I tuck myself in on the other side and call it a night. You could have laid four Stanley Cups between us. Really!
Anyway, Podes left at 6 a.m. to catch a flight. I woke up around 8. As I pulled the curtains and let in the day's light, it looked like a homicide had occurred in my bed. Podes left a body outline of red paint on the sheets. I was sure the Calgary police would have me arrested and questioned by noon. I waited until the maid service arrived to explain the giant red blotch on the sheets, and I remained a free man."
As an addendum to that story, Podes shows up in Tampa Bay painted entirely blue with "DINGMAN" on his back before Game 5. The story is basically the same as above.
---
Hey Bucci,
I had to do a double-take this morning as I was exploring ESPN's NHL page. I could have sworn that I saw a headshot of CNN's Anderson Cooper. Now, why on earth would he be on the NHL page? Low and behold, when I read the caption, I realized that the photo was of Jordan Staal. Hmm … No disrespect to the Staal family, but how on earth did they end up with a kid who looks like a young AC?
Heather
Greeley, Colo.
Jordan Staal. Hangin' with Mr. Cooper.
---
Hey Bucci,
What's your take on Roberto Luongo threatening to retire if they increase the size of the nets? It doesn't sound right to me either, but the guy has husky seven-year-olds tied to his legs for pads. Something has to give, right?
Matt Jaworowski
I'm sure there are plenty of other opportunities for Roberto Luongo to earn $7 million a year with summers off. Go for it, Bobby.
---
Hi John,
I had a glimmer of hope when there was no hockey baby in the first column. Just so you know, I love everything about your column … except the baby pics. They all make me want to throw up. I don't hate kids, but cutesy pictures are cheap and you're better than that. And the baby-naming? What the !#?! Can't these people name their own damn kids? Or could you just respond to them privately?
I started to make the habit of not reading the last 1-3 emails in each column last year. Just to prevent the nausea. Sometimes I would be enjoying your column so much that I would forget and then I would stumble on some jackass saying his wife is six months pregnant, blah blah blah. Oh, the horror!
Just in case you wanted to hear from someone who doesn't care to see baby pics and baby names in a rockin' hockey column.
Julie C.
Transplanted NYer in Boston
Memo to myself: Please do NOT ask the following to babysit Jackson when I go to my next Guster concert:
Britney Spears
Courtney Love
Julie C. from Boston
---
Bucci,
I love ya man, and I love your column. It's great to have you back, but I think your par-4 ace is messing up your predictions. You need to flip-flop the Avalanche and Canucks. Seriously, the Avs are back. Northwest Division champs. Done deal.
I attached a picture of my 7-month-old daughter Madison. She will be enjoying her first full hockey season learning the game from her daddy and watching [Ryan] Smyth and [Joe] Sakic feed off each other all season long.
Mark Mclaughlin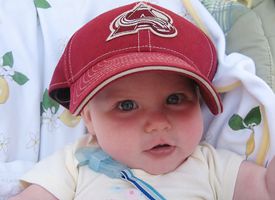 John Buccigross is an anchorman for SportsCenter and ESPNEWS. For questions, comments or cross-checks, e-mail him at john.buccigross@espn.com. To check out his new book, "Jonesy: Put Your Head Down And Skate," click here.