To do anything consistently well, one must unconditionally love and practice what they do.
Talent and strong hands are third.
And the New York Rangers are fourth.
Hey, now! Wo-Oh! Thank you. Thank you. I'll be here all week. Enjoy the Chicken Parm. Wang Chung is next. Followed by Mr. Mister, and then The Dream Academy.
Yes, love and practice rule the earth. It is the simple answer to the riddle of life so many fail to download into their souls. If you love and practice, everything will eventually work out.
No one has ever loved hockey more than Wayne Gretzky, and this is why No. 99 has more career assists (1,963) than anyone else has career points. This is why he landed Janet Jones. This is why he gets his SUVs for free. It is all the byproduct of his love and practice.
And it is also why The Great One is flying around North America this season as the equivalent of a patient, determined Learn To Skate coach waiting for his young, wobbly-ankled Sunday morning skaters to finally "get it." Gretzky's love of the game has never been more evident as it is this long NHL season.
Gretzky has loved and practiced hockey in one form or another every day of his life since he first went stick-side on his grandma in his Brantford, Ontario living room in the winter of 1963. Wayne's World is love and practice. Which means you could take away the 1,963 assists, trade Janet Jones to Mitch Gaylord, repossess the Ford Expedition, and he still would have a rich life.
Love and practice. They take many forms. It's shooting bucket after bucket of pucks at the rusty net in the driveway. It's getting up at 5:45 a.m. to make a weekend game that's an hour away. But it's also about intently paying attention, paying attention to detail so minute, it seems insignificant. The little things are everything. From the big things to the little things, watching and studying is loving and practicing.
When Jonathan Toews went to Winnipeg Jets games in the mid-1990s with his father, little Sparky never let his eyes leave the ice. He watched. He studied. He loved. He practiced.
He was 6.
Trips to the concession stand or souvenir store could not dissuade Toews from staring at his one true love. What some adults never learn came naturally to the 6-year-old Manitobite. Manitober. Manitobian.
Love and practice.
And the player that loved and studied more than any other was Gretzky. Not Robert Smith of The Cure-pasty-white-SPF-99-Edmonton Oiler Gretzky, but rather the John Tortorella-deep-fried-tan-sunscreen-be-damned-Los Angeles King Gretzky. Remember, when Gretzky was traded to the Kings, Toews was just 3 months old. All he knows is King Wayne. And he watched every move. He didn't go get the 84-ounce Coke and suitcase of cotton candy covered in maple syrup. He watched King Wayne love the game. He watched royalty preach what he practiced -- vision, soul, enthusiasm, passion, care, humility and love. And he watched with the focus of an adult.
All of that watching, all of that studying, all of that practicing and all of that loving has brought us to this point -- Toews is 19 and an NHL rookie with the Chicago Blackhawks. He has practiced and loved so much, he can stickhandle through the entire Colorado Avalanche roster going back to Uwe Krupp. He can fire wrist shots that penetrate foreheads. He can do it all with style, flair and one of the coolest numbers in hockey, No. 19.
Toews is now logged in and will answer your e-mail questions.
Your questions, their answers
Question from John Buccigross (South Windsor, Conn.): What is your opinion of the new NHL Reebok uniforms?
Answer from Toews: I don't notice anything with the jersey as much as I do with the socks. I'm a heavy sweater out on the ice and my feet are getting really wet in my skates. Other than that, I don't notice anything different than what I've been used to wearing. I'm not too fussy about that kind of thing. I just go out and play.
Note from Bucci: Jonathan doesn't have a big equipment deal, but could soon have one with Easton. For now, it's Bauer skates, Easton gloves and a Bauer helmet.
Question from Phil (Buffalo, N.Y.): Growing up in Winnipeg, what is your first Jets memory? (I'm hoping it somehow includes Teppo Numminen or Randy Carlyle.)
A: My dad started taking me to Winnipeg games when I was 3 or 4. As a kid, I loved Wayne Gretzky, and I remember the first game I got to see him play against the Jets. The Kings beat the Jets and I was happy that they did. Gretzky left the game after the first period and I was upset about that. My dad told me that he would go buy me popcorn or a candy bar, and I would just sit still and want to watch the game. He said I was pretty attentive at a young age.
Note: Jon has seen two concerts in his life so far. Boston and Brad Paisley. Paisley sings a song on a William Shatner (yes, William Shatner) CD called "Real" that is very good. Ben Folds produced the Shatner CD.
Question from John (Corona, Calif.): What were your three most memorable youth (Mites, Atom, Midgets) hockey tournaments, and why?
A: One for sure was the Edmonton Brick tournament. They play it at the West Edmonton Mall. It's pretty cool. They do play-by-play of the games on video, so when you go home, you can watch the games with announcers, which is cool when you are a kid. Being in the Mall and doing the water parks and all the other fun, it was a highlight.
Question from Don (Westerville, Ohio): Did you have a backyard rink?
A: Yes, I did. It started out pretty small and got bigger and bigger every year. The last year my dad built it was the year I went away to Shattuck-St Mary's in Minnesota at age 15. Winnipeg is cold and flat, which is a good combination for outdoor skating.
Question from Adam Hauptli (Faribault, Minn., native stuck in Boston): What would you say was the best part of going to high school at Shattuck-St. Mary's? I grew up in Faribault, Minn., and enjoyed watching you at Shattuck.
A: It was special. You are surrounded by people like yourself who are so motivated to do everything better. The best part about it was living in the dorms and forging friendships and bonds. I think about it now, and it's crazy. I went through the most there than I even did at college. You never have any downtime.
We'd go to tournaments and play three or four games over the weekend, and then be driving home Sunday night and we would have to do our homework on the bus. Then, we would get home at 3 or 4 in the morning and there was no excuse not getting up and getting to class by 8 a.m. It was a full week, but you just had to keep going. I learned so much there, off and on the ice.
Note: In 64 games during the 2004-05 season at Shattuck-St. Mary's, Toews had 48 goals and 62 assists for 110 points.
Question from DJ (Richfield, Minn.): Why did you choose North Dakota over Junior?
A: I think it started at Shattuck. I grew so close to my friends and a lot of my buddies were committed to college and two of my closest friends were going to North Dakota. North Dakota seemed to be perfect to me. It was close to home, the arena was unbelievable, and I got chills when I watched my first game there. I felt like it was my calling. It just felt right.
Toews at North Dakota: (22-17-39, 22 PIMs in 2005-06; 18-28-46, 10 PIMs in 2006-07).
Question from Michael Lewicki (Calgary): The semifinal shootout in the 2007 World Juniors was one of the great moments in Canadian hockey history. One of the best individual performances I have ever seen. Now that you and Patrick Kane are teammates, do you ever bring up the fact he went 0-for-2 in the shootout while you were 3-for-3?
A: I did bring it up one time after he was bugging me about something. I wouldn't normally do that, but it was just a joke. Normally, other people bring it up, so I don't have to.
Question from Zach Parrott (Oshawa/London, Ontario): I was watching the interview you did on the ice at the 2007 World Juniors. I'm sure you know which one (just search "Jonathan Toews swears" on YouTube). What were you thinking when you made that face afterward? Were you surprised you got away with it or just surprised that you had said it accidentally?
A: I was so caught up in the moment. I swear to people that I don't use that language "normally." I was so pumped up and in the moment. That was my only excuse. I felt bad for the people at home who might be offended by it, but I think people took it the right way and understood. I thought it would have rubbed people the wrong way, but I guess it worked out that it didn't.
Question from Blair Halchuk (Burlington, Ontario): What does a young guy like yourself do to fill all that newfound "extra" time in the Windy City? Good luck in Chicago and bring those Hawks back into the playoffs!
A: There hasn't been a whole lot of spare time. I have a good setup. I've been living with Brent Seabrook. I moved into one of his spare rooms and it was already fully furnished, so I haven't had to go shopping for a bed or anything. I'm really trying to give it everything I got in these first few weeks and get off to a good start. Basically, all I've been doing away from the rink is eating and sleeping and always looking forward to the next game. All I've been thinking about is hockey. Maybe, eventually, I'll need to divert my mind a little bit and find things to do around town. I have plenty of time to see the town.
Note: I was told by a source close to the Hawks that, during training camp, when the young guys were wondering what was going down for the evening, they would all gravitate to Toews. He's the Dean Martin, the George Clooney of the Chicago Blackhawks' Rat Pack.
Question from Megan (East Lansing, Mich.): Who is your road roommate and does he have any annoying habits?
A: Patrick Kane. He has questionable washroom habits that I'll keep between him and I ... and he takes the far bed all the time because he's the first one on the elevator.
Question from Bryan C. Masten (Charlotte, N.C.): I watched the Avs game where you lit up just about every single player who played for them. The announcers said that you got a chance to talk with [Joe] Sakic in the morning. What did you ask him and what were you able to take away from that meeting? Why do you wear No. 19?
A: I always wore No. 9 and loved No. 9 and worn it since I was a kid. But everyone knows that's not an option in Chicago because it is retired (Bobby Hull). [In reference to Sakic], we just talked about World Juniors and other small talk. He's a great guy.
Question from Addison Smith: So, how did it feel to score a highlight-reel goal like that against Colorado? That was one of the best goals I have ever seen. Also, did any of the Colorado players say anything to you about the goal? I mean, it's kind of difficult to ignore a goal like that. Thanks, and here's to a great season. Go Hawks!
A: When stuff like that happens to me, I get such a high I almost don't want to go back on the ice. That sounds awful, but it was really exciting to score a goal like that, and I had to just come back down from that and ground myself a little bit and forget about it and move on. You really can't practice something like it. It's just instinct and luck that I was coming through the neutral zone with speed. Nobody on the Avalanche said anything about it, no.
Note: Watch the goal again here.
Question from Mark Krulish (Bogota, N.J.): I would imagine there are a lot of people that say your last name incorrectly. I know I used to pronounce it "Toes" until I heard your name called at the NHL draft. What is the most common mispronunciation you have heard?
A: Far and away, "Toes".
Note: Toews' name has never been a problem for me because the Pittsburgh Steelers had an outside linebacker named Loren Toews when I was a kid. So, Toews has always been "Taves" to me. Lucky broewk for me.
Question from Greg Albert (Ulsan, South Korea): As a rookie, how much media coaching have you received? How free do you feel to express your true feelings or thoughts on subjects? Why is it so rare for pro athletes to speak freely when those who have done so in the past (Brett Hull, Jeremy Roenick, Don Cherry, Charles Barkley) have become popular for doing so?
A: Actually, I've been able to work with some people through my agent Pat Brisson. It's been helpful and fun. Steve Shenbaum is one of the guys I've worked with. He played the counselor in "American Pie 2" as well as some other movies and TV shows. We did a lot of improvisation and work on body language and facial expressions in an attempt to be more interesting to listen to. It's good to work on that side of the game, as well.
Question from Steve Birn (Grand Rapids, Mich.): How does it feel to you and the Hawks to step onto the ice and see a half-empty United Center?
A: It's just the way it is. You just have to learn to psyche yourself up when a full arena does that for you. But that's part of us turning everything around here in Chicago, and that's what we are working on here. It's not going to happen overnight; once we do start filling the building, it will be a much better feeling stepping on the ice.
Question from Matthew (Chicago): Even though it's your first year as a Blackhawk, can you feel the change and excitement for hockey coming back to Chicago? Does it feel like you're on the verge of something special or are you just excited to be playing in the NHL?
A: All of the above. Regardless of where I would be in this league, it's exciting for me personally. But knowing the potential our team has and what it could mean to the city, that's exciting, as well. Hopefully we can get wins early in the season so we can be a contender for a playoff spot when that comes around.
Question from Jarrod Posner: Do you still deal with rookie hazing?
A: Not yet, but it's a little early. I don't like to bring it up in the room. If I feel I'm getting it easy, they are probably going to act up. I'm sure they have some things planned besides the annual rookie dinner, where rookies pay for a very expensive team dinner.
Question from Ted Wright: You already look very comfortable playing in the NHL. What's been your biggest challenge so far in adapting to playing at this level?
A: Keeping my head up out there. Sometimes I look down at the puck a little too much and guys sense when you do that. You've got to keep your feet moving and be tough to hit.
Question from MJ (UND alum trapped in Madison/Badgerland): What is it about the University of North Dakota program that prepares players such as yourself (as well as Zach Parise, Travis Zajac) to adapt so quickly to the NHL game? Also, is there anything better than postgame food at the Red Pepper?
A: No, the Red Pepper rules. The whole turkey grinder with a tall glass of milk, please.
Attention, puckheads!

Lecavalier


Roenick

Don't forget -- I want you to interview subjects for me. E-mail me your question along with your name and location. I'll pick the best questions, ask the subject and give the answers the next week.
Next week, I'll talk to Vincent Lecavalier and Jeremy Roenick. E-mail me your questions for the two stars!
Mini-Me Mailbag
Last week, I asked for gamers to respond to an NHL video game comment I received. Here are a few:
Hey Bucci,
To be honest, I haven't played much of the new NHL games, purely because of money and school and Halo 3; but, seriously, the games are getting better. I played last year's NHL game by EA Sports with my buddy and we just loved it. I hear this year's batch of games by 2K Sports are getting great reviews, even higher than some of the respected games out there that are more mainstream. I just checked on the reviews for each game and the average press reviews for NHL 2008 by EA is around 8.9-9 out of 10, which, to be honest, I haven't seen scores like that for a hockey game in years.
Timmy G.
Clovis, Calif.

P.S. So cool that you had Dave Grohl up on the mailbag; I've been in a Foo mood lately. Oh, and how do you like Sufjan Stevens, if you've even heard of him?
This column endorses Sufjan Stevens.
John,
The reader needs to upgrade to a PS3 or Xbox 360 -- the game play and graphics for any NHL game over the past 2-3 years haven't changed on the PS2. The effort and money is being spent on the next generation game play and graphics. NHL 08 on the next systems is absolutely the best jump in hockey for video games since NHL 01 on the PS2. I will spare the details, but all you are going to get with any PS2 sports game from here on out is updated rosters and a few features that don't hold a candle to next-generation counterparts. They will still put it out, though, because not everyone is ready to upgrade and there are about 12 million (at least) PS2s still in the market.
Brian
Raleigh, N.C.
John,
If the NHL had a Madden-strength video game franchise, there are whole masses of humanity that might start paying the league a bit more attention while existing fans would be calling in sick because it's Game 7 of the series they started playing last night.
In the ever-growing world of gamers, a decent sports title becomes an ambassador for the sport. And if the proof is in the pudding, get this -- I started following hockey because some friends of mine got me into playing NHL video games eight years ago. Now, I can't get enough of the sport. It's just a shame the games have gotten so bad. It's in the NHL's interest to ensure gamers get the decent hockey game the sport and its fans deserve.
Cheers,
Max
Wales
John,
I've got to respond to the letter you had about how bad the current batch of NHL video games are. The writer talked about the PS2 and how bad they were. Well, as a 360 owner, I've got to say that NHL 08 is the best hockey game I've ever played. I've played many-a-version of this series, and it is by far the best one out there. The graphics are superb, which is expected with the current batch of hardware. However, it is the game play that really sells me on this game. There is a difference between the "next-gen" versions and the PS2 version in control. The Skill-Stick (in NHL 07) was an amazing innovation and NHL 08 just builds on it.
This isn't available in the PS2 version (at least it wasn't in NHL 07). Plus, the AI has made significant improvements. The teams adapt to your playing style. If you continue to just skate into the zone and pass to the center all the time, the defense will adjust and clog up the middle of the ice. If you skate to the outside all the time and just blast it from the point, the defense will come out and block all your shots. It's quite amazing to watch. I would tell your reader to jump into the "next-gen" of gaming because the results are completely worth it in my book.
Thanks,
Mike
Readers make Internet columns and blogs. This column is normally good because the readers are always great. Thanks for proving that again. Word to Michael "StrongSide" Cavanaugh.
John,
Being a Blackhawks fan, I have to say this season is sure starting off well. The influx of skilled youth, along with solid veteran acquisitions, is certainly panning out so far. How about the incredible highlight-reel goal by Toews against the Avs? People need to see that. Goals like that make people watch.
Speaking of the Hawks' youth, I have attached a picture of another young Sparky who thinks she would fit right in with Toews and Kane. Say hi to Blackhawk-in-training, Anna! (Sporting her dad's jersey.)
Jeff
Scottsdale, Ariz.
She's talking in her sleep – it's keeping me awake
And Anna begins to toss and turn
And every word is nonsense, but I understand it
Oh, lord. I'm not ready for this sort of thing
-- "Anna Begins" by Counting Crows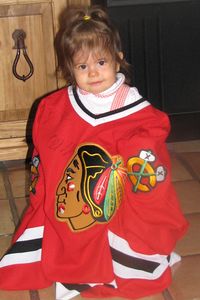 There's more mailbag where that came from! Check out Bucci's Mother of All Mailbags every Thursday at ESPN.com.
John Buccigross is an anchorman for "SportsCenter" and ESPNEWS. For questions, comments or crosschecks, e-mail him at john.buccigross@espn.com. To check out his new book, "Jonesy: Put Your Head Down & Skate", click here.