Hockey's Power Couple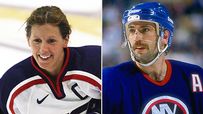 Cammi Granato and Chicken Parm (a.k.a. Ray Ferraro) stopped by Bucci's block and answered your burning hockey questions.
Editor's Note: As promised, here is Bucci's weekly Mother of All Mailbags. This section of his column appears every Thursday on ESPN.com, while his regular rants and raves appear on Tuesday.
Bucci,
With all the talk about Hall of Fame possibilities, I have one that has not been mentioned. Peter Bondra! Bonzai is the 37th player in NHL history to score 500 goals. He has 503 goals and 892 points. In 14 years with the Caps, he owns six team records, is a five-time All-Star and has led Slovakia on the international level not only on the ice, but now as the general manager. In the mid-to-late '90s, Bondra was as dangerous as they come, a lethal combination of speed and a dangerous shot. The thing that I liked most about him was his enthusiasm for the game. Seemed like every goal he scored was like his first in his career. What say you Bucci? Is Bondra deserving of the Hall? Does 500 goals get you in?
Tom
St. Louis
Peter Bondra was scoring goals when no one was scoring goals in the late '90s. Bondra had 52 of the Capitals' 219 goals during the 1997-98 season. That's almost 25 percent of the team's goals! If Wayne Gretzky had scored 25 percent of the Oilers' goals in 1981-82, he would have finished with 104! That's what kind of season that was for Bondra. The second full season after the 1994-95 partial lockout is when the NHL got very defensive.
The NHL's golden era for offense was 1970-96. If you played a bulk of your career during this era, and especially with Bobby Orr, Wayne Gretzky or Mario Lemieux, then your numbers were skewed. Good news for offensive players, bad news for some goalies. If Frank Brimsek played in that era instead of 1938-50, he would not have been "Mr. Zero." He would have been "Mr. 3.45." And he would have been Don Beaupre.
Offensively, Joe Mullen's entire career was played in the "big net, open lane" era. When Mullen scored his 51 in 1988-89, six Clarence Campbell (Western Conference) teams allowed more than 300 goals. When Bondra scored his 52 goals in 1997-98, no team in the NHL gave up 300 goals and five Eastern Conference teams gave up fewer than 200 goals for the season. You have to look at league averages when rating players, not just their career goal totals. Using that template, one could argue Bondra was the better player. Also, Mullen played with an array of Hall of Fame teammates. Bondra did not; although, you could argue that ice time, especially power-play ice time, was never a problem for Bondra.
Hall of Fame classes, naturally, are somewhat relative to the list of players who are eligible. Bondra and Mullen are not on that Hall of Fame level of legendary players like we saw in this year's class. But based on their careers, their character and demeanor, their 500-goal totals, and especially Mullen's story, I have no problem with Mullen being in the Hall and Bondra joining him someday.
---
Bucci,
Why oh why is Dino Ciccarelli not in the Hall of Fame? He has 608 goals and 1,200 points in 1,232 games, along with 1,425 PIMs. He had three 50-plus goal seasons, four others where he scored 40-plus and he's 15th all time on the career goals list. The only arguments against him are the lack of Cups and individual awards, but I think that the one big number, 608, is more important.
Chad C.
Belding, Mich.
Perhaps other arguments against Ciccarelli include pleading guilty to indecent exposure.
The Hall committee is obviously playing the "character" card with Ciccarelli. He has 608 career goals and was an excellent playoff performer. His numbers say he is in. I would ask Steve Yzerman. If Yzerman says Dino should be in, that would be good enough for me. It's No. 19's call.
Based on numbers, I would have the following as my three Hall of Famers next year:
Ciccarelli -- 608 goals, newspaper-retrieving skills normally good!
Pavel Bure -- 0.623 goals a game when NOBODY was scoring goals, dated tennis starlet.
Glenn Anderson -- 498 goals, massive playoff numbers, child support payment issues in the past.
The current Hall of Fame committee may seemingly see a "creep" factor with these three players in some way. So, just put them all in together. And have Andy Dick emcee and have Michael Jackson sing "Man in the Mirror." What's creepier than that? Now, there's a show!
Then, in 2010, we can enshrine these tawdry bums: Yzerman, Brett Hull, Luc Robitaille and Brian Leetch.
---
Bucci,
If the trend continues, the Calgary Flames will win the 2007-08 Stanley Cup. Let me show you what I mean:
Year/Cup Loser -- Year/Cup Winner
2002/Carolina Hurricanes -- 2006/Carolina Hurricanes
2003/Anaheim Ducks -- 2007/Anaheim Ducks
2004/Calgary Flames 2008 -- ??
See the trend? Since the new CBA, the underdogs of the "old NHL" are having their heartbreak relieved and making good on their second chance. This season, it is the Flames' turn. Perhaps the Edmonton Oilers will win it next year.
Matt S.
Buffalo, N.Y.
For the Oilers to win it all next season, the following must happen:
1. Dustin Penner's body-fat percentage must be lower than his shooting percentage.
2. Sam Gagner must begin to shave. He is so young, he lists "The Wiggles" as his biggest musical influence in Edmonton's media guide.
3. No fighting mandate! Ethan Moreau last season, then Sheldon Souray this year. What's wrong with these guys? That's two more injuries than we've seen in 16 years of "The Jerry Springer Show."
---
John,
With all this talk of Swedish metal bands, how about a blast from the past -- EUROPE! Remember them? Their lead singer, Joey Tempest, was the European Jon Bon Jovi of the '80s hair band era. I'm sure your boy Hakan Loob listened to them on his cassette Sony Walkman while getting psyched in the Flames dressing room before games.
Scott Akanewich
San Diego
Europe is one of the most successful Swedish bands of all time, having sold more than 15 million albums worldwide. All of this Swedish music talk reminds me. The 2007 version of "The Happy Hakan-Hanukkah" is coming soon. For new readers of this space, this was the original version in 2005 that I slightly change every year to pay respect to all of the new Swedes.
"Put on some ABBA-kah
Here comes Hakan-Hanukkah!
So much Swedish-funukah,
To celebrate Hakan-Hanukkah!
Hakan-Hanukkah is a festival of ice
Instead of one day of hockey, we have 180 crazy nights.
When you feel like the only kid in town Without a Synergy,
Here's a list of people who are Swedish, just like Mats Sundin
Adam and Eve lived in the Garden of Eden,
Henrik Lundqvist of the Rangers was born in Are, Sweden
Guess who eats crayfish at a bistro in Malmo, Thomas Steen, Thomas Gradin and ex-Oiler Tommy Salo
Toronto's Tie Domi knocked Ulf Samuelsson on his fanny
Tiger Woods is married to Jesper Parnevik's ex-nanny
You don't need rock and roll or to listen to Menudo,
'Cause you can sing a song with Niklas Havelid's young son Hudo ...
Both Swedish!
Put on your ABBA-kah It's time for Hakan-Hanukkah The captain of the Vancouver
Canuck-anukahs celebrates Hakan-Hanukkah
Saku Koivu, not a Swede
But guess who is? Hakan's older brother Pete (he scored one goal in nine NHL games)
Sweden's Peter Forsberg and his girlfriend like to go dancin'
So do Roger, Mathias, Calle, Bjorn and Andreas Johansson
Ken Klee's not from Sweden, nor Dainius Zubrus
But Henrik Sedin and Daniel Sedin and Hakan Loob is
So many Swedes are in the NHL
Shjon Podein isn't Swedish, but he raised some Karlstad hell!
Tell your friend Per-onica
It's time for Hakan-Hanukkah
I hope for new Graf-onikahs
On this lovely Hakan-Hanukkah
So drink your cold Fal-connika
And golf 18 with Annika
If you really, really wannakah
Have a happy, happy, happy, Hakan-Hanukkah!
Happy Hakan-Hanukkah!"
---
John,
I think that you forgot two American players who should be on anyone's list. The first is Neal Broten. He was a 100-point scorer and an offensive magician and later turned into a defensive stalwart who helped New Jersey win a Cup. The second player is Phil Housley. Here is a guy who scored 1,200 points as a defenseman. He came out of high school in Minnesota straight to Buffalo to not only play, but run the power play for Scotty Bowman. I just think you have to give them their props.
Later,
Jon Urquhart
Coon Rapids, Minn.
Team USA, First Team
C -- Mike Modano
W -- Pat LaFontaine
W -- Jeremy Roenick
D -- Brian Leetch
D -- Chris Chelios
G -- Mike Richter
Team USA, Second Team
C -- Keith Tkachuk
W -- Tony Amonte
W -- Neal Broten
D -- Phil Housley
D -- Mathieu Schneider
G -- Tom Barrasso
---
John,
As a longtime admirer of your work (really since you dropped Donnie Iris' name in one of your columns and took the time to e-mail me back), I am requesting that you slide a few names into one of your next pieces of work I read on ESPN.com.
1. My alma mater, Slippery Rock
2. Bruno Sammartino
3. Donnie Iris (you just can't get enough of his talent)
OK, I sell real estate and it's a slow market, so I have plenty of time to Google those sites.
Henry Schechter
Richmond, Va.
1. My dad was always an Iron City guy.
2. I LOVED Bruno Sammartino. He was a major part of my childhood years. And Ivan Putski.
3. "Ah! Leah!" And "Love Is Like a Rock" are two of the most underrated songs of all time.
---
Hey Bucci,
Really miss you and The Mullet on "NHL 2Night." My question is, what do you think is wrong with the Sharks? This is a team that so many picked as the favorite for the Cup this year, yet they are barely a .500 team. Do you think it's a question of talent, confidence or motivation (i.e., coaching)? At a recent home game, for the first time, I heard the crowd yelling for Ron Wilson's head. I seriously thought someone was going to Hakan Loob at him. I think if they don't win at least eight out of 12 during this stretch against the Pacific, there will be a coaching change. In that instance, who do you think would be a good fit to right the Sharks' ship?
What about their new, god-awful uniforms? I mean, how can they play like champions when they look like clowns? How does a uniform like that get off the drawing board? I wouldn't be happy playing in something like that, would you?
Adam
Cupertino, Calif.
Adam, my brutha, your Sharkies are in first place! I understand there are high expectations, but don't get ahead of yourself. This isn't a GREAT team we are talking about here. Joe Thornton and Jeremy Roenick are the only lock future Hall of Famers on San Jose right now. The others, Roenick included since it's not 1992 anymore, are nice players.
The Sharks and their fans need to keep the underdog mentality. Your fins have done nothing yet. They've been to one conference final in team history. Yes, they had 107 points last season. Rest assured, you will get 100 points again this year. Now, you just have to pray Scott Niedermayer and Teemu Selanne don't come back to Anaheim, because, if that happens, that team will be tough to beat. The Sharks have a lot good players who have to play hard every night to win. They can't coast. No one can coast.
This is a salary-cap league that is getting tighter and tighter every season. Just get Jonathan Cheechoo to score some power-play goals. He has none so far this year! The dude had 24 two seasons ago and 15 in 2006-07. None! And Patrick Marleau? None! Get those guys going and tighten up the D a bit through intensity and focus, and the Sharks will be among the NHL elite.
---
Hey John,
In honour (honor for you, my U.S. friend) of all things Swedish, I have changed my head-to-head fantasy team name to Swedish Meatballs. Hail all Swedish Meatballs! I would like to thank Hakan Loob for his years of service and, notably, Tomas Holmstrom and Henrik Sedin for their GWGs, and [Daniel] Alfredsson for his short-handed goal this week in the said H2H league. When in doubt, dress the Swede! Can't go wrong with guys who won Olympic and World gold in the same year. Now that's a double meatball!
Earl Duplassie
Victoria, British Columbia
Mmmmmm, meatballs. Is there anything they can't do?
---
Hey Bucci,
All the talk about Swedish music from last week's mailbag made me giddy, but not all Swedish musicians are metal boneheads! Far from it, actually. May I suggest artists such as indie pop sensation Jens Lekman, brother-sister DJ duo The Knife, and the Shout Out Louds, whose latest album is reminiscent of vintage Echo and the Bunnymen and The Cure.
And while we've been talking about both Swedes and amazing hockey names lately, I am shocked -- SHOCKED -- that nobody has yet to mention Per Djoos, who, in my humble opinion, gives Hakan Loob a run for his money for the best hockey name of all time. For those who might not know, Djoos was an offensive defenseman who briefly played for the Red Wings and Rangers in the early 1990s and put up 69 points in 70 games for the AHL Binghamton Rangers in 1992-93. Just think, if he stuck with the big club for another couple of years, Lord Stanley's Cup would have a name on it that is pronounced just like the phrase "pear juice." The beauty of this thought just sent a single teardrop streaming down my cheek.
Chris Maisano
Brooklyn, N.Y.
Juice vs. Loob? Mismatch. Loob wins. Loob always wins. Some people wear Superman pajamas. Superman wears Hakan Loob pajamas.
Random 1987-88 NHL goal totals:
Loob -- 50
Gretzky -- 40
Messier -- 37
And you doubt the greatness and name strength of Saint Loob!
---
John,
I'm from Boston, a Bruins season-ticket holder, and if they can ever get some timely scoring, they will be pesky for the rest of the season. However, the reason I'm e-mailing is not because of them, but a Swedish band you should check out called I'm from Barcelona. They have 29 members, enough to roll out four lines, three defensive pairings, and two referees, two linesmen and the off-ice officials. They are pure Swedish pop in the finest ABBA tradition, though multiplied by 7.25.
David
ABBA's hair is counted as a quarter of a member.
Mr. B,
A good Swedish band you could give a listen to is The Sounds. Hot lead singer Maja Ivarsson leads this quintet rock group. It's got the sounds of The Bravery with a female Euro attitude. Great listen!
Best,
Max in Clemson
Are we good with the Swedish bands now, people?
---
What's up with former Flyers captain Dave Poulin, you ask? Last time we checked in, he was at Notre Dame working in its athletic fundraising department after stepping down as Notre Dame hockey coach. I got this e-mail from Mr. Poulin last week:
JB,
A voice from the past checking in! I had a new pair of Notre Dame Crocs in your size and just wondered where I should send them.
A new chapter has begun for me, and after 12 wonderful years back at my alma mater, I have relocated to the Windy City. You may have seen my or my firm's name come up recently, as we just completed the search for the new executive director of the NHLPA. It's a pretty cool gig putting people and places together. We do have a focus on sports (the former director of player personnel for the Browns is also with us), but I'm involved in private equity platforms and a little bit of everything.
Hope all is well with you. We do have to tee it up at some point, just so I can get major strokes and get a little of that ESPN $. My youngest is looking at schools out there, as well, so I may even have more reason to visit in the future.
Dave Poulin
Managing Director and Partner
Reilly Partners
Poulin -- 724 NHL games, 205 goals, 325 assists. Selke Award winner and King Clancy Trophy winner.
---
John,
I have a few questions for you. Whatever happened to Jiri Dopita? He was tagged as the best player not in the NHL. Finally, he played in Philly and quickly disappeared. Why do you (or your sources) think he failed? Is he still playing in Europe? If so, is he playing better there than he did in the NHL?
Thanks,
SD
That's funny you mention Jiri Dopita. My 8-year-old son Jack's hair was getting out of control last week. Long and Darcy Tucker-esque with a touch of John Kruk. I've been slowly suggesting that he get a buzz cut, right down to the wood. Short hair reminds me of him at age 4, accentuating his dynamic facial expressions. Plus, it's easier to shampoo after hockey practice and it's a haircut that will last for months, thus saving me money.
Jack finally relented, under one condition -- I buy him a video game. I agreed to his Scott Boras negotiation tactic. I don't have the "It's my way or the highway" mentality in my parenting all the time. I actually encourage my kids to negotiate on occasion. It's a good skill to have later in life. Well, Jack picked out an Xbox game from the used bin, which swung negotiations back in my favor. $4.95. Sweet! Jack chose "NHL Hitz 2004." Well, he brought it home, inserted the scratchy disc and chose the Edmonton Oilers for his first game despite their low team ranking that year.
And who was getting a regular shift … Jiri Dopita! And I thought the same thing, "Whatever happened to Jiri Dopita?" Deepak Chopra would say you and I had a symmetrical moment, SD.
Well, Dopita, who played 73 NHL games with Philadelphia and Edmonton, has been playing in the Czech League since 2003-04. The 28-year-old is off to a good start this season with seven goals in his first 18 games. Whenever I see Dopita's name, I have to use a Homer Simpson voice. Jiri DOH!-pita. Good times.
---
Hi John,
Please put an end to a longtime debate I have had with my brother. I feel so strongly about this, I have gone so far as to give my persuasive speech for public speaking in college on it. Why isn't Bobby Orr the greatest hockey player ever?
My argument deals with the fact that he played incredible at both ends of the ice. Winning two Art Ross Trophies (a defensemen winning the scoring title?), eight consecutive Norris Trophies, Orr also had the greatest season in hockey (Art Ross, Norris, Hart, Conn Smythe, Stanley Cup), not to mention he is part of the most famous hockey photo ever. There is no player who was that dominant at every area of the ice.
While Gretzky put up the points, they were during the high-scoring '80s, when most of the 500-goal club made its living. Settle this once and for all so I can let my brother know he's an idiot.
Chris Dubsky
Some consider Bobby Orr the greatest of them all. Some say Wayne Gretzky. Yes, when Wayne Gretzky had 92 goals in 1981-82, Dennis Maruk had 60. But Bobby Orr played during a time of big-time expansion with some horrendous teams. But I hate nitpicking on either player, so I just like to say Gretzky was the greatest forward and Orr was the greatest defenseman and leave it at that.
---
Hey John,
I was playing in my "beer" league last night and I made a pretty good move to open myself up for a shot from the high slot, only to ring it solidly off the post. With this sound still resonating in my head, I got to thinking … Is there another sound in this world that is as equally exhilarating and heartbreaking all at the same time?
Jeremy
San Francisco
It is truly the one sports sound with the most depth. It says so much to so many people. It happens just about every game, but it still catches you by surprise. The heart seems to skip a beat on a shot ringing the post. Then, you're like, "That's cool." For one side, it was a chance just missed, a putt for birdie that lips out, a jump shot that goes halfway in and rolls out, a hand that gets slapped on prom night. For the other side, it is a second chance, a stroke of luck.
---
John,
I went to a Devils-Flyers game in Newark and I must say they did a great job on the new arena. The place is bright, clean and the sight lines are fantastic. The one thing I would say is they probably went overboard on the "Fire & Ice" club seats. Having the middle three sections on both sides costing $80 more than the corners and the ends is a little over the top. I like what I've seen from the Flyers so far this year. They're definitely a playoff team, but I'm not sure they have the depth or consistency to make any kind of real run in the playoffs. Thoughts?
Josh
New York, N.Y.
The playoffs are better than 50 percent for the Flyers. They are scoring goals, playing great at home and have enough sandpaper to win the close games. NHL middleweights beware of Riley Cote. This man has the ability to turn your face into a half-chewed caramel. I'd love to see a Riley Cote-Sean Avery bout at Madison Square Garden.
---
John,
Eric Lindros went out with a bang. I see he shed a tear (not surprising, such a softhearted guy). Sigh. He started this whole hockey passion for me. I'll love him forever.
Deborah K. Sullivan
---
John,
As a Stars fan, I just wanted to mention and thank the fans in San Jose for their class during the first period of the Stars-Sharks game when Mike Modano set the all-time record for points scored by an American-born player. Especially after the debacle in Nashville last year, it was so refreshing to see the appreciation and commitment to the game of hockey rather than just their organization. I remember Mark Recchi and Patrick Roy being stunned by standing ovations in Dallas following milestones and I'm in serious debt to Sharks fans for giving Modano the same courtesy, especially for a division rival.
Ross Taylor
Columbia, Mo.
I went to Northern California for the first time in September. A little golf, a little chillin', a Giants game. I feel a pull to go back. It's a special place.
---
Hey John,
I just listened to "Over My Head" by The Fray around 60 straight times. Have you ever done a one-song repeat binge? If so, which song(s)?
Jackson Blair Taylor
President, Cornell Debate Association
A few come to mind when I first heard them:
1. "Back in Black" -- AC/DC
2. "(Keep Feeling) Fascination" -- Human League
3. "The Adventure" -- Angels and Airwaves
4. "New Slang" -- The Shins
5. "The Logical Song" -- Supertramp
6. "Animal" -- Def Leppard
7. "Out of Touch" -- Hall & Oates
8. "Melt With You" -- Modern English
9. "Jesusland" -- Ben Folds
10. "Overkill" -- Men At Work
11. "All the Small Things" -- Blink 182
12. "Richard Manuel is Dead" -- Counting Crows
13. "I Will Walk With You" -- Bruce Hornsby
14. "Just Like Heaven" -- The Cure
15. "No Particular Place To Go" -- Chuck Berry
16. "Just What I Needed" -- The Cars
17. "When I Win The Lottery" -- Camper Van Beethoven
18. "The Ghost in You" -- The Psychedelic Furs
19. "Wonderboy" -- Tenacious D
20. "O Canada" -- Vancouver Canucks fans
---
John,
While he won't be eligible for the draft until 2025, my son Odin (here at 7 weeks old) already looks forward to rivalry games against Colorado and Minnesota. GO CANUCKS!
Chris Lund
Seattle
Sleepless in Seattle.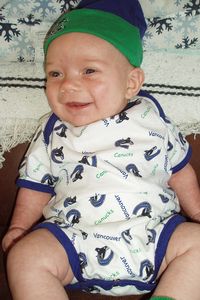 John Buccigross is an anchorman for "SportsCenter" and ESPNEWS. For questions, comments or crosschecks, e-mail him at john.buccigross@espn.com. To check out his new book, "Jonesy: Put Your Head Down And Skate," click here.