"Is he a Hall of Famer?"
It is one of the more emotional questions in sports for something that, in the end, doesn't really matter all that much. It's a small plaque in the Hockey Hall of Fame and all it really benefits is the appearance fee of the elected player at a memorabilia show or corporate outing.
Even if Cam Neely had never made it to the Hockey Hall of Fame, the Hall would still have plenty of videos of Cam's greatest hits.
There is also no virtue in watching a Hall of Fame induction ceremony. All the sweet qualities of the game are hatched by the team. The locker room, the assist, the blocked shot, the fight, the playoffs, the Cup. That makes up hockey. Not Jim Gregory in a tuxedo.
Shot of the Week
Back by popular demand (and we mean that), the shot of the week is back!
You know how it works. We will present an NHL photo and Bucci will provide a caption. E-mail him your suggestions (include your name and hometown/state) and we will use the best ones and provide a new photo the following week.
LAST WEEK: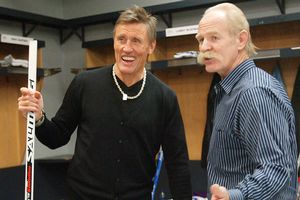 Lanny McDonald is stunned at the addition of Roger Daltrey to the latest Legends Game. (Getty Image)
Your captions:

"8 Ball, corner pocket."
-- Jay Sculler (Chatsworth, Calif.)
Borje Salming shows Lanny McDonald the NHL's newest stick design modeled after Bucci's legs.
-- Matt Schaldach
Graham Nash and David Crosby hit the ice on the 2007 "Old Rockers on Skates Tour."
-- Jeff Neistein (Woodland Hills, Calif.)
Dateline 2032: J.R. celebrates goal No. 700 with assistant coach Chris Gratton.
-- Aalap Sabnis (Arlington, Va.)
"Is Salming using a bronzer? Or did McDonald just see the ghost of Harold Ballard?"
--
Michael Holowchuk (
Hoboken, N.J.)
THIS WEEK: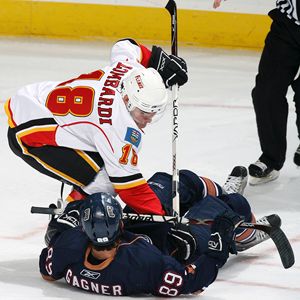 Shish-ka-Gagner. (Getty Image)
But man, it is fun to speculate, debate and play the Hall of Fame game. That's the value. It's good fan petroleum. I had a great time scouring the record books last week, comparing Peter Bondra to Joe Mullen and why Bondra is an obvious Hall of Famer (check last week's big e-mail bag).
I thought it might be fun to take a look at the rosters of all 30 NHL teams and make a quick-snap-mode "yes" or "no" Hall assessment. I do grant myself permission to scan at career stats for no more than 10 seconds for a few older players if it is a really difficult decision, like Rod Brind'Amour.
I am not taking into account any mathematical formulas based on the maximum of four players a year divided by number of players in the NHL from now until 2032, times the square root of Bill McCreary's moustache. It's just a hockey column.
So, the following are players who I believe one day will be, or could/should be, worthy of a Hockey Hall of Fame induction.
Who is a Hall of Famer on …
Anaheim Ducks
Chris Pronger: Bonus points for good hockey name and David Letterman smile.
Scott Niedermayer: He's an athlete touched by god.
Teemu Selanne: Beautiful talent. In the height of playoff or Olympic passion, he would bite the head off a rabid squirrel to win. He's never gotten his due for that because he is from Finland.
Atlanta Thrashers
Ilya Kovalchuk: If he were playing in a hockey market, the electricity of the arena would singe the hair off Tie Domi's back.
Marian Hossa: He'll retire with more than 500 career goals. Couple that with his good two-way play and you have a Hall of Famer.
Boston Bruins
None.
Buffalo Sabres
None.
Calgary Flames
Jarome Iginla: His name alone says hockey.
Dion Phaneuf: If I could legally adopt an NHL player just so I could point to him from the stands and say, "He's my son and thus you must respect my set of genes," the Terminator would be in my top 10. Of course, I would have left out the adopt part to the beer guy.
Carolina Hurricanes
Rod Brind'Amour: I'm inclined to give people who are close the nod. Can one be a Hall of Famer with one All-Star appearance? Yes, because All-Star games are the antithesis to the actual sport of hockey.
Eric Staal: He's got a body type that will never wear down and that should get him in the 500-goal club.
Cam Ward: He's got a major award (Conn Smythe Trophy as playoff MVP) and I see him churning out 30 wins for like 15 seasons. That's 450 wins right there.
Chicago Blackhawks
Jonathan Toews: Presence. Personality. Unpredictability. A three-zone star.
Patrick Kane: Like Anthony Hopkins' acting, Kane makes it look easy. That's greatness.
Colorado Avalanche
Joe Sakic: One of the last NHL megastars who retained all of his teenage character. Players entering the NHL today are rich when they play Game 1. They can't really be humble and innocent. Enjoy him. There will be no more Joe Sakics anytime soon.
Paul Stastny: He's going to be one of those players who scores his 500th goal and people will say, "How in the hell did that happen?"
Columbus Blue Jackets
Sergei Fedorov: Columbus should still trade him and someone should still trade for him. My gosh, he turns 38 next month. He hasn't played a playoff game since the Ducks swept the Wings in 2003.
Rick Nash: Hall of Fame name. It is his destiny.
Dallas Stars
Mike Modano: Have you seen him skate recently? He looks 19.
Sergei Zubov: I love artistic, insanely competent people. A rink rat with skill. That is glorious.
Detroit Red Wings
Dominik Hasek: For the "Hey There Delilah" crowd, he has won six Vezinas and two MVPs.
Nicklas Lidstrom: When I think of him, I think of the first two lines of one of the 10 songs I would take to heaven … or hell. It's still up in the air at this point. The song is "Mary's Prayer" by Danny Wilson. And the lines are: "Everything is wonderful; being here is heavenly."
Henrik Zetterberg: A high-powered European sedan weaving through the pylons of life.
Chris Chelios: The Mike Wallace of the NHL.
Edmonton Oilers
None.
Florida Panthers
None.
Los Angeles Kings
Anze Kopitar: Like Van Halen after their first album. You just knew.
Rob Blake: Seven All-Star Games, a Norris Trophy, big part of the Avalanche's 2001 Cup run with 19 points in 23 games and a gigantic butt used to crush sternums.
Minnesota Wild
Marian Gaborik: "Hey, Marian! Multivitamins, acai berries, push-ups, prayers, smash up some carrots and rub them all over your chest. Anything. Stay healthy!" I'm gonna take the long-shot guess that the 25-year-old forward can still put a 10-year stretch together to put up numbers one cannot deny.
Montreal Canadiens
None.
Nashville Predators
None.
New Jersey Devils
Martin Brodeur: I never envisioned Marty as the elder statesman type. He was always so playful. Jordan Staal, Sergei Gonchar and Marc-Andre Fleury for Martin Brodeur, John Madden and Jay Pandolfo. Would you do it?
New York Islanders
Rick DiPietro: He will retire with at least 400 wins, a Cup and a Conn Smythe Trophy.
New York Rangers
Jaromir Jagr: If he plays until he's 40, he should be No. 2 all time to Wayne Gretzky in points.
Henrik Lundqvist: Gold medal? Check. Stanley Cup? Coming soon. Hall of Fame? You betcha.
Brendan Shanahan: Future Maple Leafs president and GM. Book it.
Chris Drury: It's my column and my rules. I make them up. He is clutch and, in life, clutch is everything. Move on.
Ottawa Senators
Dany Heatley: He will retire with sick all-time numbers because he is one of those people who has unconditional love for the game.
Daniel Alfredsson: This is a close one. He got a late start. He was 24 when he completed his rookie season. Playing with Jason Spezza and Heatley should buff his point totals to go along with all of his stellar hockey values and recent massive playoff performances.
Philadelphia Flyers
None.
Phoenix Coyotes
None.
Pittsburgh Penguins
Sidney Crosby: I think he will play until he is 45 and score 900 NHL goals.
Evgeni Malkin: The Penguins should sign him to his seven-year extension right now.
Mark Recchi: If I have Brind'Amour in by a hair, then it would be hypocritical to say no to Recchi. That being said, if Brian Gionta and Zach Parise play in 1,400 NHL games when it is all said and done, they will have careers like Recchi's.
St. Louis Blues
Paul Kariya: Stylish, classy and skill to live and love for. If there was another league bigger and better than the NHL, he could play in that one, too. That should probably be the true definition of a Hall of Famer. But the cat is out of the bag now, babe.
Keith Tkachuk: He's in that Brind'Amour and Recchi class. Lost at least 50 goals with the two lockouts. Never durable and not a productive playoff player as of late.
Erik Johnson: I believe Johnson will grade out better than Blake when it is all said and done, and resurfaced and said and done again.
San Jose Sharks
Joe Thornton: I love the guy to death, but nine goals in 57 playoff games? Man, we need to work on that.
Jeremy Roenick: He's going to give his 600th NHL goal to GM Doug Wilson's lawn-care provider.
Tampa Bay Lightning
Vincent Lecavalier: True fact -- Vinny was once put in an underwater cage with a giant chunk of tuna floating just outside. He then watched a giant great white shark pummel the tuna just inches from his face. That is just one of 4,584 things Vinny can do that I cannot. The list also includes beating me up and stealing my wife.
Brad Richards: Again, just one of my kind of guys. Like Drury, every part of his game has integrity and he wins championships everywhere he goes. Not a coincidence, people. Learn the truth. Know the truth.
Toronto Maple Leafs
Mats Sundin: I wish he would ask for a trade to the Penguins this season so he can begin the process of helping them win a Stanley Cup in 2008-09. Or San Jose this season. Or Philadelphia. Or, heck, anywhere! I see a Ray Bourque moment here.
Vancouver Canucks
Roberto Luongo: If his name was Bob Luongo and he had male-pattern baldness, I'd say no. I need more time.
Washington Capitals
Alexander Ovechkin: I think people get the impression that because Ovechkin and Kovalchuk were born two years apart, they are cookie-cutter imports who will show up every couple of seasons. They are not. They are once-in-a-generation talents who should be viewed as unique and special.
Your questions, their answers
Bill Clement was born on Dec. 20, 1950 in Buckingham, Quebec. "Clement, Clement, hands of cement" (not really!) played junior hockey for the Ottawa 67's and was drafted 18th overall by the Flyers in the 1970 draft.
He played in the NHL for 11 seasons with the Flyers, the Capitals, and the Atlanta and Calgary Flames. He played in 719 games, amassing 148 goals and 208 assists.
After retiring from the NHL in 1982, Clement joined the broadcast booth and worked for many years as a color commentator on ESPN, ESPN2 and ABC, and during the Olympics. Prior to this season, he was the studio host for Versus and NBC. This season, he is everywhere. Canadian television, Internet, satellite radio, Flyers television and motivational speaking engagements.
His moustache is applying for statehood. Bill Clement will now answer your e-mails.
Question from A.J.: What was it like playing with Guy Lafleur at such a young age (12 years old)? Did you really win a provincial high school badminton championship?
Answer from Bill Clement: Guy was superhuman, even as a kid. We beat a team 21-0 once and he got all 21 goals. Great person and fantastic teammate. It was actually the Western Quebec badminton championship. There were only a few English schools, so it was no big deal. I played every sport our small high school had to offer and was pretty good at most of them.
Question from Chris McNulty (Ashburn, Va.): During your playing years in Philly, I was told you guys would meet up after games somewhere in the area to kick back after a hard-fought game. Well, your bartender on a lot of those nights was my father, Frank. He can still remember you during your rookie year. Says you haven't changed a bit! What kind of an NHL player were you?
A: Your dad must have worked at Rexy's. We kicked back a lot there. I was a fourth-line center in Philly, a first-line center in Washington and a second-line center in Atlanta. Defense and penalty killing were my specialties, although I chipped in the odd tally. I certainly wasn't a tough guy.
Question from Scott Fabirkiewicz (Hellertown, Pa.): Can you give us a "behind the scenes" glimpse of the Broad Street Bullies? Who was the funniest? Who was the most intelligent? Who was really a gentle soul off the ice?
A: We had so much fun that, on different days, we were all hilarious. The Hound (Bob Kelly) could make everyone laugh. Dave Schultz has a great sense of humor. [Larry] "Izzy" Goodenough is from another planet, so we'd [lose it] when he got going. Intelligent? Orest Kindrachuk, Ed Van Impe, Don Saleski and Bobby Clarke were probably the smartest. Gentle souls? Honestly, almost all of the guys were gentle souls. [Andre] "Moose" Dupont especially. Schultzie, to this day, has never had a fight off the ice.
Question from Andy (Hermantown, Minn.): What was worse for you, the Hockey Falls guys calling you "Clement, Clement, hands of cement," or them picking Melrose first? I bet Melrose wouldn't stand a chance against you in a game of pong!
A: Neither. I actually wrote the "hands of cement" line for the spot and Barry's mullet was even better than the Falls' guys, so I knew they'd pick him first.
Question from Julian Phillips: Which do you like better, being an analyst or being a commentator?
A: By commentator, I guess you mean host? They are sooooo different and both are a ton of fun. I guess if I had to pick one, it would be analyst.
Question from "Pikey" Rossicone (Brooklyn, N.Y.) Can you share a funny/interesting story about "Doc" Emrick that the viewing public might not know from your days in the Philly booth?
A: OK, there was this time he did a game in his underwear … no, wait a second, that was me!
Question from Rafe Brox (displaced Buffalonian in Tampa): As a longtime fan of both your "real" and "virtual" work in the broadcast booth, can you share a little insight into what goes into the voice acting for your role in [popular NHL video game franchise]? How weird is it doing color commentary without the action?
A: When Gary Thorne and I do video games together, not only is there no action, there is no nothing. We are given thousands of scenarios (some on paper, in front of us, and some simply verbalized in our ears) and we ad-lib everything. There is no video to look at. Most of the time, we are asked for four or five versions of the same thing. It is so much fun acting it all out, but it is the single most taxing thing my brain has ever attempted. After six hours of creating and recording, I begin chewing on my tongue and can't even put simple sentences together. That's when we know the session is over.
Question from Eugene (Philly): I saw you doing the Flyers broadcast when they played the Islanders. During the intermission you talked about your history and fond memories of the team and the city. Do you find it difficult to be objective when you are doing a national broadcast and the Flyers are involved?
A: Not really. You have to have balance when doing a national broadcast and I get paid in those instances to be objective. I really cheer for people and I know players on every team in the league, so, on national telecasts, it's pretty easy to keep it down the middle.
Question from Al Willig (Minneapolis): Congrats on your new call-in show on XM Home Ice with NHL leadership. I monitor many blogs, and the level of animosity out there toward commissioner Gary Bettman is palpable. Are you at all concerned that there will simply be a mob of fans calling in to berate Mr. Bettman?
A: Not so much. I'm not really sure what there is to berate the commish about, anyway. Our sport is doing great thanks to many of his initiatives, and while he is an easy target when someone just wants to vent, most people take the high road when they come face-to-face with the object of their misdirected scorn.
Mini-Me Mailbag
John,
The Pens finally brought up young defenseman Kris Letang last night and I said, "It's about damn time!" After watching this kid play seven games last season before being sent down, I was shocked to see the Pens wait so long to give him a chance. What are your thoughts?
Sean Rourke
USAR 99TH RRC
I see Kris Letang and I see a Sergei Zubov-type game. If he just eats a good amount of fruits and vegetables, does his leg presses, cleans, squats, core work, wrist curls and pull-ups, then Letang should have a bright future.
Speaking of more great young talent entering the NHL, the league released its preliminary rankings for the 2008 draft last week. The name to memorize and use at upcoming holiday parties is Steven Stamkos. Say it five times: Steven Stamkos, Steven Stamkos, Steven Stamkos, Steven Stamkos, Steven Stamkos. OK, six, just to make sure. A six-pack of Stamkos, please. Stamkos is playing for the Sarnia Sting in the Ontario Hockey League. Stamkos has speed, size (6-foot, 175 pounds) and skill. He turns 18 on Feb. 7. The 2008 draft will be held in Ottawa and it will be a draft with a nice assortment of high-end defensemen. Stamkos, Stamkos, Stamkos, Stamkos. It's all about Stamkos.
---
Bucci,
For so many years, no one could talk about Vinny Lecavalier without mentioning tons of untapped potential along with his name. After winning a Stanley Cup and finally hitting 50 goals last season, that potential is now being realized on a nightly basis here in Tampa. He's certainly one of the best athletes in Tampa sports history. Why don't I hear his name more when the discussion of the league's best players comes up? There's no way he's not one of the top three or four players in the NHL, and his five-point outing against Carolina this past Wednesday night was a virtuoso performance.
Bobby
Tampa, Fla.
Because he plays in Tampa. More people in Florida know who Martin Truex Jr. is than Lecavalier. If every player in the NHL was made a free agent tomorrow, my draft board for the first five picks would look like this:
1. Sidney Crosby
2. Vincent Lecavalier
3. Joe Thornton
4. Henrik Zetterberg
5. Evgeni Malkin
---
John,
I am a huge fan of Patrick Roy and would like to know if you think there should be an asterisk placed next to Martin Brodeur's overall win total (should he pass Roy). I am asking you this only because of the whole shootout scenario added within the last few years. This adds a few wins to Brodeur's overall win mark.
Derek Mohoney
Sun Prairie, Wis.
Martin Brodeur himself has mentioned this, but I'm sure when it is all said and done, Brodeur will end up with more nonshootout victories than Roy. But they are just records, not as important as the day-in, day-out enjoyment of the game and the emotional responses it produces. That's why all the concerns some have with making the nets bigger should have no bearing on the decision. As I've written before, with the larger and improved goaltending equipment, goalies cover more net and will no longer have a fear factor. Additionally, the players are so fast and well coached and conditioned, scoring will only increase if the net is made bigger.
Now, if fans and players don't want a bigger net, I'll go along. But I believe we have too many low-chance, low-scoring games. Sometimes 2-1 and 1-0 games can be great games, we all know that, but most of them are not. Also, players should NOT be given ticky-tacky roughing penalties during pushing and shoving confrontations. These confrontations add horsepower to a hockey game. Little punches, pushing and shoving, and a little trash talk is good lighter fluid for regular-season games.
---
Bucci,
After watching the last couple of Rangers games and seeing him score his first NHL goal, what are the odds on Marc Staal emerging as a dark-horse Calder Trophy candidate this year? And is there any chance Blair Betts gets recognized with a Selke nomination?
The team as a whole has really come together to play some inspired defense in front of King Henrik so far this season.
Bryan
Brooklyn, N.Y.
Calder Trophy will be won by a Chicago Blackhawk this season, but Staal looks like he is going to be a real classy defenseman.
---
Bucci,
Finished the book in two sittings. I felt like I was listening to Keith tell stories to a car full of kids nursing Dr. Peppers. I'm upset I finished it.
John Muir
Washington, D.C.
Thanks again to everyone who has purchased a copy of "Jonesy." Remember, only five weeks to Christmas! Order one for you and two of your friends for a holiday gift. (Now picture me with a big Chuck Woolery smile and an emphatic thumbs-up as I say that.)
---
Bucci,
I just read on CNN that Chuck Norris is supporting Mike Huckabee for president, and all I want to know is who The Godfather of Swedish Hockey, Hakan Loob, is supporting.
Chris in DC
Hakan Loob is behind Hakan Loob for president because no one else is worthy of being president. Loob will also name himself secretary of defense, interior, education and treasury. President Loob will also mow the White House lawn because nobody mows like Loob. He will also change the oil in the president's limo. You know, Loob job.
---
John,
The reaction our newborn daughter Eleanor had to being anointed a new Flyers fan wasn't exactly what her father had in mind, but ultimately that same fury will blend right in with the other Flyers fans berating the referee and falling into the penalty box.
Warmest regards (elbows down),
Jennifer & Hugh Anderson
Villanova, Pa.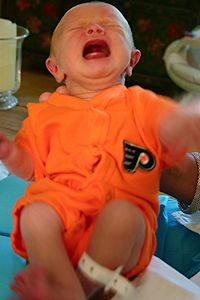 There's more mailbag where that came from! Check out Bucci's Mother of All Mailbags every Thursday at ESPN.com.
John Buccigross is an anchorman for "SportsCenter" and ESPNEWS. For questions, comments or crosschecks, e-mail him at john.buccigross@espn.com. To check out his new book, "Jonesy: Put Your Head Down & Skate," click here.