The Path of Bucci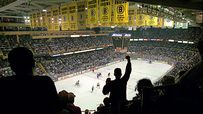 Remember the Boston Garden? Bucci does. It's part of his hockey memory, one that spans from his childhood pickup games to the anchor's chair. A look at his road less traveled.
Editor's Note: As promised, here is Bucci's weekly Mother of All Mailbags. This section of his column appears every Thursday on ESPN.com, while his regular rants and raves appear on Tuesday.
John,
I have a couple topics I'd like your opinion on:
1. [Mattias] Ohlund's slash on Mikko Koivu. Was the four-game suspension enough or too much?
2. Ilya Bryzgalov's release from Anaheim. I don't understand. Was GM Brian Burke unable to find a trade partner? Why let him go at all?
3. Recently, superstar-in-the-making rookies have been brought in by the team and made to feel a little more comfortable by setting them up with a former player. For example, the Blues' Erik Johnson stays with Al MacInnis and Sidney Crosby stayed with Mario Lemieux. I also noted that Wild rookie James Sheppard is staying with former NHLer Darby Hendrickson. Is this a new practice? Will it continue? What do you think is the true value of these arrangements?
Thanks,
Phillip Rozak
University of Minnesota
Minneapolis
1. I would have made it eight games for Ohlund. I understand he was upset at Koivu's flying elbow and was looking to serve his own justice, but, sorry, you can't go Phil Mickelson 3-wood on someone's foot.
2. I'm surprised Burke didn't wait a little longer. I'm also surprised at the Maple Leafs, Penguins, Lightning, Capitals and a host of other Eastern Conference teams. Bryzgalov wasn't worth a third-round pick? He makes $1.3 million! He's a proven goalie with a good playoff record. I don't get that.
3. Joe Thornton did the same thing when he was a rookie in Boston. Top-level hockey players are used to the "billet" family arrangement. It saves the young player from worrying about some issues he would have to take care of on his own as they try to play in the greatest hockey league in the world. Can you imagine making about $50,000 a paycheck at age 18 and living on your own in Chicago? Good gosh, I'd end up naked on a sail boat in Lake Michigan with a stack of pancakes, a harmonica and a 1989 Mad Magazine.
---
John,
Why does it seem the New York Islanders get zero in the way of respect. Currently, no one on the team is having a "career year," yet they are fighting for first place in arguably the best division in hockey. Rick DiPietro is never mentioned as one of the best goalies in the league; but every time an opposing player or coach talks about playing the Isles, they always mention how they have to alter the way they dump the puck in because of his stick handling and passing. And he is currently one win behind the league lead. All the so-called experts pick the Islanders 12th-15th in the conference (just like last season), but with no superstars on the roster, Ted Nolan is never mentioned for coach of the year. Come on -- let's give just a little kudos to the boys from the Island.
Michael K. Braunstein
Ted Nolan is clearly one of, if not the best, motivators in hockey. With strong coaching and good goaltending, the Islanders will always be in the hunt. But their lack of dynamic offense players will always make it feel like they are pushing a rock up a hill.
---
John,
I know from reading the column that you're a proponent of increasing the size of the net to compensate for the increase in size of goalie equipment. My question is: Why not just reduce the size of the goalie equipment back to where it used to be ( i.e. 10-inch wide pads, smaller blocker, gloves, pants, etc.)? The original argument for the increase in equipment size was the quality of goaltender protection, which I bought. However, today's materials are so protective and so light that a 10-inch leg pad is just as protective as a 12-inch leg pad. There is no longer a good argument for extra-wide equipment on the goaltender.
Josh
New York, N.Y.
I just think it's going to be hard to go backward in terms of protection, and my argument for net size is also based on the size of the goalie himself. Remember how big Phil Esposito looked on those big, bad Bruins teams? He was like 6-foot-1 and 205 pounds. Ilya Kovalchuk is 6-2 and 235. Roberto Luongo is 6-3 and 175. Twenty years from now, we will have a 6-4, 250-pound player as fast as Kovalchuk and a 6-6, 220-pound goalie who is bigger and faster than Luongo. Also, the quality of equipment for the skaters to block shots and the coaching to collapse on the goaltender also contributes to less net to shoot at.
---
Mr. Bucci,
When Manny Legace took the midnight train out of Detroit, I was incredibly disappointed. In six years with the Red Wings, I really thought he earned his keep and worked hard every night. I even thought he often outplayed supposed No. 1 goaltenders. Now that Manny is with the Blues, he is better than ever! He's eighth in GAA and save percentage and sixth in wins. Pretty good for a guy who was supposed to be a "career backup." Why doesn't he get more credit around here?
Lauren
Oregon
Good point, Lauren. As I write this, Manny Legace's career record is 148-64-27. He has 19 career shutouts -- a good sign of talent and concentration. His career save percentage is .915. His small-sample playoff record is not good. His save percentage has gone down in the playoffs. It has to go up. You have to get better in the playoffs, not worse; otherwise, you can't be among the NHL's elite. But, yes, Legace is giving the Blues good enough goaltending to reach the playoffs. Hopefully, his day-to-day status with a knee injury won't get in the way of that.
---
Hey John,
Here's the thing. My fantasy squad stinks this year, and was considering changing up the name of my team to maybe shake it up. For years, my team name has been the "Ball of Knowledge" after that little fur ball ESPN used to use to promote "NHL 2Night" and games on ESPN. So I was thinking of moving it laterally and keeping with the theme and either going with "Twisted Wristers" or, perhaps, using your boy "Hakan Loob." Plus, I have never known ANYONE who even remembers those ads on EPSN with the whole "Ball of Knowledge" thing, anyway. Any recommendations would be great.
Jeremy
Philadelphia
Ah, yes, the ball of fur. For any hockey team name, real or fantasy, we always advocate, Hakan and the Loobs. Your fortunes will turn around.
---
Dear John,
Please let me start off by saying that I have followed hockey since the late '50s. I have had the privilege of attending games at five of the Original Six buildings (missed The Olympia in Detroit), I have attended literally hundreds of games and my 36-year-old son is named Derek (after Derek Sanderson). Combined with the fact that I feel that "NHL 2Night" was the best thing since sliced bread, I think I qualify as a fan.
That being said, I felt compelled to write to you after reading your blog of the Leafs-Wings game. I was reminded WHY I loved (past tense) the game. I actually read it a couple of times so I could gather in all of the Bucci-isms. I then came to a conclusion. I was reminded why I don't like today's game. Of these reasons, the one I think about the most, is "The Code" and how players of today are a different breed. Mutual respect is sorely lacking among all of the players and there aren't enough characters in the league.
I blame it on the fact that hockey has expanded too far and the league is run by lawyers instead of hockey people.
Anyway, I just wanted to write to you and thank you for a wonderful trip down memory lane. There are, for me, only a few remaining reasons to like hockey, and your column is one of them.
Brian Cantamessa
Sarasota, Fla.
Bucci,
How do you feel about the Jackets' chances to make a run at the playoffs this season? They seem to be starting strong out of the gate. Hopefully, you will get a chance to check out a game here this year and get to hear the cannon more than once! Also, I would love to read a blog about more of the classic games you happen to see on the NHL Network.
Andy Whitmer
Ostrander, Ohio
A lot of readers seemed to like the old-school blog. I promise another one soon. The Blue Jackets? I just don't see them having enough to hold off Anaheim, Calgary and Nashville, who are on that playoff line as well. Rick Nash can't do it all by himself. When he goes through stretches of not scoring, it will be tough for the Blue Jackets to sustain success.
---
Bucci,
I'm a big Hurricanes fan and I'm glad to see the team off to a good start. My question is, who should the Canes go after? There seems to be a lot of talk about a puck-moving defenseman, but is that really needed for a team that is scoring so much and has a phenomenal power play? I tend to think that a shut-down defenseman would be a better choice to reduce the goals scored, especially on the penalty kill, and maybe play shut down on a team's top player/line. Your thoughts?
Brian
Raleigh, N.C.
The Hurricanes have good goaltending and scoring depth, some sandpaper and a great power play. They don't get much from the blue line in terms of scoring. They should probably look in that area if they can.
---
John,
Please tell me you saw Martin Havlat's goal 45 seconds into the game against Tampa Bay. He has been dominant, when healthy, with the Blackhawks. How good is he? I think, when healthy, he could be one of the five best offensive talents in the game. Let me know what you think.
Thanks,
Pat
Martin Havlat is an all-world talent. Right there with Marian Gaborik. Like Gaborik, if he could stay healthy, he could score 50-60 goals a season.
---
John,
In your last article, you mentioned there is too much music in between every stoppage. I agree to this, and wonder who is in charge in San Jose. The music selection is absolutely garbage, but I digress.
The reason I am writing to you is to talk about the music in the first home game of the season for the San Jose Sharks; or, I guess I should say, the lack of music. The HP Pavilion got a new sound system, scoreboard and lighted signs around the middle of the arena to sell more ads (yay!). Well, I think they underestimated how much power all of these things drain out when they are all on, and the power went out in the entire arena. The actual blackout was before the game started, during warmups, and only lasted for about five seconds. But none of the ads worked and the sound was off to start the game.
There was no intro music, no Shark Head, no crazy light show, nothing but down-to-basic hockey … and it was beautiful. The atmosphere was electric, much like a playoff game. We hadn't seen our Sharkies play since that horrific playoff defeat to the Wings in the spring, and we fans could not wait much longer. The crowd began its own chants and got the game flowing nicely without the help of music. It was an incredible thing to be a part of and I wish more games would be like this.
Unfortunately, the power was fully restored halfway through the second period and the momentum was totally shot, which led to us losing the game en route to one of the worst home records in the league. Sigh.
Aaron Sholl
I love that e-mail, Aaron. Thanks for sharing. You readers are the best fan reporters there are. Please keep sharing these unique incidents.
---
Bucci,
I am going to get a new Blues jersey pretty soon, and I was wondering who I should get. I want a player that will be with the organization for a while. Right now, I am favoring Brad Boyes (thank you, Boston), but I don't know how long he is signed for. I am also leaning toward Erik Johnson. Do you have any other ideas?
Thanks!
Adam
St. Louis
Go with Erik Johnson. He will be there for at least the next 10 seasons.
---
Bucci,
What would be your first move or two if you were given control of the Maple Leafs? Or what do you think is the best move for them? We here in Ontario are going crazy with how embarrassing the Leafs have become and need a change!
HELP!
Fraser
London, Ontario
I would make a big trade with the Sharks involving Mats Sundin and Patrick Marleau. Both teams need to make a deal with those two as the centerpieces.
---
Bucci,
U2's Larry Mullen, Jr., is the best drummer in the last 30 years. That is all.
Daniel Murray
Travis Barker, Neil Peart, Lars Ulrich, and Danny Carey also in the mix.
By the way, in case this got by you, the hockey fan:
"The NHL's board of governors approved a scheduling matrix which ensures that each club will play every other club a minimum of once per season. The format will go into effect for the 2008-09 season.
Each club will play the teams in its division three times at home and three times on the road, for a total of 24 games. Each club will continue to play 40 games inside its conference but outside its division (10 opponents), twice at home and twice on the road. That brings the in-conference total to 64 games and maintains the integrity of a conference-based playoff system.
The remaining 18 games in the 82-game schedule will involve each club playing each club in the other conference at least once, home or away, with the three remaining games being devoted to inter-conference "at-large" scheduling."
---
Hello John,
I'm sure I'm in the minority -- a very, very small minority. But I think the time of having conferences and divisions should be gone with by now, this being the 21st Century.
Todd Evans
I'm with you Todd.
---
Hey John,
I just wanted to express my gratitude to you and Keith for such an amazing book. I enjoyed it from start to finish and have started reading it all over again. You wouldn't think an autobiography of a hockey player would touch and move you as deeply as this book did. The final segment called "Overtime" especially brought a new light to my eyes on how to go about life. That was so moving and deep. Almost brought tears to my eyes!
Thanks again and Happy Holidays!
John-Paul Cosentino
(P.S. -- I attached a picture of me with my pride and joy!)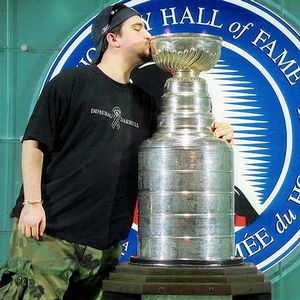 John Buccigross is an anchorman for "SportsCenter" and ESPNEWS. For questions, comments or crosschecks, e-mail him at john.buccigross@espn.com. To check out his new book, "Jonesy: Put Your Head Down And Skate," click here.