For those of us who now get the NHL Network on our television, life as an NHL fan has never been better. We can see every highlight of every game, every night and every morning.
This cannot be overstated. The griping about the "mainstream media" ignoring the NHL in the United States has, for some of us, become academic. Slowly, the mainstream is being obliterated. All that is really left is the NFL, "American Idol" and Britney Spears. We can watch hockey highlights on the NHL Network, read about it on the Internet and listen to it on satellite radio. These things do cost money, so the revolution does come at a price.
A couple of weeks ago, I did a retro blog of an old Red Wings-Maple Leafs game from 1971 that got some pretty good reaction. I wanted to wait awhile before the next one, but Monday's Vintage Game was too juicy to pass up -- Canadiens vs. Bruins, 1979 Prince of Wales Conference finals. The winner would go on to play Phil Esposito and the New York Rangers in the 1979 Stanley Cup finals.
Shot of the Week
By popular demand (and we mean that), the shot of the week is back!
You know how it works. We will present an NHL photo, and Bucci will provide a caption. E-mail him your suggestions (include your name and hometown/state) and we will use the best ones and provide a new photo the following week.
LAST WEEK: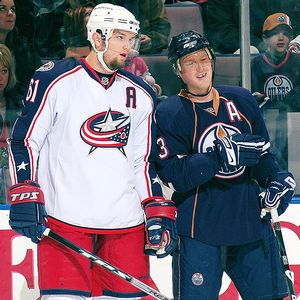 "One more 'A' and we could provide free towing for qualified members." (Getty Image)
Your captions:

"Hey, that kid in the stands said he wants his jersey back."
-- Tim Koen
"Think we'll land the part for "Stuck on You 2?"
-- David M. Hintz
Hemsky: "OK, you get first pick, we get first puck."
Nash: "Fine. I'll take Fedorov."
-- Mike Aurilio (
Philadelphia)
"No, really. In Canada, the 'A' means 'hello.'"
-- Craig L. Roberts
THIS WEEK: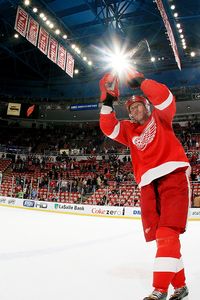 Attendance problems continue in Detroit despite "Guaranteed Christmas Star Night." (Getty Image)
Then, I thought of trying something that might never have been done in blogging history -- simultaneously blogging two games played 17½ years apart. So, I recorded the Canadiens-Bruins game and the present-time Red Wings-Predators game from Monday night and waited until the Detroit-Nashville game ended to begin the blogging process.
I'll go back and forth from 1979 to 2007 in intervals because the "score bug" we now enjoy in any game we watch was not around in the '70s.
First period
Canadiens-Bruins
The Bruins had not beaten the Canadiens in a playoff series since 1943. Montreal won the first two games at the Forum, and the Bruins took Game 3. So, this is the pivotal Game 4.
Opening faceoff: After the large size of Peter McNab's head, the first thing one notices is the small rink size of the old Garden (191 by 83 feet). Today's "Garden" is like every other NHL rink (200 by 85). The old dimensions resulted in NASCAR hockey -- fast bumping and grinding. It had to have been terrifying for defensemen going back for the puck in their own zone.
19:48: Hey, it's Don Cherry in a burgundy Ron Burgundy-vested suit! This was Cherry's last season as Bruins coach despite four straight 100-point seasons. He went on to coach the Colorado Rockies the next season and lasted one year before later being hired by CBC. The analyst for this game, Dick Irvin, just said, "Cherry has worn a different suit every game." Changing clothes was apparently breaking news in 1979.
19:00: Stan Jonathan just gave Mario Tremblay a wicked forearm right to the head in the neutral zone. Today, this would have resulted in an elbowing penalty and a 30-minute discussion on how players don't respect one another. This is why I like watching old games. It dispels myths. Yes, players took head shots 30 years ago. The issue is today's hard equipment hitting skulls. For fun, I just timed how long it took to complete a faceoff after a whistle -- 35 seconds. They get longer as the game goes along.
18:00: It's a physical game early. Bob Gainey flattened Jean Ratelle. Then, Guy Lapointe had back-to-back checks on Don Marcotte and Ratelle. Ratelle was just shy of his 39th birthday in this game, but he looks like Sen. Joe Biden (1979's 39-year-olds looked much different from today's). The overall skating compared with today's game is startling. Some of the players appear to be wearing 30-pound ankle weights, especially the defensemen. You can see why the Edmonton Oilers did what they did three seasons later with their 417 goals and Wayne Gretzky's 50 goals in 39 games. The NHL was there for the taking by a team with speed.
16:00: Double pad-stack save by Gilles Gilbert on Pierre Mondou. My gosh, the net looks enormous, and Gilbert is 6-foot-1 and 175 pounds. Even at the other end with Ken Dryden (6-4, 205), there is plenty of twine to shoot at.
Red Wings-Predators
So far this season, the Detroit Red Wings are the best team. They are by far the best-coached club. Mike Babcock is hands down the best coach in the NHL. He has to be Canada's coach at the 2010 Olympics in Vancouver, and Steve Yzerman should pick the team. Synergy, people.
They score, they check and simply control the game. They are a little top-heavy scoringwise and, for this game (at least at the start), will split up Pavel Datsyuk and Henrik Zetterberg. Jiri Hudler is coming on and has been playing at about a point-per-game rate. You can see his confidence growing.
Nashville, as expected, took a hit from its offseason losses. The Preds give up more goals than they score and have poor special teams and spotty goaltending. But they are right on the playoff cusp and have games in hand on just about every team in the West. I picked Nashville to finish ninth in the West. Unless the Preds shore things up, that's about where they will finish.
20:00: Unlike the Canadiens-Bruins game, this contest is in high definition and even the referees are wearing helmets and visors. This game also has two referees and the road team is wearing white instead of at home like the ol' Bruins. It's a small thing, but I love the home whites. Baseball, basketball and hockey should have home whites and football should have home colors. It's simple.
19:59: As play begins, I see other differences. The camera angle, as in all new NHL arenas, is higher up and farther back compared with the hovering-above-the-ice look in the old Boston Garden. The Canadiens-Bruins game is much more intimate; I feel as though I am in the arena. The goalie equipment is much bigger today, yes, but the goalies also play bigger from the evolution of coaching and equipment; both make goalies fearless. They hold their pads in an upside-down V with their knees flexed. Their elbows are away from their bodies. Psychologically, this is damaging to the shooter. He can't see a thing coming down the wing.
18:19: Whistle on the play, and U2's "Desire" blares from the sound system in Nashville, although it sounds as if it's played at a reasonable decibel level. (1979 was the last full year U2 wasn't signed to a significant label.) Big hit by Jordin Tootoo. Stan Jonathan had a big hit at about the same time in the 1979 tilt. This Nashville crowd is into the game, which helps because comparing a playoff game and a regular-season game is not always the best matchup.
Back to Boston …
14:00: Terry O'Reilly is a menace. A big bodycheck on Larry Robinson sets up a scoring chance, and for the rest of the shift, the eyes of fans in the Garden are on O'Reilly. Imagine what that did to a player. A player knows when he has the crowd's attention, and it makes him faster, stronger, more confident. It's the greatest feeling in the world. Dryden makes a sprawling save. Butterfly style wasn't common in 1979, but Dryden used the length of his body to take away the ice in distress situations.
13:00: Gainey is flying. He is a big, rangy player who skates well and plays with a lot of edge and heart. He would have been a popular and effective player on this small Garden ice. This game has become a turnover fest. Let's go back to Nashville.
Back to Nashville …
12:50: Datsyuk sets up Tomas Kopecky with an amazing play to make it 1-0. After the goal, there was a weird collision involving referee Kerry Fraser. Apparently, Fraser just got the wind knocked out of him. His hair is still perfect. Fraser has more kids than Nicklas Lidstrom has Norris Trophies -- that scoreboard stands at 7-5. Martin Erat just was called for an elbowing penalty on a play identical to Jonathan's hit from 1979. The big difference in this game is the Red Wings' amazing puck-possession skills. On the small ice, turnovers were inevitable. It led to up-and-down action and lots of contact. With bigger ice and better skating skills, the Red Wings wait for an opening. The Bruins and Canadiens didn't have that luxury. That's why going to a bigger surface than what we have now will result in less up-and-down action and more puck-possession time.
It's 1979 again …
7:00 left in the first: Still scoreless in Boston. In a big playoff game like this, there are a lot of safe, chip-it-out plays. Mike Milbury is one of two Bruins players wearing a helmet. Sadly for Islanders fans, the helmet didn't prevent damage to the portion of Milbury's head that would help him land good trades in the future. The Bruins are an aging, slow team at this point. They are doing it all with heart, led by O'Reilly. They could have used Ray Bourque, a player they would welcome five months later.
4:35: Ratelle scores to make it 1-0. The hustle of O'Reilly makes it happen. When the camera shows the cheering crowd, there are no Bruins jerseys on the fans and lots of well-dressed adults. That is an enormous change to sports in the past 25 years. This entertainment option was primarily for adults. With a couple of minutes left in the first period, we get our first look at Canadiens coach Scotty Bowman. Cherry has had about three shots on camera; Bowman one. Al Sims just shot the puck over the glass in his own end, but he will not be penalized as Brian Rafalski will be late in the Red Wings game.
1:00: Mondou scores late in the first to tie the score at 1. Cherry gets two more close-ups, plus a shout-out to Cherry's dog Blue from the announcers. Cherry leads Bowman in camera close-ups, 8-2. Bowman leads in Cups, 9-0.
It's 2007 again …
4:45: There is simply no better NHL broadcasting tandem than Ken Daniels and Mickey Redmond. Some might be as good, but not better. Daniels has few peers as a play-by-play man. He has passion, a great voice and extensive knowledge, and he flawlessly sets the scene. I assume he rejects any national game opportunities because he clearly should get those assignments. Redmond is so likable and warm, you feel as though he is in the living room with you. Every one of their games sounds important and eventful. Penalty shot! Valtteri Filppula gets tripped up going to the net alone, and Fraser awards a penalty shot. Filppula's world-class move beats Predators goalie Dan Ellis. It's 2-0 Detroit after one.
Second period
Canadiens-Bruins
20:00: The second period is marred by whistles and lifeless play. The crowd is out of the game. No one sounds too concerned in 1979. People are being patient. There is a lot of hooking and holding with no penalties having been called yet.
13:10-ish: Montreal defenseman Brian Engblom makes a nice backhand chip pass out of the Montreal zone to a streaking Guy Lafleur, who takes eight strides, crosses the Bruins' blue line and blisters a shot by Gilbert to make it 2-1. (It is the identical shot Lafleur would take to tie the score late in Game 7 to force overtime.) The Canadiens are more talented and deeper than the Bruins. It's amazing this series went seven games.
Red Wings-Predators
20:00: The second period begins with an Igor Larionov interview. Larionov's daughters will be part of the new "American Idol" that begins in January. Larionov also mentions that the Red Wings' patience with Datsyuk throughout the years has made all the difference. He said a lot of Russians and Europeans often are not given the time to grow.
15:38: The improved level of athleticism compared with 1979 is blatant. The equipment, weight training, nutrition and coaching make today's game more difficult and skillful. And that should be the case. However, I think the overall passing in 1979 was a little better, perhaps out of necessity. Not many players were beating people one-on-one. They worked together more, and the physical play was more prevalent in 1979. It was more of a battle of wills than today. I think both eras cared as much and tried as hard, but the one-referee system allowed the game to have a better flow. I will always be a one-referee guy.
Canadiens-Bruins
6:30: Ratelle ties the score at 2. He had a strong postseason, scoring seven goals in 11 games. Ratelle was not very productive in his postseason career with the Rangers; but, with the Bruins, he scored 23 goals in 52 playoff games 1976-79. He scored only nine playoff goals in 65 games as a Ranger. Pat Hughes of the Canadiens just took a dive after a hook from Jonathan. Yes, players took dives in 1979, although that was the first one so far in this game. The second period ends with the score 2-2.
Red Wings-Predators
10:12: Tomas Holmstrom gets called for interference. There have been 769 of these types of plays in the Bruins-Canadiens playoff game. It doesn't matter, though, as Nashville's power play looks weak and indecisive. The power play was 13.5 percent entering this game. Last season, it was 17.4 percent. The Preds need to get back up to last season's number to make the playoffs. Another dicey Red Wings penalty, so the Preds' power play will get another shot. Redmond calls it a ridiculous penalty. Nashville is then called for a penalty that has Redmond chuckling. He played in the '70s, and these were everyday plays back then.
3:35: Daniels just said that because Datsyuk is shooting more, he is going through a stick a night. There have been no broken sticks in the 1979 game.
0:24: Martin Gelinas makes it 2-1 with a short-handed goal. Chris Osgood is ticked at his Red Wings teammates for actually allowing a shot on goal.
Third period
Canadiens-Bruins
20:00: The period begins with a sense of urgency. The hooking and slashing have picked up, and the players are trying to draw penalties. Both Gainey and O'Reilly "dive," trying to sell a penalty that did take place. We've talked about how small the goalies' gloves were in this era (without the "cheater" above the wrist), but the small gloves did make it easy to dump the puck to defensemen to prevent a whistle and faceoff. Today's goalie gloves are so enormous that it's hard to get the puck out of the glove on the fly, much less control it. Dryden is very good at keeping the play alive and dropping the puck off to a swooping Montreal blueliner.
6:39: There have been at least 12 instances when a penalty would have been called in today's game. Wally Harris hasn't swallowed his whistle, he has mailed it back to Montreal. McNab scores with 3:42 left for a 3-2 lead. The entire Bruins bench leaves the ice to congratulate him. When did this start and when did this end? Engblom made a nice initial play to block McNab's shot, but McNab beat Dryden along the ice inside the post. If only Engblom had his 2007 hair in 1979, he might have gotten a piece of that shot with an undisciplined follicle. If Dryden were a butterfly goalie, it would have been an easy save; but, at this point, his pads probably weighed 137 pounds. Those old pads would get wet and feel like two fire hydrants.
2:06: Guy Lapointe scores the tying goal on a slap shot that goes right through Gilbert. Gilbert clearly has an issue with long slap shots. The entire Montreal bench leaves the bench to celebrate the goal. This game is going to overtime, but not before Montreal ices the puck with six seconds left. From the time the whistle blew to when the puck was dropped for the faceoff back in the Montreal end, it took a 1:20!
Red Wings-Predators
17:32: Back to the camera-angle discussion. I can't see the players' names on the back of their jerseys, and sometimes, I can't see their numbers. I have no such problem in the 1979 version, and it wasn't in HD like the Wings-Preds game. You can't really get a feel for each individual player. That fails to engage the viewers. I mentioned the intimacy of the camera angle in the Bruins game. If you are looking to improve the NHL on TV, that is it. I wrote last year that I see a time when there is an array of hovering cameras around the perimeter of the ice surface and above the glass (say 10 feet) to bring intimacy back. Short shifts and four lines don't help, either. Of course, all the advertisements littered along the boards and on the ice constantly reinforce that it is a business. In 1979, it looked more like a game these guys would be playing even if no one went to the game or watched it on TV.
6:03: This game is going well for the Red Wings, but I still wonder … When the game becomes a little more physical in the postseason and Detroit is trying to protect a one-goal lead late in the game, does it have the physical play to protect leads? The goaltending has been good, but I think the Wings' postseason goaltending is going to have to be better for Detroit to win a championship. I still think the team needs some more sandpaper and growl on the back end. In the meantime, the Wings hold on to win 2-1 as Osgood makes a sweet left-pad save late. Osgood's record is 14-1-1, and he has the lowest goals-against average in the NHL (1.75).
Overtime in Boston
3:36: Ratelle completes the hat trick, scoring the winner as he takes a beautiful backhand pass from Rick Middleton. The Bruins tie the series at 2. Ratelle's expression never changes. A different time. A different era. And, of course, the camera spots Cherry walking back up the tunnel to the dressing room. You're my boy, Blue.
Mini-Me Mailbag
Dear Mr. Buccigross,
I am writing to comment on something I witnessed after watching the Rangers-Devils game on Sunday. The Rangers won the game 1-0 in overtime on a wicked slap shot from the slot by Brendan Shanahan. After the game, the Rangers' players gathered at center ice and raised their sticks to salute their fans. Salute their fans! This is a ritual seen throughout European hockey and soccer (including even the minor leagues) that is woefully absent in American sports. The practice is notably absent in the NHL, where so many of the players are European and must be familiar with the practice. I was so pleased to finally see NHL players recognize their fans and I hope other clubs follow the Rangers' example and begin their own traditions of saluting their fans, who are so critical to the continued growth and success of the NHL.
Jenny Campbell
Mason, Mich.
The Rangers have been doing this for some time, and I recently noticed the Islanders doing it, as well.
---
Bucci,
Danny Carey from Tool would have to be one of the best drummers of the past 30 years. Hate to steal the lines from you, but Danny Carey is to drumming as Joe Sakic is to hockey.
Eric Cooksey,
Hattiesburg, Miss.
Bucci,
I am frankly offended and flabbergasted that John Bonham is not mentioned as the greatest drummer of all time. In my mind, there is no competition or comparison; he is simply the greatest drummer of all time. And the fact that you mentioned Travis Barker above him is inexcusable. Rectify this situation immediately.
Rachel
New York
Yes, Rachel. One thing is clear from my just-throw-a-few-drummers-on-the-wall sentence from last week's mail sack -- someone needs to write a drumming column.
---
Hey Bucci,
After your column about the Hall from a few weeks ago, I was wondering what you think about Zach Parise. The kid is on fire. It is very early in the season and in his career, but how do you project his career turning out?
Happy Holidays,
Kurt Simer
Zach Parise is one of my favorite players to watch in the NHL. He should be a threat to get 35 to 40 goals and 80 to 90 points in the next five seasons. He has that beautiful combination of someone who plays hard, fast and smart, but is also durable. Some people are born to play hockey. Parise is one of them.
---
John,
Check it out.
Jon Lavoie
ESPN (Bristol, Conn.)
The Beauties and the Beast line.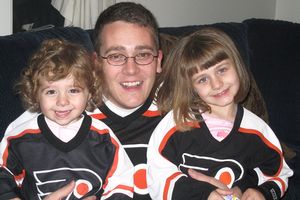 There's more mailbag where that came from! Check out Bucci's Mother of All Mailbags every Thursday at ESPN.com.
John Buccigross is an anchorman for "SportsCenter" and ESPNEWS. For questions, comments or crosschecks, e-mail him at john.buccigross@espn.com. To check out his new book, "Jonesy: Put Your Head Down & Skate," click here.