Old and New School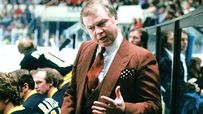 Don Cherry? Pavel Datsyuk? We bring the old and new schools together like the U.N. as Bucci hits the retro blogosphere.
Editor's Note: As promised, here is Bucci's weekly Mother of All Mailbags. This section of his column appears every Thursday on ESPN.com and his regular rants and raves appear on Tuesdays.
Hey Bucci,
I know this is ridiculously early to be thinking about, but with all of the young American talent coming into the league, I've been excited about the future of the U.S. Hockey Team. I know 2010 might be a little bit of a "rebuilding" Olympics with the last of this past generation's stars giving way, but if you had to choose the team today, what names would you put on the roster? Zach Parise? Patrick Kane? Phil Kessel? Erik Johnson? Who's the captain? Ryan Miller and Rick DiPietro in goal?
I also think it is a great sign for U.S. hockey when a 9-year-old in Dallas can pull off a breakaway move like the kid did last week during the Stars' intermission.
Mike
Baltimore
Here is my rough draft for Team USA for 2010. So many things can change. We don't know how someone like Peter Mueller will develop in two years or how veterans like Brian Rolston or Mike Modano (he'll be almost 40) will drop off. And, as Herb Brooks once said via Kurt Russell in the movie "Miracle" -- "I'm not looking for the best players, I'm looking for the right ones."
Coach: John Tortorella
Goalies: Miller, DiPietro, Tim Thomas
Offensive lines
Kane-Scott Gomez-Parise
Dustin Brown-Paul Stastny-Brian Gionta
Erik Cole-Chris Drury-Kessel
Rolston-Matt Cullen-Ryan Kesler
Defensive pairings
Joe Corvo-Matt Carle
Erik Johnson-Jack Johnson
Ryan Whitney-Ryan Suter
---
Hey Bucci,
Just wondering if you had a chance to check out any Sabres games with Rick Jeanneret and Harry Neale yet? If so, what do you think? I was nervous when Jim Lorentz abruptly retired this fall, but then Neale fell into their laps. In my opinion, he's been great so far, a few bumps along the road, but that had to be expected. I think there's been more Rob Ray too, which is never a bad thing. Also, do you know how DirecTV chooses which broadcast to use on their Center Ice channels? This has been bothering me for years.
Marty
Raleigh, N.C.
The Sabres have an excellent overall broadcast from pregame, in-game, intermissions and postgame. The announcers and coverage are excellent. I just got the latest HD receiver from DirecTV, and my Center Ice package now offers both teams' broadcasts and an HD broadcast from nearly every game. This is a huge upgrade. Some of the Center Ice games that are not in HD have extremely poor picture quality that makes it difficult to watch. And, yes, the NHL Network is in HD.
---
Hey John,
I just finished "Jonesy" today and it was awesome. Thanks for a great book! I want to list five hockey cities and ask you to put a song and artist that comes to mind for each one:
Denver
Boston
New York
Chicago
Phoenix
Matt
Phoenix
Thanks for the read of "Jonesy!"
We are all different. I've never been to Phoenix, so I'm guessing there; but the other cities give off these vibes for me:
Denver: "Strange Condition" by Pete Yorn
Boston: "Miss Misery" by Elliot Smith
New York: "I Wanna Be Sedated" by The Ramones
Chicago: "American Girl" by Tom Petty and The Heartbreakers
Phoenix: "Windfall" by Son Volt
---
Bucci,
Where is the Mike Richards love? I noticed you had Drury in your Hall of Fame column. I was a bit surprised about your inclusion of Brad Richards. What do you think of Mike Richards? He is still very young and doesn't have the aura of a Sidney Crosby or Kane around him. But all this guy does well is, well, everything.
If I were a coach of a young player, I'd say, just watch Mike Richards. That is how the game should be played -- always in the right spot, always makes the right decision and does all the little things. Penalty kill, power play (on the point), scores, assists, fights and calls out Crosby (deservedly so) for diving on the ice (but not in the media). I thought it was impressive that he's the only active player with two double-shorty goals (scored while on the 5-on-3 penalty kill).
Sean Skierski
I saw one of Mike Richards' first NHL games back in October 2005. I was sitting with Mickey Melchiondo of the band Ween about 10 rows from the ice (their new CD is out; very good, go get it). Richards was 19 at the time, and I wrote my first impressions in this space:
"Mike Richards is very good. Smart and skilled."
Groundbreaking stuff, eh? That being said, I like Richards right away after that night, but I was surprised he had just 21 goals and 45 assists in his first 138 games. But, like children, every one grows differently, and Richards obviously has bloomed. He is an ideal Flyer and a pillar of hockey values the NHL can lean on for a long time. Still, I was shocked when I read this about his new contract:
"TSN has learned it is a 12-year extension for $69 million that averages out at $5.75 million per year for the cap hit."
Twelve years for a smallish, physical player sporting such a physical game? That is a huge risk for the Flyers. Richards had to take $69 million guaranteed. Tonight, when I tuck in my son, I will say, "Sparky, when someone offers you $69 million guaranteed and you don't have to work over the summer, I strongly suggest you take it."
My guess is the money grows near or at $7 million for a few years and tapers off at the end in case Richards suffers a serious injury, so the buyout and risk would be less. The Flyers, who have such competitive ownership, are more concerned about the cap number and how that translates to wins on the ice than about total money paid to the player. That is smart, competitive and proactive ownership, but it is a gamble. Scott Hartnell looks to be a bad sign at six years, $25.2 million. I think the Richards deal should turn out OK for the Flyers and their fans, but that is a long time.
---
Hey John,
The Flyers-Penguins game on Dec. 11 was one for the ages, but it got out of hand toward the end. The Georges Laraque slide tackle into Martin Biron -- suspension or not? It was clearly intent to injure, but no media outlets are even talking about it.
Bill
I do think Laraque's "slide" was intentional, but not worthy of a suspension. These athletes are competitors, and they don't enjoy losing. The Flyers-Penguins rivalry is going to be a great one for years to come, and there will be plenty of venom. There is genuine athletic hate there, and that is GREAT. That is hockey; sometimes it gets a little ugly. That's what makes all these long-term deals potentially great for the fans. These players will be going against each other for a long time. Next game: Jan. 24 in Philadelphia. The teams also meet in the final game of the regular season on a Saturday afternoon in Philly.
---
John,
I think the evolution of skates has changed the way the game is played more than any other factor. In the old days, you just couldn't do the things players do today with a skate boot that is basically a leather shoe. I'm already a fan of wooden sticks over composites at the NHL level, and now we've got a few players testing heated blades to make them faster. It seems that there's already enough bad ice in the league and these blades will create more snow and deeper ruts, leading to sloppier play, which brings me to my question. What's your take on the Thermablades?
Bob Zelle
St. Louis
From Thermablades' Web site:
"Thermablade performance-enhancing skate blades are a patented new skate technology that's revolutionizing the game of hockey. Thermablade skate blades are heated to significantly reduce the friction of the blade gliding on the ice. You get a quicker start and skate faster, and every stride feels like you're skating on fresh ice."
Thermablades use a rechargeable battery and a microprocessor within each skate blade to maintain a temperature of 41 degrees. The Canadian Press reported this week that the heated blades are being used in games by four anonymous NHL players.
---
Hi John,
My wife and I are expecting our first child in 2008 and I'm looking for ideas for a good hockey name. So far, I've come up with "Teppo Newman" if it's a boy, but I'm open to your suggestions.
Matt Newman
Newcastle, Maine
Willie Travis Newman.
Hockey fact: Henri Richard has won the most Stanley Cups as a player (11).
---
John,
You have talked a lot about increasing the size of the nets to help increase scoring. What do you think about the league switching to Olympic-sized rinks? This would open up the game more and create more scoring chances, since this is what we really want anyway. No one wants to see a 9-8 game, but these 2-1 games with both teams playing a lock-down defensive style is getting old, too. Increasing the net size will only increase goals, not scoring chances. I would love to see 2-1, 3-2 games of back-and-forth action, then a couple of extra goals per game with the same defensive styles. Your thoughts?
Tom
Blaine, Minn.
I believe scoring would decrease on bigger ice. There would be more puck-possession time and fewer turnovers. It would resemble soccer without the streakers.
---
John,
Just a quick note regarding a comment in the mailbag of your Dec. 11 column featuring the blogs of two games. Jenny Campbell of Mason, Mich., wrote about the Rangers doing a stick salute to their fans after the game. While this may be new to the NHL, many college teams do it at the conclusion of each home series. My DU Pioneers have been doing this for years and it has become a great tradition after a weekend set. Oh, and full marks on Neil Peart, as well. The man is a master. Keep up the infotainment!
David Costantino
Hey Bucci,
You mentioned the Rangers and Islanders raising their sticks at the end of games. Just wanted to mention that the Minnesota Gophers have been doing this for years. Any college hockey fan should make a pilgrimage to watch a game at Mariucci Arena, specifically against one of their WCHA rivals.
Kris Hancock
John,
In regards to the Rangers saluting their fans, the University of Michigan hockey team often does this as well (not sure about other college teams). So, at least some of our stateside amateurs also exhibit gratitude.
Matt Weiser
Ann Arbor, Mich.
I'm holding my Reebok Sickick in the direction of you, the reader.
---
John,
Ken Daniels and Mickey Redmond the best? Don't you think Ralph Strangis and Daryl Reaugh might have something to say about that? I don't think there is any question they are the best tandem in the NHL. That brings up an interesting question for you. Who are your top three play-by-play and color commentators in the NHL individually? Here are mine:
Play-by-play:
1. Jim Hughson
2. Strangis
3. Rick Jeanneret (for purely comedic reasons)
Color:
1. Reaugh
2. Drew Remenda
3. Denis Potvin
Let me know what you think,
Troy Wolfe
I said no one better, not best! Jim Hughson is an all-time talent. You can't go wrong with the Stars. Reaugh will be inducted into the Hockey Hall of Fame someday for his broadcasting career. No one is more talented. Words come to him with ease, the way Cinnabons make it to Britney's mouth. Reaugh and Strangis should do national games for Versus if the Stars get knocked out early or don't make the playoffs. They are both network quality and have the chemistry from working together for so many years.
Top three broadcasting teams? That's tough. That takes into consideration the individual talents of each broadcaster, chemistry, camera work and the entire production crew. Detroit, Dallas and San Jose come to mind very quickly. Calling hockey games is a difficult job. From John Forslund in Carolina to Dave Strader and Panger in Phoenix to Mike Emrick, Sam Rosen, Howie Rose, Bob Miller and the Oilers' hard-working crew. I find it interesting that, in my mind, the strongest division for broadcasting is the Pacific Division. That's the deepest division for me.
---
Bucci,
I just got into a huge debate with my friend about where "Hockeytown USA" is. He believes Detroit still has dibs on that prestigious title, but I believe Minneapolis-St. Paul is the best hockey city. I'm obviously biased, however. The Wild, Gophers and high school and adult leagues are huge in this area, so I believe Minneapolis-St. Paul can lay claim to "Hockeytown USA." If you had the power to label a city "Hockeytown," where would it be and why?
Justin Pantoja
Minneapolis
I've been writing here for years that Minnesota is clearly the best hockey market in the United States. It's not even close.
---
John,
I've heard many analysts share their thoughts on how Scott Niedermayer's return will affect the Ducks. They've shown improvements, particularly on the power play, though they continue to show a lack of discipline. Do you think his return can help launch them toward the top of the logjam in the West standings?
Ryan,
Maryland, N.Y.
It certainly will help. The power play has been poor, and the Ducks are giving up too many goals. Niedermayer will help both of those areas right away, but I don't think he will be enough for Anaheim. Remember, Teemu Selanne had 48 goals last season, and Dustin Penner had 29. The Ducks had five 20-goal scorers in 2006-07. This season, they will have three at most. They need Selanne or another scorer, otherwise they won't have enough scoring depth to repeat.
---
Bucci,
Your article made me miss the days when I'd actually clear my night to sit and watch a game. Now when I catch an NHL game on TV, I feel like I'm doing homework. It seems like pro hockey and NASCAR both have the same problem in that they've taken that "edge" out of the sport, that excitement you can feel building in the game when you know something big, yet still wildly unpredictable, is about to happen. I wish they'd give us back that tough, blue-collar, and yes, sometimes violent game we loved. Anyway, keep the classic game blogs coming. If you could do one for a Whalers game, I'd like totally be your best friend.
Still bleeding green,
Phil Brown
We'll have another classic blog in January.
---
John,
This question is from my 9-year-old son Patrick. He's been asking me it for 2-to-3 years and I can't answer it. Maybe you can. He wants to know why teams are allowed to ice the puck when they're shorthanded. He doesn't believe a team should be allowed a privilege when they've done something wrong.
Gary
Ajax, Ontario
When I can figure out why every airplane doesn't have satellite TV like Delta Song used to have, I'll tackle the icing issue. Other things Patrick can tackle while he stares at the ceiling at night:
• Why are ketchup packets so small? If I were Heinz, I would make disposable, recyclable, miniature ketchup bottles so you wouldn't have to use 18 packets for your average burger and fries.
• People still don't leave their phone number at the BEGINNING of phone messages. This is just good business. When I call someone, I say, "Mr. Saskin? John Buccigross, XXX-XXX-XXXX (my number), 20-second message, number again and goodbye." If people use that method, then -- if I'm unable to write the number in time -- I don't have to listen to the entire two-minute message again to get the phone number. C'mon, I mentioned this four years ago.
• I like the DH. Don't change that.
• We need to build more sidewalks in this country. We need to be able to walk or bike to the mall or the Stop & Shop or school. If I ran for president, I would run on the platform of burying all power lines, building wide sidewalks all around the country and offering free snow cones.
---
Hey Bucci,
Just finished "Jonesy." Good read. Keep it up.
Attached is a picture of my two boys waiting to slap hands with the players in the tunnel before the Sharks came out of the locker room. They are ready, even though the players haven't even come out yet. My youngest won't take his eyes off the door to the room, either. The players are awesome and always take time to bend down and slap hands with the little guys and gals. Another reason why hockey is the best pro sport -- the players.
Josh Brouillette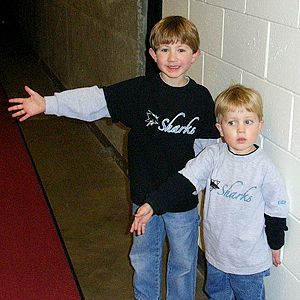 John Buccigross is an anchorman for "SportsCenter" and ESPNEWS. For questions, comments or crosschecks, e-mail him at john.buccigross@espn.com. To check out his new book, "Jonesy: Put Your Head Down And Skate," click here.