I wrote the following 88 words in this column in September 2006, a week after Rick DiPietro signed his 15-year contract with the Islanders:
"Am I the only guy in the world who DOESN'T think the Rick DiPietro signing was outlandish? (Booming, Michael Clarke Duncan voice from above: 'Yes, John, you are.') If DiPietro becomes a top-five goalie, it's a great deal for the Islanders. If he becomes a top-10 goalie, it's about right. Goalies can play for a long time. I think it's a worse deal for DiPietro. He could end up costing himself lots of money and he has potentially cost himself something much more in value: freedom of movement."
Shot of the Week
By popular demand (and we mean that), the shot of the week is back!
You know how it works. We will present an NHL photo, and Bucci will provide a caption. E-mail him your suggestions (include your name and hometown/state) and we will use the best ones and provide a new photo the following week.
LAST WEEK: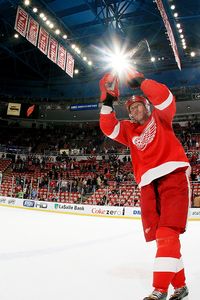 Attendance problems continue in Detroit despite "Guaranteed Christmas Star Night." (Getty Image)
Your captions:
"This pic will look great on my MySpace page!"
-- Greg W. (Cleveland)
"Of course, I get the spotlight when I am the "A" in YMCA ... Duh!"
-- Fred Redding (Raleigh, N.C.)
The Red Wings are bringing back the glowing puck for the new NHL.
--
James Brick (New Jersey)
"Chazz Michael Michaels IS figure skating!" BOOM!
--
Michael Oprondek (Chicago)
As compared to other sports, it takes only one NHL player to change a light bulb.
--
Eric Luukko (Sutton, Mass.)
THIS WEEK: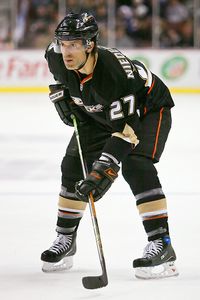 "Joy to the world, the Lord is come.
Let Earth receive her King!"

We all understand anyone can get hurt at any time. DiPietro could hurt himself tomorrow walking out the door to get his newspaper, or develop a degenerative hip in 2011. Mike Richards, who signed a 12-year extension Thursday with the Philadelphia Flyers, could suffer a major injury that causes him to lose a step. He could have bones crushed in one of his entertaining fights or battle concussions. (Sorry, Flyers fans.) That's why, in a violent sport like hockey, if someone offers you close to $70 million, you have to take it, even with all of the recent medical advances that help athletes get on the field quicker and longer.
That being said, if DiPietro and Richards play out their contracts in generally good health and produce as most expect, they will likely end up "costing" themselves millions and millions of dollars. They forfeit the opportunity to become unrestricted free agents in their prime. This is when NHL players receive outlandish contracts like the ones we see every summer.
But how much is enough? Philadelphia is one of the best organizations with some of the best, most vibrant fans in hockey. The Flyers' fan base is a lot like the Green Bay Packers' fan base in terms of their loyalty and affection. Travel is also a piece of cake for Philadelphia. Why would Richards want to go anywhere else? And again, life is too uncertain with injury, illness and accident waiting for us around every corner.
From a team perspective, these long-term contracts don't make much fiscal sense. The risk of injury and poor production because of the skill requirements makes these guaranteed deals border on foolish. The NFL, another violent sport, does not have guaranteed contracts. If a player gets hurt or becomes less productive, you cut him and don't have to pay any future salary. (NFL players are starting to secure more guaranteed money through bonuses, but most of these are for the better players.)
Still, competitive NHL teams looking to manage the salary cap will take financial risks with players they view as cornerstones. Hearing the comparisons of Richards to Bobby Clarke, and knowing the affection Ed Snider has for the latter, should have been a tip-off. Clarke helped build Snider's fortune by leading his teams to two championships in the 1970s. He helped give the Flyers immediate brand-name legitimacy and large wads of money. With that comparison, it's not surprising Snider looks to Richards as a player who can lead future Flyers teams to more of the same: championships and profits.
A benefit for Flyers and Islanders fans is being able to buy a Richards or DiPietro jersey with no fear of your $200 investment departing via free agency. It also allows fans to have a more loyal and heartfelt relationship with players and teams.
Professional sports has exponentially grown partially because of the strong economies of Canada and the United States, growing populations, arena presentation and the evolution of marketing (television coverage, Internet, monstrous media companies with lots of cash, corporations who buy suites and seats). This has brought in the casual fan looking for something to do, like trying to get on the JumboTron, as opposed to studying, talking and being involved in the game.
This peripheral noise has been the biggest enemy for the fan's ability to have an interpersonal relationship with the rink, players and team. The introduction of naming rights to arenas just adds another distraction. The soul of the game is lost a bit with all of the noise in a house that constantly changes soulless names. (The Honda Center? Am I going to buy an Accord, or watch Chris Pronger slash Ryan Kesler?)
Having players like Richards around for so long frees up Flyers fan to connect with these players in a more heartfelt way, to feel as if they are really a part of the effort, aiding the players with their love, passion and commitment.
Fans and players used to be more physically and emotionally affectionate toward one another when the glass was lower, the seats were closer, the players stayed around longer and the arenas kept the same names.
Red Sox and Cubs fans give themselves entirely to their teams because the parks, logos and uniforms are dependable, like a loving mom and dad. They've always been there and they seemingly always will. Going to a game at Fenway Park or Wrigley Field is like heading home for the holidays for a warm dinner from Mom in the house you grew up in.
Hockey needs to get this dynamic back. It was cooler when it was more intimate. The first step is having more familiar friends like Richards stabilize a neighborhood and hang around for a while. Hopefully, the NHL can work on some other things to make attending NHL games less like eating at a chain restaurant like the Hard Rock Cafe and more like that favorite Italian restaurant that might be cramped, but feels like home.
For Richards, home is where the heart is. For fans, heart is where the home is.
Mini-Me Mailbag
Mr. Shinny Calves (a.k.a. Bucci),
A few questions: Would you give Paul Stastny a 12-year, $72 million contract, and do you believe steroids is an issue in the NHL given an 82-game schedule in the most physically demanding sport?
Thanks,
Jeff
1. A 12-year contract? No. I see Paul Stastny as a long-term, productive player who has a high chance of staying healthy. But I would not be in the business of granting 12-year contracts if I was an NHL GM. I'd be more comfortable with eight years for $48 million and most comfortable with six years for $36 million.
2. Do I think NHL players have or are experimenting with steroids and/or HGH? Well, we've had players suspended, such as Sean Hill. Bryan Berard tested positive for 19-norandrosterone, classified as an anabolic steroid, and was suspended from international competition for two years. A player could certainly improve his lower-body strength and his shot (the engine that drives a hockey player) with steroid use. Steroids will not improve hockey "sense," which is the greatest gift a player can have. You don't need football "sense" to block NFL defensive linemen or baseball "sense" to hit or throw a baseball. That is one reason why steroid use might not be as prevalent in the NHL.
I'm surprised we didn't/haven't uncovered more use of it, especially as physical fitness exploded on the professional sports scene in the 1990s. It must have gone on. From what science we do know, HGH would certainly aid an older player in his recovery and overall energy through a long NHL season. HGH studies show it has not made people stronger, where steroids certainly do.
---
Hey Bucci,
You put Paul Stastny on your American team, but he's born in Canada. Wouldn't he join the Canadian team in 2010, giving himself a chance to win a gold medal?
Éric Vignola
Montréal
I received numerous e-mails from you concerning my listing of Paul Stastny, born in Canada, on my 2010 U.S. Olympic team. So I sent an e-mail to USA Hockey executive director David Ogrean to help explain the situation to you all:
"John,
Paul (and his brother Yan) have an American mother. That enables them, as dual citizens, to declare which country they want to represent in international competition. They both grew up in the U.S. program and have been with us from the start. There have been several other cases of dual citizens who have chosen to play for the USA, Brett Hull among the most well known. Hope things are well in Bristol. Merry Christmas to you.
Regards,
Dave"
---
John,
My son is five years old and has been skating at least twice a month since he was three. Well, now I am faced with fighting the group consensus of what is the "popular" sport to play. He plays basketball right now as that is what his best friend plays. My son even says he doesn't "play hockey," even though we do sticks and pucks every couple of weeks. He wants to play only the sports his best friend plays and, unfortunately, hockey is not one of them.
I played hockey since I was five years old and I am now 31. I love the sport with every cell of my body. Unfortunately, I do not play anymore as I am back to school and don't have the finances for it. I am unable to "show" my son how great the sport is by playing it (he has actually asked me when he can see me play again). I was just wondering if you had any advice that could help me influence him into playing a sport I know he would love as much as I do.
Any advice, guidance would be greatly appreciated.
Sincerely,
Mike Csotty
My oldest son, Brett, began in-house hockey at 7. He is now 15 and currently plays midget hockey. My other son, Jackson, began in-house hockey at 5 and started playing mite travel at 6. He is now 8 and in his final year as a mite.
I would sign your son up for hockey in the next couple of years and have him go through the process. Very few people who start skating stop. I see nothing wrong in telling your son that he is going to play hockey for a year in the same way you tell a child they are starting piano lessons. It's good for them. It has value. I want my kids to play hockey for two reasons: (1) The physical fitness and the overall health benefits; and (2) for my entertainment.
If either of my sons ever were miserable, they would have stopped playing hockey. Brett played soccer for a year and didn't like it. He stopped. I told him he was going to take guitar lessons for a year. He's been taking them for years now and plays well. I encourage (and sometimes "strongly instruct") my kids to attempt difficult things. If kids can tackle difficult things with a relative degree of success, it gives them confidence in all areas of life.
As far as the basketball portion of the discussion, Brett has a teammate who has played recreation league basketball while he played hockey in South Windsor, Conn. Hockey gets first preference in any conflict, but, for the most part, he has been able to do both as he has grown up. Jackson has expressed an interest in doing that and I'll probably have him do it. It means more exercise and more friends. What's better than that?
---
Bucci,
Hoping "Jonesy" comes under the tree this year. Check out my little girl, Elyse Marie, hoping the Avs will drink from the Cup this year. (Right after we took this picture, she spit up a little into it; probably not the first time for Stanley.)
Toby Harkless
Tomball, Texas
Cuddle-Wuddle Avalanche.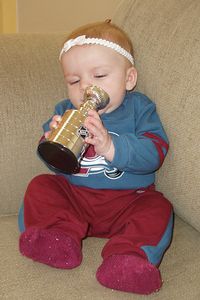 There's more mailbag where that came from! Check out Bucci's Mother of All Mailbags every Thursday at ESPN.com.
John Buccigross is an anchorman for "SportsCenter" and ESPNEWS. For questions, comments or crosschecks, e-mail him at john.buccigross@espn.com. To check out his new book, "Jonesy: Put Your Head Down & Skate," click here.