NHL fans living in America are often faced with challenges when it comes to the media.
Satellite television, satellite radio and the Internet have closed that gap, but there are still hurdles.
For those of us who were able to see the Winter Classic live and in its entirety, it was an excellent celebration of the game and the people involved in it.
(It was a full day of hockey around the Sony at my home, watching a sneak peek of the documentary "Pond Hockey" leading up to the Winter Classic. The crew came to my backyard rink last winter to film my very small part in the excellent film. Go to www.pondhockeymovie.com for all the details.)
NBC did a tremendous job in presenting the Winter Classic on New Year's Day. Play-by-play legend Mike Emrick is the finest ambassador the game has. The reason why negative e-mails concerning me don't bother me is because I get negative e-mails from people concerning Mike Emrick. This is as unfathomable to me as someone saying the color of the sky is pink or Kristen Bell could possibly smell like beef and cheese.
Analyst Ed Olczyk's enthusiasm and interaction with side-ice reporter Darren Pang were as natural as any hockey conversation in any bar in London, Ontario. Pang is the best ice-level commentator in the game. It was a pleasant surprise hearing his voice.
I'm a big Mike Milbury-on-television fan. He and Bob Costas brought genuine enthusiasm to the event, before the game and during the intermission. One of my all-time favorite television shows was when Costas hosted "Later" from 1988 to '94. His two-part interview with George Carlin remains one of my favorite shows on television.
Seeing the Sabres and Penguins in their vintage uniforms only added to the colorful day. Those Penguins powder blues rival the San Diego Chargers' old-school powder blues as the best in sports. The Penguins should surprise their fans a couple of times a year and break out those uniforms in the future. We have often lamented the lack of color in NHL uniforms. The Classic uniforms added to the scenery.
The event, the amazing Buffalo fans and the game's ending require little description. You know what you saw. Even with the stoppages of play to keep the ice surface safe and playable, the Winter Classic was a huge success for the NHL, best measured by the fact that hard-core fans loved it and casual fans tuned in. I might have interviewed some of these fans to give the game more texture.
The NHL needs to continue this outdoor tradition and I would continue to do it on New Year's Day. It was the first time this season where my two sons watched every minute of the game. It was a holiday and it was during the day. They had no hockey game or practice.
To have an outdoor game every season or every other campaign is debatable. I tend to lean toward every other season to keep things fresh, but I can see the league being able to pull it off as an annual event that could be marketed like the All-Star Game. These things take a lot of planning and energy. We want to keep these things special and fresh, and it obviously takes a lot of work on the NHL's end to put on this regular-season event.
I also like that the games count. Competition is what gives this game juice. People watch Olympic skating competitions. They don't watch "Oksana Baiul in the 'On The Waterfront' Skating Spectacular!"
With that in mind, where might future outdoor games end up?
I'll keep my choices confined to the United States since Canada could play a game in a 200-by-85 vat of Crisco and sell out the joint in the Northwest Territories. Their nation needs no help attracting fans. It's in their blood. These outdoor games are probably better (for the most part) investments in the States. But, at some point, a game in Ontario or Quebec will be a beautiful thing, as well.
Lambeau Field: I mean, people hear Lambeau Field and they think "Frozen Tundra." I asked fellow "SportsCenter" anchor John Anderson which NHL team people in Wisconsin root for (since John was raised in 'Sconsin). He replied, "the Badgers." So, we could really pick any two teams here. We know the good people of Wisconsin would buy every ticket no matter who played. (Remember how great the turnout was for the outdoor collegiate game between Wisconsin and Ohio State, dubbed the Frozen Tundra Hockey Classic?)
Let's go Red Wings-Senators next season while both teams are still good. Although, if Wayne Gretzky is still coaching the Coyotes, it might be nice having his presence behind the bench in an outdoor game considering his massive name recognition and backyard rink experience.
Fenway Park: The small confines of Fenway, especially the Green Monster seats, would provide Boston Garden-like camera angles. The Green Monster would also be a great shield for north and northeast winds. The Bruins-Blues, wearing vintage 1970 uniforms, would be a nice matchup. Bruins-Canadiens is another obvious pick. Or you could play off the Yankees-Red Sox thing and go Rangers-Bruins. This also provides two large television markets that should bring great ratings.
Soldier Field or Wrigley Field: I think baseball parks like Wrigley might be better venues than football stadiums in terms of marketing, camera angles and setting. In terms of massive attendance figures and revenue streams, football stadiums will obviously be looked at first. The Blackhawks-Red Wings or Blackhawks-Blues are the first two matchups that come to mind.
Any U.S. television rights holder will want Sidney Crosby to be part of the equation. You may have read about a possible Flyers-Penguins game at Beaver Stadium on the Penn State campus. There are plenty of other venues in the U.S. and Canada that would be excellent backdrops. That's what makes outdoor games so positive. They do nothing but put the game in a positive light.
By the way, the game earned a 2.6 overnight rating and a 5 share, the best overnight NHL regular-season rating in more than a decade. The overnight rating also surpassed Wayne Gretzky's final game, which was broadcast on Fox (April 18, 1999, 2.5/6).
Here are the top 10 metered markets:
1. Buffalo 38.2/58 (No surprise. Buffalo is right on the heels of Minneapolis/St. Paul as a top U.S. hockey market.)
2. Pittsburgh 17.7/30 (Too many football fans in western Pennsylvania watching bowl games.)
3. Minneapolis 5.1/11 (Too many people outside playing outdoor hockey.)
4. Denver 3.7/7 (Good rating from good hockey fans.)
T5. Providence 3.5/7 (A great city with an excellent hockey tradition.)
T5. Las Vegas 3.5/6 ("Look kids! Snow!")
7. St. Louis 3.3/5 (Must have been the powder blues.)
8. Boston 3.2/6 (Boston radio folks were saying this week that they couldn't get 35,000 for a game at Fenway?!)
9. Sacramento 2.9/6 (California Golden Seals fans are still alive.)
T10. Richmond 2.8/5 (Who knew?!)
T10. Hartford 2.8/5 (This is my market and I put every TV on the game to help out.)
Mini-Me Mailbag
Hey John,
Whenever I watch [Alexander] Ovechkin, I see that he looks really mad that he's in Washington. Where do you think he will end up next season, assuming he doesn't re-sign (which I doubt)?
Jeff
Philadelphia
Alexander Ovechkin isn't going anywhere. Probably. He is a restricted free agent and the Capitals would match any offer. I'm sure Oilers GM Kevin Lowe is preparing a 45-year, $421.7 million offer sheet as we speak. Would the Capitals ever considering trading Ovechkin? Well, if No. 8 pushed the matter and wanted to play in a market, like say, Los Angeles, then something could be done there.
The Kings have enough young talent, and potentially the overall No. 1 pick, that the Capitals could make a deal there and potentially make their team better. Would the Kings trade goalie prospect Jonathan Bernier, Jack Johnson, and Michael Cammalleri and their No. 1 pick for Ovechkin, the Caps' first pick, a top defensive prospect and perhaps a character guy like Chris Clark, or a framework similar to that? Putting prospect Karl Alzner along with Johnson in front of a prospect like Bernier could reap huge dividends. The NHL is a "defense first" league and it will remain that way. You need to be a good defensive team with great goaltending to win playoff rounds, and while the Caps have played well recently, can you picture them winning a playoff series any time soon?
The trade sounds like a lot for the Kings to give up, but having a star in the Los Angeles market is vital for the Kings. Put Anze Kopitar with Ovechkin and any upright mammal and you have a No. 1 line. Dustin Brown can play with Alexander Frolov and maybe Patrick O'Sullivan on the second line. The third and fourth lines can be constructed with young players and veteran free agents. The major issue is giving up a goalie prospect like Bernier. Goalies are always tough to gauge. How many "can't miss" goalies have we seen fizzle out? Being bold results in championships. Maybe the Capitals, multiple assets away from being a playoff force, are pondering such a bold move involving their star player who appears to be looking to max out his earning potential.
---
John,
What are your thoughts on the Islanders signing Kyle Okposo in the middle of his college season? Do you think this will set a bad precedent and further deplete college hockey?
Thanks!
Dave from Minnesota
Islanders GM Garth Snow told the Minneapolis Star-Tribune: "Quite frankly, we weren't happy with the program there. They have a responsibility to coach, to make Kyle a better player, and they were not doing that."
Okposo was the Islanders' first-round draft choice and the seventh player taken overall in the 2006 NHL draft. He is the eighth Minnesota player to leave early for the professional ranks since the end of the 2005-06 season.
Okposo is currently playing for Team USA at the World Junior Championship (USA vs. Canada, Friday at 1:30 p.m. ET on NHL Network here in the States).
Unless he was absolutely miserable, it is a very "nonhockey" maneuver for Okposo to leave his team in the middle of the season. His college coach, Don Lucia, reportedly seemed to believe the Islanders put Okposo in a position of not wanting to disappoint his future employer. They couldn't wait three months?
---
Hey Bucci,
I know you haven't forgotten that the 2010 Winter Games are in Vancouver. Barring injury or precipitous decline, it's a mortal lock that hometown hero Joe Sakic will be the captain of Team Canada.
Kevin
Denver
I was a little concerned about Joe Sakic's age when I constructed my Canadian mock 2010 Olympic team in a previous column. He'll be 40 when play begins in the 2010 Winter Olympics. Considering the depth at center for Team Canada and Sakic's age, one would be hard-pressed to think he will be one of Canada's four best centers in 2010. Still, Joe is hockey royalty and if playing in the Vancouver Olympics was something he passionately wants to do, then I would find a space for him. Why? Because you know he would work his butt off and, well, he is Joe Freaking Sakic. Next question.
---
John,
What is your take on the Simon suspension? While I certainly understand it was a dangerous action, I don't think Simon deserves 30 games. I feel the most dangerous actions are these stick-swinging incidents. I think they should receive the harshest punishment and I think they are really taking away a lot of wiggle room by setting the bar so high with this incident. What are your thoughts?
Robbie Cozad
Moline, Ill.
Here is what Chris Simon said on the matter: "I don't think it was fair. I'm not a complainer. I've never complained before. I took my suspensions and moved on. But I don't think this one was fair. I pushed down on his skate, I don't deny that, but I wasn't trying to hurt him. I don't think a player has ever missed a game from one of my suspensions."
I agree with Simon. I believe he knew what he was doing. He stepped on the part of Jarkko Ruutu's boot that is thick and well protected, and if he really wanted to cause damage, he could have. In big boy world, it was a love tap. Ruutu was soliciting a response from Simon by flailing toward Simon's direction. It worked. He got his response.
The NHL needs to send a message to adults and children playing hockey that kicking can NOT take place. Too many bad things can happen with a razor-sharp blade. And while someone like Simon can usually control his actions, an uncoordinated high school kid might not be able to.
I understand the number of Simon transgressions factored into his suspension; but looking at this particular situation, I think it was too harsh.
---
John,
First, excellent work on "Jonesy." I convinced my wife to let me read it first and then put it under the tree for me to open on Dec. 25.
Second, speaking of my wife, she walks around the house and will randomly yell out "Buccigross, Buccigross!" She has no idea who you are really, other than your name (in her words) is "sooo much fun to say."
Greg
Women screaming out my name? The line is long my friend.
---
Hi John,
Think of how many 2-on-1s get broken up by a "great play" by some defenseman flopping onto the ice and taking away the shooting/passing lane. What about making it illegal for nongoaltenders to go down on the ice to block a shot or pass? Aren't the "new" rules supposed to encourage defensive players to use their skating abilities to take away opportunities? So, why is this one an exception?
Cheers,
Kevin, Denver
I love the 2-on-1 "flop" move by a defenseman. Ray Bourque might have been the best all time at that move. Blocking shots takes AMAZING courage. It's one of the most important aspects of the game. It shows a player's love of the game and love of his team.
---
John,
My favorite e-mail of yours was the one from, I think, last season about how the right girl would feed you one-timers on Lake Ontario until her arms fell off. That may eventually happen, but for now I'm thrilled that Lisa is crazy enough to go to Ottawa with me in February so I can fulfill a dream I've always had of skating the Rideau Canal and attending my first NHL game in Canada (Sens-Canadiens). Is this the right girl or what?
Jon
Chicago
Lock her up to a 12-year extension.
---
Bucci,
Lifelong Pens fan relocated to Dayton, Ohio. I was wondering if you have heard any rumblings about the Pens going after a No. 1 goalie in [Marc-Andre] Fleury's absence? I know [Dany] Sabourin is a stopgap measure, and being close to the Blue Jackets and seeing Ty Conklin in action, I don't think Conklin should necessarily be considered "solid." Should I stop figuring on Pens playoff tickets now? Attached is a picture of my son Ben wearing the Pens throwback. He had this before they became "cool" for the outdoor game!
Jim
I see Curtis Joseph signing with the Senators and the Penguins not doing anything with their goaltending.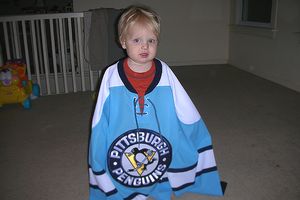 John Buccigross is an anchorman for "SportsCenter" and ESPNEWS. For questions, comments or crosschecks, e-mail him at john.buccigross@espn.com. To check out his new book, "Jonesy: Put Your Head Down And Skate," click here.