What if the NHL started from scratch?
What if every player's contract was shredded and we started all over?
What if the NHL restocked all 30 teams through a league-wide draft in which every player was available?
What would the first round look like?
Well, I'm going to play the part. I'll be all 30 general managers. Once I take a player, I have to react, but as another organization, considering history and market. Money is not a factor. Every player in the first round gets a five-year, $30 million contract and a free Samsung washer and dryer. Also, to help with television ratings, the draft will be held outside in Buffalo, N.Y.
Shot of the Week
You know how it works. We present an NHL photo, and Bucci provides a caption. E-mail him your suggestions (include your name and hometown/state), and we will use the best ones and provide a new photo the following week.
LAST WEEK: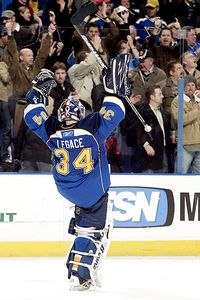 Karate Kid Night in St. Louis ended uncomfortably when Manny Legace kicked anthem singer Peter Cetera in the rib cage. (Getty Images)
Your captions:

Old-time hockey, like Ned Braden.
-- Zach Boyko (Binghamton, N.Y.)
"Everybody! Y-M-C-A!"
-- Dan Victor (North Vancouver, British Columbia)
"Hey guys! Forget the stick. I need a new leg from the bench!"
--
Chris McCann (
Tustin, Calif.)
Everybody Pang-Chung tonight!
--
Kim Koerner (Cypress, Calif.)
THIS WEEK: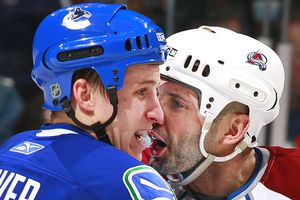 He didn't know which was worse -- the Backstreet Boys medley or the breath that smelled like burnt hair. (Getty Images)
The draft order was determined by the league standings as of Monday night. We'll go from worst to first.
So, let's commence "The 2008 League-Wide Draft Because No One Has Any Players Presented by Starburst Fruit Chews."

1. Los Angeles Kings
Sidney Crosby: Talent, desire and commitment make Crosby worthy of the No. 1 pick. Add in that he is only 20 and probably will get a bit better, and he is the obvious first pick. The marketing advantage of having the No. 1 marketed player in the sport is too juicy for Los Angeles to pass up. We will sell out our season-ticket plans and every seat before Game 1 of the regular season. Southern California cougars, rejoice!

2. Tampa Bay Lightning
Vincent Lecavalier: So, that worked out well. We get one of the best all-around players in the NHL and one who has history with our organization. He will turn 28 in April; but, again, these contracts are for five years. His play between now and age 33 probably will be ol' V-neck's best.

3. Chicago Blackhawks
Joe Thornton: Boy, I've got the playmaking and goal-scoring Evgeni Malkin and Alexander Ovechkin still on the board. Some good goalies, too. But I'm taking Joe Thornton. That just sounds like a Chicago kind of name. How good would Big Joe look in that Blackhawks sweater? That would excite the fan base.

4. Toronto Maple Leafs
Dany Heatley: A great 27-year-old forward who is in his prime. Let's face it -- Toronto needs a Canadian to lead its resurgence. The Heater will be a great start in changing the mind-set of this franchise and bringing it hope and vitality.

5. Edmonton Oilers
Alexander Ovechkin: Wow. How did Ovechkin slip to No. 5? Well, big-time centers and the Toronto angle have him falling into our lap. However, there is concern that, on our fast ice here in Edmonton, Ovechkin might plow right through the end boards and end up in Trail, British Columbia.

6. New York Islanders
Evgeni Malkin: Just what this franchise and fan base needs -- a 21-year-old superstar. Is there a better combination of playmaker and finisher in the NHL? But the big question is: Will he rise or fall in the playoffs? There are those around the league who wonder. I don't. Our fans need a star -- badly.

7. St. Louis Blues
Mike Richards: This is a very Blues, Midwestern pick. We are thinking championship here and believe this man will not be afraid when it matters most. Richards has skill, grit, nastiness and large entertainment value. He is Missouri through and through. We can't think of a better foundation on which to build our team.

8. Florida Panthers
Ilya Kovalchuk: We need a flashy star here. He is a perpetual minus player, but can you accurately judge any Thrasher? He will be the most exciting Panther of all time. He is what we have been waiting for -- a king to lead us to South Beach. He will turn 25 in April, so we get him for the rest of his 20s. Belvedere and Red Bull, please.

9. Atlanta Thrashers
Ryan Getzlaf: Damn, we almost got Ilya back. We need to build a team around a big, burly, talented center like Getzlaf. We never have really had that here, and it shows. We have not been a factor in the NHL because we always have been weak up the middle. This changes that. This guy is the real frickin' deal.

10. Carolina Hurricanes
Eric Staal: We like our guy. Yes, he is a minus player, but he is durable and only 23. His best years are in the future. He is a good power-play and postseason player. We think he can (and should) be a 40-goal/60-assist/100-point player for the next five seasons. He has been big in the clutch before, so we know what we've got.

11. Washington Capitals
Marian Gaborik: We are depressed about losing Ovechkin, but we are going to unleash Gaborik. In our aggressive system, Gaborik can be in Ovechkin's neighborhood in terms of goals. He doesn't bring Ovechkin's freight-train body checks, but, my gosh, he takes your breath away in the open ice and has a lethal release. This is a great get at No. 11.

12. Phoenix Coyotes
Dion Phaneuf: This defenseman has worlds of promise. Maturity is coming slowly. We hope he can smooth out some of the rough edges of his game and replace a little bit of the bravado with some smarts. This is a player we want others to emulate. Big, fast, strong, talented and relentless. You have to have at least three of those attributes, or you can't play for us. Phaneuf has all five. A five-tool player.

13. Buffalo Sabres
Jarome Iginla: We now understand the value of leadership and what happens when there is too little. This man gives us Chris Drury-like leadership and 50 goals. He is a great fit in our market. Our fans will love him. He is 30, so there is risk of him wearing down. Still, he is in great shape, and we think he will be an All-Star-caliber contributor over the next five seasons.

14. Columbus Blue Jackets
Rick Nash: I mean, it's a great name, and player, around which to build a non-traditional-market team. His name is easy to pronounce, and he has an Ohio demeanor about him. We need to get him a playmaking center in the second round, and then we'll be off and running. We were tempted to go with a center here, but we will stay with Nash.

15. Boston Bruins
Anze Kopitar: This guy has Malkin-type ability. His penalty minutes are very low. We don't know how he will respond in big games because he has never played in one. He has great size, and he is only 20 and will get better over the next five years. We see him peaking as a 50-70-120 player. To get him at No. 15 on pure talent is beautiful.

16. New York Rangers
Marian Hossa: At 29, he is a big-time two-way player with skill. We are talking about a Hall of Fame player. Power play, short-handed, offense, defense. His playoff numbers concern us a little, but we think he is a pro's pro and his next five years will be productive and clutch.

17. Vancouver Canucks
Pavel Datsyuk: We are not sure why this guy fell to No. 17, but we will take him. A surreal player. He plays like he came down from heaven. Mitch Albom should write a book about him and go on "Oprah" to sell it. They will eat it up. He will turn 30 in July, but he's a two-way gem our fans will love.

18. Nashville Predators
Jason Spezza: Yes! A big center with hands soft enough to handle a ceramic swan. We have been praying for someone like him. He is our George Strait. Underappreciated and overlooked because he makes it look so easy. He is a great interview. He makes people better. What more could we want at No. 18?

19. Calgary Flames
Chris Pronger: Losing Phaneuf and Iginla stings, but we want a player to set the tone for us. Pronger's power-play acumen is really evolving and his snarl is still there. We think his kind of game and character will be massive come playoff time. He will turn 34 next fall, but we like the next five years with him back on defense.

20. Colorado Avalanche
Roberto Luongo: It's time for this goalie to be selected. After having Patrick Roy in this organization, we know the value of great goaltending. It sets the tone for everything. Without it, you are like a professional golfer who can't putt. He can't win. We are going to build our team from the net out and bring home another Cup.

21. Philadelphia Flyers
Jonathan Toews: We are looking for value with this pick, and since we lost Richards, we think Toews is a good player around whom to build a team. A great personality and tons of game. He just looks like a player who will win a Cup one day. It seems like it's part of his destiny.

22. New Jersey Devils
Martin Brodeur: C'mon, we have to see him break every goalie record in a Devils uniform. He has been the backbone of all our Cups. Because of his athleticism, we think he will prosper until he is 40. We think he has a chance to retire with 700 wins. And we want them all with the Devils. He will go down as the most important Devil in so many ways.

23. Montreal Canadiens
Henrik Zetterberg: We know some are concerned with the star forward's injuries, but to get a player like this at No. 23 is insane. If his back holds up, this will end up being a great value pick.

24. Minnesota Wild
Nicklas Lidstrom: We understand the defenseman will be 38 soon, but he still is an amazing player. We are betting on 40 being the new 34 and ½. That way, we get five years of Lidstrom in his 30s. There is no one like him in the NHL. He is this year's NHL MVP, and we pray he keeps playing young.

25. Anaheim Ducks
Jean-Sebastien Giguere: He is a Game 7 away (2003) from having two rings with two very different Anaheim teams. He is the most underrated goalie in the NHL. This low in the first round is a good time to take a goalie.

26. Pittsburgh Penguins
Patrick Kane: Good gosh, we lost Crosby and Malkin. We need to draft some young skill and watch that skill get better over the next five years. Kane has special hands and a special awareness that makes him … special.

27. San Jose Sharks
Daniel Alfredsson: Another older player (he will turn 36 in December), but we think he will continue to be a very good player for at least three years. A great role model for younger players. He is too good to pass up at No. 27.

28. Ottawa Senators
Henrik Lundqvist: Man, we've lost our entire top line. We are going to build from the net out, and we like the special qualities of this goalie. He is a winner and has a cool vibe about him that will settle our goaltending soap opera.

29. Dallas Stars
Mike Ribeiro: This really has worked out for us. He already had a home in Dallas as an elite offensive center. He is right in his prime, when youth and experience come together to produce an athlete's best years. He is making others better.

30. Detroit Red Wings
Paul Stastny: Well, just about our entire team is gone. We like the steadiness of this forward as we start over. He seems like a good player on whom to build. The Red Wings' way is hard-working, two-way play. We think Stastny can evolve into a real organization staple whom others can emulate.
Mother of All Mailbags
Hey John,
Your prediction skills know no bounds. Lou Lamoriello just announced that Scott Niedermayer's No. 27 will one day hang from the rafters at The Rock. Please tell me you see millions of dollars and Kelly Monaco in my future!
Bill
Brick, N.J.
Lamoriello said the same thing about John MacLean a while back, but we will see. Millions for you in the future? That is possible. Write the next sitcom sensation. Monaco? I don't see it happening, Billy.
But since you brought it up, here are some other predictions for 2008:
1. Amy Winehouse will go to rehab.
2. Jarret Stoll will get traded to the Islanders and start dating Christie Brinkley. By 2010, he will be dating Betty White. White is six years older than Gordie Howe.
3. NHL commissioner Gary Bettman will announce that the Montreal Canadiens will move to St. George, Utah, saying the Sun Belt will continue to support hockey. The hundreds who watch the Coyotes and Thrashers on TV agree.
4. Oilers GM Kevin Lowe will begin outlining this summer's offer sheet to Malkin -- 20 years, $200 million and the keys to Fernando Pisani's place. A chagrined Pisani will move in with teammate Zack Stortini. Pisani will be put on a line with Malkin and score 50 goals, eventually leaving to sign with Pittsburgh and play on a line with Crosby. He will score 93 goals in the 2010-11 season and make so much money in endorsements from The Olive Garden that he will buy the Oilers, fire Lowe and buy Malkin's place. Malkin will move in with Dustin Penner, and their conversations will be nonstop and riveting.
---
Bucci,
Would it be in the Sabres' best interest to throw a lot of money at Brian Campbell in hopes that he takes the bait? Say $5-7 million a year? As a depressed Sabres fan attending school in the south, I can hardly bare to watch as another Buffalo team self-destructs.
Thanks,
Daniel B.
Charleston, S.C.
Kimmo Timonen (who will be 33 in March) signed a six-year, $37.8 million deal with the Flyers this past summer. Brian Rafalski (35 in September) signed a five-year, $30 million deal with the Red Wings. Campbell (29 in May) plays more minutes than both and is considerably younger, and NHL revenues are up (thus, the salary cap should increase again next season). Therefore, as we have stated here before, the market says he gets seven years, $42 million. Which means a highly competitive team probably would go to eight years, $50 million. This is the reality the Sabres have to deal with. This is why this should have been dealt with a year or two ago. If they aren't prepared to pay that or can't stomach that kind of contract, they will need to trade Campbell before the Feb. 26 deadline, then get out of the NHL business.
---
King Buccigross,
In your last column, you said Ireland is a country that would really take to hockey. You should definitely be aware of the five-team Irish Ice Hockey League, which is in its first season with the nine-team IIHL Development Division. All games are played at the new Dundalk Ice Dome, where the Irish national team won silver last year in the Division III World Championships.
Steve Trimble
Aquashicola, Penn.
I went to Ireland this past September to cover a golf event, The Walker Cup, for ABC and was happy to see a color photo on the sports page of workers painting a local hockey team's logo on the ice in preparation for the upcoming season. Like I said, Ireland has the temperament, climate, personality and growing income to develop hockey talent and fans.
---
Bucci,
I'm sitting here this morning, watching Kings-Penguins. As a longtime Pens fan, I have a couple of questions.
First, when are people going to start referring to how two teams won the 2004 NHL lottery (what was said when [Shaquille O'Neal and Alonzo Mourning] went 1-2 in the NBA draft one year)? Evgeni Malkin is a stud! A lot of "pundits" doubted his ability to hold this team together during Sidney Crosby's injury. Soon-to-be 5-2-2 is pretty darn good, and Malkin is clearly driving the bus.
Second, this is my third time seeing the team play since The Kid's injury, and, is it just me, or is Evgeni imposing his will, physically, more these last few weeks? It would appear he should shed that "soft" label that I've seen attached to him (which I always thought was ridiculous, anyway).
Manny
Las Vegas
There is little doubt Malkin has risen to the challenge in Crosby's absence. I think Crosby's injury and Ovechkin's contract both are motivational tools for Geno. Through his insane play, Malkin has positioned himself for a contract similar to that of his countryman Ovechkin. I'm sure the Penguins are trying or will try very soon -- no later than this summer -- to extend Malkin's contract. His deal will expire after next season.
---
Hey John,
With the Capitals taking the division lead (Feb. 6), do you see them making a playoff run this year? In your article last week, you mentioned the fall of the Lightning and how Martin St. Louis, along with a few others, should be traded. Do you see a big name such as St. Louis coming to Washington to complement Ovechkin?
Will
Chevy Chase, Md.
St. Louis would be a great addition on any team. He is smart, energetic, creative, experienced and great in the room. I do expect the Capitals to be aggressive at the deadline. They can taste it. I would favor them to win the Southeast Division right now. Ovechkin's will can't be denied, but they need some secondary scoring, and someone like St. Louis would be a great get. The Caps can't expect Ovechkin to keep up this torrid pace the rest of the way. He needs some help, or he could get worn out. Vaclav Prospal is available to any team that wants him. He likely will be a deadline-deal player after the big fish are out of the pan. Or in the pan. Use whatever pan analogy you are most comfortable with.
---
Hey John,
I was lucky enough to catch the ceremony for Ron Hextall's induction into the Flyers' Hall of Fame. It was amazing, great speech about how he connected with the Philly fans. Just wondering what you thought the odds are for him to get into the Hockey Hall?
Thanks,
Mike
I saw Hextall in the stands watching Monday's Beanpot final between Boston College and Harvard. He is an assistant general manager with the Kings. (I also saw Ducks GM Brian Burke and his son Patrick, who is a scout for the Flyers. And I saw Ron Francis, who works for the Hurricanes.)
Back to Hextall.
Goalies are a difficult bunch to separate, as we've talked about here before. Mike Vernon was an NHL second-team selection once and won a Conn Smythe Trophy. He also played in five All-Star Games, a solid number for a goalie (two more than John Vanbiesbrouck).
The problem with Vernon and Vanbiesbrouck is they seem comparable to Andy Moog, Rogie Vachon, your boy Hextall (a Vezina and Conn Smythe winner), Dan Bouchard and Lorne Chabot. I suppose you can't let them all in. If you asked 10 goaltending folks, like John Davidson, Darren Pang, Daryl Reaugh, Linda Cohn and other lovers/historians of the game, who the best goalie of that lot is, who would they pick? I suppose if seven of 10 picked the same guy, that guy would be in. My guess is that, because of his personality, Vernon would get the nod, but it wouldn't be on the first ballot. Maybe goalies should open their own Hall. There probably should be more of them in there.
---
Hey John,
In your Tuesday column you wrote:
"The Red Wings are playing with machine-like efficiency. I expect them to make a major move at the deadline, if they can, and really make a hard run at the Cup."
The Wings are obviously the one consistently elite team this season; but, as always, the playoffs are a different season. In your opinion, do they need more grit, or just depth? Who do you see as possible trade-deadline pickups that could put them over the top?
Ted
Vancouver Island
Well, they will miss Daniel Cleary, who will be out for almost the rest of the regular season with a broken jaw. The Wings are like a lot of teams. They will get together with their scouts and come up with a list of 10-20 players they believe could help them. Then, they will go back and forth and discuss the assets they have and how risky each move would be. For instance, the Wings, like every other NHL team, would love Hossa and would offer the Thrashers a great deal. But the Wings, and others, would want someone like Hossa beyond this season. So, that trade becomes very risky.
The Wings are a great team. They don't need much, but they have to look at an improving Anaheim team and make sure its talent doesn't surpass theirs. Niedermayer came back, Teemu Selanne appears to still have his game and Burke has Edmonton's first-, second- and third-round picks in this June's draft to deal. No other good team has that to work with. That makes Anaheim the favorite to get Hossa if Atlanta deals him. Atlanta might be able to get Chris Kunitz, Edmonton's No. 1 pick (a lottery pick) and maybe Bobby Ryan. Or perhaps Burke will keep the lottery pick, knowing his blue line is aging and Niedermayer and Selanne might retire again. The 2008 draft has a nice crop of blueliners from which to choose. Drew Doughty just sounds like a Duck, eh?
---
Hey Bucci,
Being a lifelong fan of hockey, I agree the Stanley Cup is the "holy grail" of all sports. When I was watching the New York Giants win the Super Bowl, I was dismayed that the owners got to hold the Vince Lombardi Trophy (and get there pics taken with it, as well) before any one player got to be within arm's length of it. All I could say to everyone around me was, "The owners didn't play against the Patriots; it was the Giants' players who did." Now, I don't remember if this is the same for baseball and basketball. But it sure does say something about the respect the players get from the NHL as a whole (GMs, owners, etc.) when they win the Cup.
Corey Young
That is a great point I hadn't really noticed before, Corey. Baseball and basketball do the same thing as the NFL.
---
John,
Goalie talk usually revolves around Brodeur and Luongo, and rightfully so; but what do you think about Evgeni Nabokov's chances at a Vezina this year? With the sporadic scoring of the Sharks, Nabokov keeps them in every game. Did you see him steal the Columbus game? Jason Chimera looked liked he was about to cry before he finally got that late tally. It's also nice to see Jonathan Cheechoo rediscover his scoring touch as of late. Shark doubters may just be eating crow after all.
Chad Paul
Nabokov is a top-shelf goalie with the ability to make the spectacular game-saving save, which is why the Sharks will be a Stanley Cup contender once the playoffs begin. But if you match up Nabokov with Tomas Vokoun, you see similar "games played" numbers. From there, it favors Vokoun. He has seen more than 300 more shots than Nabokov and has a higher save percentage. Brodeur is almost in that same boat. We still have almost 30 games left, so this will play itself out. Nabokov has a chance to separate himself, especially if the Sharks can get their offense going. The Sharks began the week at 25th in goals scored and second in goals allowed.
---
Hey Mr. Buccigross!
My wife and I love reading your column and we absolutely miss seeing you and Chicken Parm on "NHL 2Night."
Ever since she was about two months old, our daughter Gabriella has loved watching hockey with her daddy. She cheers for her favorite team, the Detroit Red Wings, and clearly has visions of holding the Stanley Cup, or maybe just chewing on it, in her near future.
Hopefully, her (OK, our) hockey dream comes true and the Wings win another Cup this season!
Rick, Tabatha and Gabriella Smith
Ocala, Fla.
The love for "NHL 2Night" remains strong. As I tell most who e-mail with similar thoughts, it was the best of times in my television career. The show always made me feel … like a kid.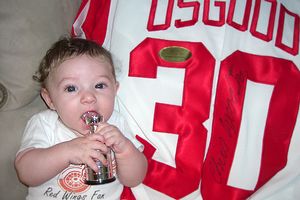 John Buccigross is an anchorman for "SportsCenter" and ESPNEWS. For questions, comments or crosschecks, e-mail him at john.buccigross@espn.com. To check out his new book, "Jonesy: Put Your Head Down & Skate," click here.