Whether you are Marty Turco, the late Mother Teresa, Billy Mayfair or Michael Stipe, faith is dealing with the doubt that is always tied to you, an anchor tied to you with a silver chain. In goaltending, religion, golf or art, there is always doubt. It's natural. It's useful. It's why we have faith.
Shot of the Week
You know how it works. We present an NHL photo, and Bucci provides a caption. E-mail him your suggestions (include your name and hometown/state), and we will use the best ones and provide a new photo the following week.
LAST WEEK: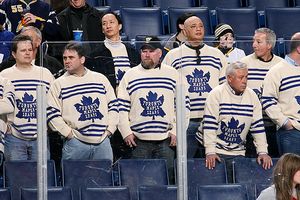 Cliff Fletcher's 2008 draft class. (Getty Images)
Your captions:

"I was here first. You guys go home and change."
--
Derek Wilson (Chicago)
"The local chapter of Tri Omega finds a new way to humiliate pledges."
--
Dan Franko (Odenton, Md.)
Now that summer is approaching, we should see the Leafs cheerleaders shed their winter look.
-- Charles T. Rainey (San Diego)
"Well, this is awkward. I don't even know these guys!"
-- Steve Lautman (Pittsburgh)
"Aren't these great! They had a 'Buy one, get 10 free' sale!"
-- Rob Guarini (Lindenhurst, N.Y.)
Sweater by Hilfiger. Tire tracks by Honda. Body by Molson.
-- Howard Freeland (Jupiter, Fla.)
THIS WEEK: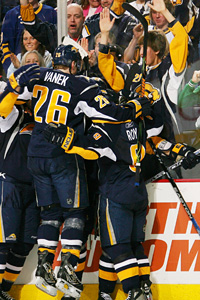 A magician seminar with David Blaine still couldn't get the Sabres in the playoffs. (Getty Images)
So, in order to endure and, on occasion, succeed, one must have the courage and energy to battle, have faith and believe.
The New York Islanders are in a perpetual battle to overcome doubt. Right now, there is little reason to believe. Faith is not a Hill on Long Island, it's a mountain. The Islanders have not won a playoff series since Ray Ferraro hit David Volek with a perfect saucer pass at 5:16 of overtime on May 14, 1993 in Pittsburgh.
The Islanders' arena, Nassau Coliseum, is like being inside a 1987 Pontiac Sunbird with the floor mats missing and Belinda Carlisle's "Heaven is a Place on Earth" cranking in the cassette player.
They have no budding superstars in their system, although Kyle Okposo is a start. They need to lose their last three games to increase their chances of winning the draft lottery and selecting Steven Stamkos with the No. 1 overall pick in this June's draft. (Don't know who Stamkos is? Watch this
.)
Now that is faith. And hope.
Back to reality.
Despite all of this negativity and doubt, the Islanders still believe. From top to bottom, they continue to grind and attempt to resuscitate a dormant franchise.
"Islanders TV" is the first 24-hour Internet television network devoted to a sports team. The Islanders launched it in October 2006, hiring producers with cameras to follow the team around 24/7. After eight months, the NHL took notice and signed a deal with NeuLion (owned by Islanders owner Charles Wang) to create "Islanders TV" clones for all 30 NHL teams, plus NHL.com and NHL Center Ice. After the NHL signed on, the NBA's Knicks followed, and NeuLion has been in talks with other NBA teams and leagues as well.
Wang, you see, is an ideas man and hires ideas people. But I would like to see the NHL step in and give the Islanders and their passionate fans a little more of a boost. I would like to see the NHL grant the Islanders an outdoor game against the Rangers in Yankee Stadium. Talk of an outdoor game in Yankee Stadium goes back to 2006.
With the ratings success of the Penguins-Sabres matchup this past New Year's Day, the outdoor game has suddenly become the centerpiece of the NHL regular season. Every team wants to be part of this. The exposure, broad-based marketing and traction from this season's outdoor game made just about every NHL team salivate. Imagine how many baby blue Penguins jerseys were sold after that game? And the teams salivating the most are teams like the Islanders, who are struggling for their own traction. I think they deserve a break. Why? Well, I'm just a nice guy. I also think it makes more sense than a Bruins-Rangers game.
An Islanders-Rangers outdoor game, aggressively marketed in New York City and across all NHL platforms, would at least match the ratings from the Sabres-Penguins tilt. That game drew a 2.6/5 overnight rating, the highest regular-season NHL overnight rating in over a decade. The rating was higher than for Wayne Gretzky's last NHL game in 1999.
I mean, we are talking Yankee Stadium here. Imagine the buildup this game would generate in the nation's largest media market. The national anthem performed by Simon and Garfunkel, billboards, funny and nostalgic commercials during the summer and fall, promises of surprises, and so on. This is too easy. The steady buildup of this game would crescendo into a big-time New York City event. Using that energy and buildup as its base, the NHL could sell the Islanders-Rangers rivalry to the rest of the country and continue to work its way back into the mainstream sports radar.
The lslanders are the only U.S.-based team and NHL club other than Montreal to win four consecutive Stanley Cups. No other U.S. team has won even three Cups in a row. Its alumni are still young and recognizable. An old-timers' game with all those great Stanley Cup Islanders, as well as Pat LaFontaine, Ferraro, Pierre Turgeon and other younger former Islanders, could go up against the Rangers' alumni, which will have Brian Leetch, Mark Messier and Gretzky. Magic. What better reason to invite back Oleg Kvasha!
The Rangers-Islanders rivalry would light up a rink, burst through the television screen and earn very good ratings. It is one of those regular-season games that truly feels like a playoff game. That's what makes any outdoor game better. A hard-hitting, meaningful battle is the cherry on top of all the Yankee Stadium marketing the game will receive.
You might find two other U.S.-based teams with a rivalry close to Islanders-Rangers, but you won't find a better one. And having the game in New York makes the most sense if it's Islanders-Rangers, as much sense as a Blackhawks-Red Wings game in Wrigley Field or a Penguins-Flyers game at Penn State.
It is good sense and would help a franchise in need of a little help, a franchise that has a passionate owner who had a passionate-GM-turned-good-television-analyst make very bad trades. Sports are meant to be played, watched and experienced with passion, but administered with cold, calculating thought. The Islanders learned that the hard way.
C'mon, NHL, give the Islanders a break. Give them a reason to believe, some faith, some hope. Everybody will win. Even Oleg Kvasha.
And one more thing …
I went through all of the remaining games in the East and came up with these final standings:
Pittsburgh -- 103 points
Montreal -- 102
Carolina -- 94
New Jersey -- 99
Rangers -- 98
Ottawa -- 96
Philadelphia -- 94
Washington -- 93
Your playoff matchups: Pittsburgh vs. Washington, Montreal vs. Philadelphia, Carolina vs. Ottawa and Devils vs. Rangers.
Mother of All Mailbags
John,
Not sure what to do. Here is the dilemma. I have been a Thrashers season-ticket holder for eight years now. I am pretty sure I am not going to renew in order to send a message to the current ownership group that I am not happy with the direction of this hockey club. Some of my friends have berated me, saying if all the season holders did the same thing, eventually the club would be moved. I am torn. On one hand, I can't stand the thought of spending my hard-earned money on a product that isn't very good; but, at the same time, I don't know what I would do without a hockey franchise (again) in Atlanta. What should I do?
Confused in the ATL
Love hockey first and your team second.
---
John,
Is it reasonable to say that over the past two seasons, the Buffalo Sabres have had the worst front-office management, possibly ever? I cite the following from the past two seasons only. This is how you take a Presidents' Trophy winner and Stanley Cup contender and watch it dissolve into a 10th-place joke:
• Allowing Daniel Briere to reach arbitration after the 2005-06 season, when they were shocked by his $5-million-a-year ruling.
• Allowing J.P. Dumont, Jay McKee and Mike Grier to walk away as free agents after the 2005-06 season. While they were expensive, the loss immediately removed a whole lot of grit and veteran leadership from the roster.
• Allowing the contracts of both captains (Chris Drury and Briere) to expire in the same season, without extending one of them before the 2006-07 season.
• Failing to sign Drury or Briere during (or following) the 2006-07 season. They probably couldn't keep both, but the only way they screw that up is to sign neither one.
• Failing to make even an offer to trade-deadline acquisition Dainius Zubrus, who could've filled a hole left by the Drury and Briere departures.
• Allowing themselves to be backed into a corner (because of all of the departures) and forced to sign Thomas Vanek to a $52 million deal offered by Edmonton.
• Entering the 2007-08 season expecting Tim Connolly to contribute as a No. 2 center, even though he hasn't played 80 games since 2002-03 and, in that time, has missed basically three full seasons (2003-04 and 2006-07 for concussions and 2004-05 for the lockout), while missing a bundle of other games for countless minor injuries.
• Entering the 2007-08 season with the following defensive corps -- two guys with shattered confidence who got benched in the playoffs (Dmitri Kalinin and Jaroslav Spacek), a nearly 40-year old with heart trouble (Teppo Numminen), an All-Star without a contract (Brian Campbell), an injury-prone veteran (Henrik Tallinder) and a whole group of interchangeable AHLers.
• Allowing backup Ty Conklin (Pittsburgh) to leave and signing Jocelyn Thibault as the backup goalie. Thibault has been terrible, and Ryan Miller has been forced to start 30 straight games.
• Failing to come to terms with their best player and future captain, Campbell, and trading him to a legitimate Stanley Cup contender for an average-at-best Steve Bernier and a No. 1 pick.
• Dismantling their scouting program and instead relying almost exclusively on video scouting, even though the core of their roster that brought them to two straight East finals (Derek Roy, Jason Pominville, Campbell, Miller, Paul Gaustad, Vanek, Ales Kotalik, Drew Stafford, Daniel Paille, McKee, Maxim Afinogenov, Kalinin) were all products of their scouting, drafting and minor league system.
• Allowing a decades-long relationship with their AHL affiliate, the Rochester Americans, to dismantle.
[Managing partner] Larry Quinn and [GM] Darcy Regier have proven to be inept, incompetent and unwilling to acknowledge and/or learn from their mistakes. For all of the praise they received for having the franchise in a great position to adjust to the "new NHL" after the lockout, they should receive equal criticism for being the least prepared on how to run a franchise in the salary-cap era.
The mismanagement has been an insult to the great Buffalo fans who took an incredible ride with this organization for two seasons. To slowly watch it crumble before us is incredibly disheartening. I can't imagine another profession where you could make the mistakes cited above, continue in the same smug, defiant, reactionary mode, and still keep your job. I am disgusted.
Bryan Grabon
Naples, Fla.
At least you spend your winters in Naples. I feel your pain.
---
John,
I have to disagree with your comments on Pascal Dupuis being "average." He has been an almost point-per-game producer since the trade, something Colby Armstrong and Erik Christensen were not. And he also hustles and has a no-stop engine. While he may not be in the top tier of NHL talent, he is most certainly not run-of-the-mill, either. Also wanted to get your picks for the Pens in the playoffs.
Jason McDermott
Apollo, Pa.
My regular-season prediction review and playoff predictions will come in next week's blogumn.
Dupuis has good speed and defensive awareness, which will serve the Penguins well in the postseason. He won't score many goals and may, at times, look a little afraid. The Penguins are still a little green and will have difficulty winning road games against veteran teams. That's why finishing first in the East is so important. They will be difficult to beat at home. What I also like about the Penguins is the play of Jordan Staal. He is growing into a man before our eyes. He is getting quicker and better with the puck. This is why I picked the Penguins to win the East in this space before the season -- because they have a group of good players with room to grow.
---
John,
What I find interesting is that in the same article where you state that the Marian Hossa trade was great for the Penguins, you also wrote a blurb that contradicts this idea (the part on considering trading Evgeni Malkin). The reality is that if the Penguins give Hossa the money he's likely to be seeking (and worth on the open market), they won't be able to keep the talented young nucleus they have in place, meaning they traded two solid NHL performers and two No. 1 draft picks for a rental player. (Well, if Dupuis continues to perform as he has so far in the black and gold, that mitigates it somewhat, but it's still quite expensive.) Unless the Penguins make a great postseason run with Hossa adding major contributions to it, or they can somehow work out a contract with him and still hold on to Crosby, Marc-Andre Fleury, Staal and perhaps Malkin in the long term without having to surround them with AHL talent, the trade will prove to be incredibly short-sighted.
Mark Salomon
Toledo, Ohio
In my eyes, the only thing the Penguins gave up for Hossa was a first-round pick. Everything else was gray matter sprayed with Axe body spray. Getting Hossa for that, paying him for two months, and then seeing how he fits with the talent and culture of your team is far more intelligent than blindly giving him a six-year, $40 million contract in the summer. If I am the Penguins, I offer Hossa six years at $36 million. If he says no, let him walk. That negotiation would take five minutes. Do you want to be a part of a perennial power where everyone takes a little less than they could get on the open market and play with the game's best playmaker AND make $6 million a year for six years? No? Later, dude.
---
Hi John,
The season is winding down to the end of a very disappointing year for my hometown Sabres. I've had a tough time following the NHL the past few years for several reasons:
1. Rule changes: I hate the trapezoid and shootouts. Instead, let the goalies be treated like
any other player if they want to play the puck. Have a 10- or even 20-minute 4-on-4 overtime period. After that, if it's a tie, it's a tie; if they insist on the shootout (which they will), at least just count wins and losses and forget the OTL point.
2. Consistency of penalty calls during regular season vs. playoffs: When the rule book that's used all season is thrown out the window when the playoffs start, it cheapens the entire season and the league. Hooking and interference should be called the same for both seasons.
3. Those Reebok uniforms -- yuck! Somebody said it, probably one of the players, "Why change something that no one had ever complained about?" There are more complaints this season than the past 40 or more years combined! And my poor Sabres have the worst logo and uniforms in the NHL.
What's your opinion on my three major gripes?
Andrew
1. I like the trapezoid. I enjoy the tension a goalie feels when he enters the boundaries of the trapezoid. I love the regular-season shootout, but would increase the 4-on-4 overtime to 10 minutes.
2. Did you write that e-mail in 1978? We've improved in this area.
3. I think you might see some tweaking to the uniforms again this summer. I like the Sabres' new uniforms, actually. The throwbacks are cool and would break them out once in a while.
---
John,
I've been reading your column about trophy picks and, being from Pittsburgh, I've got to say I'm a little disappointed you chose Alexander Ovechkin over Malkin for MVP.
Looking purely at stats, Ovechkin may have more goals, but he's taken nearly 500 shots this season already -- 500! I would certainly hope he could manage to find the back of the net at least 60 times (not to mention he plays in the worst division in the East). Malkin, on the other hand, is sitting on fewer than 300 shots with 44 goals, putting his shot percentage three points higher. I did the math, and if Malkin had taken as many shots as "Alexander the Great," he'd be at 79 goals.
Regardless of stats, though, the award is for the player most valuable to his team. Without Ovechkin, the Caps would just be riding a better draft pick into the next season, because I have my doubts about their success in the playoffs -- if they even make it. Without Malkin, the Pens wouldn't be anywhere close to first in the division, closing in on the conference lead, or have sold 40-plus straight sellouts at home. It's also been said that a mark of a great player is one who makes those around him better, and, without out a doubt, those on the Steel City Line (Malkin, Ryan Malone and Petr Sykora) are having career years.
When you get down to the brass tacks, do you still agree that Ovechkin is more valuable to his team than Malkin is to the Pens?
Jordan
Pittsburgh
People still use "brass tacks?" Wow.
Malkin has talent dripping from his ear holes. Ovechkin has that, and a spirit that envelops an arena. They are different players and different people. I also think Ovechkin would explode in the playoffs. I'm a little concerned at how Malkin will react -- during last season's playoff series against Ottawa, he had no goals in five games. He is a year older and the Penguins won't be playing against a Stanley Cup finalist in the first round this season, but I do think it is something worth monitoring.
---
Hi John,
I believe the Red Wings have a great shot at hoisting the Cup this season and, as long as they get healthy, I think they are the best team in the NHL! With the additions of Brian Rafalski, Dallas Drake, Brad Stuart and good solid goaltending from Dom and Ozzy, I think we have all the talent we need to get us over the hump! And with Darren McCarty coming back, we have physical presence now. So, I wanted to know how you feel about their chances and who do you think is gonna win it this year?
Jason
Wayne, Mich.
We have to wait until we see the matchups, but I think the Wings have a better chance to win the West than they have had in some time. Could they beat Anaheim and San Jose back-to-back if those matchups materialized? I would probably say no.
---
John,
I've been listening to two new great CDs you should check out. One is from an English band called Back Door Slam. Think Cream with a sprinkling of Hendrix. Also, check out "Mescalito" by Ryan Bingham. If Willie Nelson, Jack Johnson and Kid Rock had a baby, it would sound like this.
John from Charlotte
New R.E.M. CD is out Tuesday. Please support an American institution.
---
John,
I wonder if Joe Thornton read your comment on his inability to shoot on his way to Phoenix?
Mohsin Barra
Jupiter, Fla.
• Joe Thornton -- seven goals in 30 games from Jan. 17-March 21.
• Bucci column comes out March 25, questions Joe's shooting ability.
• Thornton scores seven goals in four games.
Tony Robbins, who? Tony Robbins, what? John Buccigross: Master Motivator.
Joe Thornton is playing the best hockey of his career. If you consider his experience and size, when he shoots the puck with purpose, skates with fire and passion, and passes like he always had, there is no better hockey player in the world. It is why San Jose was my preseason Stanley Cup pick. And no one is more likable than Thornton. That new NHL commercial where they edit players passing the puck around the ice until little Sparky scores on Ken Dryden and Ryan Getzlaf celebrates in the corner always stops me in my tracks. And my favorite few seconds is the shot of Thornton coming around his net and breaking out in full flight down the ice. It fills me with so much emotion, my eyes get wet.
Thornton's goal totals over the past three seasons coming into 2007-08 are 22, 29 and 23. Players with those totals don't consistently shoot the puck well, whether it's lack of shooting talent, lack of animalistic effort or experience. What I know is, Thornton continues to get better, and his ability to dip into his well only goes to show he has more to give and is only now approaching his peak. That is damn scary.
---
Mr. Buccigross,
I just wanted to send you an e-mail and thank both you and Jonesy for a wonderful job on a great book. I'm a huge Flyers fan and recently broke my leg playing hockey, so I had plenty of time to read it. It really is a great read, and not just for hockey fans. The best parts were about the relationships with teammates and fellow NHLers. It really made me laugh and was exactly what I needed at a time when I was feeling pretty low. It really motivated me to work hard rehabbing my leg and get back out on the ice.
Mark Kotanchik
A 34-year-old hockey player in Albuquerque, N.M.
"Jonesy" -- the gift that keeps on giving!
Hockey fact: The Detroit Red Wings' team record for goals in a game is six by Howe. Not Gordie Howe, Syd Howe. No relation. Feb. 3, 1944. Syd Howe played for the Red Wings for 11 full seasons. His last season was 1945-46. Gordie Howe joined the Red Wings the following campaign.
---
John,
Thought I would send a picture of my daughter Ella waiting for her first hockey game. The Gold Coast (previously Brisbane) Blue Tongues (awesome Aussie hockey name!) kick off their home games on May 10.
Cheers,
Darryl
Australia
What Michael Hutchence was to INXS, Ella is to this column.
"This is the power
Since time began
Every single hour
That we have known
And from each moment
All that is left
Sleep of the innocent
Just one desire"
"Shine Like It Does" is one of the 16 greatest songs of the last 24 years. Amen.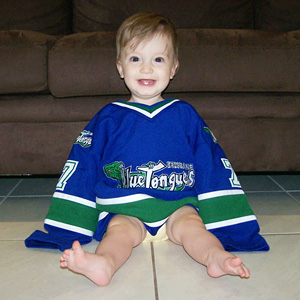 John Buccigross is an anchorman for "SportsCenter" and ESPNEWS. For questions, comments or crosschecks, e-mail him at john.buccigross@espn.com. To check out his new book, "Jonesy: Put Your Head Down & Skate," click here.