We don't hide from our predictions in this space.
So, here is … The Final Tally for the Preseason Predictions:
Western Conference -- six out of eight: Vancouver's choke cost me No. 7, and my Cinderella Blackhawks pick almost came true, as they missed by three points.
Eastern Conference -- four out of eight: Carolina's choke made it an abysmal .500 season. My four other preseason playoff teams were the last four out in the East.
Shot of the Week
You know how it works. We present an NHL photo, and Bucci provides a caption. E-mail him your suggestions (include your name and hometown/state), and we will use the best ones and provide a new photo the following week.
LAST WEEK: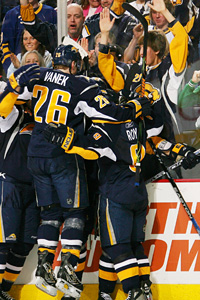 A magician seminar with David Blaine still couldn't get the Sabres in the playoffs. (Getty Images)
Your captions:

"Are you sure that jumping up and down will get rid of the hiccups?"
--Howard Freeland (Jupiter, Fla.)
"Wait guys, we've got this all wrong. Vanek is supposed to be the one carrying us."
--Jeff Wemmell (Allegany, N.Y.)
"Hey guys, get me up a little higher. Oh, there it is. I see it! I see it!"
--Mike (Arlington, Vt.)
"You got us tee times for next week at Pebble Beach? Awesome!"
-- Paul Ruggles (North Olmsted, Ohio)
"Hey Van, you feel light. Did you decide to leave your $10 million in your locker tonight?"
-- Michael Setterberg (Phoenix)
"Left side low. Still low. There, now he is level."
-- Jeff Baker (Ottawa)
THIS WEEK: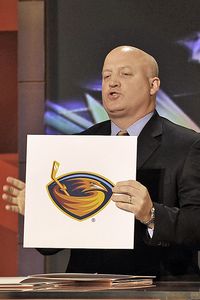 Bill Daly giving the bird. (Getty Images)
Other preseason predictions that appeared here on ESPN.com, alongside David Amber, Scott Burnside, E.J. Hradek and Barry Melrose, had me taking Pittsburgh, Ottawa, Carolina, Detroit, Vancouver and San Jose as my division winners. I had three out of six to lead the pack. The other fellas each had two correct division winners. I win a free bowl of ESPN cafeteria clam chowder and an autographed picture of Scott Van Pelt.
My preseason Western Conference playoff winner was San Jose and my East winner was Pittsburgh. My pick for the Stanley Cup was the Penguins. We'll see how those turn out.
Before we get to the playoff predictions, here are 30 thoughts on the 30 teams. We'll go from 30 to 1 in terms of points.

30. Tampa Bay Lightning
Not surprisingly, they did not make the playoffs; finishing last overall. But better to finish 30th than 17th. Now, the Lightning receive the No. 1 overall pick in this summer's NHL draft. Getting Steven Stamkos will be great, but the Bolts have no one to play with him, and there's not much after Vincent Lecavalier and Martin St. Louis. What's worse, they are boring after Vinny and Marty. This organization needs to start over, and new owner Oren Koules is a great start. I don't think coach John Tortorella will be back, but expect Vinny to sign a big long-term deal.

29. Los Angeles Kings
The Kings will get a big-time young defenseman in the draft, but Stamkos would have been gold here. I would play the kids next season and get in the lottery again. They have to keep collecting big-time young talent.

28. Atlanta Thrashers
No hope right now. They will get a defensive talent to join Tobias Enstrom and make up for the awful Braydon Coburn trade to Philadelphia. The Thrashers might have to consider trading Ilya Kovalchuk if someone gives them the farm.

27. St. Louis Blues
I'm sure the Blues will try to get Marian Hossa this summer. St. Louis needs forwards. Its key players are older, and the team has little offensive fire power. Not an ideal position to be in.

26. New York Islanders
You look at their roster and ask yourself, "Can you really expect them to be better next season? The Isles will go hard after Hossa and Brian Campbell. That would transform the team.

25. Columbus Blue Jackets
There is a bunch of decent stuff here, but they will need to get big leaps from people like Gilbert Brule and Nikolai Zherdev to make a move in the West. Would you bank on that?

24. Toronto Maple Leafs
Grab knitting needles. Shove in eyes.

23. Phoenix Coyotes
The Coyotes made a jump from 67 points to 83 this season. They are coming on and will be a real playoff contender next season if Kyle Turris can step in at age 19 and be a factor. The season after next will be the year Phoenix becomes a force. The playoffs are a possibility in 2008-09.

22. Florida Panthers
I think there is hope here. Stephen Weiss saw his point production drop this season, but I think he arrived as an NHL player. I like him. He needs a coach who believes in him and gives him more responsibility. This team should have made the playoffs.

21. Vancouver Canucks
They are a lot like the Rangers. Scored 213 goals and have a great goalie. Injuries, and maybe a little lack of will, did them in. The Rangers have issues, too, but they have tons of will.

20. Chicago Blackhawks
The story of this NHL season was the rebirth of the Blackhawks. We've been begging for it for seven years in this space, and it took the death of Bill Wirtz to make it happen. That is uncomfortable to think, write and comprehend. He was someone's dad, grandpa, a friend; but to ignore it would make any documentation of this season fiction. It must have been difficult for Rocky Wirtz to make such sweeping changes only days after his father's death, but it was the right thing to do. How this was all done in seven months is not the NHL story of the year, it's one of the sports stories of the year. They will make a big free-agent signing this summer.

19. Edmonton Oilers
The Dustin Penner signing was still a mistake, but at least the late surge probably kept Anaheim from getting a big-time prospect. Still, the 12th overall pick should still bring the Ducks a very good player, considering the depth of this summer's draft. The Oilers have some interesting young talent, but they were 15-4 in shootouts. If that record was, say, 7-12, then they finish with 80 points and Anaheim is picking sixth.

18. Buffalo Sabres
The Sabres almost made the playoffs despite all of their mismanaging. I would revisit that Brian Campbell thing. He still can be had if Buffalo is smart.

17. Nashville Predators
Built for the long haul. I had them just missing the playoffs, and they just snuck in. And they pick ninth in the draft this summer. The Preds still lack that franchise player they desperately need for marketing and to win a playoff series.

16. Carolina Hurricanes
Too many injuries and not enough scoring from the back end. Eric Staal did all he could. Seven game-winners and he didn't miss a game for the third straight season. More points than Nashville, but no playoffs for the Canes.

15. Boston Bruins
A miracle. The 1967 Boston Red Sox were called the "Impossible Dream" team. This was the "Impossible Dream" team. How the Bruins made the playoffs with their talent level and injuries is amazing. And it looks like Patrice Bergeron will return during the Canadiens series. Very cool.

14. Calgary Flames
Kind of a quiet season for Calgary. If the Flames can find a hot offensive player and tighten up the defense and goaltending, they could surprise. But they can't play the way they did in the regular season; it won't be good enough.

13. Ottawa Senators
If Britney Spears was a hockey team ...

12. Washington Capitals
They finished with an identical record as the Senators (43-31-8). They will probably have the coach of the year (Bruce Boudreau) and Hart Trophy winner (Alexander Ovechkin). Could they make the Stanley Cup finals? Yes, they can. This is shaping up to be the finest season in the history of the franchise.

11. Philadelphia Flyers
What a turnaround from last season. Another one of the top stories this season. GM Paul Holmgren and the Flyers were aggressive and smart in their reconstruction.

10. Colorado Avalanche
A dangerous team. Experienced, rugged -- and they can score. Winning a playoff round would really energize Denver hockey fans. Peter Forsberg finished the year scorching, picking up 11 points in his last four regular-season games.

9. New York Rangers
They do it on sheer will, and they were lucky they were healthy. Jaromir Jagr, Chris Drury, Brandon Dubinsky, Daniel Girardi and Fedor Tyutin didn't miss a game. Scott Gomez missed one. Michal Rozsival and Marc Staal missed two. They will need to stay healthy during the rugged playoff season as well, or they could hit a wall hard and fast. Will and goaltending can take you a long way, though.

8. Dallas Stars
The Stars entered last postseason red-hot, 7-1-2. This postseason, they enter cold. But it was a great season in Dallas -- 97 points, lots of goals and a big trade to get Brad Richards. Don't worry about Richards in the postseason, if he is healthy.

7. Minnesota Wild
An analyst recently questioned Marian Gaborik in the big games (12 goals and 21 points in 23 playoff games). Don't worry about Gaborik.

6. New Jersey Devils
The Devils kind of puttered at the end of the regular season. They have lots of pride, two or three dynamic offensive players and a legend in net. They remain a threat, and the new arena is fantastic.

5. Anaheim Ducks
They finished well after a regular season with no rhythm. You still wonder if they can just turn it on. They certainly have all of the components, but so far, they haven't shown that collective energy it took to win them the Cup last season.

4. Pittsburgh Penguins
The Penguins are ready. Marc-Andre Fleury has been playing well. They have sandpaper, skill and scoring. They were built very well. They are still young in key places and will be an interesting watch in the postseason.

3. Montreal Canadiens
The Canadiens' key guys were healthy for most of the season, and their young players exploded. They traded and did not re-sign the wrong players, keeping the right ones. Imagine if they end up seeing Cristobal Huet in the postseason.

2. San Jose Sharks
They had a little losing streak each month until they acquired Campbell. They have been consistent ever since. And no one is better than Joe Thornton right now. He has never skated with such purpose.

1. Detroit Red Wings
There are 54 wins and 54 question marks. Very few outside of Detroit believe the Red Wings can get it done. Goaltending and grit are what mark the postseason, and most believe the Wings don't have enough of either. We'll see.
On to the Sweet 16 and the first round. The West has the defending Stanley Cup champs, so we will start there.
Western Conference
Detroit vs. Nashville:
Nashville usually plays the Wings well at home. Back in 2004, the Red Wings beat Nashville 4-2 in the series, but scored just 12 goals in the six games. The Wings should be able to score a couple more in this series. Red Wings in seven.
San Jose vs. Calgary: The Flames beat the Sharks in the 2004 Western Conference finals. This will be a real tough test for the Sharks. The Flames have a sturdy defense and Jarome Iginla. I want to pick the Flames here, but I'll stick with the Sharks and say they have turned the corner. Sharks in seven.
Minnesota vs. Colorado:
Another great matchup. I will watch every minute of this series. Forsberg played nine games for the Avalanche, and they won eight of them. I like the sound of that. Avalanche in six.
Anaheim vs. Dallas:
The Ducks had 102 points and all of that defensive prowess. They seem to lack a theme or purpose, but one playoff series win changes everything. I'll give the Ducks the benefit of the doubt and say they win, but Dallas is dangerous because the Stars can score. Mike Ribeiro's playoff line in 24 career playoff games -- 2-6-8. Ducks in seven.
Eastern Conference
Montreal vs. Boston:
Boy, the Bruins have shown a lot of guts this season, but they are just too beat up to deal with Montreal. Winning a home game is all that can be expected of the Bruins. Montreal in five.
Pittsburgh vs. Ottawa:
It's an indifferent goaltending situation against the Penguins, and their power play is near-certain death. The Penguins do lack an experienced, sturdy, swift-skating checking line, which means a big line can have a big series. The Sens are banged up physically and frail mentally. That's a good opponent for the Penguins to begin their playoff run. Penguins in six.
Washington vs. Philadelphia:
Two teams who can score and give them up. This should be fun. I give a slight edge to Washington because I give them a slight edge in net. Ovechkin might be so wired during his first Stanley Cup playoff game, I'm concerned he might catch on fire. While the Capitals have an edge in net, the Flyers have an edge in grit. This is the kind of series in which the Caps could use Chris Clark. If the Flyers stay out of the penalty box, they will win the series. I'll say their grit wins out in seven. If the Habs, Pens and Caps do win their series, we will have a Crosby-Ovechkin matchup in the second round. Flyers in seven.
New York Rangers vs. New Jersey:
The Rangers won seven of the eight regular-season games between the two clubs, and that should be enough to say the Devils are in trouble. But the Devils are a good, balanced team that is well-coached. They can win this series if the key offensive players like Zach Parise can beat Henrik Lundqvist down low. Still, it's hard to pick against the Rangers. Rangers in seven.
Mother of All Mailbags
John,
As a young man who grew up in Southern California but didn't have an opportunity to play hockey, I was wondering if there were any tips that you could give me about the sport. I'm currently living in Augusta, Ga., and I'm thinking of joining an adult league in the area. Any help would be greatly appreciated!
Irvin
Do 20 sets of 50 squats a day. Take the weekends off.
Do 20 sets of 20 leg raises a day.
Do 20 sets of 25 crunches a day.
Get a part-time job at August National with the grounds crew and, at the end of your shift, run the course from the first tee to the 18th green. Take a break by skinny-dipping in Rae's Creek. Do this for two years.
Then, move to Sarnia, Ontario, and live and exercise and play hockey there for five years. Return to Augusta and dominate.
---
John,
Loved your article regarding the Isles-Rangers game possibility at Yankee Stadium. Many fans write off the Isles each year, but new players tend to cherish the rich, albeit short, team history that they have. Bill Guerin embraced this history this past season when he signed on and became captain.
The Rangers have great popularity because of their history and are an obvious choice for the mid-winter outdoor game. The rivalry with the Islanders is truly one of the most exciting in all of sports. Here's to advocating a great game taking place, with light snow and great atmosphere in the greatest stadium ever built.
Eric Gewirtz
Brooklyn, N.Y.
---
John,
Thanks for getting me hooked on the Editors. I can't stop listening to "Smokers Outside the Hospital Doors." Anyway, as a depressed Los Angeles Kings fan, what do you think the future holds for the Kings, and what do you think they need to become a contender next year? Do you see a Cup in the near future?
Ryan
Sacramento, Calif.
Well, getting Stamkos would have been real nice for the Kings. It would have given the Kings Crosby/Evgeni Malkin Lite with Stamkos and Anze Kopitar. Now they will probably use the second overall pick to take a young defenseman. There isn't a clear-cut franchise forward after Stamkos in the draft class, but a few very good, complete defensemen. I still think the Kings should keep collecting these young players, and it will come together.
---
John,
Just a note that, at the Garden, we Rangers fans call Fredrik Sjostrom "Freddy Shoes." Thought you would like to know.
David
NYC
My name is John Buccigross, and I approve of that e-mail.
---
John,
Thinking about the Penguins' payroll, what are your thoughts on this? If you are Hossa or his agent, would you take a pay cut next year and sign a one-year deal for $5 million to stay in Pittsburgh? Malkin and Jordan Staal would still be on their entry-level contracts, so the team could probably find that in their budget. For Hossa, it would give him a full season to play with probably the best playmaker in the league, play for a strong Cup contender, put up ungodly numbers and go into the summer of 2009 as the premier UFA.
Also, Pearl Jam is the greatest rock band to come along in the past 25 years.
Ryan
Albany, N.Y.
With Hossa's history of knee injuries, there is no way he will sign a one-year deal. Term will be of utmost importance to him and his agent. Will he sign for less than the $7 million he made this season? I think it's possible if he gets six or seven years. You know Columbus, Los Angeles, St. Louis and other NHL teams looking for traction will look at Hossa as someone who could upgrade their team significantly. The Penguins have the luxury of seeing Hossa respond in the playoffs and with their personnel before making a large investment. The Penguins also are in the position of not overpaying for Hossa. They don't need him. They will still be a 100-point team next season without him. I do believe they would be better with him next season and beyond. I love his speed, smarts and defensive awareness. If I were Pittsburgh, I would offer him six years for $40 million, and no more. There is probably a team out there willing to give him seven years at $50 million. I would not do that if I were Pittsburgh. Letting him walk is not a big deal. The Penguins did not give up a lot to get him.
---
John,
Enjoyed hearing you covering games over the weekend. It was good to hear you and the Mullet again! Any players stand out for you? I don't remember this two-week break before the Frozen Four starts. Is this new? Was it just to not have it coincide with the weekend of the basketball tourney?
Bill Wyce
Nick Petrecki of Boston College will have the best pro career of all the players I saw at the Northeast Regional in Worcester, Mass. The Sharks selected Petrecki (28th overall) last summer. He should stay in college at least another year, probably two, and just keep working on his skill and strength development. Then, he can turn pro at 21 as a mature, developed defenseman.
---
Bucci,
I'm in the process of choosing my newest jersey, and I'm going with the Bruins because they are my favorite team. I'm having trouble deciding what name to get on the back. I've got it down to Bergeron, Lucic and Savard. I was leaning toward Bergy until he got hurt, then I wanted a Savvy since he is so underrated, and then my Lucic phase hit because he is the ultimate Bruin. That leaves me confused!
Help!
Jen from Pa.
Lucic is your boy, Jen. He'll be a Bruin for the next 10 years.
---
Big Bucci,
What's your take on our two Swedish rookies, Nicklas Backstrom and Tobias Enstrom? How do you think Backstrom would do without Ovechkin, and the other way around? After all, Ovie scored "only" 46 last season and was minus-19.
Johan Jönsson
Stockholm
I'm very impressed with Nicklas Backstrom. He has skill and a high hockey IQ. He is the perfect, calm centerman to play with the Ovechkin and plays like he is a fast, deflating balloon that unpredictably flies all over the room. I didn't see Enstrom play because the Thrashers are so difficult to watch. They should hire Barry Melrose to coach their team. This team needs a fresh start and a big jolt. Barry was made for the Southeast Division. The Caps and Hurricanes are set, but if I am Tampa Bay, Florida or Atlanta, I am calling Melrose and asking him about his interest. Who would create more regional buzz than Barry Melrose? Seriously?
---
Bucci,
I just heard Brenden Morrow on the radio and he's got a tired head from looking at baby names. His wife Anne-Marie is expecting twins in mid-May. He needs one of each. Show us your naming prowess for our captain.
Jeff
Dallas
Boy: Maurice Raymond Morrow
Girl: Jacqueline Emma Morrow
Hockey fact: Boston, Philadelphia and Washington all finished last in their divisions in 2006-07 by a combined 66 points. This season, all three made the playoffs.
---
John,
Mate, you've just given "our own" the honor of recording one of the top 16 songs of the last 24 years. What are the other 15?
Regards,
Andrew Baker
Special Projects & eCommerce Executive
Wests Tigers Rugby League Football Pty. Ltd.
I'll give you three more:
"The Ghost in You" by Psychedelic Furs
"Even Flow" by Pearl Jam (barely beats out "Corduroy")
"Unknown Legend" by Neil Young
---
Bucci,
Now that the Canucks are out, this should squash Roberto Luongo as your predicted Vezina winner. It has to go to King Brodeur. I know what you are going to say -- Vancouver does not score enough goals to support Luongo (which is true, but they have scored more than the Devils).
Brodeur has a higher save percentage, has faced more shots, and has a lower goals-against average than Luongo. As for Evgeni Nabokov, he does have more wins than Brodeur, their goals-against are identical, but Marty has a higher save percentage (.920 vs. .909) while facing 239 more shots. Bow down to the king!
Bill,
San Jose, Calif.
I agree. Turn your head and Nabokov.
---
Bucci,
My sisters and I went to our land of birth last month to join our brother's 50th birthday celebration. Since the exchange rate was very favorable, we went wild shopping. One of my sisters needed to buy an additional bag to help cart all the stuff she bought home. She bought a Gucci bag of dubious quality and origin (let's just say she paid much less than what a Gucci bag would normally command). I must say, she proudly toted it back home, although the zipper unceremoniously broke! Just thought you might like to know that somewhere in Melbourne, Australia, there is a bag that also answers to the name Bucci. At least it wasn't called the Bucci gag.
Mari Torres
Melbourne, Australia
That's not my bag, baby!
---
John,
A good friend of mine, and fellow lifelong Rangers fan, just had his first baby last month, and the little guy's already following in his dad's footsteps. He's too young to say "Potvin Sucks," but we're working on it.
Andrew
Baldwin, N.Y.
Oh, baby!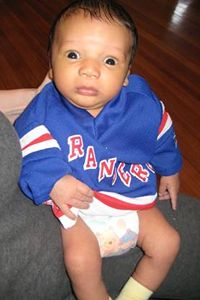 John Buccigross is an anchorman for "SportsCenter" and ESPNEWS. For questions, comments or crosschecks, e-mail him at john.buccigross@espn.com. To check out his new book, "Jonesy: Put Your Head Down & Skate," click here.