Shot of the Week
It's back. You know how it works. We present an NHL photo, and Bucci provides a caption. E-mail him your suggestions (include your name and hometown/state), and we will use the best ones and provide a new photo the following week.
LAST WEEK: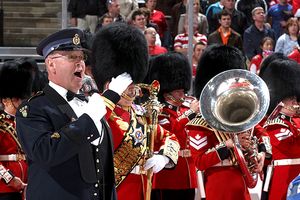 "The soup of the day is clam chowder!"
(Courtesy: Getty Images)
Your captions:

With great fanfare, the NHL introduces its new concussion-resistant headgear.
-- Joe Judith (Ewing, N.J.)
Holy cow! It's Mats Sundin!
-- Deve Sever (Upper Michigan)
"Ladies and gentlemen, I am proud to introduce the Ottawa Senators' new alternate uniforms!"
-- Mark Mclaughlin
Your attention, please. If you've seen a red coat and a black fuzzy hat, please come to Section 102. Possible reward!
-- Dave Goode (Denver)
The NHL marketing machine goes askew when, in between periods, they shoot T-shirts into the crowd using a tuba.
-- Howard Freedland (Jupiter, Fla.)
THIS WEEK: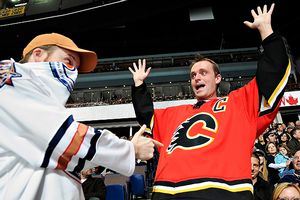 An Oilers fan, misinterpreting the term "six-pack abs," attempts to get a free Molson. (Courtesy: Getty Images)
I have never been punched in the face.
My "accomplishments" (actually, they are lucky-lish-ments; talented people accomplish things, average people get lucky): Hole-in-one on a par 4 (have I mentioned that yet?); catching a foul ball at a Major League Baseball game; sneaking with two high school friends into the Civic Arena in Pittsburgh to see a hockey game; getting an autographed Fat Bastard action figure from Mike Myers in the mail; writing a hockey book with Keith Jones and seeing it in Barnes & Nobles and Borders; seeing Mike Piazza's wife in person at the ESPYS; sleeping on the same sheets for an entire semester at college without breaking out in a colony of boils; going 45,000 miles without an oil change in my 1987 Maxima; and my first rock concert experience being Julian Lennon. Wait, I'd like that last one stricken from the record. (Although, with the 1984 lyrics "sitting on the doorstep of the house I can't afford," the man was clearly ahead of his time.)
But of all those lucky-lish-ments, Julian Lennon notwithstanding (what in the wide world of sports does that word mean?), not getting punched in the face is still No. 1 with me. The first rule of fight club is not getting punched in the face.
After years of what appeared to be an overly corporate NHL taking systematic steps to take as much fighting out of the game as possible, fighting is making a small comeback in the league. Sports Illustrated made fighting the focus of its season preview this year. Some point to Anaheim's success two years ago as a catalyst for helping bring the fight game back on ice. HockeyFights.com has numbers that say fights per game are the highest (0.74-ish a game) they have been over the past eight years. Fights per game have also gone up each season since the lockout (0.38 to 0.40 to 0.54 to 0.74-ish). Thankfully, players hate each other again. That makes for good TV.
Fighting is popular and effective for the NHL because it televises well and is easily decipherable for fans at the game. It also produces a 23-cups-of-coffee shot of adrenaline. Hockey is a blood sport, especially when there is fighting and it is someone else's blood.
Fighting also achieves one very important thing for the NHL: It makes the sport stand out in a media world of white noise. No other sport allows bare-knuckle fighting, and no other team sport allows fighting with such a small penalty as a five-minute timeout in a small box complete with towels, ice and beverages. There is even a guy in the penalty box who appears as if he could give you excellent tax advice or 401(k) reassurance.
For some, this sanctioned pugilism gives a Wild, Wild West, Darwinism, Green Day mosh pit, uncivilized, circus vibe to the NHL. Well, duh ... that's what some of us like about it. That's the charm and uniqueness of hockey. No sport powered by humans is more dangerous. Sticks, boards, pucks, ice, razor-sharp blades and fists make hockey the most dangerous and unpredictable game. That's what makes for an excellent spectator sport. Hockey is best when it is played by crazy, fast and unpredictable young men trying to prove something.
And I think it's a fair point to say that parts of those elements were eradicated, some wholly and some subtly, from the NHL for the purpose of more corporate sponsorships. Perhaps that was necessary to raise the game to first-class heights; but, clearly, charming parts of the sport were lost and thus large amounts of fans were lost as well. The game went from a raucous Irish bar to a night out at Outback Steakhouse. It still hasn't fully regained the edge it once had, but that part has definitely improved.
As readers of this space know, I've written here before that I love NHL fights. They are usually exciting, honorable and consensual: Probert vs. Domi; Peat vs. Stock; Neely vs. Tocchet; Boogaard vs. Chuck Norris. Fights can add entertainment value, change a game and have fans talking for days.
I would still watch NHL games if fighting was "banned," and I certainly understand someone could actually get killed in an NHL fight; but I also get that people have died slipping in their own bathrooms, and they still haven't banned showers.
Jim Cummins, now 38 years old, played in 511 NHL games and, in every one, he had to think about getting punched in the face. The goal was to punch the other guy first, but life doesn't always work out as planned.
Cummins' first NHL game was as a member of the Detroit Red Wings during the 1991-92 season, and yes, he got in a fight. He would go on to play for eight more NHL teams and fighting was part of the job description for just about every shift.
In his prime, the bearded Cummins looked like Kenny Loggins throwing overhand rights at England Dan and John Ford Coley ("It's sad to be [punching] someone else, when the right one comes along"). Actually, Cummins looked like Loggins if Loggins gained 214 pounds and increased his bench press from 115 to 350. Cummins was a big, hairy, sweaty punching machine. I got your highway to the danger zone right here, Sparky.
Today, Cummins is looking for the next shift in his life. I met him two summers ago at Quinnipiac University in Hamden, Conn., where he was part of the Life After Hockey program at the college's Professional Athletic Training Institute (PATI). I was there as an instructor, helping the retired NHL players learn about TV as best as I could.
I found Jim to be a warm, personable guy with excellent presence and plenty of good stories to tell. I think he will turn into a good, popular television analyst once he is given the chance and proper repetitions.
I talked with Cummins over the weekend about fighting in the NHL:
Question from Bucci: What have you done since you retired?
Answer from Cummins: I decided to pursue a career in broadcasting. It keeps me connected to the game and I feel my outgoing personality is a good fit for TV. I did two years of television with FSN Arizona doing pre- and postgame work with the Phoenix Coyotes, and several radio spots with shows around North America. Now, I'm hoping to continue growing and getting better.
Q: What is your assessment of the fight game in the NHL?
A: It is a part of the game. It's a way for the players to police the game instead of the referees, which I think adds a ton of excitement. I feel the efforts in the past to diminish fighting handcuffed the enforcer and set the game back. Also, the real true hockey fan loves the aggressive play that spills out when certain occasions arise. I don't want fighting to be like it was in the 1970s, but I think from the late '80s to the mid-'90s, it was a true game that was enforced by the players. There could be an awesome hockey game going on, but the players kept each other in line. There was a lot of respect for each other, but when things got out of control, the players acted on it. And it helped keep the game energized.
Q: Take us into the mind of the fighter on the day of a game.
A: Well, sometimes when you are playing in a big rivalry or you are playing in a game where something happened the last time the two teams met, it can be a little unsettling. It takes me back to when the school bully would challenge you at the bike rack and you got the surge of butterflies in your stomach. I tried to put it out of my mind before a game, joke with teammates and just focus on hockey right up until the time I had to "go." That's how I dealt with it.
You get a little anxiety built up. Sometimes, I couldn't eat my pregame meal when I was going into a big game where I knew something would probably go down. You can talk to any fighter and there is some sort of fear there. You got to use that fear to fuel that fire to help you fight. I tried to fight to come to the aid of a teammate or to get some momentum for my team.
Q: What was your most memorable fight?
A: When I was in Chicago, Darcy Tucker, back when he was with the Canadiens, was getting into it with Chris Chelios. I skated by and face-washed Tucker, which led to Chris Murray coming in. The game was in Montreal and it was on "Hockey Night in Canada." Murray and I had a pretty good fight. I don't want to say that I won or lost, but I think both teams and the Montreal fans fed off the energy. I scored a goal that game and was third star. So, that was a time when I came to the aid of a teammate, scored a goal and felt pretty good about myself. Even though I had limited ice time, a lot happened when I was out there.
Q: And back to your television career: What do you bring to a broadcast?
A: I played 12 years and I have insight, but more importantly, to me, I am an emotional guy and I like to point out my perspective. I give a tough-guy point of view and the hardworking, blue-collar guy who relies on the little things. The difference-makers often speak for themselves; they televise so well. But bringing out the subplots of the tough guy and role players are sometimes overlooked. It's not real obvious to the fan and I feel I can help illustrate that.
Q: Thanks, Jim. And thanks for not punching me in the face.
A: Any time.
Weekly Tribute to Jack Falla
The following is an excerpt from Jack Falla's "Home Ice." Falla passed away Sept. 14. We'll honor his memory each week with a few lines from one of his classic books:
I need help with the rink these days, help I'm often too proud to ask for (Ralph Waldo Emerson was right: the highest price you can pay for something is to ask for it). Columbus Day weekend used to be a kind of barn-raising, with Brian and his friends digging postholes and putting up about two-thirds of the boards while I was consigned to barbecuing chicken and keeping an adequate supply of beer on ice. But some of those guys have moved, married, some have other things to do. It is late October as I write this and -- for the first time in 16 years -- I have genuine doubts about whether I can beat the frost without making a few phone calls to friends who have offered help.
The Mother of All Mailbags
Mr. Buccigross,
One thing I'm thankful for was the chance to meet Jack Falla this fall.
Mr. Falla contacted me a couple of days before he died. I couldn't believe it. Here is the legend and the professor going out of his way to contact me, the amateur. He happily obliged my interview with him and we were going to look at ways to promote his book. What an amazing, humble and kind man. He gave me that rare feeling that maybe my hockey writing could get me somewhere yet.
I have posted the interview here. It's about his book, but for me, it is about so much more.
Joe Pelletier
Hello friends of Jack Falla,
I just wanted to give you a heads-up on plans that we have in regard to the Jack Falla Memorial Fund that the College of Communication has set up. The folks that created the documentary, "Pond Hockey," which was inspired by Jack's book, "Home Ice," have been in touch with us and presented a terrific idea. They would like to have their Boston premiere on the BU campus and use it as a fundraiser for the Jack Falla Memorial Fund -- a scholarship for sports writers/sports communication professionals.
We will screen "Pond Hockey" at BU's Agganis Arena in the Club Room and then host a reception and skating party. Additionally, we will have a silent auction/raffle to help raise money. Jack's Sports Communication class is using this event as a sports fundraising/event planning exercise, so they will be getting some real world experience out of it, as well.
Please save the date: Wednesday, Nov. 12 from 6-9 p.m.
I'll be in touch with further details as soon as they are available (including RSVP information). Please feel free to pass this information along to any interested parties.
Best,
Micha Sabovik
---
Bucci,
Is the 2008 U.S. Hockey Hall of Fame induction ceremony that you hosted anywhere online that I can watch it? I would love to see these icons get inducted!
Adam P.
NHL Network plans on broadcasting the 2008 U.S. Hockey Hall of Fame ceremony on Wednesday, Oct. 29.
Yo Bucci,
Thanks for the article about your travels in Denver. I moved up to Vancouver about a year ago and I really miss the beauty of the Mile High City.
It's hard living in a city where the fans are fickle enough to want to run the great Roberto Luongo out of town after his average finish last year. It was fun to read about the good ol' times of Patty Roy in Denver and remember how great it was to witness a city rally around their hockey team.
I guess it just rains too much in this city for the fans to see how lucky they are to have such an amazing goaltender. Oh, well. Thanks for bringing back the memories.
Keith
Denver transplant in Vancouver, British Columbia
Hi John,
Next time you are in Denver, bring your equipment. Magness is our beer league barn. You would be more than welcome in our dressing room ... and for the postgame festivities.
Paul Ratico
Denver
Beer, cheese and french fries? I'm in.
---
John,
While reading your most recent mailbag aloud to my hockey-loving wife (who happens to also be smart, funny and doesn't take herself too seriously), we came across the sad story of Marco from Brampton whose ex-wife faked her hockey knowledge. My wife Ruth said: "If she faked her hockey knowledge, imagine what else she must've faked."
Matt Boelkins
Grand Rapids, Mich.
Yes! Yes! Yes!
---
Hey Bucci,
Do you see there being any chance that the Penguins go after Marian Gaborik? That would be incredible to have a talent like that to Crosby's left. What would the Pens have to give up to get somebody like that?
Mark in Erie, Pa.
Gaborik to the Penguins could make sense as a free-agent signing next summer, only if he takes the deal the Penguins offered Marian Hossa this past offseason (about $7 million a year). Petr Sykora, Ruslan Fedotenko, Darryl Sydor and Miroslav Satan make a combined $10.7 million and their contracts end after this season. The Penguins could let those four walk to create room, sign a high-end player and go with younger, cheaper players.
Another problem is, Malkin's cap hit rises to about $5 million more next season when his extension kicks in. Also, what should Jordan Staal's next contract look like? He just turned 20 and it's difficult to project his ceiling right now. He is a very smart player with good size, but he doesn't appear as if he will be a big-time goal scorer. It's so hard to tell until he matures more. His peak will probably begin at around age 24.
So, will we see Staal and the Penguins do like a three-year deal at about $2.5 million a year, or do both sides gamble with like a seven-year, $30 million deal in case Staal becomes a big-time power forward? Staal would be guaranteed $30 million and would be unrestricted at 28, when he could get another big deal. I'm interested to see how Staal's agent and the Penguins interpret his game, his upside and the terms of his contract.
Getting back to Gaborik. It's possible the Penguins could move Kris Letang or Minnesota native and former Gopher Alex Goligoski in a deal for Gaborik. The Penguins do have a glut of defensemen, but other issues include: (1) Would Gaborik take a little less -- $7 million instead of $8.5-9 million a season -- to play with Sidney Crosby or Evgeni Malkin? Considering his past actions, one would think not; (2) What if the Wild keep playing well and are in a position to win the Northwest Division? They would have to make a deal that improves the current team or makes them irresistible for the future in terms of prospects and/or draft picks (unless the Wild get so many injuries on defense that it becomes a need). And the Penguins, once they get Sergei Gonchar and Ryan Whitney back, will have defensive assets to deal at the deadline.
The Penguins might need those assets to make a deal to improve their team. Last week against the Capitals, the Penguins had no physical response to Alex Ovechkin, who snowplowed Malkin all night. Paul Bissonnette did knock out Matt Bradley with an overhand right, but the Penguins might lack some forward brawn in tight, emotional regular-season games and the playoffs. I think they might need a physical, emotional, confrontational forward down the road.
---
John,
I bet you received a few of these e-mails from the Wild faithful, but why did you pick the Wild to win the Northwest in your West preview? Then, when asked by Michael Russo, you thought the Wild would not be able to score and placed them at ninth, missing the playoffs. I was a little confused and would like a clarification.
Troy
Grand Rapids, Minn.
Michael Russo of The Star Tribune called me on a Thursday. Thursday is my NyQuil/Golden Grahams/pork-chops-dipped-in-peanut-butter-while-listening-to-Tool all-nighter. Had he called me on any other day of the week, he would have gotten my true Minnesota Wild prediction of the Wild winning the Northwest Division. I'm John Buccigross and I approved this message.
---
Booch,
The Elliott Smith tribute song "Late" on the new Ben Folds album. Uggg. Heavy duty. Discuss. In other heart-heavy news, let us all hope for the best for Seve Ballesteros, one of the greatest "grinders" golf has ever known.
Lee
Brooklyn
The Elliot Smith tribute song is on Ben Folds' previously released CD, "Songs For Silverman." Folds' new CD is "Way to Normal." Since the CD came out, I listen to "Dr. Yang," "You Don't Know Me" and "Effington" -- Tracks 2, 4 and 11 -- every time I get in the car. Then, it's Metallica's "That Was Just Your Life," Tupac Shakur's "Changes," Editors' "Munich" and VHS or Beta's "She Says."
John,
Please, do yourself and all of us a favor (favor to you, my American friend) and pick up the new Metallica. It's the best thing they've put out in 20 years.
Earl
Victoria, British Columbia
See above.
---
John,
"Insignificant" is an unbelievable song. The lyrics "You can wash your face and hands in the stream of my anger/it's as bright as white paper and dark as a girl" is right on par with "you're an anchor on the line of a clock that tells the time that is running out on you" from "Richard Manuel is Dead."
John,
Top five Adam Duritz songs:
1. "St. Robinson in his Cadillac Dream"
2. "Richard Manuel is Dead"
3. "Up All Night"
4. "Love and Addiction"
5. "Insignificant"
I've been watching you since about 1995. What a long, strange trip, Bucci! Keep up the good work.
Jason Neel
I would replace 1, 3 and 4 with "Anna Begins," "Children in Bloom" and "Rain King." I'm probably the only Crows fan whose favorite CD is "Hard Candy." We've had a lot of music in this e-mail bag. I'll throw in a hockey fact for those of you who may be annoyed:
Top 6 all-time assists per game:
Wayne Gretzky -- 1.32
Mario Lemieux -- 1.13
Bobby Orr -- 0.92
Peter Forsberg -- 0.90
Peter Stastny -- 0.81
Adam Oates -- 0.81

---
John,
I met my wife eight years ago at St. Lawrence University. She didn't know a thing about hockey and, being a lifetime fan, I made it my goal to convert her. Watching hockey at Appleton Arena (if you haven't been there for a game, get there) made the transition much easier and she was hooked after only a few games. I still remember cringing the first time I had to explain icing. Fast forward eight years: my wife now yells louder than I do when the Habs are trying to clear the zone and was actually upset when she found out that Montreal wouldn't go 82-0. You can't ask for much more than that. Hopefully, I'll be coming back to you for a hockey name sometime next summer.
Matt
We've had a weekly thread of hockey and relationships for those of you just joining us this week. To check past columns from this season and beyond, click here or on "archive" up near my Chess Club picture at the top of the column. We have to call in Dr. Phil Bourque if these relationship questions and comments become too complicated for me and/or Ken the Otter.
---
Bucci,
Is there any way I can mail you your book and get an autograph? I don't know if this is a weird request or not, but I read your columns all the time and you seem like a guy who appreciates his fans, so I don't feel too awkward asking.
Alex
You mean my book, "Jonesy"? The one still available on the Internet for purchasing? Remember: Buy two. One for you and one for the holidays. No problem on the book signing. Just send it to me at ESPN with a self-addressed stamped envelope and a package of Starbursts.
Hockey fact: Past five Vezina winners:
2008: Martin Brodeur
2007: Brodeur
2006: Miikka Kiprusoff
2004: Brodeur
2003: Brodeur
• Patrick Roy won three Vezina Trophies.
---
John,
Had a quick question about the standings. Chicago has played three games thus far. Two 4-2 losses and a 3-2 shootout loss. The standings have 11 goals against listed. Does a shootout loss add a goal against a team? Technically, Chicago only has 10 goals against. If so, does it also count against the goaltender? Just wondering.
Aaron Kulwicki
It does not count against the goalies, but a shootout win does add a goal to a team's season goal total. That seems silly to me. Elias, the statistics bureau, does not recognize the added goal to a team's total after a shootout win.
---
John,
It's unfortunate that I am writing you tonight, because of the tragedy of young Rangers prospect, 19-year-old Alexei Cherepanov. It's terrible news and I can't imagine what that family is going through. The recent passing of other players, such as Mickey Renaud of the OHL, Alexander Golubovich of the Israeli Hockey League, former NHL player Sergei Zholtok, and the collapse of former Red Wings defenseman Jiri Fischer due to heart ailments, begs the question. Can these be prevented or researched? Hockey is the most anaerobic sport in the world. Players are bigger, faster, and in better shape than ever before, so how can this be happening? Are players training too hard at a young age? My former coach banned the use of energy drinks, such as Red Bull, Monster, etc., for fear of working the heart unnecessarily. Maybe there is no answer, but with the medical science we have today, hopefully this is the last time we will have to hear about such tragedy.
Brian Gutschwager
Bay Shore, N.Y.
---
Dear Bucci,
I have undergone two life-changing events in the last 12 months. One, on a whim and with no ice hockey experience whatsoever, I started playing goalie. Also, my wife and I adopted what is probably the best baby in the universe (that's what his bib proclaims, anyway). Adoption is the most amazing win-win concept mankind has ever come up with. Our son has received a logarithmic amount of love from his birthparents and adoptive family in his short four months on earth.
As for nature vs. nurture, we brought Noah home to Buffalo last weekend for the opener against Montreal, and also something -- I think -- about meeting his great grandmother. I bought him a novelty set of Sabres hockey sticks, one goalie stick and one skater stick included. I held both in front of him, knowing that whichever he chose would forever shape his hockey destiny. As his grandfather held him, he stared long and hard at the skater's stick. It appeared the dream of passing on his father's legacy of defending the lonely end of the rink was over. Suddenly, with Ryan Miller-esque reflexes, his left hand shot out and grabbed the netminder's stick.
I am one proud papa. Let's go Buffalo!
Kevin Fleischmann
Cincinnati
I was adopted. I've never met my birth mother, but I thank her, wherever she is, for bringing me into this world. I've had a lot of fun, give a large share to charity and contribute to the world's economy via Monster energy drinks, breakfast cereals, doughnuts, steaks, Starbursts, bananas, broccoli, Jack Daniels and fried chicken.
"These are the days you might fill with laughter until you break.
These days you might feel a shaft of light make its way across your face.
And when you do, you'll know how it was meant to be.
See the signs and know their meaning.
It's true, you'll know how it was meant to be.
Hear the signs and know they're speaking to you, to you."
-- "These Are The Days" by 10,000 Maniacs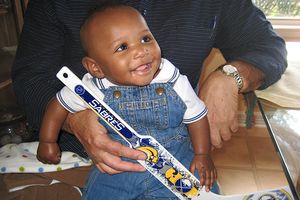 John Buccigross' e-mail address -- for questions, comments or crosschecks -- is john.buccigross@espn.com.