Shot of the Week
It's back. You know how it works: We present an NHL photo, and Bucci provides a caption. E-mail him your suggestions (include your name and hometown/state), and we will use the best ones and provide a new photo the following week.
LAST WEEK: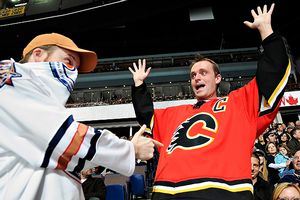 An Oilers fan, misinterpreting the term "six-pack abs," attempts to get a free Molson. (Courtesy: Getty Images)
Your captions:

"Look, man -- I don't have any nachos. Back off!"
-- Howard Freedland (Jupiter, Fla.)
"And another Flames player gets held up at the blue line."
-- Danny Lopez (Carpinteria, Calif.)
"I will not pull your finger. Your team already stinks."
-- George (Charlotte, but originally Toronto; yep, still a Leafs fan)
"All right, buddy. Gimme your wallet, your beer and your Jarome Iginla."
-- Chet Lemon (Arlington, Va.)
THIS WEEK: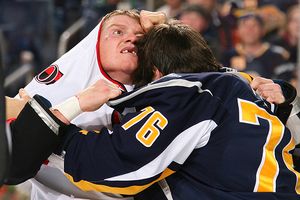 Chris Neil may have overdeveloped his trapezius muscles. (Courtesy: Getty Images)
I watch the NHL every night, whether I am at home in Connecticut or at work in the ESPN newsroom waiting for the $100 bills to fall out of Scott Van Pelt's pockets.
Sometimes, one simple hockey moment fills me with such sporting joy that it helps kick-start this weekly blogumn.
This athletic moment happened during the Sabres-Bruins game on Tuesday, Oct. 21, as I watched at home with my boys. At 11:48 of the second period, Phil Kessel appeared out of nowhere and rifled a 25-foot wrist shot past Sabres goalie Ryan Miller. It was a pure hockey moment, ephemeral to some, but lasting to me. More on this moment … in a moment.
Like life, the most enduring episodes in a hockey game often happen out of nowhere. Life, or a hockey game, usually just goes about its business in between text messages, e-mails and Internet surfing. Sometimes it is fast; other times it is boring. Usually, it has structure and a sameness. We wait for the thrill.
Sometimes your life and your team have flow, and suddenly it all seems very easy with a building momentum. These moments are rare. Mostly, hockey and life are about grinding. You need to outwill your fellow applicant, employee or opponent and wait for those smooth times. If you are persistent and patient, they will come. A large number of people don't do this. By the way, you also can do all of this with grace and simple repetition. It's not that hard to be good to yourself and good to others while living and competing.
OK, enough of that crap. Back to Kessel.
The Bruins and Sabres were going about their business midway through the game. It was tight-checking but well played with speed. Both the Bruins and Sabres have a nice collection of forwards. The Bruins were on the power play and in transition after; the Sabres, as always, were in attack mode, even shorthanded. That's why the Sabres are fun to watch. I didn't pick Buffalo to make the playoffs, but they clearly are a playoff team if Miller stays stellar.
With the Bruins on the power play in the second period, winger/menace Milan Lucic won a race for the puck along the boards and made a nice little backhand pass to a trailing Kessel, who suddenly was like a solitary man on a frozen Wisconsin lake. Kessel is a human monorail. When he is low to the ice with his back bent and his skates far apart, it's as if he is straddling and avoiding a sidewalk filled with thumbtacks.
Kessel took the pass with his momentum surging forward. After he took the pass, his head immediately came up to search for some twine behind Miller. Kessel never took his eyes off the net as he braced all of his 195 pounds on his right skate and his blade glided over the paint of the faceoff circle. Kessel gave a little pump with his airborne left leg and wired in what had to be an 80 miles per hour wrist shot.
These moments are why I watch and write about hockey.
They are moments of sheer athleticism. It was a hockey goal at the highest level. Pure human greatness. World class.
Some people are into waiver wires and trade rumors and collective bargaining agreement minutiae -- everything but the human elements of the game. I'm into these physical moments of awe and wonder. Some of them are inconspicuous; others are clear for all to see. Moments, like the goal I watched from Kessel, fill me with such instantaneous energy that I could carry Brett Hull over the threshold.
Kessel has arrived. This was his "Oh, my God" moment. It's been an interesting road for No. 81.
The 2006 draft was a very solid class at the top. The rest of the first round is in doubt. We need to give it more time for a full grade.
Erik Johnson went first overall, and I still think he will end up a big-time player, at least as good as Rob Blake. At the time, I thought the Blues would select Jordan Staal (to me, a factory-sealed St. Louis Blue) with the No. 1 pick and the Penguins would then take Johnson second, but it ended up being the reverse.
Jonathan Toews then went third to Chicago, Nicklas Backstrom went fourth to Washington, and the Bruins took Kessel fifth. Many months before the draft, most thought Kessel would be the first overall pick, and today, you can see why. As the 2006 draft neared, that changed. On draft day, many wondered how far Kessel would fall. If the 2006 draft were redone today (I like playing this game), I say the draft would look like this:
1. Blues: Jonathan Toews
2. Penguins: Phil Kessel
3. Chicago: Jordan Staal
4. Washington: Nicklas Backstrom
5. Boston: Erik Johnson
Let's be clear. I really like Staal as a player. I believe he will be a dependable, sturdy, ever-improving player. He might even be captain material. During the first period of Saturday night's Penguins-Rangers game, he was the best player on the ice. In a lot of ways, he reminds me of Ron Francis, although Staal is a little longer and bigger. Staal probably will have a 20-year NHL career and should play about 1,500 games. I put his Hall of Fame chances at 65 percent. I've already seen instances this season when you can see that his hands and feet are faster than they were the season before. They will continue to get faster. He is only 20.
I probably could be convinced that the Penguins would take him again in a re-draft. It's just that they have two very good centers who get most of the power-play time, and right now, Staal lacks a goal-scoring shot. That isn't a major concern right now because the Penguins will be a top-10 goal-scoring team later this season. But in the long term, that concern would need to be considered when gauging Staal's value and his importance to the makeup of his team. I also can picture Kessel flying down the wing with Evgeni Malkin or Sidney Crosby, and that is quite tasty.
Kessel, who turned 21 earlier this month, is a big-time player who has a big-time shot. His wrist shot from about 25 feet out last week in Buffalo was a thing of beauty. The only way it could have been more beautiful was if Monica Bellucci had shot the puck. What makes the 2006 draft even better for Bruins fans is that Boston selected Lucic in the second round with the 50th overall pick. In a re-draft, Lucic would be a top-20 pick, at least. This kind of draft is what vaults a franchise. It's still too early to say whether Lucic and/or Kessel will be consistent high-level performers, but they have the game.
Kessel has good hands and good size, and unquestionably he'll lead the Bruins in goals this season. The Bruins (who, by the way, have to be setting a team record for most right-handed shots on their roster) did not have a 30-goal scorer last season. They will this season. Kessel is an uncomplicated person with an uncomplicated game: Skate and shoot. If Kessel stays healthy and keeps up his shots pace (about 275-300), he will finish this season with 35-45 goals.
One of those goals, his sixth of the season, will be tough to beat for me.
Weekly Tribute to Jack Falla
The following is an excerpt from Jack Falla's "Home Ice." Falla passed away Sept. 14. We'll honor his memory each week with a few lines from one of his classic books:
My interview with Walter Gretzky started badly. He spoke hesitantly, guardedly, about his son. It seemed obvious that he either didn't like or didn't trust reporters. I told him one of my most vexing problems (as a backyard rink owner like Walter Gretzky was) I faced was that my kids and their friends left hockey equipment strewn all over the ice when they came in at night, thus necessitating my picking up their gear before I could begin to resurface.
"Ohhhh, Wayne and his brothers used to make me so mad doing that," Walter said. "So one night, I just left it all out there and turned on the sprinkler. Froze it all in."
If you ever wonder how Wayne Gretzky turned out to be among the least spoiled of the world's athletic megastars, you should talk to Walter for a few minutes. A tough-love man, this Walter Gretzky.
The Mother of All Mailbags
The following e-mail is from Mark "Doc" Kelly, one of Jack Falla's best friends. Kelly attended St. Lawrence University and played some freshman and club hockey there. He met Jack when they both taught and coached at The Rivers School in Weston, Mass. Kelly was head coach of lacrosse and an assistant in football and hockey. From there, he spent 10 years as the head of middle school at Metairie Park Country Day School in New Orleans before serving as the head of school at Annunciation Orthodox School in Houston, where he worked for the past 13 years.
John,
Any time you see "Doc" in Jack's books, that would be me. Jack also mentioned one time that Cam, the defenseman in "Saved," is based loosely on me. I think that really is mainly thanks to the fact that the character is his best friend in the book. Brian, Jack's son, told me at the funeral that Jack mentioned to him one time that, if possible, he wanted me to do his eulogy, but he assumed I couldn't make it and asked Brian to do it instead. I guess he underestimated me. The shocker for me was that they even had that conversation. I mean, who does that?
I was going through one of the first Christmas books I received from Jack and found an interesting excerpt. It was in the 1987 "Christmas Book." Earlier that summer, Jack and I had walked the entire length of the outer beach of Cape Cod from Race Point in Provincetown to our family home in Eastham -- roughly 40 miles, 35 miles of which were on the beach itself. Looking for a certain quote from that trip, I came across the following entry that was from a journal that Jack kept, but one that he included in "The Christmas Book":
Thursday, Sept. 3, 1987
My first day teaching at Boston University. Came up out of the Kenmore Square subway station just as I did in 1963 on the first day of classes. There was today the same cool, acrid-smelling air, the screeching of trolley wheels, the thump of the car doors and a feeling of expectancy. My years have always started in September.
Little did we know that Jack's years also would end in September. If you are interested, I'll send along a Jack "Christmas Book" quote now and then, but don't be afraid to say no thanks to that offer.
Doc Kelly
(Close friend and pen pal of Jack Falla)
No, Doc -- I'm sure the readers would love to read unpublished jewels from the late Jack Falla from time to time.
---
John,
I totally agree that fighting as a method to police the game has a place. You have unfortunate timing, though, because of last week's "policing" of Tyler Sloan. After delivering a clean and awesome hit, Sloan was attacked by two members of the Flames. Players who take revenge of clean neutral-zone hits on guys who are skating with their heads down are the reason that people look down on fighting in the game. Even I, a certified hockey apologist, found myself wondering what I'd say if I'd been with a neophyte watching that take place. Fighting should be used to police players who have crossed a line or to invigorate a team, not against guys who are playing the game the right way (and delivering fantastic open-ice body checks). Hits like Sloan's are part of the reason I watch the sport. The Flames had no reason to take offense to it.
Joe
San Diego
I completely agree, Joe. I was watching that game at home and saw what you were talking about in real time. Hand it to referee Bill McCreary. He cited Rene Bourque, who attacked Sloan, with a fighting major, a double minor and a 10-minute misconduct. A nine-minute power play. Sloan received nothing.
I've written about this before. When Tom Brady or Marvin Harrison or Shaun Alexander is "jacked up," NFL players don't fight. Even on an illegal hit, players rarely react with fighting. There is sometimes pushing and shoving, but the 15-yard penalty is bad enough. If the NHL were to have five- or 10-minute penalties on hits from behind, or 10-minute penalties on intent to injure, the number of those plays probably would decrease. Shouldn't all NHL players be open to receiving legal hits?
Quarterbacks are protected, but that's because they often are defenseless in the act of the forward pass, as are punters and kickers while kicking. Their minds are on something else. A runner, receiver or returner knows the deal. All hockey players need to keep their heads up and be prepared to get hit. The Flames could have used the rest of the game to get back at Sloan in a more subtle, legal and physical way. That is good hockey -- seeing two teams try to out check each other with legal, hard hits.
---
Hey J,
Pierre LeBrun had an interesting conversation brewing regarding the next set of rule changes the league may adapt. I think you should talk about it more in your weekly column. Take a look at the ones I put below and elaborate on it in one of your next columns.
Any rule that increases offense needs to be implemented. Defense is still too easy to play. Icing on the power play is another bailout teams get; it should get blown down with no change like it's 5-on-5. Players with skill will adapt and be able to play shuffleboard to keep it from going all the way down. Or keep the trapezoid, but allow the goalie whose team is on the power play the ability to go anywhere behind the goal line to help the transition game. Goalies slow down the game way too much. Redo the circles in the zone, putting the faceoff dots two or three feet closer to the net; that way, there would be great scoring chances off the draw, and the flow of the game would pick up as goalies would be more hesitant to cover the puck.
Steve Milosevski
Nashville, Tenn.
Icing on power plays has a Zen-like quality to me. I like seeing the shorthanded team make a nice, smart move to ice a puck and feel that temporary feeling of relief as the puck makes its solitary slide down the ice. I enjoy seeing the power-play defenseman cruise back, gather the puck, make his way up the ice and survey what is in front of him. I like seeing that defenseman make the right decision. That all has a flow to me. I enjoy that. But that's just me -- the tall guy with the big head.
I guess you could put the dots closer, but defensive teams probably will just pack it in and create a soccer wall of sorts. Still, I'm open to try anything to see how it looks and feels.
I like one rule that's being talked about: If there is a delayed penalty in the scoring zones, play continues until the penalized team clears the zone or the goalie freezes the puck.
Also, I like the idea of how once a team gains the offensive zone, the red line becomes the line in play for the defensive team to clear. In other words, the red line becomes the blue line, expanding the offensive zone to half the rink like a basketball court. That could help lubricate the game by creating a larger offensive zone. I'd like to see how that looks in action. It has popped in my mind a couple of times while watching games recently. It might give the game more time and space. Players are so fast and agile today that the game is sometimes clogged. But make no mistake, I love watching nearly every game, and I watch the game with a positive eye.
In less than 100 years, the game will probably be full-time 4-on-4, and those of us who enjoy meat will consume in vitro meat.
---
Bucci,
Am I the only one who thinks the Ducks are getting the short end of the stick just about every game in the penalty department?
Ryan Barker
Irvine, Calif.
Yes, Ryan.
---
Hey John,
When was the last episode of "NHL 2Night" broadcast?
Thanks,
Jeff
May 2004.
Completely irrelevant to that, Chris Kuc had this in the Chicago Tribune last week:
The resurgence of the Hawks at the box office and around the league has caught the eye of NHL commissioner Gary Bettman, in town for Thursday's general managers meeting. "I've never seen anything like this," Bettman said. "The season-ticket base has more than tripled in one year. That is absolutely exciting to see, and it's a credit to [chairman] Rocky Wirtz and [president] John McDonough and everybody in the organization. And perhaps more than anything else, it's a credit to the great fans here in Chicago."
Back to my take: The atmosphere in Chicago on Saturday night was a thing of beauty. Pavel Datsyuk's goal might be the goal of the year. Or maybe it was Marian Hossa's the game before. Whatever the case, when the Red Wings get humming, they appear to be in a different league. Johan Franzen's knee injury probably will prevent his destined 40-goal season. Franzen is a $6-7 million-a-year player. I don't see how the Red Wings can keep both. They certainly will not be able to keep Hossa, Franzen and Zetterberg. What helps the Red Wings so much is that their goalies make a combined $2.1 million.
---
Hey John,
Is it possible that we are finally seeing the real Phil Kessel? After six goals in six games, it seems to me that we are finally seeing him with all of his strength and skill back after fighting cancer.
Greg Breault
Providence, R.I.
Phil thy horn with oil … and go.
---
John,
In the past couple of articles, there's been a lot of talk involving relationships and women who claim to "love hockey" while getting into the relationship, only to find out down the road that they indeed lied about their love of the sport.
I recently met a girl who claims to love hockey, and we've been getting closer. Now, I have no reason to doubt that she loves hockey, but on the other hand, Marco had no reason to doubt his ex-wife loved hockey until it was too late.
So my question to you is, what advice can you give for those of us still looking for the one who not only would let us build that backyard pond, but would be up for some shinny? What can be done to make sure we don't fall into the same trap as Marco from Brampton? Is there some sort of litmus test?
"Looking for a winger"
Minnesota
If she feeds you one-timers on a St. Paul lake until her arms fall off, you've got your girl. The whole point of a relationship is to support each other's crazy passions. Otherwise, why even be in a relationship? Ice skating is a good litmus test, especially outdoor skating. There are many things to look for in a spouse. An underrated thing to look for in women is toughness.
Bucci,
I realize the hockey wife bit is probably played out, but I thought you'd enjoy this one. I am a huge sports fan dating to the glory days of late '70s and early '80s University of North Dakota hockey. My wife, however, is not much of a sports fan. This is enforced by the fact that she "just doesn't get it" (her words).
We share season tickets for the Minnesota Wild with other people. One game, she asked why the goalie was banging his stick on the ice. I explained that he was telling his teammates that the power play was nearly over and that they should prepare for an additional opponent on the ice. She looked at me and said she thought the goalies did that because they were bored and communicating that to everyone else on the ice. I kid you not. Turns out her best friend, who was the wife of one of the Wild's trainers, actually thought the same thing. Despite this, my wife's the best.
Duane
Savage, Minn.
Duane, try banging a hockey stick on the dining room floor when you want dinner served and see how your wife interprets that one. Please let me know how that goes. Send pictures.
Hi Bucci,
In keeping with the mailbag theme of hockey-loving women, I got married last month to the girl of my dreams. We met a few years back in college, and she's always said the main reason she started dating me was because I played hockey. She never missed one of my games, either. Now, our favorite thing to do at home is make wings, drink beer and watch hockey for 3-6 hours. Can a guy be any luckier?
I know you get e-mails asking for baby names, but we're not ready for a kid yet. Instead, we are looking to rescue a black lab in the next couple months. So, I need a great hockey name for our new family member. I was thinking Mac in honor of Al "Big Daddy Al Mac" MacInnis. Any ideas? I'm counting on you here, Bucci!
Matt
Denver
Hmm, you are in Denver. I like "Lappy" after Ian Laperriere of the Avalanche; "Archie" after the St. Louis Arch, if you have Missouri ties. "Sergei" is a workable hockey name for a pooch. "Slash" is an interesting choice. Or "Trip." Send us a picture of you with your dog with the name you choose after you bring it home.
Bucci,
So, after reading about all these no-loving-hockey wives, I thought I would interject with a girl's point of view. I could possibly love hockey more than any other guy that I have dated. (Which is why it never worked out, I'd imagine.) I even plan to take over Melrose's open gig at ESPN (with better hair -- and Bucci, if you could set that up, that would be great! – haha!). So, guys, keep up hope that there are beer-drinkin', hockey-loving girls who will gladly give up a night of "Grey's Anatomy" for a playoff game (it was done), but only if you're a wild fan!
Jessi
Girl gone Wild.
---
Bucci,
Hi! What exactly did Jim Cummins mean when he said he "skated by and face-washed [Darcy] Tucker?" As a kid who played hockey -- mostly at the rink with some pond hockey mixed in -- I probably did get punched in the face, but you seem to know more about the terminology.
John S. Morgan
Face-washing is when you take your stinky, old, dirty hockey glove and put it onto the face of an opponent in a slight pressing and circular motion. One definitely should wash one's face after one gets face-washed by Jim Cummins' hockey glove.
---
John,
When you mentioned sneaking into the Civic Arena, it brought back some awesome memories of scaling the wall near the old Igloo club and entering the doors that had no handles on the outside but were always unlocked. Sometimes, my friends and I would pitch in to buy one $6 ticket, and that person would distract the security guard while we climbed the wall and made a dash for the door. Then, he would come by and push it open for us. It was the best way to spend a wintry Saturday night in the Burgh. Thanks for bringing back that fond memory of my youth, and keep up the great work.
Bob
I actually did some research to figure out what game my two high school buddies (Jim Gibson and Steve DiBartolomeo) and I sneaked into back in the fall of 1981. It was Saturday, Oct. 17, 1981, and the Penguins beat the Minnesota North Stars, 5-2. According to The New York Times, first-period goals by Rick Kehoe and Greg Malone (Ryan's dad) helped give Pittsburgh a jump on Minnesota en route to the victory.
My buds and I scalped one ticket and gave it to some dude outside Civic Arena. We then followed the man around the outside of the arena while he was inside the glass until he saw no Penguins personnel. He opened one of the Igloo doors from the inside, and we slipped in. There is so much more to this story that I want to tell, but I will wait for another time because it involves lots of stupidity and a few illegalities.
---
Bucci,
Seriously, I have read your column now for about a year. I love the great mix of music, hockey and, more recently, the relationship advice. First things first, I need to set the record straight for all the crazy hockey dads who are coaches. For the first time ever in my 13 years of officiating hockey, I heard a grown man call a hurt kid laying on the ice a "pansy" (but not in such a nice fashion). I hope you are as sickened by this as I am and share it with Hockey Nation. I think that somewhere down line, some of us forgot that it is just a game. These kids are our future all-stars at every level, and they need to be reminded of that. Thanks for the time to vent. By the way, "Jonesy" was SICK!
Jeff
Kalamazoo, Mich.
Full disclosure: I have a hard time with kids who lie on the ice, then get up and skate back to the bench like Eric Heiden from the 1980 Olympic Games in Lake Placid. I've always told my two boys that this is not allowed. Get up and get off the ice unless your arm or leg is connected to your body by three or fewer ligaments. Certainly, there are times when there are serious injuries or a child could be afraid from a fall or a pain he or she has never experienced. But I've got to tell you, I have little patience for lying on the ice. If one of my boys did it, I would walk onto the ice and snap his femur. I'm a rotten human being.
Gratuitous "Jonesy" reference/Hockey Facts:
Youngest NHL team: Phoenix (average age is 25.6 years old)
Oldest NHL team: Detroit (31.8)
---
Bucci,
I hope you were watching the Caps and Flames last week on the D.C. feed because they just spent several minutes talking about Håkan Loob after the trivia question, "Who is the only Swede ever to score 50 goals in an NHL season?" They even had a full-screen graphic with the headline, "The Swede Smell of Success." Figured it was right up your alley.
Bill Walsh
I TiVoed it. Froze it. And lit a candle to it. Prayed to it. Sang Enya to it. The whole thing.
---
Hi John,
Despite the great name suggestions you gave us, we're going with Ty Michael. Michael for an older brother I lost years ago, and Ty after Ty Webb. I thought you'd like that. He's due Dec. 19 … stay tuned.
Jason Bangild
Isabella, Sophia and Daniel are the most popular names for New York City babies, according to the Health Department's annual list from birth certificates issued in 2007.
Music tip: Find a way to listen to "Time to Pretend" from the band MGMT. It's on the Oracular Spectacular CD.
Hockey facts: New Jersey has the most U.S.-born players (nine), three more than the Thrashers. Minnesota and Ottawa each has only one American-born player. Calgary leads the way with 21 Canadian-born players, while Detroit has the fewest Canadians, at seven.
---
Hi John,
I was sitting here rocking my infant son to sleep and reading your column when I learned of the passing of Jack Falla, whose sports journalism class I had the pleasure of taking at BU in the mid-1990s.
He always found the time to talk to the Jack Falla wannabes in his class, inspiring us to be our best and to let nothing stand in our way. When in his office, I regularly was taken aback by a feeling of "Wow, this guy who has accomplished so much is taking the time for me!" But that's just who he was. He loved what he did, and he wanted others going into the profession to love it just as much.
I was lucky enough to spend a season working on the New York Islanders' radio broadcasts after college (doing stats during the game and postgame interviews -- a dream come true, as I was almost 10 when my Isles won their fourth and last Stanley Cup); I tried to live up to what Professor Falla expected.
My wife, son and I just moved across the country and, while unpacking boxes, I found some pieces that I had written for Professor Falla's class, all of which had been hand-commented by him. Again, I think that speaks to how much he personally enjoyed teaching. I doubt I'll be throwing them out.
Our son, who's now asleep, already has been to his first hockey game -- Avalanche/Kings preseason at the MGM Grand. (Picture attached, taken by another Isles fan, if you can believe it!) My wife is from Colorado and is a lifelong Avs fan.
Thanks for reading, and thanks for your columns, which I've enjoyed for years.
Mike Obstgarten
Henderson, Nev.
"… he may come and sit upon my throne; for he shall be king in my stead."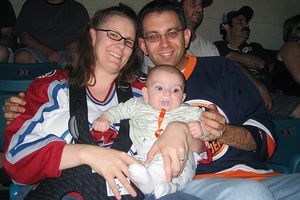 John Buccigross' e-mail address -- for questions, comments or crosschecks -- is john.buccigross@espn.com.