AC/DC is the official music act for the sport of hockey. *
*--This was decided by a panel of one. The Decider. The Decider will now make his case. And he will do so by wearing a baby blue JOFA helmet while eating handfuls of cinnamon. Alone.
Malcolm Young and his younger brother, Angus, were born in Scotland. They moved to Australia when they were ages 10 and eight, respectively, with their father, mother, five brothers and sister. One of the expectations in their home: Everyone had to grind his or her way through life and not complain. No lying on the ice.
If the United Nations placed this family in an NHL division that most reflected their upbringing, the Youngs would have been placed in the 1983-84 Norris Division. Malcolm and Angus would have slashed Dino Ciccarelli's wrists every night and then gone out with him after the game for 14 beverages.
Malcolm and Angus started a band called AC/DC in honor of fellow Norris Division combatants Adam Creighton and, yes, Dino Ciccarelli. *
*--This qualifies as BREAKING NEWS. I am breaking this story. Right now. Start spreading the BREAKING NEWS. It will help my Hall of Fame chances. Name the last time Mike Emrick broke any AC/DC news. Please ignore the fact that Creighton was eight years old and Ciccarelli 13 at the time the band was formed. Angus was, and is, prescient.
AC/DC's first consistently good album was "Let There Be Rock." Two years later in 1979, "Highway To Hell" was released. The lead singer of those records, including the legendary single "Highway to Hell," was Bon Scott (a good name for a right-handed shooting defenseman from Sarnia, Ontario). Scott died at 33 from too much vodka and not enough bag skating. Scott was replaced by Brian Johnson (typical goalie name). And just weeks later -- kick save and a beauty -- the band began working on what would become AC/DC's best record and arguably one of the finest and most timeless rock 'n' roll albums of all time.
Shot of the Week
It's back. You know how it works: We present an NHL photo, and Bucci provides a caption. E-mail him your suggestions (include your name and hometown/state), and we will use the best ones and provide a new photo the following week.
LAST WEEK: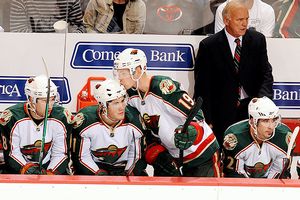 Boys Gone Wild (Courtesy: Getty Images)
Your captions:

"Here, let me get that maple syrup off your helmet for ya."
-- Matthew Tynan
"Note to self: Don't lick a frozen helmet. Not even when Mikko double-dog dares me."
-- SSG Dennis Higgins (Radwaniyah Palace Complex, Iraq)
"Go 10 yards, stop, and then go; they can't cover me."
-- Howie Israeloff
"It's OK, little Pookie."
-- Danio (Silver Spring, Md.)
"Bauer contract -- fulfilled. Check."
-- Dave (Northport, N.Y.)
THIS WEEK: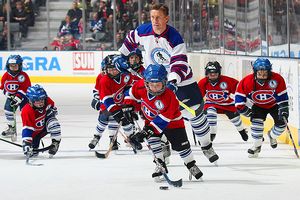 If Angelina Jolie was a hockey mom … (Courtesy: Getty Images)
"Back in Black" was released July 25, 1980 … a date they refer to in Downers Grove, Ill., as Tony Granato's 16th birthday. In Kazakhstan, they call the date Evgeni Nabokov's fifth birthday, or when Borat Sagdiyev was approximately nine. "Back in Black" has sold 22 million copies in the United States and 42 million worldwide.
Fast-forward to 2008 …
About this time last week, I was in my local LA Fitness doing my normal workout -- 42 sets of 10 reps of dumbbell curls. In front of a mirror. Shirtless. And one set of four squats. Pants on. In the early stages of this workout, I looked at my four-year-old Dell MP3 player, approximately the size of a can of tuna, and looked for some music to inspire me.
I had 4,030 songs to choose from (I just checked; I think the tuna can holds 15,000 songs altogether at about 30GB). The contraption that connects the MP3 player to my computer was chewed up beyond recognition by the family dog two years ago, so I can no longer add new music despite an arduous online search.
Back at the gym and scrolling for music, I stopped at AC/DC (nestled between ABC and Alanis Morissette) and decided to listen to "Back in Black" from start to finish. I usually jump around from album to album, listening to one to four songs for motivation. I decided to forego that practice on that rainy Tuesday morning and pressed PLAY ALBUM upon punching up the only AC/DC album on the tuna can.
As the songs played, it began to hit me:
1. This music is still fresh today, and these songs not only make AC/DC hockey's best friend in music, but …
2. "Back in Black" is the NHL's soundtrack.
Since that moment last week, I've listened to "Back in Black" about five times from start to finish. Here comes the sixth, and here comes this week's column. While going through the album's 10 songs and their relationship to hockey and the NHL, I will be listening to the songs from the said tuna can.
I press play …
Track 1: "Hells Bells"
I'm a rolling thunder, pouring rain
I'm comin' on like a hurricane.
Angus angle: This track begins with haunting church/dungeon bells. San Diego Padres fans hear this and think Trevor Hoffman. I hear it at 54 minutes past midnight and I am literally scared out of my freakin' mind. I am expecting Ryan Hollweg to hit me from behind at any moment. Has any album ever set the tone better than this? After a slow, building intro that lasts 1:27 (My birthday! Good God, HELP ME!), Johnson screams his first lyric (above) as lead singer of AC/DC. What describes arena hockey better than this? A well-played hockey game is filled with relentless passion; a bombardment of emotions.
Two days after deciding to write this AC/DC column, I was watching the Sharks/Blues game on the Center Ice package. The game went to overtime. As overtime was set to begin, guess what song blared through the Shark Tank while Randy Hahn and Drew Remenda kept great company? You got it -- "Hells Bells." And how did the Sharks win the game in the shootout? A save by Evgeni (July 25) Nabokov! Run for your lives!
Track 2: "Shoot to Thrill"
Shoot to thrill, play to kill
I got my gun at the ready, gonna fire at will
Angus angle: Who doesn't like shooting a puck? One doesn't really have a choice when confronted with a stick, a puck and ice. Watch every youth coach during hockey practice; time will go by and they will invariably reach a point where they have to shoot a puck. It must be an instinct from when man held large clubs and swatted small rabbits. Not a pretty sight, but there was no Super Stop & Shop back then. It's especially touching when the coach fires his wrist shot off the eight-year-old goalie's mask. You stay classy, Coach. It's like my buddy Brian Engblom (we share a birthday) when he walks by a hair salon in a Colorado mall. He sees the chairs and smells the Barbicide and he just has to get a new hairstyle. He can't control himself.
Phil Kessel came to mind first as I listened to this song, since I had just written a column on a shot he took in Buffalo last month. As I listen to it right now, Alexander Ovechkin, Alexander Semin, Thomas Vanek, Ilya Kovalchuk, Evgeni Malkin, Sheldon Souray, Jarome Iginla, Dion Phaneuf and others come to mind as players who continually shoot to thrill. I get a lot of the "hockey was better back then" e-mails, but wrist shots have never been more thrilling. This is part of the game that without question is better than "the good ol' days." Enjoy them, people!
Track 3: "What Do You Do For Money, Honey?
Honey, whaddya do for money?
Honey, whaddya do for money?
Where you get your kicks?
Angus angle: As this song plays, I think of players blocking shots. Like this song (3:35), blocking shots happens in a flash and without much warning. It is, without question, the most underrated display of courage and selflessness in all of sports. A player puts his body, man region, unprotected face and other parts of the body in front of a frozen object going close to 100 mph at times. How much money would it take for you to do that, honey?
Track 4: "Givin' The Dog a Bone"
I'm just a givin' the dog a bone
Givin' the dog a bone
Givin' the dog a bone
Angus angle: Another short but biting song played in less time than a double minor for high-sticking. This song represents a physical, hard-hitting game. Hard, crunching checks energize fans, which, in turn, energize players. Although, to tell you the truth, if the arena was empty and a hard check was delivered, all of the players would still be energized -- energized out of fear, anger, revenge, exhilaration and just the sound of the hit. That's why I like hockey hits better than football hits. Football hits do have the collision of helmets and plastic, but they don't have the rattling of boards and glass. Plus, a hard football hit ends a play. In hockey, the hit lingers as the play goes on.
Those few seconds of adrenaline after a hit can't be duplicated in other sports because, again, the play ends like a period ends a sentence. In hockey, it adds drama to a multilayered drama. A hit is a mere comma to more mirth, tension, violence, euphoria and elation. A YouTube tribute to Cam Neely, using this song, would work right about now.
Track 5: "Let Me Put My Love Into You"
Flying on a free flight
Driving all night
With my machinery
'Cause I, I got the power
Any hour
To show the man in me
Angus angle: This is, uh, what, uh, one would call, uh, an, uh, masculine song. It has, uh, what one would, uh, describe as, uh, having, uh, well, you know. Let's move on.
Track 6: "Back in Black"
Back in black
I hit the sack
I've been too long I'm glad to be back.
Angus angle: This song, and the black album cover, were a tribute to Bon Scott's passing. Skull-crushing chords layer this song about rising from death. I am curious how many times, as I am with other songs and things in my life, I have actually listened to this song in my lifetime. Five hundred? The song is about 339 months old. Once a month is 339 times. But I've listened to it five times while constructing this paragraph. And I listened to it about 104 times in the summer of 1983 while I took jump shots in my next-door neighbor's driveway. Five hundred seems right. And it still sounds fresh and new.
I hear this song in 2008 and I think of the Boston Bruins and Chicago Blackhawks. (And, to a lesser extent, Montreal, who is back among the NHL elite. Last 100-point season -- 1992-93. Stanley Cup. Might happen again this spring.)
The Bruins and Hawks are two Original Six franchises, dormant for a decade, that defined hockey hubris and are now at least living and breathing again. Now, neither has won a playoff series this decade, so they really haven't done anything yet. But they have at least energized the gigantic buildings that replaced their cozy, classic theaters. (If you count the corners of a rink, hockey is played in an octagon. At Chicago Stadium and the Boston Garden, hockey had an ultimate-fighting vibe to it.) Today, Blackhawks crowds are exceeding the capacity at times as they watch Jonathan Toews and Patrick Kane accept the torch that was actually drenched by the fan base's tears. The Bruins are not drawing like Chicago (they didn't sell out the home opener against the Penguins), but the 80-90 percent capacity of fans who are in the stands are feeding off this interesting team. These two play Wednesday night in Chicago. I will watch.
Track 7: "You Shook Me All Night Long"
Now I'm back in the ring to take another swing
'Cause the walls were shaking the earth was quaking
My mind was aching
And we were making it
And you shook me all night long
Yeah you shook me all night long
Angus angle: This song, overplayed in American bars in the late '80s and early 90's, is playoff hockey. Every sport amps it up a notch come playoff time, but nothing compares to hockey. I say this as a boy who grew up in America loving the four major sports pretty equally. Hockey was part of the mainstream for me, not part of some cult. Like other sports, Dad took me to a couple games a year, and I listened to games on the radio, watched games that were on TV, and had Super Toe, Super Jock Basketball and Super Jock Hockey. I had each of the four hand-held computer games. I think I am a good judge of these things.
Other sports certainly have memorable postseason contests, but nothing can consistently compare to playoff hockey night in and night out.
Rolling Stone has an excellent cover story out on AC/DC. In it, Malcolm Young said, "I've never felt like a pop star. This is a nine-to-five sort of gig." Angus said, "When I started doing this, I thought, 'You gotta give it 200 percent.' Because it was your survival."
That is very hockey. Very playoff hockey. AC/DC has a hockey mentality.
Track 8: "Have a Drink on Me"
So don't worry about tomorrow
Take it today
Forget about the check
We'll get hell to pay
Have a drink on me
Angus angle: "Have A Drink On Me" is out of the "Givin' The Dog a Bone" musical playbook. It sounds like it was conceived and recorded in a bar called "The Bear's Den" in rural Ohio. But the lyrics turn it into an ode from player to fan. Let's face it, so much of this love affair is one-sided. The players make millions, get the hot girl, have the summer off and get showered with adulation like Mom's mashed potatoes. They owe you a drink.
This is still one issue that sticks with me because I've seen it up close at times. Some players are not truly grateful for the life you give them. At times, some of them believe they are actually a superior being. As hockey fans, we know that studies (unofficial) have shown hockey players are the kindest, most appreciative athletes. My theory has always been that hockey players come from households that sacrifice so much for them to play that this unspoken and consistent example, as well as the values the game teaches, fosters an environment of down-to-earth people who wish to do the same for others when given the chance. Perhaps the relative anonymity for most players in America also helps with humility.
Barry Melrose is one example of someone I've seen who treats each fan picture and autograph as if it was the first. Sometimes, fans buy players drinks or maybe dinner when they see them out on the town. They really should pick up your tab.
Track 9: "Shake a Leg"
Idle juvenile on the street, on the street
Kicking everything with his feet, with his feet
Angus angle: This is for all the goalies in the house. As a kid, I was always fascinated with goalies. Tony Esposito had all the style. Gerry Cheevers was the gambling uncle who had plenty of beer and cigarettes, and taught you how to swear and play cards. Bernie Parent and Ken Dryden had an aura of invincibility. When my team played against them, I was TERRIFIED. That is not a metaphor. I was legitimately frightened. I felt there was no way to win.
When I got a new Mylec street hockey goalie stick for Christmas and a real 6-by-4 hockey net, I was in heaven. Grab me a baseball glove and I was ready to go.
I always felt like a baseball pitcher while playing goalie. I'm sure most feel like a catcher. The catcher and the goalie have the whole game is in front of them as an object heads toward them at 100 mph. Both make good television analysts. But I felt like I had the control of a pitcher while in net. I don't get the sense that kids have that same romantic view of goaltending as kids of my generation. Maybe because everyone plays such a similar style now, or because the masks are all basically the same outside of a paint job that can only be appreciated up close and frozen. This could be a good thing. We may be on the verge of producing a generation of crappy goalies; that might mean a few more goals without making the nets bigger. That's a win-win.
Track 10: "Rock and Roll Ain't Noise Pollution"
We're just talkin' about the future
Forget about the past
It'll always be with us
It's never gonna die, never gonna die
Angus angle: AC/DC was influenced by the records of the '50s and '60s. There was nothing like AC/DC in the '50s and '60s. There was Chuck Berry, Bo Diddley and Elvis Presley. This song has a bit of that R&B element to it. And an element of a pep rally.
Disco was "so late 1970s" as AC/DC recorded this song in the Bahamas, although disco did survive a little longer in Europe. As AC/DC recorded "Back in Black" in 1980, perhaps rock 'n' roll still felt threatened by disco. The world was changing fast.
To simplify music history to the CliffsNotes version of one perspective, new wave kind of replaced disco. Then there was rap in the early 1980s. Country music exploded in the late '80s and early '90s, when pop music fans didn't like what they heard on the radio anymore and adopted Garth Brooks. Then we had some crazy glam metal before the explosion of hip-hop, which has changed society and sports more than anything else over the past 15 years.
"Rock and Roll Ain't Noise Pollution" has turned out to be a bit prophetic. What will likely be the highest-selling album this year? AC/DC's new release "Black Ice." Black ice. The best stuff to skate on.
This song is a good reminder to stick by what you believe in. "Rock and roll will never die."
People have been trying to kill off hockey again and again. But they can't. Hockey, like rock 'n' roll and a strong family, has too much passion, purpose and drive behind it to fail, whether it's in the rinks, the local beer league or the learn-to-skate program. It has staying power; a reusable energy pattern that goes from fan to player and back to fan. It's a cycle of excitement and joy that comes with an ice-cold beer. It will survive the whims of an experimental and fickle sports fan, down economic times, and the ever-tenuous entertainment dollar and all of its choices. Because skating on ice and shooting a puck is fun and makes one feel young and alive.
Humans are born with nearly adult-size irises that we grow into with time. It's why babies appear to have such gigantic, curious eyes as large as faceoff dots. One of life's little secrets is living with large irises long after childhood and finding great joys in little things like a Kessel wrist shot or a 28-year-old AC/DC album. Both were born from great craftsmen, and both can fill us with energy to get us through a day or two.
Rock on, Wayne. Rock on, Garth.
Weekly Tribute to Jack Falla
The following is an excerpt from Jack Falla's "Home Ice." Falla passed away Sept. 14. We'll honor his memory each week with a few lines from one of his classic books:
"I have always been inept at what commonly passes for casual social conversation, partly because I don't like what I see as the slithering insincerity of it … but hockey was always different. I talk easily about the game, and hockey, for me, has been the entering wedge in many an enduring friendship … it is the conversational access ramp to a highway that leads to more elevated topics and sustained friendships. My first date with Barbara was to a hockey game. My late father and I had the usual problems that so often divided the World War II generation from the Woodstock and Vietnam generation. But we never had a problem or spoke an angry word in a hockey rink."
The Mother of All Mailbags
Hey John,
I just read your column for this week and I was glad to see your tribute to Jack Falla at the top of the page.
I took both of the classes he offered at BU, one as a junior in '02 and the other as a senior in '03. I'm by no means a morning person, but I never missed a single one of his 8 a.m. classes. Jack's favorite line was, "You gotta play hurt." He said it time and time again, and play hurt we did. Because we knew when the tables were turned, he would surely take his own advice.
It was impossible not to like the man. He approached every class and every crop of new students with the same passion and enthusiasm as he did the first. And with every class came the same nerves as well. Self-admittedly, he was uncomfortable as a public speaker, even in front of a small group he'd been teaching the whole semester. You'd often catch him looking at the floor rather than right at you when he was speaking.
Jack's network of former students always amazed me. He kept up relationships like no other professor I ever encountered. It's probably because he never made it feel like he was the teacher and we were the students. Long after we left his class, we were all still "his students," fully invested in everyone that came into his classroom long after we were gone.
In that last class I took with Jack, he told us about a book he was beginning to write. He said he had only just finished the first chapter and he was starting the process of shopping it around to publishers. The chapter was about him attending the funeral of Maurice Richard. Fortunately, someone was smart enough to commission him to write the rest of his tales, which has resulted in "Open Ice."
Like you said, every time you speak of Jack, the inevitable flow of glowing e-mails from former students are sure to follow. Here's another one to throw on the pile. Even though it's all been said about the man at one point or another, it's worth saying one more time. Thanks for paying him the tribute he deserves this year.
Anthony DeVita
---
Bucci,
I am flying my Devils flag at half staff today. I just read the news about Marty needing surgery and missing the next 3-4 months. It's never something you want to hear, especially about him, of all people. I am quite devastated. So, I have questions for you:
--Does Kevin Weekes have it in him to take over for the next 30 games or so? Or will Lou go another route?
--Will the Devils' blueliners crumble under the pressure or step up their game?
--Can Zach Parise keep producing at the same level throughout the season, or was it just a great start? Will he be amongst the league leaders in scoring at the end of the season?
These are the things on my mind. I'm interested to hear your thoughts.
Carrie O.
Queenston Hockey Club goalie (No. 30)
Let's go on the premise that Martin Brodeur will miss three months and be back Feb. 3 for a home game against the Capitals. That's 39 full games without Marty, Marty the one-man party. I went through all of the games and came up with an 18-21 record. The Bucci Win/Loss Meter has a margin of error of 3, either way. This record projection includes shootout wins and losses, so don't go by the point totals. I split the average amount of shootout games the Devils should see. So, there is a chance they could be a .500 team.
If this is the case, once Brodeur returns, the Devils would be in the group of teams battling for a playoff spot, like the Flyers, Hurricanes, Senators, Bruins and maybe the Lightning.
Parise could get to 40 goals this season, but his assist totals have always reflected his goal totals; that would make an Art Ross Trophy out of the question and 100 points unlikely. But 90 points would have put you within the top 10 in NHL scoring last season. Only Evgeni Malkin and Ovechkin reached 100 points last season. In 2006-07, the NHL had seven players with 100-plus points, the same as the first season out of the lockout.
---
Hi John,
Thank you for your very good column that I read from France. In my country, hockey is nothing and I don't understand why (maybe because soccer is all in Europe, but hockey does very well in Germany). For me, it's one of the most beautiful sports in the world because of speed, ice and team spirit. But I don't understand something: hockey is Canadian, no? So why just six Canadian teams in NHL? Lack of money?
Stephan
Alsace, France
Merci beaucoup, Stephan. Canada is a country of 33 million people, and all of its major cities have an NHL team. I've been an advocate of adding another team in the Toronto area, and there has been talk about that recently; there is no question it could be supported and would only enhance the NHL. I wonder if another team in Montreal could be supported, as well? With a lower cap and more aggressive revenue sharing, Winnipeg could at least be discussed. Some are skeptical about a team there, while others are convinced it could work with help. Whatever the case, it is probably best for everyone if there is one less team in Canada than one too many. It would also be best for everyone if humanity used that same attitude toward beer and Italian sausages. One less is better than one too many.
---
Bucci,
I have grown up in Pittsburgh listening to Penguins games on the TV and now radio with Mike Lange (the best announcer ever, and I challenge anyone who disagrees). What is your favorite Mike Lange saying? Please enlighten me.
JP (Pittsburgh)
Clearly, it is "She wants to sell my monkey!" I put that up there with anything uttered by Plato, JFK or Conor Oberst.
---
Bucci,
What do you think about Brendan Shanahan's current situation? I am a Chicago Blackhawks fan and a hockey lifer (had skates before I had shoes). In my opinion, the Hawks need to clear cap space by moving a goaltender as they have a strong backup in Crawford playing in Rockford and acquire Mr. Shanahan. The Hawks are a young, energetic team and have the youngest captain in the NHL. I believe adding a player like Brendan Shanahan to the Hawks' roster would not only benefit the team in the short term, but be an investment that would pay off over the next 20 years. Please share your thoughts!
Mike Hutchings
That makes sense to me, Mike. You are right, though -- Shanny could be that leader to usher in the younger players in Chicago. Plus, Chicago is the big, cosmopolitan city that Shanny seems to like. Because of his lack of foot speed, Shanahan would primarily be a power-play specialist. Last season, he had 11 power-play goals for the Rangers. I think his name and reputation would initially add a jolt to a good team that is in the hunt. Time would tell if he would be a key contributor to a team looking to reach its goals.
---
Bucci,
Hakan this for a moment -- Leafs trade Nik Antropov and Tomas Kaberle to the Penguins for Jordan Staal. I'd like to see this out there in your column since I'm sure Cliff Fletcher is a regular reader. Bucci, give me the straight Loob on this: Staal for Antropov/Kaberle?
Werner
Toronto
The Penguins don't need another defenseman, and watching Nik Antropov play just makes me angry for some reason. That's my issue.
Bucci,
What do you think of the possibility of another blockbuster deal between my beloved Pens and Atlanta? I could easily see Jordan Staal with just about any defenseman and a first-round pick for Ilya Kovalchuk.
Reverend of the Church of Lemieux
Now you're on to something, Reverend. These two teams have obviously done business before. The Pens might be able to make it work in the short term if they add Alex Goligoski or Kris Letang and another draft pick. Atlanta would have to, and could, take some of the Penguins' salaries that are coming off the books at the end of the season since the Thrashers have so much cap room and the Penguins would need to shed salary to add Kovalchuk.
---
Hello John,
I just read an e-mailer's response to your comments about kids lying on the ice and skating off "like Eric Heiden." I am very much in your corner here. I like to tell kids that I coach, "If you're dying, stay down; otherwise, get up." It is not harsh; it is not overzealous behavior by a parent/coach. It is teaching kids that there is a difference between being hurt and being injured, and as coaches and parents, we want to be able to react accordingly. It is the realization that "crying wolf" is dangerous. A player that continually overdramatizes an injury could be taken less seriously when really injured, and that would be a tragedy. Teaching kids to get up unless truly unable is a highly responsible way to coach and parent our young athletes. I applaud your mentioning it.
Matthew Abbott
Arlington Heights, Ill.
---
Bucci,
I couldn't agree with you more on your stance on players getting off the ice when they are hurt. My old man taught me the same thing as a kid and I'm glad he did. It doesn't just teach you a hockey lesson, but a life lesson, as well. My worst injury was a men's league game where I hurt my knee and could barely put any weight on it while skating off the ice (during the action). Shortly after, I had to get surgery. After the game, instead of going to the hospital, I went to the bar to get the usual beer with the boys. See what I mean about life lessons?
Luke
Rochester, N.Y.
---
John,
I grew up in the Hyde Park section of Boston and played youth, high school and college hockey. For all my 18 years of playing organized hockey, I have only once stayed down on the ice when being hurt and that was when I broke my femur at 15 years old. I agree with you that kids should make their best effort to skate off the ice when injured. It's part of the game, it's a pride thing, it's a toughness thing. It's one of the reasons I love hockey.
Bob
Boston
Kids, listen to Uncle Bucci. If you break your femur this weekend, you are permitted to lay on the ice.
---
John,
Since I know you watch a lot of games, I am curious about your views on the L.A. Kings' broadcasts of their home games. They use cameras mounted above the glass and follow the play with three or four cameras rarely going to the "standard" center above view. An interesting concept, but it's dizzying and hard to watch I feel. What do you think?
Tony Ascani
I have received NUMEROUS e-mails about this. I think I get what the Kings are attempting to do, and there are times during the multiple camera switches where they capture a unique and intimate shot of the game. But at times, I have a hard time getting a good perspective of the game, and I occasionally get a queasy feeling in my stomach. I like the end camera on power plays. I enjoy seeing the shooting lanes. I applaud them for trying new things, and as they continue to tinker, they might find a method that really works and others may copy. I'm all for trying things, especially if it can take advantage of showing more hits. But, for the most part, I am not one of those people who think hockey does not televise well. I think it does. I've watched hockey on television since I was six and I've enjoyed every game.
---
John,
I respect your take on the Sharks in your team-by-team analysis, but I also feel it was too dismissive. You gave more positives to just about every team. Based on that, I understand your "seen it before" take. By the same token, there may be something special going on here.
Matthew Freitas
Don't forget, in ESPN.com's season preview, I picked the Sharks to win the Western Conference and reach the Stanley Cup finals. Their core has been together for some playoff runs and they are reaching the age where the intersection of maturity and talent is at its most spacious. Also, stealing Dan Boyle from Tampa Bay and signing Rob Blake was huge. Having two veteran, right-handed Stanley Cup champions might be just the sprinkle this team needed. We've talked about Brendan Shanahan in a few places, mainly in the East. My guess is he wouldn't want to go west since he has a young family. But with the Sharks' power play sagging a bit, plus the lack of big-time goal-scorers, you have to wonder if Shanny would be a neat fit there.
---
Bucci,
Shjon Podein -- How would you describe him?
Randy Vos
Smells like beef and cheese.
---
Hi Bucci,
This may cover many areas, so I'll try to go quick.
First, the wives part (I can't believe how much response this has received). I took my wife to her first game about 22 years ago -- Bruins/Devils, B's win in OT playoff game. Then, in 2004, she gets tickets to the Ray Bourque Hall Of Fame induction; I mean, down the red carpet, same hotel as all the players, asking a question to the inductees at the Fan Forum and getting on NESN's tribute to Bourque. The time of my life, by the way. I asked her to marry me at three weeks; it'll be 20 years next year.
Drew Powers
---
Bucci,
I'm getting married in May, and some guys want to organize a bachelor party for me in Vegas. For some reason, I'm not into Vegas and I would rather see a good hockey game instead of visiting The Strip. Any suggestions on a good venue for a group of five guys?
Eric
Alexandria, Va.
Straight to Montreal, my brutha.
---
Hi John,
I've been reading your articles for about eight years now and am a big fan. I've waited a long time to make this request and am now ready to climb the hill, oh great baby-naming guru. It will be the first for both of us. I am so excited!
I met her almost two years ago at a sports bar and was introduced by a mutual friend during a hockey game on TV. I didn't think it was possible, but she wowed me with incredible hockey knowledge unlike I had ever heard from a beautiful woman. I was hooked. She is the catch of a lifetime. Anyway, I am requesting a baby name from you. We do not know the sex yet, of course, but will as soon as we can.
A million thank yous in advance!
Blake Andrew
Eugene, Oregon
Angela Gloria Andrew
Erik Joseph Andrew
Hockey Fact: The six-year CBA runs until Sept. 15, 2011, but the players' association can walk away after this season, provided the NHL receives formal notice by May 15.
---
Dear John,
I've been a Wild season-ticket holder since Day One. All three of my kids have taken a special liking to hockey on TV.
The night before Halloween, my wife Stephanie needed to finish making their Halloween costumes, so to get out of her hair, I took the kids (my soon-to-be 4-year-old twin girls Lindsay and Megan, and my 2-½-year-old son Eric) to their first hockey game. Everyone thought I was nuts taking three kids under 4 by myself, but it was one of the best times I've ever had with my kids. My question is, how did I wait so long? I can't wait to do it again! Attached is a picture of the four of us taken after the game.
Ed Overell
South St. Paul, Minn.
Take a picture, here in the daylight
Oh, ho!
And its a wild, wild life
You've grown so tall, you've grown so fast
Here on this mountaintop
Woahoho
I got some wild, wild life
"Wild, Wild Life" by Talking Heads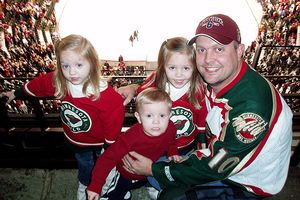 John Buccigross' e-mail address -- for questions, comments or crosschecks -- is john.buccigross@espn.com.