Shot of the Week
It's back. You know how it works: We present an NHL photo, and Bucci provides a caption. E-mail him your suggestions (include your name and hometown/state), and we will use the best ones and provide a new photo the following week.
LAST WEEK: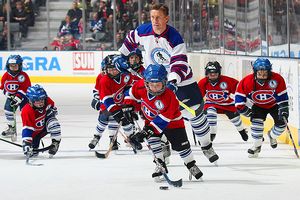 If Angelina Jolie were a hockey mom … (Courtesy: Getty Images)
Your captions:

"Les Hobbitants."
-- Chethan Mudiyam (University of Pennsylvania)
"And Don Cherry's 'too many men' nightmares start anew."
-- Chris Pianowski
"Tonight on National Geographic, watch as the grown-up teaches the little Salmings how to swim upstream."
-- Mike (Medicine Hat, Alberta)
"No cap room? No problem."
-- Brett Cropp (Buffalo, N.Y.)
"And I shall call him Mini-Me, and me, and me, and me and me ... "
-- Terry F. Madden (Holland, Mich.)
THIS WEEK: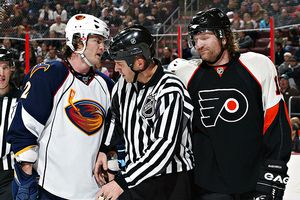 "It's some bird, wrapped around a barrel, holding a hockey stick. I can't explain it." (Courtesy: Getty Images)
I've been in a contemplative mood lately. I think it's a byproduct of November.
The wheels are turning. When I was a younger dude and lived too much inside my own head, I would freeze and get locked up like a crappy PC -- churn and churn and churn and get nothing done. Experience has taught me to keep mucking and grinding through adversity and concern. Simply get up and move.
Trying to succeed in life has a lot to do with accumulating "time spent doing." Yes, time spent doing. It's pennies in a bank that eventually add up to millions. Repetition is more vital than talent. If I began a regimen of 500 push-ups a night every Monday, Wednesday and Friday while Steven Stamkos chose to do zero push-ups (or any similar exercise) for the next four years, I would win the first Mike Emrick Triceps Invitational in 2012 if my only other opponent were Stamkos.
I've lost my mind. I need to delete as many temporary Internet files as I can right now.
• I've received a lot of e-mails on what happened with Barry Melrose's firing in Tampa Bay, so I have to address it.
Success is a group effort, and the Tampa Bay Lightning is/are (I hate team names without an "S" on the end!) one giant high school gossip session. In my Eastern Conference playoff predictions, I had the Lightning out of the playoffs primarily because of the roster given to then-coach Barry Melrose. The biggest reason, as I wrote here:
"Offensively, the Lightning will have some issues. Last season, they had only 223 goals, and I don't see a whole lot more coming. Tampa Bay gave Ryan Malone $4.5 million, and he will struggle to score more than 50 points."
Well, the Lightning are on pace for about 180 goals, and Ryan Malone is on pace for 14 points. Pittsburgh was the best place for him; Tampa Bay, with what is going on, is the worst.
We have learned that Tampa Bay is an organization with 10,000 tentacles off the ice, and organizations like that usually are places where a lot of people are out for themselves. Cliques are rampant. That's a bad place for Melrose to be. Melrose is about loyalty. He has been married to the same woman for more than 30 years. He's had friends he has been loyal to for longer than that. As he began to view and feel what was going on around him, I'm sure he is relieved to be out of there. He was fired after 16 games, following a tough stretch (six games in nine days). Things won't get any better in Tampa Bay until the culture and the players change.
• OK, here are Bucci's top four power rankings for each conference. Keep in mind, my rankings are not so much based on performance thus far; they are based on who I see are the toughest teams to beat in a best-of-seven series come playoff time.
Eastern Conference: 1. Pittsburgh; 2. Washington; 3. Montreal; 4. New York Rangers
Western Conference: 1. Detroit; 2. San Jose; 3. Minnesota; 4. Anaheim
I'm fairly confident that the 2009 Stanley Cup finals will be Pittsburgh or Washington or Montreal versus Detroit or San Jose.
• Jeff Carter's wrist shot in Montreal on Saturday night gave me a similar sensation as Phil Kessel's wrister against Buffalo that I wrote about here a few weeks ago. Sinister and sick. Sick nasty.
• Evgeni Malkin and LeBron James will both win MVP awards this season. I am quite certain of that.
• From a strategical standpoint, I still believe that a player should skate to the bench, and another player should hop on, when he breaks his stick. This saves time from a stick handoff scenario and saves me the frustration of watching a forward on the ice without a stick. I'm convinced there is time to do this even when one is short-handed, especially when guarding a point that is right in front of your own bench! I'm quite passionate about this.
• Last week, I wrote about how youth hockey coaches cannot resist the urge to shoot the puck during practice after a certain amount of time has passed. I should have expanded this observation to include taking turns in a fun drill involving a puck, and thus robbing valuable repetitions from the 9- and 10-year-olds. Thanks, Coach (and you know who you are)!
• Right now, Los Angeles Kings defenseman Drew Doughty is my Calder Trophy favorite.
• The No. 1 line for Team USA at the 2010 Vancouver Olympics? Maybe Patrick Kane-Phil Kessel-Zach Parise.
• The addition of Dan Boyle and Rob Blake has put the San Jose Sharks in the Stanley Cup mix. The Sharks and Red Wings appear to make up a two-team Western Conference. They look to be notches above the rest of the competition. I have the Wings at No. 1 in my West power rankings because they have more highly skilled goal scorers. That is important when goals are hard to come by in the playoffs. San Jose does have an equalizer to that in Evgeni Nabokov. Before the season, I had the Sharks and Penguins in the Stanley Cup finals. Come April, I think I will be somewhat comfortable with that.
• If the Penguins get Sergei Gonchar and Ryan Whitney back at 100 percent, they will have the deepest defensive corps in the NHL. Kris Letang's game has taken leaps since last season. Alex Goligoski has a high IQ on the power play. I think the Penguins will trade one of them because they are such similar players. Pittsburgh will be in a position to get a good player they want/can afford come trade deadline time because they have so many quality defensemen. (Six are Americans.) Another Penguins observation has been Matt Cooke's excellent play with Jordan Staal of late.
• After reading the rest of this blogumn, go to your local bookstore and purchase Malcolm Gladwell's latest book, "Outliers." The book begins with a provocative look at why certain 5-year-old boys enjoy an advantage in ice hockey, and how these advantages accumulate over time.
Weekly Tribute to Jack Falla
The following is an excerpt from Jack Falla's "Home Ice." Falla passed away Sept. 14. We'll honor his memory each week with a few lines from one of his classic books:
"The most consequential backyard rink ever built was the one Walter Gretzky constructed on a slightly concave stretch of lawn behind the family home at 42 Varardi Street in Brantford, Ontario. … Walter also must have known that the best way to learn to play hockey is not only to be skating wind sprints and three-on-twos at the local rink, but to supplement team practices with time alone: time spent skating, stick-handling, and -- through a mysterious osmosis that seems to occur in some but not others -- internalizing the feel of puck, stick, blades and ice into an instinctive comprehension of the game, an assimilation surpassing our, or even his, understanding."
The Mother of All Mailbags
Hi John!
I learned through your column that Jack Falla passed away on Sept. 14. The news came as a big shock for me, especially because I have met this wonderful man because of you.
A couple of years ago, I wrote you an e-mail saying I worked in a cemetery in Chicoutimi, Quebec, where George Vezina's grave is, and that as a student worker, I had the chance to cut the grass over his yard. Every time I did that, I had a special feeling.
Following this e-mail, Jack Falla contacted me. He wanted to visit the grave. He came up from Boston to Chicoutimi (about a nine-hour drive) with his wife, Barbara, and together we went to his grave. Following that, we had a great lunch talking hockey. (He gave me inside scoops about the Quebec-Montreal rivalry, back in the day.) We then took photos, and he signed me a copy of "Home Ice," which is my favorite book.
I wanted to thank you for giving me the opportunity to meet this passionate hockey person who gave me a taste of sports journalism.
Dominic Simard
In Jack Falla's book "Open Ice," he wrote a chapter about his experience meeting Dominic Simard, the man who mowed the grass around George Vezina's grave. The chapter also talks about the life of Vezina, which is very compelling.
Hi John,
Jack Falla's brother here. The past few weeks, there has been the thread of hockey wives/girlfriends, fights and Jack Falla comments. I may get a third man in penalty for being late, but I am going to add one more.
My wife was in Jack's first class at Boston University. Jack comes into class, introduces himself and pops in a tape of 1970s vintage bench-clearing brawls. Not your typical professor, eh? The students don't know what is going on until he tells them the assignment is that each student is now the head of PR for the NHL and they need to figure a way to sell this product to families. My future wife then asks Jack where he got the tape because he did not seem like the type of person to have such a thing. Jack replied, "My brother gave it to me as Christmas present." Her immediate thought was, "What kind of buffoon would give hockey fight tapes as a present?"
A year later, she found out what kind of buffoon when we met during our final semester. Twenty years later, I still have the tape and a wonderful wife who understands a yearly trip to Montreal and the need to skate two nights a week. She is not a hockey fan, but she loves Jack's books as though she grew up with Super Tacks on her feet. I never brought her to the Boston Garden, but she has skated at the Omni. I'll take that deal anytime!
Best regards,
Patrick Falla
Boston University hosted a very classy fundraiser at its beautiful hockey rink last week, and I took my two sons, Brett (16) and Jackson (9). There was a showing of "Pond Hockey," a phenomenal documentary on the beauty and benefits of outdoor hockey (available here: http://www.pondhockeymovie.com/). It would make a cool holiday gift. After the movie, there was a raffle and a silent auction, and then Jack Falla's son, Brian, spoke. Then, we all hit the ice at Agganis Arena for a public skate to the Jack Falla backyard rink sound track.
---
Bucci,
Loved the tribute to AC/DC in your ESPN article. AC/DC was the first band I went to see in concert. My mom (the best in the world, of course) took me and my brother to see them in Philly. I was in fifth grade at the time, and I sat in the fifth row. What a way to begin a long list of concert experiences. I'm now at somewhere more than 200 concerts and counting. Next concert? You guessed it -- AC/DC on Nov. 17 in Philly! Thanks for tapping into the connection between music and hockey, John.
Nick
Marlton, N.J.
The new AC/DC disc is produced by Brendan O'Brien, who also was at the helm for the past few CDs from Bruce Springsteen and Pearl Jam. Track No. 3 on the new disc called "Black Ice" also is called "Big Jack." On the way to my little Jack's squirt game over the weekend, I played the CD in the car and told him this would be a good pump-up song for his hockey career. He went out and scored two goals in the victory.
Bucci,
I couldn't agree more on AC/DC. "Back in Black" may be the greatest gift to man. Every song, as you point out, is a killer. Just killer. I grew up in Scarborough, Ontario. I didn't go see "Wayne's World," I lived it! AC/DC and Led Zeppelin were staples.
My first concert ever? Led Zeppelin, Maple Leaf Gardens, Labor Day weekend before I started Grade 9 in 1970. Me and Ron Walker. $4.50 for an obstructed green, first row of the greens. We couldn't see all of "Bonzo" Bonham because of a speaker tower, but we moved over to make sure we could see him bang his head on the drum kit during "Moby Dick." I just bought the new AC/DC disc and can't stop playing "Runaway Train." Guaranteed to be an NHL warm-up staple for decades to come.
Keep up the good work; love the Falla stuff. I'm off to Dartmouth and Harvard to watch my kid this weekend. Doesn't get any better than that.
Bob McKenzie
Bob McKenzie appears in between periods on most TSN games in Canada and on the Center Ice package. He also writes for TSN.ca. Both are must-sees. Bob's son, Mike, is off to a good start for St. Lawrence University in Canton, N.Y.
---
Hey Bucci,
The Sabres are off to a great start this year and seem poised to make another run at the playoffs. That said, Nathan Gerbe is busy tearing up the AHL for the Portland Pirates. His undersized stature seems to be having little effect on his ability to score goals. Even though the Sabres have a lot of depth at forward, do you see him as someone who could come up sometime this year and make a big impact? I know Darcy Regier and Lindy Ruff like to develop players in the AHL, but I don't see how you can keep this guy down there when he's producing so much so quickly.
Dan Bernard
Buffalo, N.Y.
The 5-foot-5 Gerbe was part of last year's NCAA-champion Boston College team. He's on a goal-a-game pace in the AHL at 21 years old. I did play-by-play with Melrose at the NCAA Northeast Regional in Worcester, Mass., this past spring, and Boston College was one of the four teams in the regionals. Gerbe is something to see in person. It sounds like a lazy comparison, but he really did resemble Martin St. Louis in his quickness, skill and courage. That was with a full cage and in a no-fighting rulebook, so I will be interested to see how Gerbe plays as a pro. He was a nasty, gritty player in college, and that's a compliment.
Small players have to play with an inordinate amount of grit, smarts and confidence to be professional athletes. See AL MVP Dustin Pedroia of the Boston Red Sox. He is cocky out of necessity. He is a max-effort player just to survive. But despite his cockiness and max effort, he'd still be playing in Triple-A if his baseball acumen were anything short of magna cum laude. Small players have to be tough, cocky and smart. Gerbe is all three of these things and eventually will get a shot in the NHL. He might get a chance with the Sabres in the near future because Buffalo does have some underperforming forwards.
---
Bucci,
I know you've mentioned it before, but after Sunday night's Blues/Hawks game, I feel like it needs to be mentioned again. Why are goalies safe no matter where they go on the ice? Nikolai Khabibulin came out of the net, whiffed on a play, then proceeded to level Keith Tkachuk. No penalty. If Tkachuk would've even breathed on him, he would've been sitting in the box. I played goalie in soccer, and once I came outside of the box, I was fair game. Why shouldn't hockey be the same? If a goalie wants to risk coming out of his crease, he should be treated like every other player on the ice.
Mike Techner
I've always contended here that goalies should be fair game behind the goal line and protected in front. If a goalie is not protected in front of the goal line, he would be obliterated. If a goalie whiffs on a puck and proceeds to hit a player, he should get called for interference.
---
Bucci,
I played mites through high school hockey in New Jersey, and not one time did I ever have play stopped for an injury. As a 5-foot-1 freshman playing varsity hockey, I was drilled into the boards and literally had the snot knocked out of me. About a month later, I got slammed into the penalty box and had my head hit the corner of the box. I skated to the bench, only seeing slight outlines of players through a mostly black image. I didn't miss a shift. Last year, in a men's league game at the ripe old age of 29, I took a stick to the mouth and spit out four chiclets. The play never stopped, and I didn't miss a shift; $3,000 later and I have a bridge and a full shield.
Brad
Rockaway, N.J.
In the offseason, Brad shoves rusty nails into his nostrils.
---
John,
I've been a die-hard Bruins fan since the days of Bobby Orr's arrival. I've stuck with them through thick and thin, and I firmly believe they have one of the quality teams in the league this year. One thing really bothers me. I know you watched the B's-Blackhawks game. How in the name of Gerry Cheevers was Tim Thomas left off the All-Star ballot? He was the winning goalie in last year's All-Star Game, and if he isn't the top goalie, he is close to being the top goalie this year.
Larry Geary
Worcester, Mass.
Here are the Eastern Conference goalies to choose from on the All-Star ballot:
Martin Biron, Philadelphia Flyers
Martin Brodeur, New Jersey Devils
Rick DiPietro, New York Islanders
Marc-Andre Fleury, Pittsburgh Penguins
Kari Lehtonen, Atlanta Thrashers
Henrik Lundqvist, New York Rangers
Ryan Miller, Buffalo Sabres
Carey Price, Montreal Canadiens
Vesa Toskala, Toronto Maple Leafs
Tomas Vokoun, Florida Panthers
None of those goalies is playing better than Tim Thomas right now. And since Thomas beat Roberto Luongo head-to-head in Vancouver, one could argue that Thomas would be No. 1 in a power rankings of goalies. His omission on the All-Star ballot is baffling. Last season, he appeared in 57 games. That's more than Carey Price, Jose Theodore and Lehtonen. And Thomas' save percentage was tied for fourth-best in the NHL. In 2006-07, Thomas played 66 games and had 30 wins. It's not inactivity, and it's not performance. Very strange.
---
Hey John,
I know Selke trophies aren't as highly regarded as some other trophies, but does Jere Lehtinen have a shot at the Hall of Fame?
George
Dallas
Three Selkes and one All-Star Game. But, most times, the one-dimensional offensive player will make an All-Star Game before the complete player. Lehtinen has an underwhelming offensive playoff record outside an excellent 1999 postseason, although we know that wasn't his primary focus. He lost a year of his prime during the 2004-05 lockout. His best goal-scoring season was the campaign after the lockout when the game was called in a soft fashion. Lehtinen had a career-high 14 power-play goals. Had he played on an inferior team when he entered the NHL, he might have seen even more power-play time, but he has been a solid power-play performer. I think Lehtinen might still have an outside shot. I've always said it takes all kinds to build a Hall of Fame.
---
John,
I love the string of stories about hockey-loving wives in your Mother of All Mailbags, but I believe my wife would take all others. If you have ever been to a Sabres-Leafs game in HSBC Arena, you know the crowd is basically split 50/50 for each team, and those crazy Leafs fans can be brutal at times. A few years back, my wife accompanied a friend of mine to a game, and the drunk Leafs fans in front of their seats kept waving their flag in front of my wife and friend. After a period of this, my wife had enough and grabbed the flag; when [the fans] in front of her finally turned around, she told him that she was going to put the flag where the sun does not shine.
My friend, not the most masculine of guys, was very concerned. My wife looked at him and proceeded to say, "Don't worry, Dan. I'll protect you as I kick their butts." She quickly got the Leafs fans to put the flag down and won the admiration of many Sabres fans. Only a true-blue hockey-loving woman could do that.
Bryan Flynn
---
Hi John,
My wife, Jackie, and I just had our first child, a beautiful baby girl whom we named Holly Marjorie Eileen Chapple.
As we were getting ready to leave the hospital, Jackie presented something to me that made me fall in love with her all over again. She got Holly a new car seat cover that is shown in the attached picture. I think she knows that Holly will be a New York Islanders fan for a long time.
Brock Chapple
Southport, Manitoba
The Islanders' youth movement continues.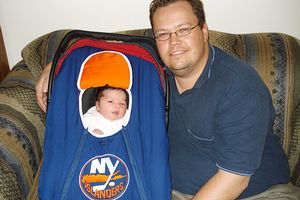 John Buccigross' e-mail address -- for questions, comments or crosschecks -- is john.buccigross@espn.com.