Shot of the Week
It's back. You know how it works: We present an NHL photo, and Bucci provides a caption. E-mail him your suggestions (include your name and hometown/state), and we will use the best ones and provide a new photo the following week.
LAST WEEK: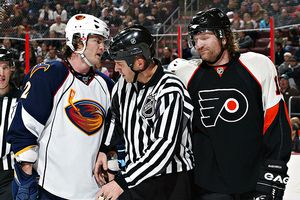 "It's some bird, wrapped around a barrel, holding a hockey stick. I can't explain it." (Courtesy: Getty Images)
Your captions:

"Man, this referee can really put up some robo-dance moves."
-- Cauê Abrao (Brazil)
A scene from "A Night at the Roxbury: On Ice."
-- Jeffrey P. Gleason
"No, no, no … this is how you give an atomic wedgie!"
-- Bryan Frederick (Chicago)
"Yeah, you're right. The hokeypokey does start with your right hand in."
-- Max (State College, Pa.)
THIS WEEK: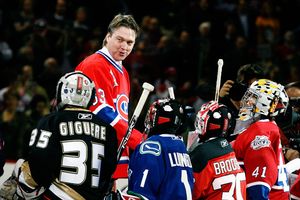 "I'm Patrick Roy, and I approve the NHL's new standard on goalie equipment." (Courtesy: Getty Images)
Thanks, hockey.
Thanks for consistently displaying the heart, courage, artistry and brain power that the best players play with, night after night, game after game.
Thanks for passing the puck to the other guy when the net is empty on a two-on-nobody. Would Terrell Owens do that?
Thanks to the Zamboni drivers who give us a clean sheet of ice that makes everyone feel as if he is 9 years old again with that first step on a fresh canvas.
Thanks for NHL linesmen.
Thanks for Nos. 8, 87 and 71. There are a lot of great and exciting players in the NHL, but no one electrifies an arena like these three men. There is a different hum in the arena when Alex Ovechkin, Sidney Crosby and Evgeni Malkin play on the road, especially when people see them for the first time.
Thanks for full-face protection. It has saved many eyes and has trained players to play faster than they ever have.
Thanks for the 1980 U.S. Olympic hockey team and NHL expansion. No two things have grown hockey more than those two events have.
Thanks to all the officials who endure abusive fans. Just remember, the kids would not have their NHL make-believe if it were not for you. You, the scoreboard, the uniforms and crowd give the arena soul. Understand that it is an emotional game and that fans say things in temporary states of insanity.
Thanks for Peter Puck.
Thanks for my son's squirt coaches who don't have power-play and penalty-killing units. If you'd just stepped on the ice as the other team committed a penalty, you stay on the ice. My research shows that in the history of USA Hockey mite and squirt power plays, the combined power-play success rate now stands at eight goals in 29,765 chances.
Thanks to all of the goalies from mites to beer leagues. Again, there is no game without you, and no one puts more on the line than you.
Thanks for bubble hockey.
Thanks for having protectors and policemen on the ice. They're the men who get paid the least yet do the most dangerous work. Their effort keeps the punks to a minimum.
Thanks for having it take so long to put on and take off hockey equipment. This gives kids time to do what they don't do enough -- talk to one another. There is no better scene than watching mites and squirts taking off their gear and screaming at one another at Hannah Montana concert levels. This is why hockey players are the wittiest athletes. They've had hours and hours of practice since they were 7.
Thanks for Ken Daniels and Jim Hughson and Randy Hahn and Bob Cole and Jack Edwards and Mike Emrick and Sam Rosen and Ralph Strangis and Gord Miller and Pete Weber and Paul Steigerwald and Rick Jeanneret and Chris Cuthbert and Mike Lange, and all the play-by-play announcers who add to the drama and theater of a game with their enthusiastic and joyful calls.
Thanks for not playing on Thanksgiving (the U.S. version) and Christmas.
Thanks for the sounds of the game -- the bodycheck in the corner, the slap shot hit on the sweet spot, the puck off the post, the blades shaving the ice and the crowd that understands the nuances of the game.
Thanks for Jack Falla hockey books.
Thanks for Brett Hull's smirk, Yzerman's eyes, Mario's hands, Wayne's brain, Messier's tears, Bourque's legs, Neely's rage, Lafleur's hair (the real stuff), Roy's wink, Brodeur's playfulness, Big Al's bombs, Lidstrom's royalty, Iginla's character … and all the other players who make up hockey's DNA.
Thanks for "Hockey Night in Canada," "Coach's Corner" and my hockey host hero, Ron MacLean. No one is better in the United States or Canada.
Thanks for the person responsible for picking the female participants for Chicago's intermission center-ice shot contest.
Thanks for the joy of Saturdays and Sundays, when I've anticipated my boys' games and watched them play hockey for the past eight years. There is no hope like the hope of a new game.
Thanks for bands at college hockey games … unless you are three rows in front of one, I suppose.
Thanks for your greatest and everlasting lessons of sacrifice, selflessness and love. It has vanquished tyrants and despair. It has won state championships and Stanley Cups. It is how every game should be played and how every day should be lived. There is no great mystery to teaching and winning hockey games and to living and enjoying life. It is right there in the locker rooms and on the ice. Sacrifice, selflessness and love.
Thanks.
Weekly Tribute to Jack Falla
The following is an excerpt from Jack Falla's "Home Ice." Falla passed away Sept. 14. We'll honor his memory each week with a few lines from one of his classic books:
"The first thing I notice isn't the sight of the players, but the sound. Center Mark Messier and speedy winger Glenn Anderson fly by me, their skates ripping the ice … SCRUNCH … SCRUNCH … SCRUNCH … SCRUNCH … under the pressure of their tremendous leg drive. But a few seconds later, Gretzky skates past me almost bouncing on his skates and the sound of the blades is barely an audible … swick … swick … swick … He's not going as fast as Messier, Anderson or Coffey, but there is more of a jump to his stride -- a kind of weightlessness -- he weaves among his teammates and seems somehow less anchored to the surface."
The Mother of All Mailbags
John,
Every time I write an exclamation point for the rest of my life, I will think of Jack Falla. I took Professor Falla's class in 2003, as a student at BU, and I'll always remember his distaste for the usage of the exclamation point in the English language. … If a sentence wasn't interesting and well-written, he argued, putting an exclamation point at the end wasn't going to suddenly make it important. He allowed students to use one single exclamation point for the entire semester and tracked its usage in his grade book. I remember once when a classmate turned in a draft, Professor Falla noticed the reviled mark and said, "This is your one for the year. You realize that, right?" Most of us never used our meager allowance of one exclamation point, and I'm not the only former student who, when tempted to use one, will forever take Professor Falla's punctuation thrift to heart.
Peter Myers
Campbell, Calif.
Great story, Peter!!!! You rock!!!!!!!!!!!!!!!
---
Bucci,
Tampa Bay sounds like Chicago before Rocky Wirtz came in with the new broom. The new Tampa Bay ownership seems unprepared for the process.
Rocky Wirtz had been watching the Blackhawks and waiting for years, on the outside looking in, and he knew what had to be done. He came in and said from day one that every single person and system would be evaluated and changes would happen wherever necessary. It has revitalized that organization at every level.
The TB guys, who were outsiders, had the same opportunity, but they have missed the boat completely. It's really too bad.
And I'm sorry for Barry Melrose because I think there are places he could have come in and been successful. But this wasn't that place. And one wonders whether he'll have another opportunity (if he wants one).
Deborah K. Sullivan
Melrose said his coaching days are over. I think he is more hurt by what he perceives as actions detrimental to the reputation of hockey and its often-trumpeted ideals. Barry was the game's biggest cheerleader, always putting the players, referees and coaches on a pedestal and proclaiming them as the best in all of sports, the ones with the most integrity.
He always campaigned for the work ethic and integrity of the players. What he claims happened in Tampa Bay is the antithesis of a lot of what he thought was embedded in the game and its people. That probably hurts him the most and has left him with a bad taste in his month -- that this could happen in his beloved sport.
But don't feel bad for Melrose. He's getting paid $700,000 a year for the next three years not to coach. Hopefully, he'll soon supplement that income with television work. And as we've been saying, the Lightning are a bad team run by people who made very bad personnel decisions that will keep them bad to average for years to come.
---
Hey John,
Longtime reader. Devils/Versus/NBC play-by-play man Mike "Doc" Emrick was inducted into the Hockey Hall of Fame in Toronto, which is a good thing for the game. Emrick is one of the best in a sea of pretty poor play-by-play announcers. I'd love to see the same honor extended to longtime Bruins play-by-play man Fred Cusick.
Alec Duncan
Fred Cusick is in the Hockey Hall of Fame, Alec. He was inducted into the Hall in the first wave of media honorees in 1984. Cusick turned 90 this month. My first television job was on Cape Cod, and Fred's daughter, Martha Cusick, was my first boss. NHL Network showed the Ron Tugnutt 487-saves game (OK, it was 70) on its "Vintage Games" series this past weekend, and Cusick's voice was on display in full force, even though he was almost 70 years old.
This was a glorious time in television broadcasting, when the play-by-play person and the analyst didn't have conversations about (1) something that had happened 30 seconds earlier and (2) what kind of tie the studio guy was wearing. There also weren't interviews from "sideline" reporters while the game was going on. How many more goals have to be scored while someone is being interviewed in a luxury box until there is a viewer revolt?
---
Bucci,
I am pretty sure that when I was young, Howie Meeker (and his telestrator) always used to yell at forwards with broken sticks to just go to the bench. So, you are in excellent company. On another note, do you think Ryan Kesler has a chance to make the U.S. team in 2010? Vancouver fans would love to see him -- he has captain written all over him. (Next year, maybe?)
Chris
The 2010 Olympic ice hockey tournaments will be played on a North American ice surface. North American-sized ice measures 200 feet by 85 feet; international is 200 by 98.5. Remember, Brian Burke is the general manager of the U.S. Olympic men's team. Here is my very rough draft for the 2010 U.S. squad:
Forwards:
Patrick Kane-Paul Stastny-Zach Parise
Dustin Brown-Scott Gomez-Brian Gionta
Phil Kessel-Peter Mueller-Christopher Higgins
Jason Pominville-Ryan Kesler-Chris Drury
Defensemen:
Erik Johnson-Ryan Whitney
Mike Komisarek-Paul Martin
Brian Rafalski-Ryan Suter
Goalies:
Tim Thomas
Ryan Miller
Rick DiPietro
Coach:
Ron Wilson
Dear John,
I read your column every week, and I value your opinion when it comes to all things hockey. Therefore, I am asking you a question about the 2010 Olympics in Vancouver. If Joe Sakic plays, he no doubt will be captain, but if he doesn't, who will? My vote is for Jarome Iginla, but who do you think it would be?
Sunjay Kaushal
Sakic will not be on the 2010 Canadian Olympic team. Iginla will be on the team and will be the captain. Also, how in the heck do you pick this team?! Canada has 12 qualified centers! How about some of these possible lines:
Forwards:
Rick Nash-Joe Thornton-Jarome Iginla
Simon Gagne-Sidney Crosby-Jeff Carter
Dany Heatley-Ryan Getzlaf-Corey Perry
Jordan Staal-Mike Richards-Eric Staal
Defense:
Dion Phaneuf-Dan Boyle
Shea Weber-Mike Green
Scott Niedermayer-Chris Pronger
Goalies:
Roberto Luongo
Martin Brodeur
Marc-Andre Fleury
Coach:
Mike Babcock
---
Bucci,
Johan Franzen somehow is still on the pace he began in March. In his past 44 games played, he is 37-13-50 with a plus-18 rating and an amazing 15 game-winning goals. (The Wings have played a few more games since this e-mail was sent, but you get the point.) The Wings' record in those 44 games is an astounding 33-7-4. Zetterberg and Pavel Datsyuk are world-class two-way players, and Marian Hossa is right there with them, but how good is "The Mule?"
Eric
Las Vegas
I wrote about "The Mule" in the spring when I saw him play in person in Pittsburgh during the Stanley Cup finals:
"Franzen is off the charts when you see him in person. … He is a great skater with amazing hands and a big body (6-foot-3, 220 pounds). He reminds me of Todd Bertuzzi in his prime, without the aloof attitude. … I could see Franzen scoring 30-40 goals going into his unrestricted free agency next season. That would set him up for a $6 million a year payday. Franzen is fun to watch and way more impressive in person. I saw him play last season against the Islanders, and I can't believe how much better he is. His confidence is exploding right now."
With the salary cap likely coming down in the next couple of seasons because of the landscape of the worldwide economy, Franzen's salary number might be a little lower. Also, Franzen turns 29 in December, so he'll spend most of his contract in his 30s, and that can be a health risk. That said, Franzen appears to be a good investment for the next three to four years, and he can be had by a team that wants to be aggressive.
The Wings will not be able to keep Hossa, Henrik Zetterberg and Franzen unless players take less than offered value, Nicklas Lidstrom unexpectedly retires after this season to free up more than $7 million and/or the Wings trade a defenseman or two. But I wouldn't worry about that now if I am a Wings fan. Just enjoy this season and a very possible Stanley Cup.
---
Bucci,
Great call on Ben Folds and the song "Luckiest."
You mentioned in your last column that you thought the Pens would trade either Kris Letang or Alex Goligoski once Sergei Gonchar and Ryan Whitney come back. If I were a betting man, first of all, I would have lost a lot of money thanks to the refs at the Steelers-Chargers game. But seriously, I would bet the house that Whitney is gone by the trading deadline, not Letang or Goligoski. Whitney is making $4.5 million per year, which could be used for either Jordan Staal or whoever they trade for. Letang and GoGo are young and cheap with huge potential, and coach Michael Therrien already showed his displeasure with Whitney last season. That and his salary make him very expendable. Acquiring Philippe Boucher to help on the power play makes it even more certain. So, where would Whitney go, and who could the Pens get in return? Would the Panthers be willing to trade Nathan Horton for Whitney and a prospect?
Jim
The Panthers would be foolish to trade Horton. He is 23 and has an annual $4 million cap number for the next four years. But you are right to want him to play with Sidney Crosby. He would score close to 40 goals playing with No. 87 and would give the Penguins some top-six forward grit they could use.
The Penguins eventually will need to add a scoring winger. Developing a cheap one through the draft is the best way; but, yes, they may need to deal Whitney, a prospect and another No. 1 pick to make a salary fit.
Whitney is a very good player who has good size and experience, and he was playing hurt last season. I would be very careful dealing his talent and personality. Exciting, funny and alive dressing rooms energize a team. Whitney contributes to that.
Also, Whitney's $4 million cap number is not terrible. I would look to extend Letang's contract now, at around $2.5 million, for three years. His deal is up the season after next, when Gonchar's $5 million cap number goes away, plus you'd get Letang for the 2009-10 season at $800,000. Considering the way he is progressing, that would be a great value.
Goligoski is restricted next season. I also would sign him for three years at around $2-2.5 million. A risk, yes, as it is difficult to judge a player when he is on the power play with talents such as Crosby and Malkin. Philippe Boucher's ($2.5 million) and Hal Gill's ($2 million) deals come off the books after this season, and they are candidates to leave. This could change if the Penguins think they could get two more years out of them at similar cap numbers and look to deal one of their youngsters for a tough winger who can score.
As I've said before, Goligoski and Letang are similar players with similar size, and that makes them candidates for a trade. Also, what will they look like in the playoffs? Will they rise to the occasion? Letang was not a factor in this past spring's playoffs, but he'd just turned 21. He played junior hockey for Val-d'Or Foreurs in the QMJHL and only 10 games in the AHL before making the leap to the NHL.
The Penguins are actually in a good position with their defensemen. No matter what they decide, it will be hard for them to mess it up. They need a couple of shutdown defensemen to play nasty against other teams and highly skilled defensemen to take advantage of their prodigious power play, which can carry a team to high regular-season point totals (which clinches home-ice advantage in the playoffs) and help win low-scoring playoff games.
---
Bucci,
You may be onto something stating Malkin will take the MVP this year. If he continues on this pace, I agree he will win that hardware. However, just like last year, he will run out of gas and be a nonfactor for his team when it really matters. I just don't see Pittsburgh making it back to the finals. So, we may not have to wait for him to disappear again this year.
Mark
Las Vegas
Ten goals and 12 assists (22 points) in 20 playoff games is considered fading? Malkin was 21 years old last season in the playoffs. He will continue to grow in strength and experience and will continue to improve.
Look at Pavel Datsyuk:
First 52 playoff games: 9 goals, 14 assists, 23 points.
Last 40 playoff games: 18 goals, 21 assists, 39 points.
---
Hey Bucci,
I'm a die-hard Rangers fan, and I'm still not buying the success they've had so far this season. I honestly don't see this team competing for the Stanley Cup or advancing past the second round, for that matter. Most of the people in New York are wearing blinders and don't realize the Rangers are barely getting by in some of these games. If it weren't for King Henrik's bailing the offense out, this team would be around .500 at best. I honestly think the team is in trouble with the cap situation for the next few seasons after outrageous signings (Michal Rozsival, Wade Redden, etc.). Do you see them as true Cup contenders?
Frank,
Long Island
I see the Rangers as outside Cup contenders, primarily because of Henrik Lundqvist. I have an enormous amount of respect for him. To me, he has an aura of a champion along the lines of a Ken Dryden or Bernie Parent. I'm surprised whenever he lets in a goal because I always anticipate that he'll allow none. Aside from him, the Rangers have average talent, and unless they develop cheap homegrown talent, they'll have trouble getting much better.
They have four big cap-ticket items in Scott Gomez ($7.3 million), Chris Drury ($7 million), Redden ($6.5 million) and Lundqvist ($6.8 million). That is more than $27 million for four players. That's already about half their cap now, and it'll only be a higher percentage when the cap goes down. (Crosby, Malkin, Gonchar and Fleury will hit the cap for $27 million next season, but that is less of a concern because Malkin and Crosby do so much. Malkin and Crosby were outscoring Gomez and Drury 56 points to 26 points when the week began, and their games should continue to increase in value. Drury's and Gomez's values should plateau, then depreciate in the next five seasons.)
What the Rangers have going for them is a good amount of grit and adequate defense in front of their goaltender. Dan Girardi is having a really nice season. The Rangers don't have a great power play because they just don't have the skill level of Washington, Montreal, Boston, Philadelphia or maybe even Buffalo. Nikolai Zherdev clearly is playing for a contract, but at least the Rangers are benefiting from that. I wouldn't trust him long-term.
The Rangers have enough leadership, heart, desire and goaltending to be a playoff factor. I see them finishing fourth or fifth in the East. I see making the Stanley Cup final as a long shot, and winning the Cup a real long shot. But long shots have won plenty of times before, and I'd never bet against Drury.
---
John,
I understand that Drew Doughty's playing extremely well for the Kings (possibly their best D-man, period?), but where's the love for Derick Brassard? I realize that the Columbus Blue Jackets don't get much attention right now beyond "Will they ever pull their organizational head out of the sand?" But Brassard is not only playing at an astonishing level for a rookie, he's also a top scorer among forwards, period! It seems as if he ought to be holding his own in the Calder running for now.
Matthew Wagner
Brassard has been consistently good for Columbus this season. One reason I like Doughty so much is he's playing more minutes per game than any other rookie, and he is playing well.
Bucci,
Drew Doughty in L.A. as your Calder favorite? Heard of an 18-year-old playing for the Coyotes named Mikkel Boedker? Five goals and three assists in 16 games and a plus-2. With Shane Doan off to a hot start and Olli Jokinen as well, this kid will be putting up more of a Calder performance than Drew Doughty. Check out the goal he scored against Florida on Nov. 8, and you'll see why I say that. Come on, Bucci. Give us some love in the desert!
Scott
Phoenix, Ariz.
Ol' Boedker and tonic. He is electrifying to watch. The Coyotes are still another season away from having real playoff hopes. Goal scoring is a problem, and they lack that point-producing horse, but they are on their way. The Coyotes just have to keep playing these young guys and get them to concentrate every night. On Monday night against the Rangers, I thought their passing could have been a little better. If only they'd just concentrated and played with a little more desperation and focus. They have good speed and hockey IQ; they just need to reach their professional repetition minimum. It's coming.
---
Bucci,
How much of a joke is the voting system for the All-Star Game? I log on to place my vote and find that the Canadiens on the ballot are all leading by 100,000-plus votes. All you have to do is a Google search to find out how Montreal fans are casting thousands of votes. Surely the NHL needs to start over with all the votes after ensuring there is no way of manipulating the lineup using computer programs. I don't know about you, but I will not be tuning in to watch the Canadiens versus Western All-Stars.
Brendon
My PC is still logging on …
---
Bucci,
Put yourself in the driver's seat for the Wild. Niklas Backstrom is unrestricted free agent at the end of the season, and then there's the Gaborik situation. Whom do you put more resources into signing, and why?
Courtney
Minneapolis
Marian Gaborik will not be with the Wild next season and likely will not be a free agent at the end of this season. The Wild will sign Backstrom to a long-term deal this summer if he agrees to the Wild's interpretation of his value. He'll turn 31 in February. Keep in mind that Backstrom's numbers are a product of the Wild's system. Here are Backstrom's save percentages in his three seasons compared with the save percentages of Dwayne Roloson in his first three seasons in Minnesota:
Backstrom: .929, .920, .933
Roloson: .901, .927, .933
I think four or five years at $5 million a year is about right for Backstrom.
---
OK Bucci,
Here's a question/thought for your well-Loob-ricated hockey brain:
The Boston Bruins have been playing very, very well. They can be an awful lot of fun to watch and have a lot of great up-and-coming young guys. If they can keep this up throughout the season, they will end up being a major thorn in the side of anybody they meet in the playoffs. However, it still seems to me (and maybe it's because I'm just blind, that is an option here) they are the one of the most underrated teams in the East right now.
I'm a die-hard Red Wings fan but was born in Boston. I love watching the Bruins on Center Ice, and I certainly love seeing what could be the reemergence of the Big Bad Bruins. So, the Bruins, Bucci. How underrated do you think they are?
Matt Amberg
Underrated? Maybe. But in looking at this team, one should not be surprised that they are playing well. Why?
1. Tim Thomas. His competitiveness, hunger and desperation are the soul of the team. He was born in Flint, Mich. He was a ninth-round pick of the Quebec Nordiques. He was 31 when he got his first real shot. How can you not play with that extra edge when you see this guy flopping on the ice like a moose being born? A goalie's drive and determination is very important to a hockey team.
2. The Bruins are loaded with forwards, perhaps a bit too offensive-minded, but it's easier to teach drive, positioning and effort than skill. The Bruins should finish with six 20-goal scorers. Their ice time is so evenly distributed, so they are fresh and fast for most of the game. This should help them all season long in terms of injuries and wear and tear. I wouldn't be surprised to see them trade one of their forwards to get a puck-moving defenseman. The Bruins' defense is very good. Mobile and tough. But the Bruins need a little help late in games getting the puck out of their zone.
Barring injuries, the Bruins are on pace to be a 250-goals-scored, 200-goals-allowed team with a lot of sandpaper. Those are elite-status numbers, enough to win the Northeast Division. But Montreal will be right there in the end, and it really could go either way.
---
Bucci,
Speaking of skating off the ice, how about Andrew Ference against Montreal? While killing a penalty, the man blocks a shot, which FRACTURES HIS LEG, and he still manages to get back on his skates and then CLEAR THE PUCK before he skates off the ice! Sheesh! I wonder what Mike Ribeiro thinks of that.
JP
Auburn, Mass.
---
Bucci,
I've noticed a lot of discussion lately on potential rule changes that the NHL is considering and thought I'd throw in my two cents. I have always thought that when a team is awarded a penalty shot, that team's coach should be offered the choice of taking the shot or being awarded the standard two-minute power play for tripping, hooking, interference, whatever the infraction was. Depending on the game situation, goalie and shooter involved, relative hot/cold status of the power play, you can imagine many coaches taking the two minutes instead of the shot. Thoughts?
Brett
Pittsburgh
I actually think both should happen. A penalty shot, and if a player fails to score, a power play follows. If the player scores, it's like a delayed penalty, and there is no power play.
---
Bucci,
I agree with your comment about players going to the bench and changing when they break their stick on the PK, and the Rangers this year are indeed doing that. They have on many occasions had players break their stick and then just race right to the bench for a change. I love this and think the five to seven seconds it takes to change are well worth the risk, rather than playing with a stickless forward.
P.J.
Ewing, N.J.
We can change the world -- one broken stick at a time.
---
Bucci,
Nine months and three weeks ago, I married Ashlee, a girl from New Mexico with no hockey exposure before meeting me. Still, she was an avid fan of other sports, and I made it my job to educate her about the best game you can name. Only a few years later, she's horrified that CBC got rid of the theme song on "Hockey Night in Canada."
Three weeks ago, and just hours after being at The Joe for a Wings preseason game, she gave birth to our first son, Padraic Timothy. She keeps telling me that he can grow up to be whatever he wants to be. I agree. He can be a center, winger or even a defenseman -- though I'm not sure about goaltending.
Here's a picture of Padraic and me at the rink after his first postbirth hockey game, a 5-4 victory for my team, Boat Works, in the St. Clair Shores (the Original Hockeytown) B-C Senior League. Apparently, I didn't play well enough to keep him awake.
Matt Barrett
St. Clair Shores, Mich.
No shoes, no service.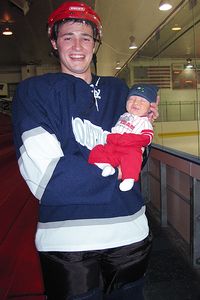 John Buccigross' e-mail address -- for questions, comments or crosschecks -- is john.buccigross@espn.com.