Shot of the Week
It's back. You know how it works: We present an NHL photo, and Bucci provides a caption. E-mail him your suggestions (include your name and hometown/state), and we will use the best ones and provide a new photo the following week.
THIS WEEK: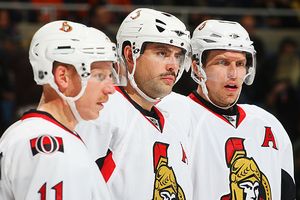 Ottawa Boogie Nights. (Courtesy: Getty Images)
Your captions:

"Hi. My name is Larry. This is my brother Daryl and my other brother ... Hakan."
-- Erika Flower (Manchester, Conn.)
"Maybe Don Cherry was right -- these visors look ridiculous.
-- Marco Casagrande (Calgary, Alberta)
"Ni! Ni! Ni! We want ... a shrubbery."
-- Matt Roden (New York, N.Y.)
"The Final Jeopardy question is: English Literature."
-- Joe Koh
Ottawa players react with confusion and disgust in finding that Labatt and Molson have been replaced with Goebel and PBR.
-- Howard Freedland (Jupiter, Fla.)
THIS WEEK:
"Instant karma's gonna get you; gonna knock you right on the head." (Courtesy: Getty Images)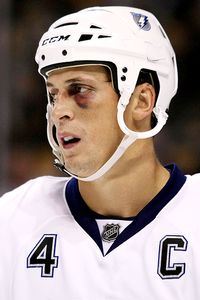 There are people in your life who've come and gone
They let you down and hurt your pride
Better put it all behind you; life goes on
You keep carrying that anger, it'll eat you up inside, baby.
-- "The Heart of the Matter" by Don Henley
England's Sir Thomas Beecham, one of the more charismatic orchestral conductors of the 20th century, once said, "The function of music is to release us from the tyranny of conscious thought."
I saw this quote in a newspaper while I was in college, wrote it down in a notebook (that I still have) and have never forgotten it. I don't need to Google the quote or the author.
That Beecham quote best manifests itself when we see scenes like the boys singing Queen's "Bohemian Rhapsody" while cruising the streets of Aurora, Ill., at night in "Wayne's World." Before "Wayne's World," there were plenty of movies that had people group-singing, but none captured the essence and spirit like Mike Myers riding shotgun in the Penguins' third-jersey-blue AMC Pacer with his friends. Using a Queen song certainly didn't hurt.
Since then, we've seen other memorable singing scenes: the folks on the bus singing Elton John's "Tiny Dancer" in "Almost Famous" and Frank the Tank doing a funeral-induced solo of "Dust in the Wind" in "Old School."
Beecham died in 1961, two years before Myers was born in Scarborough, Ontario, so he never lived to hear the music of Queen or experience Myers' comedic stylings. But I suspect he would have loved the "Wayne's World" scene and exclaimed, "Yes! That's what I meant when I said the function of music is to release us from the tyranny of conscious thought. Right there, Sparky!"
When one is singing Queen as loudly as one can inside of one's moving vehicle, it doesn't matter what type or car it is or what one's personal wealth status is. The emotion of music can be like morphine (or other numbing paraphernalia), plus, it is much cheaper and has no side effects.
As much as I like the emotional side of music, I also find pleasure, wisdom and guidance in lyrics, like Henley's words in his 1990 song "The Heart of the Matter" (featured at the top of the page). I think it is one of the better songs of the past 20 years. For the past 50 years or so, musicians are, and have been, the popular poets of the day. Their words offer accessibility and wisdom that is clear, concise and easily digested. We can learn from them, apply them and use them to our advantage as we go through our lives.
Well, it's time I once again turn to the "Gospel According to Henley" to help me in times of strife and conflict in my own life. I need to be open and honest about this. I need to address my disease, be up-front and confess to you, my people.
I have to turn the page and stop rooting for the Tampa Bay Lightning to lose.
Because, since they fired Barry Melrose on Nov. 14, that's what I've been doing. And, as regular readers of this column know, I profess to be an NHL atheist. I love all 30 teams equally and despise none of them. I've violated that covenant since the Mullet was shorn of his Bolts coaching duties, and it's time to put it all behind me, 'cause life goes on.
I must say my rooting for Tampa Bay to lose because the team fired my friend has been wildly successful. The Lightning were 5-7-4 when they fired Melrose after 16 games. Since Barry was fired, they have one win in 11 games. Six of their next seven games and 12 of 16 are on the road starting in Buffalo on Wednesday. As I write this, they have the fewest points in the NHL and the hole is about to get deeper. The chances of them getting the No. 1 overall pick next summer are very good, which is actually a good thing at this point. They need better players. Finishing last, or very close to it, usually always gets you one.
This process of subconsciously rooting for the Lightning to lose began this past weekend as I flew to Tampa to visit Barry and see two Lightning games in three days. The trip was planned and purchased as soon as I looked at the team's 2008-09 schedule and saw the three-day stretch during a cold month. Those were my guidelines. It was also done with the mindset of Barry coaching the team. After working with him at ESPN for 12 years, I was going to get to see him return behind the bench and take over a franchise that was at the bottom and had just added the first overall pick to its roster.
Barry could instill his Western Canadian values of hard work, promptness and fun in his young players, mold them like he molded championship teams in juniors and AHL, and an NHL team that was perhaps one illegal stick away from a Stanley Cup title. All of those hopes and expectations changed on Nov. 14. So, my trip turned into, "Go someplace warm for a couple of days, see a couple of NHL games and have dinner with Barry." Still a good long December weekend.
I landed in Tampa last Thursday and headed to the game that night against the red-hot Boston Bruins. The last time I had stepped into the Bolts' arena was Game 7 of the 2004 Stanley Cup finals. The Bruins were a bit lethargic for the first half of the game and trailed 1-0, but you could sense a change at about the 10-minute mark of the second period. From there, the Bruins controlled the game and went on to win 3-1. During the first period, a team employee came down and said Lightning owner Oren Koules wanted to meet me in the owners' box. Cool.
Koules turns 48 in January, but he looks 28. Everyone should have Greek genetics. His Hollywood producing credits include, most notably, the television show "Two and a Half Men" and the "Saw" movies, of which there are now five and someday could be 50 if people still go see them. Koules grew up in Chicago and played junior hockey in the WHL. During the 1980-81 season, he scored 28 goals for the Spokane Flyers. Ken Daneyko was on that team. The year before, Koules played with the Medicine Hat Tigers alongside Kelly Hrudey and the legendary Rod Buskas.
Koules, who was very down-to-earth and likable, shook my hand and said he loved reading my column throughout the years. This comment always shocks me, whether it comes from a Hollywood producer or the 18-year-old kid from Florida who said the same thing in the concourse after the game that night. Koules said he enjoyed following my kids' progression through youth or minor hockey, and the sprinkling of music my readers and I include, as well. (He said he listened to Death Cab For Cutie in his iPod on the way over to the rink, so I will listen to DCFC's "I Will Possess Your Heart" now as I write this.)
Koules would probably have enjoyed the first few paragraphs of this column, but said he doesn't go online to read hockey stories anymore because of all the personal attacks he read over the summer and early in the season on places other than ESPN.com. I tried to assure him I never personally attacked him and my views are always on personnel decisions made by the people directly making them.
Maybe this column can help put everything that has gone on in Tampa to rest for me and Oren, and we can move on to the future. Yes, Koules is the kind of American, music-loving, hockey-loving dude I want to root for, and you would, too. There are a couple of other people in the Tampa Bay organization I'm not so impressed with.
But I want to root for Koules and I hope he streamlines and retools the organization as much as he can with whatever power he wields. I hope he learns in Tampa Bay and stays involved in the NHL. He has a childlike enthusiasm and is certainly well-connected. You would love hanging out with him, talking hockey and music as I did. But (as I move on to "Soul Meets Body" in the Bose noise-reduction headphones) I must report that he had the body language of a decent Midwestern guy whose hockey soul had been kicked one too many times by media people who take the game wayyyyyyy too seriously.
I still see Koules in my mind, and the lyrics from Death Cab For Cutie's song "Cath" come to mind:
And soon everybody will ask
What became of you
'Cause your heart was dying fast
And you didn't know what to do
I hope this isn't the case. I hope this experience in Tampa doesn't break Koules' hockey heart. He's the one who courted Barry and made the proposal to bring him in as coach, but Koules didn't construct the Brad Richards or Dan Boyle trades or the signing of the free agents or directly hire some of the front-office staff. It's not entirely his fault that all of the key players, outside of goalie Mike Smith ($950,000) and probably Steve Emminger ($1.2 million), on the current team are overpaid. This could change in the future, but it's a fact right now.
While things are a mess, there is hope when you are at the bottom of the professional sports ladder. Tampa Bay has $10 million coming off the books after this season and it will probably have a top-three draft pick next summer to go along with Steven Stamkos, who is going to be a star. Now, if the Lightning can somehow trade a couple of their bloated veteran contracts, they could get on the right track -- accumulating young, fast, likable, tough, competitive, outgoing players in the mold of Stamkos and Ryan Malone. The kind of players Melrose wanted and didn't have.
Melrose was fired because he didn't want to play certain people at all. We are now seeing those players slowly exiting. Radim Vrbata went back to the Czech Republic, giving the Bolts a $3 million-a-year Christmas cap gift. Chris Gratton was waived two days after I received my Gratton miniature bobblehead doll before Saturday's game against Buffalo (hearing all the Sabres fans in attendance root the Sabres on to a 4-3 win).
As fate would have it, I saw my third consecutive Lightning game Monday night in Boston. I was off, my boys' hockey schedules said "off," and the Bruins, two hours from ESPN, were home.
Bucci Rule No. 67: Don't pass up life's little openings, even if you are tired or feel like staying home after a long weekend in Tampa.
We sat and watched the first period from the NESN set, where Kathryn Tappen and Mike Milbury do their game-night show. I appeared and temporarily sullied their pregame show. Ray Bourque stopped in and we talked family. His son, Ryan, is playing for the U.S. national under-18 team and will be attending New Hampshire next year. His other son, Chris, has played four NHL games this season for the Capitals as he tries to make the next step in his hockey career. His wife is getting her knee scoped. Ray is graying, but still has a first-ballot Hall of Fame head of hair and looks like he could still run a power play.
In the second period Brett, Jackson and I made our way down to our seats after eating all of the free food in the NESN box. From there, we watched the second period. As the second period ended, a guy leaving early must have seen my two boys and offered me his three seats on the glass right across from the Lightning bench (as destiny would have it).
Row 1, and a chance to see the giganticness of Zdeno Chara up close.
So, from the third period on, we sat on the glass and my perspective of the Lightning started to change. I can't keep carrying around my personal anger every time the Lightning play because they fired a colleague and friend so soon after he was hired. That will eat you up inside, baby. My rooting for the Bolts to lose is unprofessional and unproductive. And while watching them play Monday night, with my nose on the glass and seeing them play with such little collective purpose and without any sense of FUN, it became quite obvious they don't need my help losing games.
It was actually quite sad and depressing to watch the players up close with their expressionless faces and hopeless demeanor. I never saw Vincent Lecavalier utter a word and I saw few players conversing at all. The coaches' hands were in their pockets and only assistant Mike Sullivan seemed to really try to change what was happening. I don't know if anyone was listening to what he was saying. At one point, he suggested something to Martin St. Louis, and St. Louis seemed to come to a different conclusion and appeared to talked Sullivan out it. I felt sorry for the whole team.
And so, as I left the arena after a 5-3 Boston win, another of Don Henley's lyrics from "The Heart of the Matter" was ringing in my head:
I've been trying to get down
To the heart of the matter
Because the flesh will get weak
And the ashes will scatter
So I'm thinking about forgiveness
Forgiveness
Even if, even if you don't love me [Barry] anymore
Q&A with Barry Melrose
To help put closure on my Tampa Bay conundrum, I phoned former Lightning coach and future ESPN analyst Barry Melrose, who is still in Florida and will remain there for the winter. Barry begins his ESPN duties on Jan. 1. He will be with me on the "SportsCenter" set as we break down the Red Wings-Blackhawks outdoor game from Wrigley Field.
Question from Bucci: Since you were fired by the Lightning, I have been rooting for them to lose every game. I have admitted this and am now looking to move on, wishing nothing but good things for the organization, especially Oren Koules. Have you been rooting for the Lightning to lose?
Answer from Melrose: Yes. I hope they never win another game. I think when people say that they don't care, they are lying to you. One of the reasons ESPN wanted me back on the air is to tell the truth, and yeah, I hope they never win another game.
Q: Once you become an analyst again, will you be able to put that aside?
A: Oh, yes. Time heals everything. Like in Los Angeles, where I was also fired, they have Luc Robitaille working there, so I certainly want him to do well there. Time will heal that in Tampa Bay, too. I'm glad Oren Koules gave me the chance and just wish we could have seen it through for longer.
Q: Take us through your emotional roller coaster. Did you cry at any point after you were fired?
A: I don't cry, so that's out of the question. I've been in hockey a long time. I saw people talking who shouldn't be talking and people together who shouldn't be together, and the battles I was having about playing time and playing people. I sensed it coming, but not after 16 games, and we [were] four points out of first place. I did everything I told them I was going to do. If you look at them now, they are doing everything I told them to do. They brought up young guys that play hard, and the old guys who can't play are out of the lineup. They still aren't tough enough. I've been vindicated in everything I said I was going to do. I was angry. My son says I'm an angry man most of the time in my life. But now, I'm looking at getting back to ESPN and talking about all 30 teams.
Q: So, what do the Lightning need to do if you were given total control?
A: Youth, size, skating ability and toughness. I always told them I wanted two lines that could score and two lines that would be hard to play against. You have to be able to skate in today's game, and they need good guys in that dressing room. It wasn't my type of team when I was there. I like physical teams and I just didn't have that. There was no hitting. We were the easiest team to play against and I just can't stand that. I like fighting and the energy it brings to a team.
Q: What about coming back to ESPN?
A: I was sad leaving ESPN and still have a headache from the going-away party they threw for me. And the NHL lost a lot of memorabilia sales from ESPN people buying Lightning gear. That's how ESPN is. They are passionate and loyal. I can't wait to come back. I love sitting in the studio and watching hockey and then coming upstairs and telling Scott Van Pelt and Neil Everett how to pronounce the players' names.
Weekly Tribute to Jack Falla
The following is an excerpt from Jack Falla's "Home Ice." Falla passed away Sept. 14. We'll honor his memory each week with a few lines from one of his classic books:
"In the winter of 1984-85, I spent about two weeks with Wayne Gretzky and the then-Stanley Cup champion Edmonton Oilers to research a magazine cover story ... I'd filed the story on a Sunday night after a game in New Jersey and I stopped by the Oilers' Monday morning practice to thank Gretzky and some of the other players for their cooperation. As I headed out the dressing room door, Gretzky called me back.
'You shoot left?' he asked.
I said I did and he gave me one of his sticks. I appreciated the stick, but not as much as the question that suggested what Gretzky intended I do with that stick. The same thing he'd do. Use it.
I caught a late morning flight home, and by mid-afternoon, I was out on the backyard rink using Gretzky's stick in a pickup game with kids from the neighborhood. It was a good stick. Light. Strong. It survived the backyard rink season and held together for a few games of spring driveway hockey before someone inevitably stepped on the blade, whereupon I threw it in a corner of the garage with all the other broken sticks.
In June, I did the same thing with Gretzky's stick that I did with 23 other bladeless shafts. I hammered it into the soft ground of the garden and staked a tomato plant to it."
The Mother of All Mailbags
John,
I just wanted to thank you for the weekly Jack Falla quotes. I had him as a professor, and while I don't cover sports, I really think he helped me on my way to a career in journalism. It's great that people who may never had him in class or known of his work can now be exposed to his writing. "Home Ice" is one of the best sports books I've read and I'm not even a huge hockey fan. Anyway, I just wanted to drop you a line and let you know that the selections are being appreciated.
Matt Kakley
The Sun Chronicle
---
Bucci,
I noticed you Thursday night at the Lightning/Bruins game. We were the idiots shouting out "BUCCIGROSS!" at you on the way out. We appreciated the wave and not calling us crazy. The guys and I really enjoy watching SportsCenter, as well as reading your column on ESPN. ... We all knew you were really a Lightning fan deep down, even if you're meant to be an "NHL atheist" with no favorite team (we'll disregard those Massachusetts ties you had before your ESPN career). Let's see ... an ESPN anchor at a Lightning game. Was Oren Koules begging you to coach us, too? Did that guy just watch "NHL 2Night" all the time?
Oren Koules (or Brian Lawton, for that matter) kind of resembles that guy that keeps adding/dropping players like a desperate fantasy hockey league owner at the beginning of the season because his draft was horrible. I've been a season-ticket holder here in Tampa for a while and have seen the good and the bad. Great moves (the trades leading to the 1998 draft, essentially becoming Vinny Lecavalier and Brad Richards) and the ones that make you scratch your head (Dan Boyle ... where's Matt Carle again? Ugh). If you could sum up the current problems in Tampa, what do you think they would be? Hope to hear back from you. If you're ever in Tampa for another game, I'm so buying you a beer.
Jason Awad
I could have used that beer while watching the Lightning power play, Jason. I wouldn't blame Koules. He just wanted to put together the best hockey team he could and trusted those around him. He is a producer who tries to get the best people around him. Sports is much more complicated than that. Because the Lightning have little organizational depth, it will probably take some time. The most pressing need is defensemen. They need to draft young, mobile defensemen, and if they ever get a chance to get someone like Dan Boyle, I would do it. By the way, I enjoyed the fake snow that was falling as we all walked out of the arena last weekend. Nice touch. And the Five Guys cheeseburger I had in the arena was next level. I do think Peter Laviolette will be the next coach in Tampa Bay. There ... you heard it here first.
---
John,
A note about future HOFer Adam Oates. During the lockout of 1994-95, Oates skated with our Cambridge Rats men's team in Boston. The team included one of Adam's former linemates from RPI and a bunch of old-time high school and college players. Oatsie showed up, not as the "star to be" but as the "new guy" and was an absolute delight to play with. To say he made everyone on the ice better is an understatement. Rather than just play the game, he was able to orchestrate how the game played out.
I was most impressed with his hands and his explosive skating style. Never a particularly fast skater, Adam worked hard to develop an almost bicycle-like start and was at top speed in 3-4 strides. As good as he looked on TV or from the arena stands wearing the Spoked "B," it is really something to witness this at ice level as a pass hits your stick at the perfect place and perfect speed. After games, he was a regular guy in the room and was quick to pick up the tab at our postgame watering hole. If the 1994-95 Cambridge Rats had a say in the HOF vote for Adam, he's a unanimous first-ballot entry.
Dennis O'Malley
St. Pete Beach, Fla.
These kinds of hockey stories are some of my favorites. I had the chance to play pickup hockey with Pat LaFontaine and Denis Leary a couple of winters ago. A hockey rink is a great place to discover people. And using the LaFontaine/Oates comparison, even though they play at half speed in these pickup scenarios, one can still feel their greatness. It's palpable.
---
Bucci,
OK, I get it; everyone (including me) is waiting for the Sharks to get by the second round of the playoffs before saying anything about this team. But seriously, they just tied a 65-year-old NHL record for best start after 25 games. Where's the media coverage? Is this simply a case of Canadian/East Coast bias or are we really to the point where the Sharks have to advance to the Stanley Cup before anything positive can be said? Maybe I'm just bitter, but I have to think if the Bruins or any Canadian team had this kind of start, the media would be all over it.
Dan
San Jose, Calif.
I picked your team to go to the finals in the ESPN.com season preview. The Power Rankings love you, too. The Bruins actually have had the same kind of start as the Sharks, and they aren't exactly leading "SportsCenter" or on the cover of Sports Illustrated. Football rules for the next two months and the American media focuses on hockey in the postseason, so if the Sharks and their fans want mainstream attention, they will have to get to the finals.
The Sharks are scary deep with a good, experienced defense in front of two experienced goalies, but they still haven't proved if the people who are scoring now will score for two months in the postseason. Ryane Clowe looks like he was born for the postseason. But it's a long season and the Sharks are only a few points in front of Detroit, which probably, man for man, has slightly better talent, especially in the dynamic department among the forwards. The Sharks will get their chance. They have been wonderfully constructed and will get to prove if they are ready to make the next step. As you know, I root for my predictions, so I would like to see them make it.
---
John,
The Bemidji State women's hockey team was burglarized while playing U of M-Duluth last week. The locker room was broken into at DECC, and iPods and wallets were stolen from the women's team. And to top off the misery, they lost to the Bulldogs 4-3.
Fiona C. Quick
Minnesota Hockey Journal
The same happened to my son's fall midget team this year. Luckily, my boy was spared. It's a good time for another edition of "Bucci's Rules to Live By."
Some of the others include: (1) Always leave your phone number at the start of your voice mail and the end. So, if the person taking your message misses your phone number, he or she can press 33-4 and not have to listen to the entire message again to copy or check the number. Especially on the those messages that are 2:24 long and involve a head cold. (2) Start every day with a banana.
But back to the e-mail ... kids, always give your cell phone, wallet and jewelry to Mom or Dad to hold while you play your hockey game.
---
Hello John,
Not that I am defending Sean Avery because I think he is an egomaniac and a jackass, but how is it possible that Avery gets six games for conduct detrimental to the league for words, yet Mattias Ohlund gets four games for a two-handed slash that breaks a leg? Is Bettman saying that a vicious slash is less detrimental to the league than words? Especially considering his mission to make hockey a family-friendly sport. I know that Avery is "repeat offender" in the league's eyes, but nothing he's done has been so bad as to warrant a suspension before this latest incident, so I really don't see it that way. Your thoughts?
Chris
Atlanta
According to the Emotional Intelligence theory called "Emotional Hijacking," anger is explained by the fact that the emotional part of our brain and the logical part act quite independently of each other, and at different speeds. What was troubling for the league, despite Avery's past, is that he thought about his words. They were logical to him.
Anyone who plays hockey knows there are moments of temporary insanity. I'm not excusing any behavior, but I understand on-ice passion. Hockey, at its best, is not a "fan-friendly" sport. Hockey, at its best, is a physical game filled with a young-people-in-the-crowd tempest of passion, emotion and, yes, fighting. Avery's comment actually plays right into that crowd's hands. I think he understands that, but misses the other points. His comment was disrespectful to some women, perhaps many who follow hockey.
This is a business. Break an ankle, but don't turn away possible customers. I would have suspended him for trying to be funny and not being funny. Since he is not very interesting or funny, he tries too hard. Those are the people who say and do some things because they can't get attention with their deeds, words or intellect.
---
Bucci,
I definitely think Sidney Crosby has matured into the player a lot of us thought he would be; i.e., doing the little things that matter. That being said, how about Malkin? I see him back-checking more often, making that play up the middle against three-plus opposing team members compared to last season; in short, little things that matter.
A. Kennedy
Pittsburgh
Sidney Crosby pretty much had that maturity from day one, but you are right about Evgeni Malkin. With Crosby as a model, Malkin probably plays a much more grinding game and a complete game. He leads the Penguins with a plus-16. His reach, hands and anticipation make him an effective defender. I think both players have one more level of improvement before they level off and hone their games with experience and guile. And then put Stanley Cups on their mantels.
Mr. Buccigross,
I don't know if you remember me and my brother, but we met you last May at the Stanley Cup finals in Pittsburgh and we had such a great time meeting you. I have a question for you, as we have become deep into the hockey season. Every night when I watch a Penguins hockey game, I debate with myself who is the better player, Sidney or Geno? While Evgeni had a quicker start to the season, Sid has come on like a whirlwind of late, finding the tandem 1-2 at the top of scoring leaders. My question for you is if Crosby and Malkin continue to play this well, do the Penguins even need to attain another high-level winger to be Cup-ready?
Ben and Teddy Ross
Pittsburgh
Once the Penguins get Ryan Whitney and Sergei Gonchar back, they should have a Stanley Cup-capable defense. I'm still a little concerned about their collection of forwards. Crosby and Malkin really carry that load. I don't think there is enough up front for the Penguins to win a Cup this season. They need to acquire one or two players at the deadline, I think.
---
Bucci,
Thanks for promoting the idea of bigger goals in your most recent column. I've argued in favor of this for years. The average goalie has gotten bigger, their equipment has gotten bigger, their equipment has gotten lighter and the goalies have gotten more athletic. This needs to be offset by making the goal itself bigger. I'd like it about a foot wider and six inches taller. Give the snipers the top shelf again!
Chris Tabar
A foot wider and six inches taller?! I think that's too big. My net expansion idea is only a few inches wider and a couple higher. I'd love to see the NCAA take the lead on this. College games can be really low-scoring and defensive.
---
Hi John,
Almost as soon as he was signed, the Wings said that the Marian Hossa signing was likely a one year and out situation as they could not retain him and Zetterberg and Franzen for 2009-10. But, looking at their cap situation for next year, I don't see how they will be able to keep more than one of the three.
Assuming Hossa signs elsewhere, Holland will need to give both Mule and Z big raises, likely around $5 million and $8 mil, respectively. But they will probably have less than $9 million in cap space going into free agency. So, unless both decide to take a gigantic hometown discount, one of them is likely going to walk, simply because of the cap restrictions. This seems totally unfair to the Wings.
Much has been made of the fact that guys like Lidstrom, Datsyuk, Zetterberg and Franzen were taken ridiculously late in the draft, but have all become star players. But what good is that when, because of the cap, you won't be able to keep your own players? The cap was supposed to curb crazy free-agent spending by big-market teams; but, in this case, it seems to punish teams who draft well and simply want to keep their players. Why couldn't there be a clause in the CBA by which a team who signs a player they drafted to an extension when they become a UFA will only have 60 percent of their salary count against the cap?
Matt Hutter
Upland, Calif.
I think that would be a reasonable discussion to have, Matt. To be able to keep players at a cap discount if they were drafted by the team or with the team more than, say, five years. It's important for the NHL to have great teams. To have 30 of the same kind of team would be boring.
---
Bucci,
I am a big Rangers fan, and if you had told me three months ago that losing Sean Avery would be the best thing that ever happened to our team, I would have called you crazy. When the Blueshirts decided not to re-sign him, I was devastated. I thought he was a bring-a-championship-to-your-city kind of guy. And then they bring in Zherdev and I started to think that the people at MSG actually had something against me personally.
Avery's been perhaps the biggest bust signing of the offseason (Ryan Malone gets a close second, only for the fact that he's on the ice) and Zherdev is quickly endearing himself to Rangers fans. I am amazed and extremely happy that hockey continues to surprise me. With that, my question is, with New York spending so much on their top four/five guys for the next five seasons, is there any way they can bring back Zherdev? He's restricted, but does he warrant a long-term $3-4 million deal?
P.S. -- Every once in a while, I just need to vent on something. I don't know if you even read this, but it keeps me from getting fired from talking about hockey all day.
Matt
Brick, N.J.
I read every e-mail, Matt. When I came back to work Monday after being off for a week, I had 932 e-mails waiting, so obviously, I can't answer all the e-mails from everyone. That would literally eat up the day, and don't forget, I have a pesky 50-hour-a-week TV job to balance into the equation.
The Rangers made the right move in not signing Avery and that was before his comments. Nikolai Zherdev is a dicey scenario for the Rangers. They obviously have very little offense and need him, but I still think he coasts at times and I question his effectiveness in a down-and-dirty playoff game. I'd be uncomfortable giving him a lucrative long-term deal. The Rangers have to pay attention to his details and see if there is growth and make a decision on what they see as a probable improvement curve. Then, they can decide his value to the team.
---
John,
I need a baby name. I am having a son in May 2009. I grew up in New England, cheering on the Bruins (Ray Bourque, Cam Neely and Andy Moog) and the Maine Black Bears in the early 1990s during my teenage years. My wife brought me to Detroit, where she has turned me into a Red Wings fan. We both love hockey (yes, I am lucky). Give us a name we can be proud of.
Scott Levasseur
Ferndale, Mich.
Nicklas Raymond Levasseur. Now that is a hockey name!
Hockey Fact: A look at the Norris Trophy scoreboard ...
Bobby Orr -- 8 (all in a row)
Doug Harvey -- 7
Nicklas Lidstrom -- 6
Raymond Bourque -- 5
---
Bucci,
Last week, you wrote: "I just pulled my groin reading that paragraph."
I'm disappointed. You should have said: "I just pulled my lower body reading that paragraph."
Josh
Good point, Josh. I should not let other writers/bloggers know about my injuries. They might adjust my chair.
---
John,
After growing up in New England, my sister moved to Florida about 10 years ago. Despite living in F-L-A, her children are being raised as New England sports fans. I am in charge of making sure they have the proper sports attire. This is a picture of my niece, Ruby Armagost (14 months), dressed for the Bruins' recent Florida road trip.
Barbara Cisinski
Boston
See your future. "B" your future.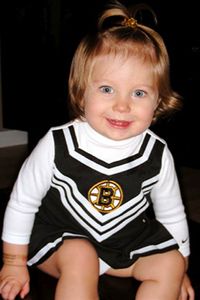 John Buccigross' e-mail address -- for questions, comments or crosschecks -- is john.buccigross@espn.com.