Shot of the Week
It's back. You know how it works: We present an NHL photo, and Bucci provides a caption. E-mail him your suggestions (include your name and hometown/state), and we will use the best ones and provide a new photo the following week.
LAST WEEK: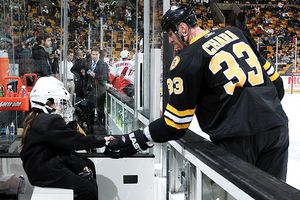 "Take these gummy bears and don't move until I'm done with work." (Courtesy: Getty Images)
Your captions:

"Put these under your pillow tonight. The Tooth Fairy will give you a couple of extra bucks."
-- Rob Pope (Castle Rock, Colo.)
"Two minutes for tripping?! Of course you went low. Where were you supposed to go? You are 4-foot-2"!
-- Howard Freedland
Against all advice, Jill fed the Bears.
-- Ben Berry (Columbus, Ohio)
"Wonder Twin powers activate! Shape of the Stanley Cup."
-- Joe Bodnar (Cheswick, Pa.)
"Chara-ty" starts at the home bench.
-- Joe Koh (Rancho Santa Margarita, Calif.)
THIS WEEK: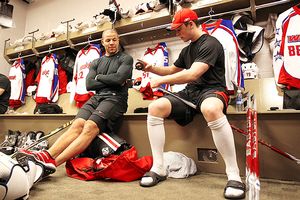 "Sandals and socks? OKKKKKK." (Courtesy: Getty Images)
Sports is competition without rocket launchers and warlords.
Young people, especially men, need an outlet for physical exertion or their testosterone, mixed with injured pride, leads to negative circumstances, which invariably leads to bloodshed in various degrees.
Young fellas also need hope and coaching and a goal (most of us are very dumb without a compass and plenty of tunnel vision). See the mullet and pickup-truck surfing. Sadly, some never grow out of this phase, and sometimes, tragically, mostly annoyingly, they become coaches as adults ... or overzealous fans who don't realize this is all in good fun and that it's not worth pushing someone down a flight of stairs because they are wearing the other team's jersey.
This is all just a nightly Halloween party. We wear our costumes, we have some beers, we cheer, we sing and go home and watch "SportsCenter." (All this week at 11 p.m. ET on ESPNHD, watch John Buccigross give you the scores and highlights with his TV friends!)
Growing boys also need to get physically exhausted. Young people have so much energy because they have natural human growth hormones racing through their bodies. Add an unnatural HGH to their bodies, like Frosted Flakes or syrup, and look out! These boys are human Harley Davidsons. This is why, as we have read in articles, senior citizens are taking synthetic HGH today. It gives them the energy to date three Dallas Cowboys cheerleaders and bat for a .996 OPS in the over-60 softball league in Florida.
This natural energy in young men needs to be used and dispersed in a constructive way. Highway paving and mowing lawns are good ways, but what teenager has the time? So, there are sports to help rid them of their superhuman energy powers. Otherwise, they will smash mailboxes and throw chestnuts through kitchen windows. "Why are you looking at me?"
People like to spend lots of time cherry-picking the negative things about Little League baseball, Pop Warner football and USA/Hockey Canada youth/minor hockey. However, I don't need an expensive study to tell me Sparky's practice and game schedule will make it difficult to practice real-life hate and revenge. He is just too tired. This is a good thing. Sporting competition, when administered prudently and with care, can help keep the peace. It is also very entertaining.
Competition is the thing, and that's why the NHL All-Star Game is the antithesis of pro hockey and a poor example of why we watch. It's hormonally deficient. There is no competition in the game -- and that is what we want.
Now, the All-Star Game does little damage to us, the hard-core fan. We still watch a "Flight of the Conchords" episode on HBO even if it isn't strong or is below expectations. In the end, it doesn't damage our opinion of the show as a whole.
Listen, I understand the importance of getting sponsors out in front and getting them and their families access so they can meet Sidney Crosby and Alex Ovechkin. But some of this stuff can now be done at the Winter Classic. You could have an MVP/Player of the Game for the outdoor game and give away your Honda there. Many more people are watching the outdoor game than the All-Star Game on TV, anyway. And what better environment to sell your four-wheel drive than outside, in the snow? You could figure out something with the sponsors using the outdoor game.
What does make the All-Star Weekend worth it is the skills competition. That is one of my favorite nights of the year. I turned the channel a lot during the All-Star Game, but did not turn it at all during the skills competition. You have solid efforts and all of the best talent on one sheet of ice, without helmets and wired for sound. It's a great way to observe and learn about the players. I would hate to see this go away -- it is good and valuable.
As some of you have chimed in via the e-mail bag, perhaps it would be worth considering having the All-Star festivities at the start of the season. It would be a loud kickoff to the season, something the NHL does not have right now and something no other sport does. It would be unique. Fans would understand that the game portion would be a tuneup for the real season. The players would also probably have a great energy that would make everything about the weekend better -- how they play, how they interview, how they interact with the sponsors and how they sign autographs. They'll also still have their summer tans. That could be another skill competition.
The All-Star voting could be done over the summer based on the entire previous season. This could help sustain interest over the summer months by having fans visit Web sites to cast their votes. And using an 82-game sample is a more just way to pick the All-Star rosters.
The YoungStars Game would also have much more of an impact as a vehicle of education and would be a great way to introduce these players to fans, both in their markets and around the country.
I'm sure anyone who was in Montreal had an amazing time. The presentation of the Canadiens legends, the pomp, and the energy of Montreal likely put an imprint on any hockey fan who was there, especially first-timers to the great hockey city. It is such a comforting and overwhelming experience to be in a city where hockey matters most. The first three All-Star Games that I covered for ESPN were in Tampa, Toronto and Los Angeles. You can imagine which city felt like Super Bowl weekend and which felt like a "Baywatch" convention ... not that there's anything wrong with that.
Speaking of the Super Bowl, that's when the NHL could take a three-day break. Saturday, Sunday and Monday of Super Bowl weekend. Players and coaches get to be home with family and friends, wind down from the "first half" of the season and get ready for where we are now -- the exciting stretch run when every game matters and the March 4 trade deadline looms.
Football will soon be over and even more eyeballs will gravitate to the NHL and these fans will take in what we have seen all season long -- great competition, night after night. Every game seems like it's a nail-biter. And it all gets raised a notch starting today. We don't want casual fans to see the All-Star Game as an example of our game. We want them to see what will be on display tonight. Competition at the highest degree. Smashing Pumpkins, smashing-mailbox hockey. The players go at it tooth and nail, but they don't bite ... hard.
And it is good.
Weekly Tribute to Jack Falla
The following is an excerpt from Jack Falla's "Home Ice." Falla passed away Sept. 14, 2008. We'll honor his memory each week with a few lines from one of his classic books:
I have always rejected the claim made by many, including some of my friends, that people become sportswriters because they are not good enough to be players. I think it was now-retired Boston Herald columnist Tim Horgan who best answered that claim. "To be a sports writer," he said, "it is necessary to love the writing as much as the sport." Like most writers, I love the "having written" a lot more than I love the writing. But I've always regarded sports writing as worthy and fulfilling in itself -- a legitimate and professional connection to the game; a way of informing and entertaining people who care -- and not as a synthetic substitute for playing. When I feel like playing, I go out on my rink and play.
The Mother of All Mailbags
John,
I wanted to say thank you for posting your weekly tributes to Jack Falla. I was a student of his and having him pass away so suddenly was devastating, but as cliché as this sounds, having you spread the gospel by writing about him keeps him alive for me, fresh in my memory. He had a way of making a huge impact on so many people's lives in just short interactions -- a semester, a class, a few sage words of advice -- and I think the same is true of his writing, so it's great to read feedback from new readers in your blog (please tell them to read "Open Ice," I think it's even better than "Home Ice").
Not getting to tell him when I got my first full-time writing gig this fall was one of my life's greatest disappointments. He was instrumental in turning me into a writer and getting me the job -- as he was for half the sports writers in the Northeast (I know because when I worked for the Red Sox briefly a few months ago as a media relations assistant, a job which of course Falla got me, I read their countless tributes to him while tediously compiling every article on the Sox known to man, and the guy wasn't even a baseball writer). Seeing other people get to know his words helps mitigate my disappointment, and for that I feel compelled to thank you.
Brandon Simes
"Success is not the key to happiness. Happiness is the key to success. If you love what you are doing, you will be successful." -- Albert Schweitzer
---
Hi John,
I just finished your piece about your backyard rink. It's 8:15 a.m. here in Michigan, and I'm smiling like a damned fool! That's how warm and fuzzy I feel after hearing about the joys of your freezing cold rink!
Kim Harvey
Petersburg, Mich.
John,
Hope all is well. I'm the PR Director for the WHL's Portland Winter Hawks, and on the heels of your column about your outdoor rink, I thought you might be interested in this trip we're taking next week.
There's a town of 1,895 in northeastern Oregon called Enterprise, and every year they build an outdoor rink. Well, we're taking our entire team there next week. We're going to visit schools in the morning, followed by an afternoon practice open to the public, and a public skate where fans can skate with the team.
Graham Kendrick
Director of Media Relations
Portland Winter Hawks
Bucci,
So, when I saw your photos, I wondered ... do you play basketball on skates?
Dennis Beecher
Buffalo, N.Y.
You betcha. I wear my George Gervin jersey for that exercise. "The Ice Man."
Hey Bucci,
I'm really enjoying the columns about your backyard rink! Even though we lived in Detroit, we had one of the biggest backyards in the neighborhood, and my dad got me started on building a backyard rink. We had one every winter from the time I could skate until after my college years.
My family and neighborhood friends enjoyed countless hours on the backyard rink, so it brings back a lot of great memories reading your articles. I'm also going to get Jack Falla's book at some point because the excerpts are great.
Kevin V.
This past Sunday, I was on the ice for two hours with my two boys. Brett, 16, did three shifts of two hours each from sunup to sundown. Six hours in all. Then, he had a 5:30 a.m. Monday practice, went to school, came home and was on the ice for 90 minutes. Jackson joined him when he got home from school a little later.
The forecast remains great for continued skating, setting up the finest backyard rink run we have had. On Sunday, I laid out assorted mats and carpet I found around the house. Now, we can put the skates on inside in the kitchen, open the back door and walk to the rink without skate guards. I included a photo of my uniform from Sunday's skate. Check out that hockey sweater, yo.
"Don't tell people how to do things, tell them what to do and let them surprise you with their results." -- George S. Patton
---
Mr. Buccigross,
I would just like to comment on something I saw at the skills competition on Saturday night. I loved seeing Alex Ovechkin and Evgeni Malkin get along amongst the talk of their feud. I am a die-hard Pens fan, but I like Ovechkin, and I think that it is better for the game if they are friends rather than enemies. What is your take on the Ovie/Geno relationship and the skills competition as a whole?
Brad Eagan
West Mifflin, Pa.
I prefer hate and vitriol in my athletic relationships. It makes for much better theater as long as it's honest and controlled. I think it is better for the game if they are enemies. Either way, the contrast is good and the previous issues they had made the skills competition moment more interesting. Hopefully, they will go back to despising each other.
---
John,
I was wondering what your opinion is on celebrating. I love seeing guys like Ovechkin put one in the back of the net and go crazy. But not many players seem to be celebrating their goals like stars of the past. You never see guys like Gretzky running on the ice or Jagr taking his glove off and putting the one finger up after his goals. Did celebrating become a sign of rubbing your opponents' nose in it and will over-celebrating lead to punishment on the ice? I personally like to celebrate goals to the max (depending on score and all), but I wanted your views on this.
Derek L
Rhode Island
I love spontaneous celebrations after big goals. No other sport is more difficult than hockey -- it's difficult to score and often it means taking a beating. Most NHL goals happen out of nowhere. There are times when you are watching your team and you are convinced they will never score another goal in franchise history. I mean, you are sitting there watching and you're like, "We are never scoring again." And then it happens and it's such a shocking and exciting relief. That will make a man go nuts.
What I love about NHL celebrations is they are largely joyful. Those are my favorite celebrations. I hate the celebrations in other sports where there are snarls and anger and boorish machismo stances. I love the athlete who celebrates with joy and smiles. That's why Alex Ovechkin is the Arnold Palmer of the NHL. His popularity will continue to rise because he smiles and is inviting. He invites you into his joy. He is now the biggest personality in the game, and if he isn't the most popular player (and I think he already is), he is on his way. You could also argue no player in NHL history has combined his skill set with his showmanship and authentic Vegas personality.
---
Dear Bucci,
A couple of quick questions for you:
--What teams in the East have the best chance of beating the Bruins in a seven-game series? Right now, the thought of a 1-8 or 2-7 matchup with Buffalo in the first round really scares me considering the way they have played the Bruins this season.
--How do you see the rest of Patrice Bergeron's career playing out? Will he become the player we envisioned when he was healthy two years ago, or is he the next Eric Lindros?
--How does the Bruins' goalie situation play out over the next five years or so? Thomas and Fernandez are both free agents at the end of this season and they have Tuukka Rask waiting to take over when he is ready.
Justin H
Westborough, Ma.
1. The numbers say the Bruins will go on to earn the No. 1 seed in the East. Only Washington has a chance to unseat them. But the Capitals will have to have a better road record and a better penalty kill the rest of the way to get the top spot.
2. Bergeron? Hard to say. He is only 23 and has the passion and smarts to be a productive two-way player. I don't think he ever would have been a top-echelon star anyway. Maybe a point-per-game guy at best. I think people projected him to do so much because he was productive at a young age. But sometimes people have career years at a young age.
The way he was reinjured this season makes you wonder if he really is cognitively healthy enough to play professional hockey at this stage. Players just don't do what he did against the Hurricanes and get injured again. It was like he was two gears too slow and couldn't anticipate or time what was happening. I find that episode very troubling.
3. The Bruins will lose either Tim Thomas or Manny Fernandez, and Tuukka Rask will likely be the backup next season. As I've said here before, Thomas will be in Boston next season and Fernandez will either be in (a) Atlanta, (b) Detroit, (c) Los Angeles or (d) Philadelphia.
---
Hey John,
How come ESPN.com doesn't have PBA bowling on the Web site?
Joe
After being off from work last week, I returned and had 1,089 e-mails in my ESPN inbox to go through. The one above is without question my favorite. It just is.
---
Bucci,
I love your columns almost as much as Gilles Gilbert and Motley Crue, but the last edition really, really, really hit home. My 6-year-old had his first tourney in Buffalo last week in the Niagara University rink. Wow, what a time was had! Six games in 2½ days, intermission skate during the Niagara men's game. You'll be glad to know that the men's team uses your old "NHL 2Night" music during introduction time ... way cool!
As we got down with the games and traveled home, I looked back in the rearview mirror, and for slight moment, I saw this now 6-year-old back in his red 2-year-old snowsuit and Elmer Fudd winter hat. Man how times fly. We have been lucky to have two children that both relish all things hockey like their dad. Oh, by the way, my wife is now very skilled at taping sticks and elbow pads. I need to either learn to slow the clock or get bigger eyes so I don't miss a thing.
Brian
Rochester, N.Y.
OK, new favorite e-mail.
---
Hey Bucci,
I'm seriously contemplating swimming the English Channel. First, some relevant facts:
--The Channel is approximately 21 miles from England to France.
--The best time of year is late August as waters have all summer to "warm" up to 62 degrees.
--Swimmers must also deal with ocean wildlife, exhaust fumes courtesy of your requisite escort boat, and other boats, in general, that pass through.
--Fatality is a legitimate concern for the underprepared/unlucky.
--The Channel is the Everest of open-water swimming.
If I die trying, will you at least post the obit and give me some props in the mailbag?
Kevin Pollman
Favorite. E-mail. Ever.
---
Bucci,
Been able to catch any college hockey yet this year?
Ryan
Omaha, Neb.
I will start now. I just received word that I will be doing play-by-play of one of the four NCAA hockey regionals, probably the Northeast Regional in New Hampshire. Also, it looks like I will be doing intermission work for the Frozen Four, which is in Washington, D.C., this year. I'm really excited to be part of both assignments.
---
Bucci,
As an avid Sharks fan, it pains me to even raise the issue, but I think George Parros' mustache would dominate the Q-Stache. My son, an avid Ducks fan for no good reason, and I are always talking about what Parros' 'stache could do on its own.
Chad Mahoney
San Jose
The Parros 'stache is stylish. But, to me, the Q-Stache has an experience and an IQ that would take advantage of the Parros mustache's nemesis -- namely, density and coarseness. The Parros 'stache does shampoo commercials. The Q-Stache sells chainsaws and jackhammers.
---
Bucci,
Disappointing news this week. Q-Stache has been accused of taking PEDs (like Rogaine, Minoxidil, etc.), which may hurt his HOF induction. Apparently Kris Kristofferson-Stache, Wilford Brimley-Stache, and Edward James Olmos-Stache have been issued subpoenas in an ongoing investigation.
Not surprisingly, Yosemite Sam was quoted as saying, "RatsenFratsenRakinFrakinVarminStache ..." When pressed for more details on his comment, Sam brusquely explained that little Q-Staches fall off his mug during his annual bath, and run for high ground.
Fred
Raleigh, N.C.
The Q-Stache is not here to talk about the past.
---
John,
I called into a local radio station recently and asked, of the four major professional sports (NFL, MLB, NBA and NHL), which is in the worst position to handle a faltering economy? Their definitive answer was the NHL because the NHL relies so heavily on TV revenues. My question to you is, what can the NHL, owners and NHLPA do to help minimize the impact a faltering economy may have on the NHL?
Kevin Novak
The NHL relies not on TV revenues, but ticket revenue. The NHL is actually in the best position in a faltering economy because they have a hard salary cap, loyal fans and a league filled with young superstars. They also have television ratings that are rising, which could lead to a big upswing in revenues. TV networks love ratings that arc upward. But, as teams fall out of the playoff races, we could see their attendances plummet if they have a low season-ticket base.
---
Hey Bucci,
Do you listen to Keller Williams at all? If you don't, please get a hold of the song
"Freaker By the Speaker." He's an amazing guitarist and a very good songwriter. One of my all-time favorites.
Adam
Lake George, N.Y.
---
Bucci,
To make the All-Star Game more relevant, what about throwing in the "Bud Selig Rule" and make it so whichever conference wins gets home ice in the Cup finals? Lastly, how about some more survival advice for young professionals like you offered last year? The standard encouragement to leave your name and number at the beginning and end of voice mails is pretty clutch.
DK
Homegrown in Hockeytown
1. That will NEVER happen in the NHL and shouldn't.
2. Tips for the young professional:
-- Again, leave your phone number at the beginning of a voice mail, leave your message, and then leave your number again. That way, when a person presses 3-3-4 to listen to your voice mail again to get your number because he or she wasn't in a position to write it down at that moment, he or she won't have to listen to your 2:47 voicemail to get your phone number at the end of the message. Number-Message-Number.
-- Men, buy two or three really nice dress shirts and five or six really nice ties. Spend more than you normally would. Save this grouping for big moments. This first line of shirt and ties can last you two years easily. Ask for shirts and ties for birthdays and holidays to fill out your wardrobe. I have three nice suits that I rotate on "SportsCenter." Three! Dry clean your nice stuff and throw the second-teamers in the wash.
-- For the love of Loob, get your suits tailored at a Men's Wearhouse or something. It is not that expensive and it makes ALL the difference. Plus, it will force you to stay at your playing weight.
-- Look people in the eye, lean in, give them a firm handshake and smile. It's not that hard.
-- Don't spend all day and night on Facebook. It drains your brainpower. Get in and get out.
-- Text and e-mail in complete sentences. Be clear and concise and very specific.
-- Don't send an e-mail on the company computer that includes anything that you wouldn't stand up and yell in the main lobby of your place of employment.
-- Have some mouthwash at work and always have breath mints in your pockets. People remember bad breath forever.
---
Mr. B,
With all due respect, you should not be boozing while you write your column. Never mind you don't have him winning it, but you don't have Brent Sutter even in the top three for the Jack Adams Award!?!? Would love an explanation to that. Otherwise, you da man.
Charlie
That's a good point. I love Brent Sutter and have talked about the great job he is doing a lot this season.
---
Bucci,
I have to give some words of wisdom to our squirt hockey team and am not the goodest writer in the world. ;) Any ideas to pass on to the boys?
Jack
Atlanta
Hockey is important because everything and every moment is important in life.
It's important to be a good student.
It's important to treat your parents with respect and love.
It's important to be a loyal friend.
It's important to laugh.
It's important to have good manners.
It's important to wash your hands.
It's important to floss.
It's important to keep your concentration.
It's important to eat well and get enough sleep.
It's important to create the ideal playlist on your iPod.
It's important to get the high score on Guitar Hero.
It's important to raise money for charity.
It's important to hold hands in parking lots.
It's also important to pass the puck ahead to the open teammate, to try to win every faceoff, to crash the net, to bear down for loose pucks around the crease, to lead with your stick, to compete with smarts and heart, and encourage and push each other. It's important not to hit people from behind, not to kick, and to keep your stick on the ice. Hockey is important because every second of life is important. Right now is important. Right now is the only thing that matters. Do it right and do it now.
"There are two educations. One should teach us how to make a living and the other how to live." -- John Adams
---
Bucci,
I saw your article about the rink you build and I wanted to share some pictures of the little ice rink my dad and I build in our backyard. I must say yours has a size advantage, but we have a built-in Shooter-Tutor. We call it the Face, and as you can see in the pictures, we cut holes in plywood to give us something to shoot for (since we don't know any goalies). It's nice because you shoot for the eyes and nose, and the puck returns out the mouth. Since we live in New Jersey, we do not have ideal ice rink conditions, so in your words, "Time is melting. Gotta go skate."
Dan
Quiet and pensive
My thoughts apprehensive
The hours drift away
Leaving my homeland
Playing a lone hand
My life begins today
-- "Fly By Night" by Rush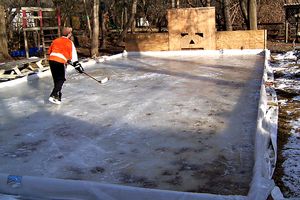 John Buccigross' e-mail address -- for questions, comments or crosschecks -- is john.buccigross@espn.com.