Shot of the Week
It's back. You know how it works: We present an NHL photo, and Bucci provides a caption. E-mail him your suggestions (include your name and hometown/state), and we will use the best ones and provide a new photo the following week.
LAST WEEK: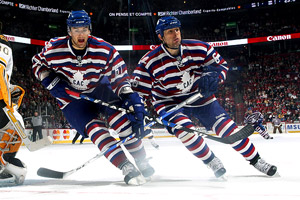 Jailbreak! (Courtesy: Getty Images)
Your captions:
The world's top skaters are already practicing for the newest medal event that will be introduced for the 2010 Olympics in Vancouver: synchronized penalty shooting!
-- Dave Foley (Fairfield, Conn.)
The real reason for the digital TV delay.
-- Jeff Kunz (Woodland, Calif.)
"Wonder Twin powers, activate! Form of a Maple Leaf! Form of a Canadien! Wait! Not so close ... oh, crap!"
-- Tom Holder (Kilmartin, Ontario)
"Dude, they said that if we wear a Maple Leaf on our chest, we have to play like them, too!"
-- Brian Scott (St. John's, Newfoundland)
THIS WEEK: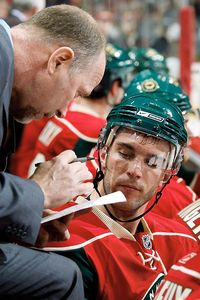 "If you have a breakaway again, we prefer you dump it in the corner and not risk a turnover." (Courtesy: Getty Images)
ESPN.com recently conducted voting for the Mt. Rushmore of Sports, and readers were asked to weigh in on their state's Mt. Rushmore of sports figures. The Mt. Rushmore game has probably been played since Mt. Rushmore was completed in 1941. (Carving started in 1927 and ended in 1941.)
Back in college, I remember playing the Mt. Rushmore game with athletes, women, beer and musicians. You know, the Mt. Rushmore of Mt. Rush ... you know what I mean.
So, I thought I would provide a Mt. Rushmore for all 30 NHL teams. This is a players-only NHL Mt. Rushmore. The criteria? A combination of impact, love and production determined by using both sides of the brain, some research and some feel. It's not all about numbers. The players for each team are in alphabetical order.
This surely will fuel much debate.

The team: Jean-Sebastien Giguere, Paul Kariya, Scott Niedermayer and Teemu Selanne.
The theory: Giguere has a Cup and a Conn Smythe Trophy. Kariya was the face of the franchise for 606 games. Niedermayer was the difference in winning the Cup, and Selanne is the franchise leader in games and goals.

The team: Ray Ferraro, Dany Heatley, Ilya Kovalchuk and Jeff Odgers.
The theory: Kovalchuk is the only lock in Atlanta. Heatley played only 190 games there, but he was a symbol of so much hope for this franchise. Chicken Parm was popular wherever he played, and hey, it's my Mt. Rushmore list. Jeff Odgers was popular and fearless. You wonder why this franchise is in so much trouble? It has Mt. Rushmore issues.

The team: Raymond Bourque, Phil Esposito, Cam Neely and Bobby Orr.
The theory: Orr would be on the NHL's all-time Mt. Rushmore monument. Bourque, who played in more games than any other Bruin, was made of stone. Esposito scored more goals per game than any other Bruin. (It is hard to ignore his massive goal totals.) Neely scored almost as many goals per game as Esposito, and no Bruin combined more toughness and talent than Neely. He fore checked, he body checked, he fought and he scored.

The team: Dominik Hasek, Pat LaFontaine, Rick Martin and Gilbert Perreault.
The theory: Six Vezinas and two MVP awards for Hasek. He's the greatest Sabre of all time. Perreault is the franchise's all-time leader in games, goals and assists. Martin is one of the most underrated offensive players of all time. But determining the fourth Sabres player on the team's Mt. Rushmore took some time. Because of LaFontaine's personality, talent, popularity, incredible fundraising and most goals per game in Sabres history, I gave him the nod.

The team: Theo Fleury, Jarome Iginla, Al MacInnis and Mike Vernon.
The theory: The Flames were a tough one. Even though he hasn't won a Cup, Iginla is Mr. Flame. No one has played more games in a Calgary uniform. MacInnis won the Conn Smythe Trophy in Calgary and drips class. Only Iginla has more goals than Theo, and only MacInnis has more career assists in Calgary. The fourth one was tough. I love Gary Roberts. I love Joe Nieuwendyk. But I gave the edge to the Calgary-born Vernon. By the way, Hakan Loob gets his own mountain.

The team: Rod Brind'Amour, Kevin Dineen, Ron Francis and Eric Staal.
The theory: Francis is hockey royalty, the greatest Whale of them all. Dineen is hockey heart and soul. Staal is a stallion on skates. Brind'Amour is a coach's dream, the ultimate self-motivator.

The team: Tony Esposito, Bobby Hull, Stan Mikita and Denis Savard.
The theory: Hull and Mikita are the locks on this mountain. You could have Glenn Hall, Doug Wilson or Steve Larmer on your mountain. Heck, Al Secord may have moved you with his heart and courage. Esposito didn't win a Cup, as Hall did, but he won 143 more games and played at least 200 more in net. No Blackhawk averaged more assists per game than Savard, and only Mikita and Hull had more career points as Hawks. Plus, Savard was so exciting; a small man who made Chicago Stadium shake with his magic.

The team: Peter Forsberg, Patrick Roy, Joe Sakic and Peter Stastny.
The theory: This was fun. Forsberg, Sakic and Roy are locks. The Quebec years still outnumber the Denver years, but the success isn't close. Michel Goulet was a prodigious Nordique. Stastny averaged as many assists per game as Forsberg. He was an under-the-radar player during his day.

The team: Steve Mason, Rick Nash, Jody Shelley and David Vyborny
The theory: Columbus is the only existing NHL team that hasn't yet made the postseason in its franchise history. Nash is certainly Mr. Blue Jacket. Shelley married an Ohio girl -- that's a major plus. Vyborny was a real good player for 500 games in Columbus. I am projecting Mason as a franchise goalie, and once he gets healthy, he will help lead the Jackets to their first playoff berth. I love his athleticism and intensity. I like my goalies to be extroverts.

The team: Neal Broten, Dino Ciccarelli, Mike Modano and Sergei Zubov.
The theory: This one was tough. Modano is a lock. Broten is a Minnesota icon. No player in Stars history scored more goals per game than Ciccarelli, and he was a great playoff performer. Plus, he deserves at least one major hockey award. You could go a few ways on the fourth head, but I love Zubov's game. He's an artist and a multiple-Cup winner.

The team: Gordie Howe, Nicklas Lidstrom, Terry Sawchuk and Steve Yzerman.
The theory: 11 Stanley Cups for the Red Wings. I believe Gordie, Lidstrom and Stevie Y are locks. I went with Sawchuk. He won three Cups in four seasons as the Wings' netminder in the early '50s.

The team: Paul Coffey, Grant Fuhr, Wayne Gretzky and Mark Messier.
The theory: Todd Marchant played more games as an Oiler than Coffey, but Coffey's skate blades had a lovely relationship with Edmonton ice. Gretzky had 583 goals in 696 games as an Oiler. Reread that sentence 14 times and see whether you feel lightheaded. You could argue Glenn Anderson or Jari Kurri in the place of Fuhr.

The team: Pavel Bure, Olli Jokinen, Roberto Luongo and Scott Mellanby.
The theory: Let's move on.

The team: Marcel Dionne, Wayne Gretzky, Luc Robitaille and Dave Taylor.
The theory: Dionne played 921 games as a King and scored 550 goals. Gretzky isn't in the top 10 in games played in Los Angeles, but he is the most important King of all time. Robitaille scored more goals, 557, than any King. Taylor played the most games in L.A.

The team: Andrew Brunette, Brent Burns, Marian Gaborik and Brian Rolston.
The theory: Brunette scored the last goal given up by Patrick Roy. That remains the biggest goal in Wild history. Rolston had three gigantic seasons in Minnesota. Gaborik is one of the top talents in the NHL. I wish he had an insatiable appetite for hockey and scoring goals. I'm looking forward to hearing whom Wild fans would pick.

The team: Jean Beliveau, Guy Lafleur, Jacques Plante and Maurice Richard.
The theory: I think Beliveau, Richard and Lafleur are locks. The goalie was the tough call. Plante or Ken Dryden? Plante won six Cups in eight seasons. So did Dryden. Dryden's playoff record is 80-32, and he is a great writer, which goes a long way with me. But I went with Plante.

The team: Martin Erat, David Legwand, Kimmo Timonen and Tomas Vokoun.
The theory: Not the names one normally associates with the city of Nashville.

New Jersey Devils/Colorado Rockies/Kansas City Scouts
The team: Martin Brodeur, John MacLean, Scott Niedermayer and Scott Stevens.
The theory: I asked a Devils fan here at ESPN his Devils Mt. Rushmore, and he didn't mention MacLean or Niedermayer. I'm stunned at the lack of respect for Niedermayer in Devil Nation. Am I missing something here? Help me. MacLean played 934 games in New Jersey and is the franchise's all-time leading goal scorer … by a lot. You could make a case for Patrik Elias, and if I'd used the projection model that I used in other cases here, I probably should have included him.

The team: Mike Bossy, Denis Potvin, Billy Smith and Bryan Trottier.
The theory: Bossy, Potvin and Trottier are the locks. The fourth spot has other candidates. I couldn't choose between Bob Nystrom and Clark Gillies. Plus, Billy Smith gave this team a mixed martial arts presence before mixed martial arts was mainstream.

The team: Ed Giacomin, Brian Leetch, Mark Messier and Mike Richter.
The theory: This was another tough one. The Rangers don't have a long line of hockey legends to choose from. Messier and Leetch were the easy ones. Giacomin is a Hall of Famer with only 266 career wins. He was a beloved Ranger. Goaltenders had so much personality in Giacomin's era because of the smaller equipment, no masks, then the smaller masks, and because of the robotic goaltending many goalies employ today. Goalies were more artistic in Giacomin's era. Today, it is more of a science. That is why Tim Thomas is so popular in Boston. He plays more like goalies of the past, more with his heart than his head.
The fourth Ranger was a tough call. I asked a big Rangers fan here at ESPN, and he said Rod Gilbert. I can respect that, but I think Richter also was artistic and so much fun to watch. The save on Pavel Bure's shot during the Stanley Cup finals was iconic. So was winning the Cup. I like Mike.

The team: Daniel Alfredsson, Dany Heatley, Wade Redden and Jason Spezza.
The theory: Only the new Ottawa Senators apply here. Sorry, Cy Denneny. Alfredsson is Mr. Senator. Spezza has averaged better than a point per game in his NHL career, and his numbers barely drop off in 40 playoff games. I haven't witnessed any of his off-ice habits or dedications to fitness, but I would take Spezza on my team any time. Picking the fourth Senator was difficult. Redden appears to be the most overpaid player in the NHL this season, but he had a terrific career in Ottawa.

The team: Bill Barber, Bobby Clarke, Bernie Parent and Rick Tocchet.
The theory: Clarke, Barber and Parent are the locks on the Flyers. The fourth one was difficult. I suppose lots of Flyers fans would choose Tocchet. In games played, he's not in the top 10. I thought about Ron Hextall because he was a huge personality and combined great playoff success (at least for one season) with complete insanity. Watching athletes who could snap at any moment is compelling. Tocchet was Philadelphia's Cam Neely -- he combined goal scoring with a great ability to fight. I'm curious to see how Flyers fans will respond to this list.

The team: Shane Doan, Dale Hawerchuk, Teppo Numminen and Keith Tkachuk.
The theory: Winnipeg/Phoenix is the Hartford/Carolina of the West in one way. Small, passionate city loses team to warm-weather city. Doan is Mr. Desert Dog. Numminen has played the most games in franchise history. Hawerchuk and Tkachuk rank 1-2 in goals scored in franchise history.

The team: Sidney Crosby, Jaromir Jagr, Mario Lemieux and Evgeni Malkin.
The theory: Lemieux (690 goals) and Jagr (439 goals) are the two obvious selections here. Don't give me any anti-Jagr sentiment, Pittsburgh! In terms of conservative talent projections, and assuming they fulfill their long-term contracts, Crosby and Malkin should fulfill Rushmore status. I'm looking forward to hearing from Pens fans. Will they put Tom Barrasso on their Mt. Rushmore? Ron Francis?

The team: Patrick Marleau, Evgeni Nabokov, Owen Nolan and Joe Thornton.
The theory: Marleau is the Sharks' all-time leader in games, goals and assists. Nabokov will have 250 career wins by season's end. Many people don't realize that. Nolan's All-Star moment and 2000 Stanley Cup playoff goal in St. Louis were both beautiful moments. Thornton is far and away the most prolific offensive player in Sharks history.

The team: Bernie Federko, Brett Hull, Al MacInnis and Brian Sutter.
The theory: Federko was not a compelling player, but he had excellent numbers, and those numbers didn't fall in the playoffs. Hull was the most compelling player in Blues history. MacInnis' lone Norris Trophy came in St. Louis. I thought about Chris Pronger, but I have a soft spot for those tough Norris Division players who also scored. Only Hull and Federko scored more goals as a Blue than Sutter.

The team: Dave Andreychuk, Vincent Lecavalier, Brad Richards and Martin St. Louis.
The theory: If only Daren Puppa had more wins. I thought about Dan Boyle and wouldn't hate that selection. He was a great player for Tampa, and his trade to San Jose is one of the worst in recent memory. I just thought Andreychuk was such an important player for that 2004 Cup team. He could be leaned on as a ballast of experience, reason and media duties.

The team: Turk Broda, Dave Keon, Mats Sundin and Darryl Sittler.
The theory: This was a difficult one. I feel good about Keon and Sittler. Broda won more than 300 games in net and five Stanley Cups for the Leafs. Tough to argue those apples. Sundin might be the point of contention for some. George Armstrong, Ted Kennedy, Borje Salming, Tim Horton and Charlie Conacher are all candidates. My first inclination was Kennedy.
My fellow anchor Scott Van Pelt has an intense and quite bizarre relationship with the 1983-84 Toronto Maple Leafs. Apparently, Scott and his buddies adopted this team while they drank large amounts of Schlitz.
Van Pelt's 1984 Toronto Maple Leafs Mt. Rushmore: Miroslav Frycer, Borje Salming, Bob McGill and the incomparable ... Walt Poddubny.

The team: Pavel Bure, Trevor Linden, Markus Naslund and Stan Smyl.
The theory: Kirk McLean, anyone? Let me know what you think, Canucks fans.

The team: Peter Bondra, Dale Hunter, Olaf Kolzig and Alex Ovechkin.
The theory: Ovechkin already is the biggest star in Caps history. Of course, he also is one of the most magnetic personalities and players in NHL history. Bondra scored 472 goals in 961 games as a Capital, most of them in the dead-puck era. Hunter was a natural leader. Kolzig won 301 games and brought the Caps to their only Cup finals appearance.
Weekly Tribute to Jack Falla
The following is an excerpt from Jack Falla's "Home Ice." Falla passed away Sept. 14, 2008. We'll honor his memory each week with a few lines from one of his classic books:
"The open ice demanded and rewarded creativity and we adjusted quickly. Our game gradually spread over a wider area and we improvised plays that were not in our or anybody's playbook. I can't say that we became a better team for having played outdoors. I can say that I partook of a different and, in some ways, better game than the one we'd earlier played in the town rink. We played the game as it was originally intended to be played -- creatively, spontaneously and with the emphasis on skating and passing. If the ice is a canvas, it still needs a frame. But, in the long-running discussion over whether we North Americans should expand our standard 200-by-85-foot rink in favor of the 200-by-100-foot European rink, I find myself favoring the larger surface. To adopt the larger surface is not so much to change our game, but to bring it home."
The Mother of All Mailbags
John,
I read about Professor Falla's death the day after it happened, and it hit me like a ton of bricks. I knew within about 15 minutes that I was going to write this e-mail. The problem was that it was hard to put into words how I felt. Then, I read the eloquent and thoughtful letters that others sent you and knew that it would never stack up. I only had Professor Falla for a monthlong program in the summer of 2002. I only talked to him in person one time after that. We e-mailed back and forth every now and then, but that was it. For some reason, I really took his death hard.
When my brothers and I met you at the Devils-Sabres game last January, you helped set the wheels in motion for what would be my final conversation with Jack. You signed a copy of "Jonesy" for me to give to my brother Kevin, and I knew that a perfect complement would be a signed copy of Jack's "Saved." I e-mailed him, and he was more than happy to oblige. I met him in his office at BU on my last day as a law student there. We caught up quickly because he was -- as he always was -- on the move. I mentioned that I had talked to you, and his eyes lit up. I know that you two never met in person, but that look confirmed what I already knew -- you two were kindred spirits.
Matt Fitzpatrick
"If there were in the world today any large number of people who desired their own happiness more than they desired the unhappiness of others, we could have paradise in a few years." -- Bertrand Russell
---
Bucci,
I had the pleasure of skating with Herb Brooks once at a local hockey camp here in Minnesota when I was about 12 years old. Even then, I knew how lucky I was to get a lesson from one of the great hockey minds in this, or any other era. Unfortunately for me, as I entered ninth grade, my dad's job moved us from Minnesota to Connecticut, so I was not able to play for my high school team here in Minnesota.
A glaring reality was the difference in importance hockey plays in the lives of Minnesotans versus elsewhere. Although I was able to skate for my high school in Connecticut, the culture and atmosphere surrounding the games were so different. John Gilbert (no relation to me) touched on that during your interview about the "state of hockey" here in Minnesota. One can only wonder how Herb could have changed or enhanced the hockey culture for the better, more so than he already had, in Minnesota and nationally if he wasn't taken from us so soon.
Jon Gilbert
Elliott Aviation of Minneapolis
I understand that palpable feeling one gets from a sport that is so strong in the community; you can feel its force on your body and psyche. I grew up in western Pennsylvania and eastern Ohio, and I miss that football feeling one got, the one that started Friday night and lasted through Sunday afternoon.
Now, football wasn't/isn't my favorite sport, but I loved that feeling that you could easily feel in your bones. It made me feel closer to the people around me. It was a clear connection that gave texture to the days. I have yet to feel that football feeling, or feeling from any other sport, the way hockey feels in Minnesota and Canada on a daily/weekly basis. I wrote about the euphoria I felt as a hockey fan, when I momentarily felt that thread in Toronto at the 2000 All-Star Game or in Calgary at the 2004 Stanley Cup finals or in St. Paul at the 2004 All-Star Game.
Sometimes, life can feel overwhelming. We think about so many things, including our daily hurdles, that, as a result, sometimes we don't think about anything. It's nice to sometimes have something you can put your arms around.
Speaking of something you can put your arms around, this appeared in Variety last week. The writer was Michael Fleming:
"Universal Pictures is ready to drop the puck on its 'Slap Shot' remake, setting Dean Parisot to direct the redo of the 1977 hockey comedy classic.
Peter Steinfeld ('21') is penning the script; Kathleen Kennedy and Frank Marshall will produce.
The original starred Paul Newman as the fading player/coach of a minor league hockey team. Trying to hype the Charlestown Chiefs for a possible move South, the coach ramps up interest by turning his team into a group of brawling thugs.
When Steinfeld took the writing job and spoke about it last summer, Internet pundits were critical of the notion of updating a favorite sports film. Yet such nostalgic resistance certainly did not hurt 'The Longest Yard' remake, a global hit that grossed far more than the original.
Parisot last helmed a remake of another comedy, 'Fun With Dick and Jane.'"
---
Hey Bucci,
I just read your article that discussed Herb Brooks before getting into trading-deadline scenarios. Unless I missed it, you didn't mention Marian Gaborik. Do you think he could be traded at the deadline, even if he has not resumed playing by then?
Ryan Turner
St. Louis
There is an NHL team in Phoenix, so we should realize that anything is possible. (The word "ironic" is the most misused word in the English language. What is irony? The firehouse burning down or a hockey team in a desert is ironic. Don't ya think? If your example of irony doesn't mesh with those two, your example of irony is likely just a coincidence. I think.)
Back, back, back to Gaborik, Gaborik, Gaborik. First, he has to show some example of health. Dude, do 10 push-ups and 10 pull-ups on an Iron Gym. "Wanna get strong? Wanna get lean? Wanna get ripped?" (A healthy Gaborik? Now that's irony!) If he does that, the decision the Wild have to make is based on whether a healthy Gaborik could help them win a playoff series or two.
I think it is obvious that a healthy Gaborik at least potentially would make the Wild a better and more dangerous team. Asking the players on the team their feelings on this would not be a bad idea. Is Gaborik liked? Is he a burden? Are players tired of his coming in and out of the lineup? Or do the players believe he has done his best when he plays and when he rehabilitates, such that they want him on their team for the stretch run and hopefully the playoffs?
But if the Wild have had enough of the uncertainly and are convinced Gaborik will not be part of the team next season (as it seems obvious he won't), they should at least look to trade him. They don't want to trade him to a Western Conference team because trading him to a team they could see in the early rounds of the playoffs in the spring would make a GM look very bad.
Which teams in the Eastern Conference would have an interest in a healthy Gaborik and might consider risking a prospect or maybe even a first-round draft pick? Well, everyone, because Gaborik would improve any team's forward group. But the teams that especially come to mind are Pittsburgh, Montreal and the New York Rangers. They all need something to jump-start their teams, and a game-breaker like Gaborik could be a game-changer in the East.
---
John,
I think the obvious, epic mustache battle has been overlooked. Which 'stache wins in a battle between Joel Quenneville and Lanny McDonald?
David Jones
Chicago
I have received countless e-mails on this matchup. It is clear the people want to see this pay-per-view event soon. Here is what would happen in this battle:
The Mac-Stache would come out cocky, that much is clear. His massive amount of Heatmiser-stache hair would simply overcome the Q-Stache by simply choking the life out of him or by sheer intimidation. But how many times do I have to tell you that the Q-Stache combines size and strength? The coarseness is something the 'Stache World has never seen since Groucho Marx. These kinds of 'staches come along once every other generation.
The Mac-Stache would suffer hyperextended follicles, torn ligaments and an assortment of injuries while trying to deal with the Q. And just think -- if it were raining, the Mac-Stache would be a mess. All matted down and stinky. The Q-Stache is like a United States Marine Corps member's hair. Tough, coarse and free to operate under any conditions. The Q-Stache versus the Mac-Stache is like Larry Holmes beating on Gerry Cooney. C'mon, people! Can't you see that?!
---
John,
Carey Price or Steve Mason? Who would you rather have?
Matt
Charlotte via Alaska
I LOVE that question. I kind of tipped my hand in my Columbus Mt. Rushmore selections. I like a goalie who relies more on his or her heart than his or her talent. I like an extroverted goalie who plays net as though his family's life depends on it. Dominik Hasek, Martin Brodeur and Patrick Roy come to mind. I see that more in Mason than I do in Price. That doesn't mean Price will not end up being the better goalie with the better résumé. I would just rather go to battle with a battler.
---
Bucci,
Thanks for shining the continual spotlight on the wonders of backyard rinks. I grew up in Gatineau, Quebec, and though I didn't have a backyard rink, I think I had the next-best thing. I was fortunate enough to live right across the street from a city-funded baseball field. When I was really young, the city used to plow a portion of the field and flood it, much to the delight of all the neighborhood kids.
It was truly a magical time. As I grew older, city funding dwindled (as it always seems to do for things like this), so parents from the neighborhood banded together and flooded the field themselves. I couldn't quite appreciate it when I was 10, but I fondly look back at it now and am thankful for the sense of community brought on by the common love of skating and all things hockey.
Lily
Chicago
Bucci,
In response to your outdoor rink column, I feel the need to share this story with you. About two weeks ago, I got a call from my neighbor from back home saying, "Pond hockey time." It was about 4 degrees outside at the time I got the phone call early on a Friday afternoon. So, I hopped in my car, drove the hour or so home from college and met everyone at the pond. I managed to time it perfectly, too, as the shoveling was just finishing up.
With temperatures below zero and a wind chill well below that, we skated for about three hours or so. The next day, with slightly better temperatures, a high of almost 20, we spent more than 12 hours on and around the pond. Being able to play the game of hockey on a frozen pond surrounded by woods has to be one of the best experiences ever, almost a religious experience. It is also a beautiful thing to see. I want to thank you for writing last week's column about your rink, and hopefully people read it and realize what an amazing experience that outdoor hockey can be.
Dan
Pittsburgh
The forecast does not look good for the backyard rink this week. A 50-degree Sunday brought puddles. This week is not forecasted to be a cold one. The sun is getting higher and the days slowly longer. I'm one of the few in New England desperately holding on to the winter and praying for more cold. That's why I tell my boys, whenever you can skate out back, skate. You never know when the season will end. It might not get cold enough again this year.
---
Hey John,
I'm a Red Wings fan living in Columbus and have grown fond of the Blue Jackets because I've been here four-plus years. I'm looking for them to do something at the trade deadline to vault them into the playoffs for the first time. What do you think of trading Derick Brassard (and possibly picks or guys in Syracuse) for a top center like Jason Spezza? I think it would work out for both teams. The Jackets would get a center to carry them into the playoffs, and the Senators would ditch salary and get an outstanding center for the future. Also, thinking about the Wings, what about Jiri Hudler for Keith Tkachuk? St. Louis could sign Tkachuk again next year and have Hudler.
Bryan McClain
Jason Spezza in Columbus would be interesting. The Blue Jackets have never had a big-time center, and that need is why they and the Thrashers have had little success. I don't see Spezza as a Ken Hitchcock kind of player, but I suppose a good coach can make anybody work on his team. I think Columbus will stay the course, and Spezza's contract probably would be too much for the Blue Jackets long term, unless they were to trade some money for Spezza. Ottawa needs defensemen and goalies.
I don't see the Red Wings doing anything at the deadline unless it's a goaltending move. Hudler fits their system perfectly. As long as Tomas Holmstrom and Johan Franzen are healthy, the Wings have no need for Tkachuk.
---
Bucci,
As a long-suffering Bruins fan, I have been awestruck by their play this season. From the play of Tim Thomas and Manny Fernandez (though, I agree, that Manny will not be a Bruin after the deadline) to the emergence of Kessel, Krejci and Wheeler, I have been amazed with almost every game.
However, probably because I am a long-suffering Bruins fan (cut from the Red Sox cloth), I am scared as hell for the playoffs. Do you think the team will have what it takes to hoist the Cup?
Ben
Vermont
To clarify, I do believe Manny Fernandez will be a Bruin after the deadline, unless the Bruins get a very strong offer from a Western Conference team at the trade deadline and believe prospect Tuukka Rask could win in the playoffs. What if Thomas tears his ACL in the first game of the playoffs? The Bruins have played too well for too long this season not to be prepared for bad things to happen.
As far as your doubt, the reason the Bruins haven't won a Stanley Cup since 1972 is that they haven't been good enough. This season's team is good enough to win the Eastern Conference. The team has scoring, toughness, leadership, young legs, goaltending and solid coaching. By no means is it a lock. The Bruins have received great play from young players, but young players are still unpredictable and mysterious because we don't know their true mean yet. The sample size isn't large enough to know what to truly expect from them over a long period of time.
So, naturally, fans expect what they have seen most recently, and sometimes what they are seeing is an aberration or exaggeration. As I said in this season's preview, I liked the Bruins to make the playoffs because they made it to the postseason last season when statistically they had no right to. To me, that signaled they had great character and a great energy to play hard for one another. That is a powerful attribute in a company or sports team. When you sprinkle talent into that mix, that's when you become an elite team like the Red Wings. The Bruins have a Cam Neely culture this season that demands their talented players to play responsible and hard. It's what the Red Wings have had all these years.
"I am always doing that which I can not do, in order that I may learn how to do it." -- Pablo Picasso
---
John,
I am flattered and confused by your choice of my hometown, Oneonta, N.Y., as a potential U.S. birthplace for Sidney Crosby. Although Oneonta has produced a number of college athletes and some notable professional athletes (MLB's Clay Bellinger and the NFL and ESPN's Mark May), the town has never produced an elite hockey player. The main reason is that we don't have a rink, we have a pond. I am sure, given his athletic ability, Crosby would have become an elite athlete, but I don't believe he would have been able to develop into the hockey player he is today without the proper facilities. Which begs the question, are great hockey players made or born?
Patrick T. Cavanagh
Both. By the time a child is 10, you can somewhat forecast his skating stride for adulthood. One can work hard on his or her skating to make it work, but you pretty much are what you are skatingwise. We can't change the structure of our bodies, and every sport has an ideal body type. In hockey, shorter legs and longer torsos are better than longer legs and shorter torsos. The great thing about hockey is it demands so many attributes. Therefore, many can play and be effective.
After injuring his knee, Keith Jones could not run across the street, couldn't even jog across the street, yet he played in the NHL. He knew where to go and how to get there. Crosby has good genes and had a support system in place that guided him along his path. And where he grew up did matter. No one does it alone. We all need each other.
---
Mr. Buccigross,
The line of Tim Connolly, Drew Stafford and All-Star Thomas Vanek has been tearing it up lately for Buffalo. Together, they've racked up 23 points in the past five games alone. I believe these talented young players have the capability of becoming the next Alfredsson-Heatley-Spezza line if given some serious playoff experience.
This has stirred up some discussion lately in Buffalo because Connolly's contract is up at the end of this season. He's been in and out of the lineup for the past five seasons, twice missing entire campaigns thanks to severe head injuries. He's a wizard with the puck and has helped the Sabres climb back into the playoff picture. That's why Buffalo has kept him around so long. The Sabres paid him $2 million in 2006-07 to play the last two regular-season games and three playoff series.
Should GM Darcy Regier re-sign him at the end of the season knowing full well there's a definite possibility of losing him to another long-term injury? Does the risk outweigh the reward?
Kevin Sampson
Buffalo, N.Y.
These are the decisions that keep GMs up all night. With all the money the Sabres have paid Connolly the past few seasons for not playing, one would think he would give them a break in his next contract. But we know it doesn't work that way. Connolly definitely helps the Sabres' depth, and they are better with him than without him. But I don't know why any GM would give him more than a one-year deal. Some team might go two years if it really wants him, but I wouldn't go more than one at a time. I expressed my shock in this space after the Sabres signed Connolly to his current deal.
Mr. Buccigross,
Greetings from Buffalo, N.Y.! As I was perusing through your mailbag this week, the question regarding the HHOF worthiness of Dave Andreychuk and Phil Housley caught my attention. I have a question of my own regarding the HHOF worthiness of another former Buffalo Sabres great -- Alexander Mogilny, my favorite player of all time.
Greg Allen
Buffalo, N.Y.
Alexander Mogilny is a lock for the Hockey Hall of Fame. No questions asked.
---
Bucci,
With the Eagle River, Wis., pond-hockey tournament fast approaching (Feb. 12-15), how about a shout-out to the 180-plus teams registered so far. Thought you might enjoy seeing this sled from last year's event. Now that's ridin' in style!
David Korengold
Deerfield, Ill.
The child can feel a draft.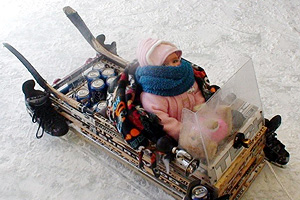 John Buccigross' e-mail address -- for questions, comments or crosschecks -- is john.buccigross@espn.com.