Shot of the Week
It's back. You know how it works: We present an NHL photo, and Bucci provides a caption. E-mail him your suggestions (include your name and hometown/state), and we will use the best ones and provide a new photo the following week.
LAST WEEK: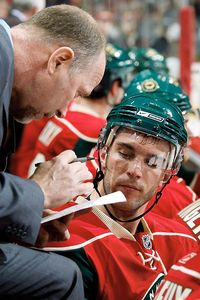 "If you have a breakaway again, we prefer you dump it in the corner and not risk a turnover." (Courtesy: Getty Images)
Your captions:
So, I have you down for the No. 7 General Tso's and an eggroll.
-- Dave Bentley (Arlington, Va.)
"OK, I'll write it down, but are you absolutely sure? Because the last time you went with the spicy burrito combo, nobody wanted to sit beside you for the rest of the game!"
-- Tom Holder (Kilmartin, Ontario)
"See? You'll make 150 percent profit as we get other investors. You can't lose!"
-- Robert Selko
"Let's go over this one more time. On the night of the incident, you were at home taping your sticks? C'mon son, I wasn't born yesterday!"
-- Rod McDonald (San Antonio)
"You are getting verrryyyy sleepy. When I snap my fingers, you will awake and play like Mario Lemieux."
-- Danny Lopez (Carpinteria, Calif.)
"That looks NOTHING like Marion Gaborik."
-- Kevin Kilpatrick (Minneapolis)
THIS WEEK: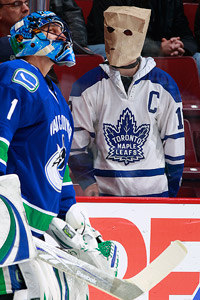 "I said I can switch your water bottle with the Molson behind my back." (Courtesy: Getty Images)
Men enjoy making predictions for the same reason they don't like asking for directions. They enjoy challenges and the euphoric feeling when they successfully overcome hurdles and quests.
This genetic reflex continues because, once upon a time, men had to choke squirrels to eat lunch. Now that we can go to KFC and eat a bucket of chicken any time we want, we ponder the quickest way to work and the supposed playoff capabilities of the Columbus Blue Jackets. This might be considered progress, but it sure doesn't feel like it.
Every September, I begin another season of weekly hockey columns by attempting to predict the top eight teams in each conference. This season, I added a "vibe" for each team. Let's look back and see what I wrote then, and I'll update where each pick stands today. I'll list the teams in the order of their projected finish.
Western Conference

15. Los Angeles Kings
The vibe: Hope. I know it sounds strange, but I like the Kings' position. They have very good young players who also appear to have some character.
Now: The Kings still might finish 15th in the tight West, but that is unimportant. Hope is alive, and with another year of experience and a free agent or two, the Kings will be thinking playoffs next season.

14. Vancouver Canucks
The vibe: Boredom. What was once a must-see team on the NHL's Center Ice package is now at the end of an impressive run in the 21st century.
Now: Mats Sundin was not a Canuck at the time of this prediction. He certainly gives the team personality. Vancouver still could miss the playoffs with a stumbling finish, but I think it will squeak into the top eight.

13. St. Louis Blues
The vibe: Stagnant. St. Louis has missed the playoffs for three straight seasons for the first time in franchise history. There is little reason to believe the Blues won't make it four straight this season.
Now: The Blues have played well of late and are building something in St. Louis, albeit slowly, but the playoffs are still in doubt.

12. Phoenix Coyotes
The vibe: Improving. The Coyotes have such a negative financial situation, suffering huge losses annually, it's hard to gauge what their stomach is for this whole NHL-in-the-desert thing. One would think they will stay where they are capwise.
Now: The Coyotes are really struggling, and their playoff chances are just about gone. They appear to be running out of gas. I think they'll be major sellers at the trade deadline.

11. Colorado Avalanche
The vibe: St. Louis Blues plus Paul Stastny. Scanning the rosters, I don't see a major difference between the Blues and Avalanche.
Now: Me man, me smart. With Stastny missing most of the season, if you check out the numbers for the Blues and Avalanche in the standings, you'll see they are eerily similar. It is strange … as I write these words, the Avs rank last in the West.

10. Columbus Blue Jackets
The vibe: Almost. I like the Jackets' forwards. They have speed, sturdiness and some skill. A reason to pick the Jackets to make the postseason is the positives that we talked about, and the fact that they have more than $8 million in cap room. They can add that top-level offensive defenseman who could really make them a dynamic team.
Now: Columbus will be there right to the end and has a great shot of making the playoffs for the first time in franchise history. I hope the Blue Jackets make a deadline trade to give them a really good shot. I hope I get this prediction wrong. The Jackets' rink in the playoffs would be off the chain. Yes, I said off the chain.

9. Nashville Predators
The vibe: Money. The Predators have had so many battles off the ice, from selling enough tickets to strange ownership stories, that it's easy to forget they have made the playoffs for four straight seasons. Barry Trotz is in his 10th season as coach. But the Preds have yet to win a playoff series and barely qualified for last season's playoffs. They had the same number of wins as Edmonton. And although the Oilers and others seemed to have improved, the Preds once again have stood pat for the most part.
Now: Trotz amazingly has this team in the mix in the West. Nothing should make the players in the Pittsburgh Penguins' dressing room more embarrassed than to realize that this Nashville team, with the second-worst offense in the NHL, has as many wins as the Penguins. A lot of heart is in Nashville, but they probably won't finish with enough goals to be a playoff team.

8. Calgary Flames
The vibe: Trepidation. The Western Conference is deep, and, like most seasons, seeding the teams from No. 10 through No. 7 is a very close call. I must tell you I don't have a great feeling about the Flames.
Now: Well, I picked them for the playoffs, but as you can see, I was nervous. Secondary scoring always has been an issue, but they are getting it this season. The Flames look safe to make the playoffs, as Miikka Kiprusoff has looked old-school at times.

7. Edmonton Oilers
The vibe: Hope. I like this roster from top to bottom. It has balance, youth, experience, grit and, allegedly, good coaching.
Now: It will be a close call for the Oilers. They compete hard and have good leadership, but they lack pure goal scoring and must have very good goaltending down the stretch to make the playoffs. It they don't, it will be the third straight season they've missed the playoffs. (They've also missed the top eight in five of the past seven campaigns.)

6. Anaheim Ducks
The vibe: Hunger factor. We know the Ducks. They are what they are. We know how they will play and what they will look like. What we don't know is how desperate and hungry they will be.
Now: The Ducks have been an average team for most of the season, and their playoff chances are, naturally, 50-50. This team has enough to go on one of those 11-2-1 tears. If it does so, it will make the tournament.

5. San Jose Sharks
The vibe: Risky business. The Sharks took a big chance in firing Ron Wilson. Here are the Sharks' point totals in Wilson's four seasons as coach: 104, 99, 107 and 108. The question for the Sharks is how big a season the big players will have and what kind of seasons the supporting and younger players will have.
Now: Defenseman Dan Boyle has made a major difference. Obviously, the coaching change appears to have been the right move for now. Patrick Marleau is stepping up, and Joe Thornton is Joe Thornton. The Sharks have the best team in franchise history and have a great chance to reach the Stanley Cup finals.

4. Chicago Blackhawks
The vibe: The adventure continues. The last time the Blackhawks won a playoff series was 1996. They've made the playoffs once in the past 10 NHL seasons. But as last season showed, the Blackhawks are finally back and are primed to return to their first glory years since the early 1990s. The Hawks had 88 points last season. They should have more in 2008-09.
Now: The Hawks are having an unbelievable season and have a legitimate chance to reach the Stanley Cup finals. (They are that good.) They also could lose in the first round. (They are that young.) Chicago will be a 100-plus-point team and right on the heels of the Red Wings by the end of the regular season. It has this No. 4 spot locked up.

3. Minnesota Wild
The vibe: Transition time? I vacillated on the Wild. The Marian Gaborik contract situation is dicey, and the loss of Brian Rolston will be felt. He was versatile and productive. The Wild are so dependent on Gaborik offensively that any drop in his production or concentration will find them battling to make the playoffs.
Now: The Wild will battle to make the playoffs because of their below-average offense. They will need a blistering finish to win the Northwest and earn the 3-seed.

2. Dallas Stars
The vibe: Frat party. Brett Hull always has been an interesting dude who says interesting things. We should have forecasted that the Stars would become more interesting, and they have.
Now: After a slow start, Dallas looks real good. Rookie James Neal has been a big key to the Stars' being a playoff contender. Their slow start gives them no margin for error or injury, and their quest should go right down to the wire.

1. Detroit Red Wings
The vibe: Montreal Canadiens of the 1970s. Really. What can I possibly say here? What's to preview? The last time the Wings missed the playoffs was 1990. They have won four of the past 11 Stanley Cups. They have eclipsed 100 points eight straight seasons with three different coaches. They added Marian Hossa during the summer. The Wings are the best franchise and the best team in the NHL. But as we know, that doesn't mean they will win the Stanley Cup. It's hard to win the Stanley Cup. But this team certainly has the best chance. I know what you are saying. "Thanks, tips."
Now: Considering the quality of NHL goaltending, defensive schemes and today's NHL skaters, this Red Wings' power play has to go down as one of the best of all time. Once again, the question here is goaltending. Will the netminders make all the key saves during the playoffs?
Final analysis
I still have a shot to go 8-for-8 in the West. Going 6-for-8 seems safe and would let me keep my man card.
Eastern Conference

15. New York Islanders
The vibe: Lottery land. All signs point to the Islanders' being in the hunt for a top-three draft pick in the summer. They need to play their young players for developmental sake and the evaluation process. The top two players in the 2009 draft likely will be John Tavares, a scorer from Canada, and Victor Hedman, a 6-foot-7 defenseman from Sweden.
Now: Nothing has changed. That being said, if the Islanders get one of the top two picks and somehow persuade two big free agents to come to Long Island, I think they can make a leap next season. You heard it here first.

14. Atlanta Thrashers
The vibe: Reconstruction. After two consecutive seasons of 90-plus points, as well as their first playoff appearance, the Thrashers receded to 76 points last season. There is scant hope they will do much better this season.
Now: 2-for-2. Bad ownership, bad team.

13. Toronto Maple Leafs
The vibe: Stagnation. This season is about playing young players, setting the culture, getting in the lottery again and deciding whether they want to make a free-agent splash in the summer or wait another season.
Now: Everything is going to plan here so far. Now the Leafs have to trade, trade for, draft and sign the right players. No big deal.

12. Carolina Hurricanes
The vibe: All or nothing. The Hurricanes have made the playoffs only twice in the past six seasons, but they make their appearances count. Both times, they made it to the Stanley Cup finals, winning one (2006) and losing one (2002). The past two seasons, they have battled just short of a playoff appearance. This season should be more of the same.
Now: The Hurricanes are a lot like the New York Rangers -- they have problems scoring goals, get average play from their defense and have a good goalie. I think the Hurricanes will come up just a bit short.

11. Florida Panthers
The vibe: Goal-challenged. This is an interesting season for the Panthers. They have spent to the cap ceiling with a high-priced goalie and six solid NHL defensemen who all make at least $2.2 million. If the Panthers are to make the playoffs for the first time since the spring of 2000, defense will get them there. Florida needs to get its goals-against total down to the magic 200-210 range. Do that, and the Panthers will make the playoffs.
Now: The Panthers are on pace to allow about 225 goals. They can survive with that number and still make the playoffs because they are scoring enough goals, albeit barely enough. Obviously, the Jay Bouwmeester trade situation is key. They conceivably could improve after a Bouwmeester trade depending on what they'd get in return. This will be an interesting team to watch down the stretch.

10: Buffalo Sabres
The vibe: Centers of attention. I had a real hard time keeping the Sabres out of the playoffs. They have a good team that has played a lot of games together as a unit. They could get off to such a good start that they build enough point equity to make the playoffs.
Now: Buffalo's chances to make the playoffs look better than 50-50. In fact, the Sabres could move up to fourth or fifth place in the Eastern Conference standings if they stay healthy. I still say Bouwmeester would fit great there in terms of the Sabres' having the pieces for a trade, and he would mesh with the style of this team and city. I think Buffalo is the perfect market for Bouwmeester.

9. Tampa Bay Lightning
The vibe: "NHL 2Night" forever. I've watched hockey games, had beers, played golf and laughed with Barry Melrose since the spring of 1998. He is a good man, a hard worker who has gravitas, accountability, presence and work ethic. What he doesn't have right now is a definite playoff team. I completely disagree with the decision to trade Dan Boyle. I would not have re-signed Vinny Prospal if that's what it took. This team will have major issues creating offense from the blue line.
Now: Melrose lasted 16 games. I still would trade Vincent Lecavalier and Martin St. Louis to Montreal and start over there.

8. Ottawa Senators
The vibe: Erosion. With their top-heavy offensive team, the Senators resemble Tampa Bay of last season. As they have lost big-time talent, their point totals have gone from 113 to 105 to 94. Those 94 points were good enough for seventh in the East in 2007-08. This offseason, the Senators lost more pieces in Wade Redden and Andrej Meszaros; that might be the tipping point in terms of missing the postseason.
Now: Boy, that sounds like a forecast for a team that would miss the playoffs. Was there an editorial mistake, perhaps? Yeah, that's the ticket. But don't count the Sens out yet. The teams they are chasing are not all that.

7. Boston Bruins
The vibe: Resurgence. The Bruins were the only team that made the playoffs last spring that gave up more goals than it scored. That could categorize Boston as a fluke. It also could reveal the grittiness of the team. There is something about this team that I like. I sense a positive vibe around the Bruins.
Now: Well, I didn't think they would be this good. Injuries are catching up with them, but they will be ready come playoff time. I think they should rest some of their young players from time to time, else they will run out of gas. Why don't hockey teams do this? Eighty-two games are too much.

6. New Jersey
The vibe: Competence Inc. The Devils are an elite NHL franchise. Clearly, one of the finest. They have won three Stanley Cups in the past 13 seasons and have made the playoffs 11 straight seasons. Do it right and do it now. They are built on balance; they are built on the shoulders of Martin Brodeur. No one player on the team makes more than Patrik Elias' $6 million. New Jersey has small, quick players and big, sturdy players.
Now: The New Jersey Devils are fun to watch. That's right, I said it. Fast, tough and smart. They must add a defenseman. If they can get the right one, they might be bound for the Stanley Cup finals.

5. Philadelphia Flyers
The vibe: Not enough defense. The goaltending. It's a tradition unlike any other in Flyersland. Martin Biron had an OK season in 2007-08, but is he the man to lead the Flyers to the Eastern Conference championship? He could be, but Philly had better continue to score. The Flyers are built to score, but they also gave up 233 goals last season. They are a bit unbalanced in that regard.
Now: I think the Flyers will have a strong kick to their regular-season finish. You still have to wonder about the defense and goaltending. But no team is that much better in the Eastern Conference that it would prevent Flyers fans from thinking Stanley Cup finals.

4. New York Rangers
The vibe: Blue-collar. The Rangers have four players who account for $27 million against the cap -- Drury, Scott Gomez, Henrik Lundqvist and Wade Redden. It's paramount that those players have exceptional seasons. After that, this is a very average team with very average players. Some of those players are young and could step it up, but that is not a given. Some have the Rangers missing the playoffs. I don't see that, but I understand the skepticism. An injury here or a lower-than-expected performance there, and the Rangers could be in trouble.
Now: The Rangers are in trouble. They are going in the opposite direction and have not been constructed well. I still believe they have too much character and goaltending to miss the playoffs, but when you are one of the worst offensive teams in the league, sometimes all the character in the world isn't enough.

3. Washington Capitals
The vibe: Mystery. Everything with the Capitals starts with Alex Ovechkin. He is, arguably, the biggest personality in professional team sports and the NHL's greatest force. Name another athlete who imposes his personality and presence on a game more than Washington's human low-pressure system. If I could be plopped in any hockey city this time of year and have season tickets for an NHL season, this team certainly would be in the top five.
Now: The Capitals are a poor man's Detroit Red Wings. They have a great power play, score a lot, give up their share, have good scoring balance, play great at home and have an MVP candidate who is Russian. The Caps can't match the Wings' defense depth, but that's about it. This is an elite team with a great chance to go to the finals.

2. Pittsburgh Penguins
The vibe: Elite status still. The injuries to Sergei Gonchar and Ryan Whitney limit the Penguins to No. 2 in the Eastern Conference. Gonchar has been a monster player the past two seasons and will be sorely missed.
Now: Overall, I feel pretty good about 28 of my 30 previews. This one and the next one are far off the mark. The Penguins are a mess. That being said, I still say they'll make the playoffs.

1. Montreal Canadiens
The vibe: The Montreal Canadiens are good again. They are balanced, well-managed and have a positive energy that has them as my regular-season pick to finish in the East's top spot. They are a puck-moving team with an experienced and sturdy defense and a young goaltender who looks like a star. Watch them when you get a chance. They will be very entertaining.
Now: The Canadiens will still make the playoffs, but they have been far from elite. There is still time, and they have lots of flexibility to make a major trade or two at the deadline. However, the Canadiens have a lot of question marks, and you wonder whether they have the right mix to play for each other. I don't get the sense that this is a great team.
Final analysis
Once again, 6-for-8 seems to be the worst we will do here. If Ottawa stages a miraculous comeback and the Penguins find their game, I have a shot at 8-for-8. Buffalo and Florida would have to drop out to make that happen. If that does happen, my manliness factor would go through the roof and I probably could go elk hunting with just my steely stare or grow a 'stache that might take on the Q-Stache. And I certainly wouldn't need to ask for directions to the woods.
Mount Rushmore
Last week, we named a Mount Rushmore lineup for each of the 30 NHL teams. Reaction was plenty. Here's what some of you had to say:
FLYERS FANS
Hey Bucci,
I'm one of those folks who was surprised by your selection of Rick Tocchet for the fourth Flyers spot. I didn't come along as a Flyers fan until the mid-90s, so Tocchet's glory days here aren't something that I experienced firsthand.
Jordan Leahy
Philadelphia
John,
I agree no current Flyer should make the list, and that [Bobby] Clarke and [Bernie] Parent are locks. However, No. 4 has GOT to be Eric Lindros. Love him or hate him, he turned the franchise on its head and dominated throughout the '90s. His stats through those first five or six seasons were spectacular.
Nathan Foley
On pure numbers, Lindros is the most talented Flyer of all time, save maybe Bernie Parent. His 1.36 points per game is far and away the most prolific. I just thought there was too much off-ice stuff for Lindros to be immortalized in stone. But as Sean Maguire told Will Hunting, maybe "it wasn't his fault." This was not the only e-mail in support of Lindros.
Hey Bucci,
You hit the nail on the head with Hextall. As soon as I reached Rick Tocchet's name, I said, "Whoa, where's Hexy?" I agree Rick is a great choice, but his name doesn't carry as much weight as Hextall's. Tocchet, to me, is in the same group as Rod Brind'Amour and Mark Recchi. They were great players and, more importantly, "great Flyers" (there's a difference), but it's hard to put them up there with the legends of Clarke, Bill Barber and Parent.
Gerard
Philadelphia
Bucci,
Love reading your column every week. I am a huge Flyers fan in my mid-20s. Even though he didn't win a Cup, Eric Lindros is my Bobby Clarke. I know things could have ended a whole lot better, but he single-handedly saw the team through one of its darkest periods in the early '90s and brought them back to the successful franchise we know and love. Some may disagree, but he's in my Mt. Rushmore.
Kurt Honeywell
More than any other team, Flyers fans had more reaction and opinion in my inbox than any other team. As I've said before, no NHL fans have more passion and make a more personal connection with the players they root for than Flyers fans.
---
CAPITALS FANS
Bucci,
As a lifelong Caps fan (36 years old, about as old as the franchise), I would have put Rod Langway up there instead of [Peter] Bondra, especially if you are less concerned with numbers.
Rob Tyler
Langway was a two-time Norris Trophy winner with the Caps.
Bucci,
You can't have a Mt. Rushmore in Washington without Mike Gartner. Olie the goalie is the odd man out.
Troy Sloneker
Scottsdale, Ariz.
Mike Gartner had just more than nine good years in Washington. That is a fair point. I'm sticking with Bondra. He played at least 200 more games with the Caps and scored 472 goals in Washington, 75 more than Gartner. I could see putting Gartner over Kolzig.
---
SABRES FANS
Bucci,
Here's a better choice for the Sabres' Mt. Rushmore than Pat LaFontaine: Dave Andreychuk. Andreychuk played more seasons in a Sabres uniform than LaFontaine, and Andreychuk also had great numbers (804 points in 837 games). Your assessment of LaFontaine was a good one, but I think Andreychuk deserves credit for his time and service in Buffalo.
Robert
Medina, N.Y.
That's a fair point.
---
WHALERS/CANES FANS
John,
Is there any way we can get Pat Verbeek up there for the Whale? I'm not sure whom to bump, Brind'Amour or [Eric] Staal, but it's also entirely possible that Verbeek was fierce enough to get himself added as the fifth player on the mountain, even if he had to check the other carvings aside to make the room.
Will
Alexandria, Va.
I definitely thought about Verbeek after Ron Francis in recognition of the Whalers years. He was an amazing competitor, so fierce and fearless. He played only a little more than five years with Hartford, and that's what dissuaded me.
---
LEAFS FANS
Bucci,
I fully realize that the Original Six franchises had to be ridiculously hard to choose players for. Too much history and all that. It's impossible for me to argue against any of the old-school Leafs, because I'm not old enough have seen any of them play. I loved Mats, and I was one of his greatest defenders over the years, but he's off my Rushmore now for his unforgivable and hypocritical turncoat move to Vancouver. I think a lot of Leafs fans would be devastated if Wendel Clark weren't on that Mt. Rushmore, though. I know I would.
Daryl Simon
Burlington, Ontario

Wendel Clark was one of those kinds of players for whom Mt. Rushmores were built.
Hi JB,
Toronto in particular. I can't believe you left off Frank Mahovlich (nine All-Star selections, a Calder pick over Bobby Hull and six Cups), Syl Apps (five All-Stars in 10 years, a Calder, a Lady Byng and three Cups) and Max Bentley (Hart, two Art Ross, a Byng, three Cups and a couple of All-Stars).
Philadelphia: Tocchet over Lindros? I can't think of a single thing (other than staying healthy, maybe) Tocchet brought to the table that ever held a candle to what Lindros did for Philly.
N.Y. Rangers: Am I mistaken, or wasn't Brad Park the best defenseman in the NHL (not named Orr) every season he was in New York?
Bill Shore
San Diego
Interesting points from San Diego.
---
NORTH STARS/WILD FANS
Bucci,
While I think [Andrew] Brunette and [Brent] Burns are inarguable, you CANNOT have a Wild Mt. Rushmore without Mikko Koivu. You cannot understate how much this guy is loved and admired by Wild fans for his work ethic, hockey IQ and two-way game. His grit, leadership and defensive game often have him being held up as the anti-Gaborik. He does all the little things that hockey die-hards appreciate and is scoring at almost a point-per-game clip this season.
Dan
See, this is one reason I did this. To learn. Now we understand Mikko Koivu's standing in Minnesota.
---
DEVILS FANS
Hey Bucci,
In light if your recent Mt. Rushmore column, let me try to shed some light on why Devils fans still have trouble saying the name Niedermayer.
Coming out of the lockout, our defense was a huge question mark. Scott Stevens had retired, and Scott Niedermayer and Brian Rafalski were free agents. Knowing that Nieds was one of the greatest defensemen of this era, Lou [Lamoriello, the Devils' GM] patiently waited for him to make his decision. Despite the fact that Lou offered him the maximum salary allowed under the new CBA, Nieds still left New Jersey to play with his brother in Anaheim.
Now, the fact that he left to play with his brother isn't what offends Devils fans. It's that he took so long to make the decision. By the time Lou knew Nieds wasn't coming back, he reallocated the Niedermayer money into Rafalski (money well spent) and the two next-best defensemen available on the market: Dan McGillis and Vladimir Malakhov. Everyone knows now how horribly those last two worked for Jersey. It took a full season (arguably two full seasons) to overcome those signings, which never would have happened if Nieds had been slightly more decisive.
Bill
---
FLAMES FANS
John,
No Lanny MacDonald on Calgary's Mt. Rushmore? 66 goals in 1982-83, and he's synonymous with the Flames' Cup-winning season of 1989. His mustache alone could be its own monument.
Sean
There was a lot of Lanny MacDonald sentiment, and he did have 100 goals in his first 135 games as a Flame. (WOW!) But his play tailed off after that, and he wasn't a major factor in the Flames' Stanley Cup win, but I can't measure how deep he sits inside the heart of your average Flames fan, so I can't get behind him.
---
CANUCKS FANS
Bucci,
Although my opinion of Markus Naslund may soften over the years (absence makes the heart grow fonder), I would definitely put Kirk McLean on the Canucks' Mt. Rushmore over him. McLean was a two-time Vezina finalist and one of the most consistent goalies in the league for seven to eight years, and he would have been the Conn Smythe Trophy winner in 1994.
Greg
Vancouver, British Columbia
I was surprised at the lack of support for Naslund from multiple Canucks fans. I thought those were some magical years. McLean did have 211 wins in net for Vancouver.
---
JETS/COYOTES FANS
John,
Thomas Steen has to be on the Winnipeg/Phoenix Mt. Rushmore. Someone who liked Winnipeg so much, he still lives there.
Chris
---
RANGERS FANS
John,
With all due respect, I must disagree with your New York Rangers choices. [Ed] Giacomin and Mess are locks, but then it comes down to Rod Gilbert, Andy Bathgate, Harry Howell and Brian Leetch. (Bathgate and Howell are finally having their numbers retired Feb. 22 against Toronto.) Gilbert is the franchise's all-time leader in games played and scoring, so I would think he is a lock, as well. Plus, he's been working in PR for the Rangers at every home game since he retired.
Ask any over-50 Rangers fan, and they'll tell you Bathgate was the best Ranger ever. I'm not 40 yet, so I can cast my vote for Leetchie. Howell also won a Norris, but that was a six-team league, and neither Bathgate nor Howell ever won a Conn Smythe (and thus a Cup).
[Mike] Richter is a great guy, but many feel the Rangers shouldn't have even retired his number (especially before Bathgate!). A "second Mt. Rushmore" would have Bathgate, Howell, Richter and Graves. So, I'd go with Gilbert, Mess, Giacomin and Leetch (in that order).
Ed
Mike Richter got no love from Rangers fans.
---
PANTHERS FANS
Bucci,
I'm a huge fan of your work, your passion, desire and promotion of our great sport. However, I am very surprised that you had Pavel Bure on the Florida Panthers' Rushmore list and not John Vanbiesbrouck! Beezer carried the Panthers to the Cup finals in 1996 and made them a viable team during the franchise's first five years.
Liam Murphy
Eastchester, N.Y.
Upon further review, I probably should have included Beezer. He trails only Roberto Luongo by two wins in the franchise's history, and Luongo never appeared in a playoff game during his Panthers career.
---
John,
Though not worthy of being carved in Mt. Rushmore stone, nonetheless important in the history of hockey: Petr Klima's tape job on his stick, the shin pads of Craig Ramsay, Mike Foligno's helmet and Per Djoos' name alone.
Keith Heffernan
"Perhaps the most valuable result of all education is the ability to make yourself do the thing you have to do, when it ought to be done, whether you like it or not; it is the first lesson that ought to be learned; and however early a man's training begins, it is probably the last lesson that he learns thoroughly." -- Thomas H. Huxley
Weekly Tribute to Jack Falla
The following is an excerpt from Jack Falla's "Home Ice." Falla passed away Sept. 14, 2008. We'll honor his memory each week with a few lines from one of his classic books:
"There are only three kinds of people. First are the folks who will help you shovel your rink without being asked. Then you have the vast majority who will help you shovel if you ask them to. Alas, Emerson was right when he wrote that the highest price we can pay for anything is to ask for it, so I have little experience with this group. Last and ignobly least are the people who would prefer a root canal or hip replacement to helping you (or anyone) shovel snow."
The Mother of All Mailbags
The following e-mail is from Doc Kelly, who spoke at Jack Falla's funeral Mass. Kelly recently skated in the backyard that helped inspire Falla to write passages like the one above. This is Doc's e-mail on his backyard skate at the Falla home.
John,
The day that we spent on Jack's rink, courtesy of son Brian's hard work and long hours getting it ready, was a great, great day. Barb, Brian, Tracey, her two children, Demetre and Ella, and Jane Falla, wife of Jack's brother Patrick, and their younger son Aidan and I all got in about two hours of good skating before the warm weather softened the ice. Kim, Brian's wife, took pictures and movies as the "documentation expert." It was the kind of day Jack loved -- everyone skating together, playing a makeshift game, passing and shooting at will and pausing to have chats with one another before moving on to the next person. As Jack said, he built the rink to be with the people he loved. Brian has now assumed that role.
Jack was always kind of on the periphery of what was happening during this kind of day. He certainly skated and participated, but he was often in the background, making meals, scraping ice, getting pucks and changing music. He was not one to linger and have heart-to-heart talks with anyone in that kind of environment. The rest of us, however, are comfortable doing that.
So, although it didn't seem as if he was there, it didn't seem as if he wasn't there, either, if that makes sense. I did not feel the void this time as I did when Brian and I were putting up the boards in the fall. I think the rest of us, in coming together since his passing, have filled that void in strengthening our connections with one another, but we have left room for Jack, too.
In the past, Jack was the facilitator for keeping the rest of us connected. Much of what we knew about each other funneled through Jack. Now, we are interacting directly. It feels good that way. So, although it is certainly not preferred, something good is happening within the family. I am just thankful to be part of it.
I miss him a ton, but the connections I have made with the rest of the family have thrown me the life ring I needed to accept his passing and move on. And, in moving on, I don't mean leaving him behind; I mean taking him with me.
As I told Brian, this past Saturday is already the front-runner for "Best Day" in the Christmas Book.
All the best,
Doc Kelly
---
John,
Thanks to your recent column on outdoor rinks, I found myself thinking more about the days I spent growing up in Swift Current, Saskatchewan, than I have at any time since I left Speedy Creek 30 years ago. Every snowfall brought the hope that I would be excused from hearing about prepositional adjective phrases so I could help shovel our school's outdoor rink in order to keep our intramural hockey league on schedule.
Or, when it didn't snow, the hope was that I would be the lucky one who would get to flood the ice with a garden hose. Hard to believe I had so much fun standing outside for an hour when it was 10 degrees below zero. It was a sad moment when I saw the next lucky guy coming out to replace me. Thanks for stirring the memories, and here's hoping for a late cold snap to keep the ice hard for an extra week or two.
Glen Volk
Things look bleak for any more outdoor skating. The sun is getting higher and the days longer, and the lack of a cold snap has us on standby. The one positive from the recent warm weather is the snow has melted and 26 pucks were retrieved from the neighbor's yard.
---
Hey John,
Longtime reader, first-time e-mailer. What do you think the chances are of the Habs' getting Bill Guerin from the Islanders?
Jamie Wells

Bill Guerin is 38 years old. He should finish with 20 goals this season, so he still has some hockey tape left on the roll. His contract is up after this season, so that makes it easy to trade him. Montreal could use a pure right winger such as Guerin, so there is a need. A downside to Guerin is that he has had just three goals in his past 23 playoff games.
---
John,
Is it me, or does Sidney Crosby seem as if he's always trying to make that perfect play lately?
Matt
California
I've either written that in this space this season or thought about that while driving to work, Matt. It seems Crosby has turned the puck over more this season, especially on the power play. And it seems as though his desperation play has been in-and-out. I wonder whether he is injured or frustrated. But he ranks second in the league in scoring with very little offensive help. You wonder whether the coaching change will help.
John Tortorella seems qualified to deal with a team that is a bit top-heavy, but for now, it's Dan Bylsma. But then you wonder how much this change would really help. Losing Ryan Malone and Marian Hossa has proven too much to overcome, although they already were good before they got Hossa, and he played only 12 regular-season games for the Pens.
Perhaps as Sergei Gonchar eases back into an NHL pace, he can raise the Penguins a notch by simply returning them to elite power-play status. His presence helped Evgeni Malkin score 17 power-play goals last season. This season, Malkin has eight. The Penguins' power play was 20 percent successful last season; it is 16 percent successful this season.
Malone had 11 power-play goals last season for the Penguins. They miss his Pittsburgh Steelers personality around the net. They need that kind of player in front of the net; that's why I think Keith Tkachuk might be a good fit in Pittsburgh.
---
John,
What do you think of the Kings' chances of making the playoffs? They seem to be in a nice groove right now. Finding a consistent goalie in Jonathan Quick certainly has helped.
Colin Shortts
Milwaukee
I would put the Kings' chances at about 20 percent. That could change with a big trade, which is possible because they have so much cap space and assets to trade. If they don't make a trade, I think they will come up a little short.
"Wisdom doesn't automatically come with old age. Nothing does -- except wrinkles. It's true, some wines improve with age. But only if the grapes were good in the first place." -- Abigail Van Buren
---
Hey Bucci,
You said last week the Senators are going to have some musical chairs, possibly this offseason with the big three, and need defense and goaltending. The Wild need a playmaking forward to replace soon-departed Marian Gaborik, and we have defense and goaltending. You see where I'm going with this.
I really like Niklas Backstrom, but I've already heard that Detroit and others will pursue him this offseason if he doesn't get a deal. … I think based on the Wild's drafting a goalie last year and Josh Harding's being a good backup/possible starter, the Wild are already planning on losing Backstrom this offseason. What do you think are the chances of the Wild's dishing Backie for one of the big three? Let's not forget that since Backie came into the league, he is in the top three in every important goaltending statistic.
Eric
St. Paul, Minn.
I don't see Niklas Backstrom going anywhere. He is making $3.1 million this season and will be an unrestricted free agent in the summer. Unless he has the urge to play somewhere else, as Marian Hossa did this past summer, I don't see why he won't return to Minnesota. A five-year deal that averages around $4.5 million seems about right for him. One would think that would be a comfortable number for the Wild.
---
Bucci,
When will the NHL get it right and stop making teams wear their road jerseys at home? Am I the only one who finds this distracting? I can't stand to see the Red Wings at Joe Louis in red jerseys. Has there been any talk that you know of to switch back?
Terry F. Madden
I'm with you, Terry. It is something I will never get used to and just does not look right. Hockey teams were meant to wear white at home, and that's the end of the story. The NHL will be a better place the instant this long continental nightmare ends.
---
Dear John,
I have a couple of questions, mainly related to the San Jose Sharks. As a proud Sharks fan, it really pains me to see that Joe Pavelski is not being listed as a possible candidate for the USA's 2010 Olympic team. Pavs is a great player and puts up great numbers every season. He has a great set of hands and is an excellent passer and shooter. Am I going crazy thinking he has a shot, or does anyone else agree with me? Finally, do you see the Sharks making any deals at the trade deadline?
Marcus
Los Altos, Calif.

I don't see the Sharks doing much at the deadline outside the obligatory "puck-moving depth defenseman." They look built and primed for a deep playoff run. The question remains as to whether they can beat the Red Wings. Evgeni Nabokov will determine that.
As far as Joe Pavelski, he has some Chris Drury in him. Both are about the same size, both are American and both shoot right-handed. Pavelski won a Wisconsin state high school hockey championship, was a member of the 2004 Clark Cup-champion Waterloo Blackhawks of the U.S. Hockey League and won an NCAA title with the Wisconsin Badgers. Pavelski is the kind of player who would receive a lot more attention as a valuable role-type player or Drury-type winner if he were to play on a higher-profile NHL team, especially in the East. Players such as Pavelski are why the Sharks are where they are.
---
Bucci,
So, you probably heard the news that Blink-182 is reuniting. I know that you're a big Angels and Airwaves fan, so what do you think the new Blink album will be like, and could you compare their reunion with a hockey moment? I'm a huge Blink and Penguins fan, so I sort of feel it's like Mario Lemieux's announcing he was going to come out of retirement. Thoughts?
Chris Dum
Albany, N.Y.
Bingo, brutha.
---
John,
There is currently a debate on the Stars blog on www.dallasnews.com regarding the Tippett mustache. We need your sage advice: Should he bring it back? Should he let it be? If he brought it back, would it stand a chance against the Q-Stache? Please help!
Mike Fleet
Houston

I look at Dave Tippett's face as a foster home for 'staches. It was meant to house a homeless 'stache. Some faces are built for a 'stache, and some are not. In its prime, Tippett had a formidable 'stache, but I would put his 40-yard dash time at 4.8. The powerful Q-Stache comes in at 4.6.
---
John,
My roommates and I are currently enjoying our first year as Bruins season-ticket holders (Section 306, Row 15, baby!), now that all of us have "real" post-college jobs. Seems as though we got in at a good time, as I'm sure bandwagon fans will buy them up for next season.
Last night at a season-ticket holders event, I had the grand pleasure of meeting and shaking hands with the great Mr. Neely. ("Please, call me Cam.") The guy is a class act all the way. He might not play anymore, but we Bruins fans are thrilled to still have him in the organization. We talked briefly about the current team. Asked him how it felt to finally have a team again that plays with some of his toughness and fire. He chuckled and said it was about time. One thing I admire about Neely is his honesty.
Jon Fucile
Smile for the Cam.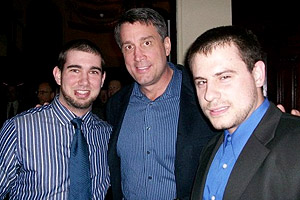 John Buccigross' e-mail address -- for questions, comments or crosschecks -- is john.buccigross@espn.com.