Shot of the Week
It's back. You know how it works: We present an NHL photo, and Bucci provides a caption. E-mail him your suggestions (include your name and hometown/state), and we will use the best ones and provide a new photo the following week.
LAST WEEK: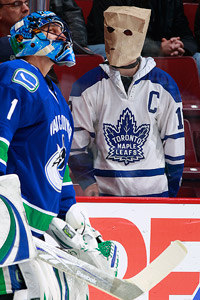 "I said I can switch your water bottle with the Molson behind my back." (Getty Images)
Your captions:
"Look pal, if you want to channel Punch Imlach, you have to have the right hat."
-- Matthew Sills (Whitehorse Yukon)
"Pssst! Hey, it's me! Wendel, Wendel Clark. Mats promised me he'd come back for me. Is it time? I'm packed. Do I just get on the bus?"
-- Tom Holder (Kilmartin, Ontario)
"Pssst ... Roberto ... it's Brian ... Brian Burke ... so ... on July 1, 2010 ... how much?"
-- Michael Peck (St. Charles, Mo.)
"I'll trade you, my mask for yours!"
-- Dylan (Wilmington, Del.)
"You know, before my gig as the "Unknown Comic" on "The Gong Show," I played a little bit of goalie myself."
-- Douglas P. Oswald
THIS WEEK: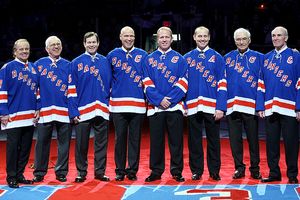 John Tortorella's Plan A. (Getty Images)
Is Sidney Crosby having any fun?
Is Don Cherry the biological father of Alex Ovechkin?
Is Evgeni Malkin the best all-around talent in the NHL?
After watching Sunday's Penguins-Capitals game, it is clear to me these questions can at least be discussed.
Let's start with the Malkin query.
When analyzing Malkin, I think it's important to point out an underrated aspect of the 22-year-old's game: how hard he competes all over the ice. On Saturday afternoon, during the Penguins' 5-4 win in Philadelphia, Malkin blocked a Flyers slap shot from the point with the back of his right glove like a goalie uses his blocker.
Effort and passion are qualities Malkin, Crosby and Ovechkin all possess, and that is why their play is so entertaining. They are ultra-fast, slick, physical and confrontational; Crosby is more so, Ovechkin is less so -- he runs you over with a smile on his face -- and Malkin is somewhere in between. He uses his body well to secure and steal the puck and will deliver a body check to release frustration. Crosby and Malkin average about one penalty minute per game in their young careers, a higher rate than that of Ovechkin:
• Crosby: 274 PIMs in 273 games
• Malkin: 220 PIMs in 221 games
• Ovechkin: 208 PIMs in 303 games
As players, Malkin is a better passer and playmaker than Ovechkin, close to or as good a playmaker as Crosby and a better shooter than Crosby. In terms of shooting the puck, Malkin is probably equal to Ovechkin, slap shot for slap shot.
I would give an edge to Ovechkin in the wrist-shot category; it is the most deceptive and lethal in the game because of the quick and unpredictable release point. And he will shoot it from anywhere at any time. Ovechkin scores more goals than anyone else because, yes, he shoots more than anyone else:
• Ovechkin: 206 career goals on 1,646 career shots (303 career games; 5.4 shots per game)
• Crosby: 122 goals on 881 shots (273 games; 3.2)
• Malkin: 107 goals on 732 shots (221 games; 3.3)
But Ovechkin also scores more goals than anyone else because he has an insatiable appetite for scoring and plays with very good players. And no one takes the puck to the net faster, harder or more fearlessly. All of that, and he doesn't miss games.
Back to Malkin.
While watching Sunday's Penguins-Capitals game, I was amazed by the quality of playmaking displayed by No. 71. I mean, he makes the right decision just about every time. The way he takes the puck off his skates is mind-boggling considering his size. His reach adds a dimension that is Mario Lemieux-like. His talent, vision and feel are equally exhilarating. (That being said, Crosby's backhand cross-ice saucer pass to the tape of Sergei Gonchar that led to Gonchar's slap-shot goal was one of the best passes of the season.) All of that, and Malkin is clearly improving. He had 85 points in his rookie campaign and 106 last season and probably will finish with 115-125 points this season. Malkin's game continues to have a slow and steady rise.
What Malkin seems to lack, and what probably affects how people view him, is that aura of professional maturity that is hard to define. Perhaps it is just a boyish personality and/or we are misreading his body language. It's not a criticism as much as it is an observation, and I could be off base here. It's like he's Ken Griffey Jr. to Sidney Crosby's Derek Jeter. That aura should come with time, although it might be delayed because he doesn't have to take the lead; maybe his personality is more Kevin McHale than Larry Bird, and maybe he is in the best place for him to succeed.
With Crosby wearing the C and doing the bulk of the media interviews, and with Gonchar's leadership and presence (especially his being a fellow Russian), Malkin is able to just play, and that is probably why his game has been nurtured like a child. I wonder -- and I list these observations with envy, not criticism -- if:
(A) Evgeni Malkin has ever written a check.
(B) Evgeni Malkin has ever been to the DMV.
(C) Evgeni Malkin has ever paid an electric bill.
(D) Evgeni Malkin has ever taken his car to Jiffy Lube.*
(*I've told this story before, but it is worth telling again. I wondered about option D because my first car was a 1987 Nissan Maxima. It had 50,000 miles on it, and I bought it for $10,500 while earning $15,000 a year. I was roughly the age Malkin is now. About 40,000 miles later, I heard someone mention something called an oil change. I didn't know what an oil change was because, as far as I recall, I hadn't seen any oil change commercials and, hey, you can't know everything. I knew, and still know, the four members of Asia, but I wasn't aware of the inner workings of the average automobile. We all have our priorities.
Thankfully, Maximas generally are fined-tuned machines, and there were no long-term effects as a result of my neglect. I drove the car until it had 250,000 miles on it and sold it for $500, which I used to buy 16 pairs of parachute pants and a They Might Be Giants CD. Getting an oil change gave me one more thing to worry about. Over time, as we add more and more things to our brains, like oil changes, it compromises our energy and creativity. Ignorance can be dangerous, but it also can be bliss. That's why young people do such great and creative things. They have less on their minds.)
Now, Malkin is only 22 and will be a different person in, say, three years, as he continues to absorb the North American sporting culture and adds layers to his life like oil changes, investments and perhaps a wife and children. Also, as we have said before, ultra-talented players who have good size sometimes appear not to be trying their best. This is sometimes a mirage because of the economy of their movements and their longer strides.
Malkin competes and battles all over the ice. He sticks up for teammates. He blocks shots. He back checks. He doesn't give up on the puck. He bears down around the net. He plays the game with great passion and joy. So, yes, one could argue rather convincingly that Malkin is the best all-around player in the NHL ... and is still getting better.
As I was pondering the Malkin question in my larger-than-ordinary skull, something else dawned on me: Malkin and Ovechkin are having all the fun. And they're Russians!
The old stereotype of Russian players was that they were dour, aloof, gloomy, boring and soft. One of the enduring observations from the 1980 "Miracle on Ice" was the Soviet Union players acting like voyeurs as the young Americans reveled like schoolboys after their victory. It was as if having fun while playing hockey never entered the Soviet players' minds. That's because, as we now know, they weren't really having fun. Hockey was a full-time job, and their personal lives were full of conformity, monotony, few true freedoms and no blue jeans. Plus, Russian swimsuit models had yet to hit the mainstream.
Eventually, Russian players began making their way to the NHL, and it didn't take long for them to get stereotyped as talented but enigmatic. There still are NHL executives who don't fully trust Russian players, believing they won't sell their souls for a Stanley Cup like a kid from Canada would and that they are mercenaries here for the money. That might have been true at one time of some players from Russia and some players from Europe. And it makes sense. First of all, playing for an empire doesn't make one all warm and fuzzy. Life is cold and gray when there is no hope.
Additionally, someone from Russia or Europe who entered the NHL in 1995 would not have had an emotional connection with the Stanley Cup. The Cup wasn't as famous as it is today; it was for Canada and parts of the United States, but not in Moscow or Prague. Today, the Stanley Cup is the universal and ultimate symbol of a championship hockey player and team. No other trophy comes close to its global allure and appeal. The others are contrived. But this is a new phenomenon and one of the NHL's great accomplishments in the past 10 to 15 years -- making Lord Stanley's Cup a star. There is a 12-year-old kid in Russia who YouTubes Ovechkin goals and dreams of himself with the Stanley Cup over his head.
So, knowing this broad piece of hockey history, one can understand how going from those robotic and bemused Russian players watching Team USA in 1980 to Ovechkin acting like an over-served frat boy after scoring a goal is quite a leap. And the irony or coincidence is even more rich when you consider this big, bad Soviet (well, until he was 6) is wearing red, white and blue while playing in Washington, D.C. Talk about smashing the irony curtain. Ovechkin, the Russian, now appears to be the player who cares the most about winning while having the most fun. Can you imagine Slava Fetisov doing what Ovechkin did at this year's All-Star festivities in Montreal?
Malkin has a similar boyishness in his interactions with teammates and the way he plays the game with wild abandonment. He is not a freight train or rock star like Ovechkin, but he, too, acts like a 5-year-old on Christmas morning when he scores a goal. It is not the contrived, third-rate end zone skit of an NFL receiver, but a reflex of pure joy. From Russia, with love.
Some do not like such showmanship in the NHL. Here is what Crosby said when asked about Ovechkin's showmanship: "Like it or lump it, that's what he does." Crosby told reporters after Sunday's game: "Some people like it, some people don't. Personally, I don't like it."
First of all, I have never heard the phrase "like it or lump it." My fellow "SportsCenter" anchor John Anderson has, so I'm guessing either it's a Southern Canada/Wisconsin thing or I am dumber than I thought. Second, isn't it interesting, with the "Miracle on Ice" image as a reference point, that the Russian players now are being chastised for having too much fun?
Maybe I think Cherry's influence is greater than it is because I am such a big fan of "Coach's Corner," but I wonder whether part of this new seriousness among North American skaters is from Cherry's celebration of the understated player. Talk about a paradox. The man with suits Liberace would label "outrageous" is celebrating a Soviet-like dourness in goal celebrations. "See that, kids! I tell ya, that's how they make 'em in London, I tell ya. That's how you act after scoring a goal."
I understand Cherry is, as I am, about decorum and not being bigger than the team and not excessively celebrating a goal when your team is up or down 6-1. I'm on the same page with him on most of what he preaches. (His sincere and emotional tributes to fallen Canadian soldiers at the end of "Coach's Corner" are the most beautiful and heart-wrenching few seconds on television.) But is Cherry's spotlighting of the player who doesn't raise his stick after a goal creating young curmudgeons? Personality doesn't come with a manual. Since when doesn't a 21-year-old in 2009 not like showmanship?
I understood Bobby Orr bowed his head in what appeared to be embarrassment on most of his goals, but that's because he likely was embarrassed about how easy it was for him to play NHL hockey. He needed another league.
Commenting on Ovechkin's youthful enthusiasm, the 21-year-old Crosby sounded like a 78-year-old Clint Eastwood in "Gran Torino."
"Quit shooting pucks in my yard! Tell your dad to buy a net!"
I'm all for hating your opponent. I despised my opponent. But complaining about a young athlete getting caught up in the moment was a rare swing and miss from Sid. Even Bing Crosby sang a Christmas song with David Bowie.
Maybe I'm all drunk watching "The 8 Ball" bounce around NHL rinks and seeing what his singular passion is doing to downtown Washington. Caps fans have had a lot of good and appealing players come through town, but none like Ovechkin. The Capitals are an elite team because they have more than one great NHL player, but they are pop stars because of No. 8. He's the straw that stirs this vodka and tonic. We've come a long way, baby.
The flamboyant Russian with the tinted shield, yellow skate laces and hockey heart on his sleeve plays the game with such flair, emotion, love and fearlessness, he reminds you of ... Don Cherry.
And the businesslike Canadian with the serious scowls, the "get off my lawn" sound bites and the impatience usually found in sixth-grade math teachers is playing the game with such weight and frustration, he comes off like a machine and reminds you of ... Leonid Brezhnev.
I don't want to make too much of this (2,300 words later, it might be too late for that). But when watching Ovechkin and Crosby, two players I can't take my eyes off, I just find it interesting how times have changed. And, at this point, maybe the best thing to say is maybe they both can elevate themselves by taking a little bit from each other.
They are the NHL's biggest stars. Two gigantic forces of nature. So big, they distract us once again from focusing on maybe the most complete talent in the league, Malkin.
But I'm sure that's no biggie to Geno. He'll be giggling in the corner of the dressing room, taping a new stick and bouncing his head to Lil Wayne's "Lollipop" while we fret over every mile we've driven since our last oil change.
Weekly Tribute to Jack Falla
The following is an excerpt from Jack Falla's "Home Ice." Falla passed away Sept. 14, 2008. We'll honor his memory each week with a few lines from one of his classic books:
"You don't have to run a backyard rink for too many years before you see the truth behind the old line that sport doesn't build character, it reveals it. Many -- and uncharitable remembered -- are the skaters who won't call for ice conditions until at least 48 hours after the passing of a major snowstorm on the off chance that there might still be snow on the rink and the even more unlikely chance that we will ask them to help shovel it."
The Mother of All Mailbags
Dear Bucci,
I'm a big-time Wings fan, and it seems like every year when I read about the argument for who is the best player in the NHL, or around awards time and Hart candidates, it's all Crosby, Malkin and Ovechkin. No love for Datsyuk or Zetterberg. Do you think either of my hometown heroes will have a Hart Trophy on their shelves someday?
Alex Harroun

Henrik Zetterberg was my preseason pick for MVP back in September. If he could have one of those seasons when everything goes right for him and he is able to stay healthy for all 82 games, he'd have the complete game worthy of an MVP award. However, Pavel Datsyuk is the best player on the Wings this season. His playmaking, goal scoring and defensive play make him a five-star player and -- yes, Alex -- he certainly is in the MVP hunt this season.
We have about 20 games to go in the NHL regular season, and a number of players can seize the Hart Trophy with a torrid finish. Malkin, Ovechkin, Crosby, Zach Parise, Datsyuk, Patrick Marleau and Mike Richards are players who all have a shot at the MVP depending on how they, and their teams, perform down the stretch. By the way, Boston's David Krejci is as close to a Datsyuk clone as there is in the NHL (minus the differences of the country each is from and which side he shoots from).
The one thing I love about Datsyuk, and there is much to love, is that no other player is like him. And, at least in recent history, it's hard to think of any player who has really been like him. He is a unique freak of nature in how he stick checks and operates in tight quarters. It's amazing how he deceives people from a stand-still position or when he isn't moving very fast. He is hockey's David Blaine.
In fact, that's what makes the current NHL so exciting and interesting. The off-ice fitness training, international styles, on-ice instruction and organized programs for the world's elite teenage players produce a wide array of special and revolutionary hockey players we simply haven't seen before. I watched the 1980 All-Star Game on NHL Network recently, and it looked like an old-timers' game compared to today's athlete.
"To be nobody but yourself in a world which is doing its best, night and day, to make you everybody else means to fight the hardest battle which any human being can fight; and never stop fighting." -- e.e. cummings
---
Hey Bucci,
Which would you rather have: Jeff Carter's wrist shot or Sheldon Souray's slap shot?
Jon Cook
Davis, Calif.

There is nothing quite like the ideal wrist shot, the way it comes off the blade as pure as a perfectly struck 8-iron, then clangs off the back bar of the net to add a loud sound effect -- an audible exclamation point -- to an otherwise silent athletic act. But Jon, chicks dig the slap shot.
Meanwhile, off topic, I have something to proclaim. CBC's Jim Hughson is not only the finest hockey play-by-play man alive right now but also the best play-by-play man in any sport. From the voice quality to the feel for the game to the words he chooses to making the big call, no one is better. But I wish he would have given me something after Mats Sundin's shootout winner in Toronto on Saturday. I didn't think silence was golden in that instance. I thought it was a letdown. "Yes!" or "Of course!" or something short and sweet would have pleased me. But I nitpick.
---
John,
I just returned from a trip to Atlanta. I went down to see the Flyers game on the Feb. 8. It's always great to be at a road game with thousands of other Flyers fans. Anyway, before I left, I picked up a copy of "Jonesy." OUTSTANDING! I got some strange looks as I was laughing to myself in the airport while reading it. On another note, I have a blank black Flyers jersey that I was given a few years ago as a gift. I was trying to decide what name/number to have put on it.
Bryan
Lancaster, Pa.

Get No. 20 and put "JONESY" on the back. The people will love you. If you grow your head a few sizes, people might think you are actually Keith Jones. Or Fred Flintstone.
Shameless "Jonesy" book plug hockey fact:
Top five all-time Flyers goal scorers: 1. Bill Barber (420), 2. Brian Propp (369), 3. Tim Kerr (363), 4. Bobby Clarke (358), 5. John LeClair (333).
---
John,
I live in Greenville, S.C., and have been in the South all my life. I took up playing hockey about 10 years ago. Now I ref, play and coach my son's mite team. We cannot get enough of it.
Earlier this month, I took my son to see the Blackhawks in Atlanta. We just happened to stay at the same hotel as the team. I could not help it, when I saw Coach Quenneville, I just had to ask him if he saw the story you wrote about him. Sorry to say, he did not read it, but he got a good laugh when I told him some of the lines from your story. He thanked me for sharing and was gone. The mighty Q-Stache had some Thrashers to beat!
Sam Woodside

Not before the Q-Stache stopped at Waffle House and carbo-loaded with 27 waffles. And yes, the Q-Stache bathes in maple syrup.
---
Bucci,
As a season-ticket holder for the Washington Capitals, I can only say what a great privilege it is to watch Alex Ovechkin play on a regular basis. I wish every fan of hockey could see greatness defined on a nightly basis. Any true hockey fan would put him as a must-see when he visits your city. There is no better combination of personality, skill and passion in the NHL.
This all occurred to me as I was sitting 13 rows up behind the net Wednesday night for the Caps-Habs tilt after Ovie came streaking toward me for what is the greatest goal I have ever seen live. I can't wait to see what happens in the next 10 years.
Wes Stone
Woodbridge, Va.
On Sunday, I am heading down to Washington, D.C., to sit between the benches during the Panthers-Capitals game. I want to experience the Capitals crowd firsthand, and I want to hear the edges of Ovechkin's CCMs carve into the ice. So, if you Caps fans can keep it down a little so I can hear this phenomenon, I would really appreciate it. That on-the-ice experience will be the subject of next week's column.
In other news, how about these possible first-round playoff matchups in the East?
1. Boston vs. 8. Montreal: Classic NHL rivalry.
2. Washington vs. 7. Pittsburgh: Always an earth-shattering regular-season game.
3. New Jersey vs. 6. New York Rangers: No plane needed.
4. Philadelphia vs. 5. Buffalo: 1975 Stanley Cup finals.
I do think, however, that the Florida Panthers will make the playoffs.
---
Hey Bucci,
What do you think will be the peak seasons (in terms of G-A-P) for Malkin, Crosby and Ovechkin? They are all very young and still four to five years from their physical and mental primes, so it would seem the sky is the limit for these three, based on what we've seen from them so early in their careers.
Nick Lamb
Irvine, Calif.

As we have mentioned before, hockey is a young man's game. Wayne Gretzky scored 92 goals when he was 21. He was 23 when he had his most astounding season -- 87-118-205 in 74 games. Had he played all 80 games that season, we can assume a line of 93-130-223. The last of Gretzky's peak seasons came when he was 30 years old.
Mario Lemieux had his 85-114-199 season at age 23. At 27, Lemieux averaged 2.67 points per game in 60 games, compiling a line of 69-91-160. He had his last peak season at age 31, although his arc is harder to define because of his health.
Bobby Orr's peak years were from ages 22 to 27 before his knees gave out. He probably would have been dominant for four more seasons and really good for another five after that. His career high in assists came when he was 23. He was also a plus-124! Some Gallery God definitely won his fantasy pool that season.
Maurice Richard had his 50 goals in 50 games campaign when he was 23, during the 1944-45 season. Steve Yzerman's best season was 1988-89, when he had a line of 65-90-165. He was 23.
So, as you can see, age 23 was arguably Gretzky's best statistical year, Lemieux's most prolific season, Orr's best assist year, The Rocket's iconic season and Stevie Y's best season.
Ovechkin is 23, so we can assume his peak came last season or will come this season or next. He is on pace to finish slightly worse than his line of last season, 65-47-112. A torrid finish could help him surpass that by a little. Perhaps, if he stays red-hot, he could score 70 goals next season. History tells us this will be about his best. The way he plays, you have to think injury is inevitable and that his peak performance will last about five more years. Anything more is probably a bonus.
So far, Crosby's best season came when he was 19. His points per game have decreased each of the past two seasons, although he was injured last season and the Penguins have been a bit of a mess in 2008-09. He also is shooting less. His shots per game have decreased from 3.43 in his rookie season to 3.00 this season. He is 21, so his monster season could be coming. If he shoots more and gets good linemates, I imagine his peak in the next couple of years could read 45-101-146, although 38-94-132 might be more realistic given the parity, the continued evolution of better skaters and a net size that hasn't changed.
Malkin is 22 and, as we mentioned above, keeps getting better. Last season at age 21, his line was 47-59-106. This season, he is on pace for a line of 37-80-117. Unlike Crosby, Malkin is shooting more AND getting more assists. So, one could envision Malkin getting a line such as 54-90-144 in the next couple of years. I wouldn't be shocked to see a 61-101-162 season, but that would be if everything were to go right.
So, looking at the numbers and ages of the three players, I think Malkin has the biggest upside in terms of a monster statistical season. Appreciate these three now while you can. You are seeing just about the best they have to offer, and it will be gone before you know it. With their physical style of play and the quickening of the NHL's pace, I also worry that their peaks could be shorter, more along the lines of an NFL player's.
---
Bucci,
What is the deal with Jan Hejda of the Columbus Blue Jackets? Twenty-two minutes a game and a plus-21? After a plus-20 last year?
Don
Westerville

I asked my boy Aaron Portzline of The Columbus Dispatch to give us some inside Jan Hejda info. Aaron is one of my favorites because he can, over a beer in a Columbus bar, make the leap from alt-country to Czech defenseman. Here is Aaron's assessment of Hejda. To quote Young MC, "Break it down for me, fella":
When the Blue Jackets signed Jan Hejda in the summer of 2007, I got the following reports from scouts.
Scout No. 1: "Yawn Hejda. He does nothing for me."
Scout No. 2: "He has a prodigious butt." A strange observation, to be sure. But the second scout was right, and that's a good thing.
Hejda and his massive butt are two of the best-kept secrets in Columbus. Hejda is plus-41 in 139 games with the Blue Jackets, a massively "minus" club since it joined the NHL.
Hejda is hush-quiet. His partner, Mike Commodore, was born with a bullhorn in his throat. They're the odd couple, but they've been a great shutdown pair for Columbus this season. You know coach Ken Hitchcock. He likes his top pair to be able to blow skaters off the puck. Commodore and Hejda won't lug three zones and score, but they fit perfectly with what Hitchcock wants to do.
Hejda's a funny dude, too. When he scored his second NHL goal earlier this season, he deadpanned, "It's hard for me to say which of my goals is most beautiful." He also caused a furor in Canada's capital by calling out Ottawa's Jason Spezza after a recent game: "It's like he didn't even want to play."
Watch Hejda as he backs into the zone with a forward trying to get around him with speed. He has mastered the old-school hipcheck, and it's a beauty to watch as he slings his lower body into the hip of the forward in a flash, sending him halfway up the boards and flat on the ice.
What good is a big can if you don't use it?

Aaron, Sir Mix-A-Lot concurs, yo. Sincerely, Bucci.
---
Hey John,
Madeline was a hockey player and coach who was tragically killed on Continental Flight 3407. I hope you will make mention of her in your next mailbag. She is pictured below on the far right. She was the only female to play on her H.S. team, and both she and her family are well-known in the travel- and high school hockey communities. In addition to playing, she also coached younger kids in the summer at a hockey camp in Minnesota. I hope you and your readers will send prayers to the Loftuses.
Sincerely,
A hockey fan with a heavy heart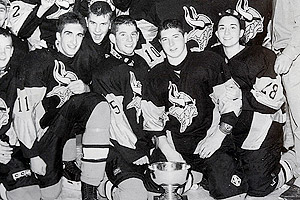 Madeline Loftus, 24, was a former Buffalo State College student who lived in New Jersey. She was on her way to a reunion/alumni game for Buffalo State's women's ice hockey team. Loftus played for State from 2002 to 2004.
---
Bucci,
You can learn much more sometimes by watching a team when it is struggling to find its pace, space and order on the ice. I am writing only to say that, yes, it is great when your team is winning, but watching perfection every night is not the reason we are fans, or at least not for me. Much like the reason I don't listen to only The Mars Volta's first album (a precise and near-perfect musical landscape), I want to see the fountain rise to fall, only to rise again. I will still be yelling at my television and filled with much anxiety as the Pens make the push, but even if they do not come out of their fog this season, when they do, I believe it will provide them with even more self-knowledge, which we all know leads to better actions in the world and on the ice.
Brandon Nelson
Philosopher Pens fan living in Las Vegas

I will now drink a quart of NyQuil and take a nap.
---
John,
I just wanted to share this picture with you. My good friend Joe Scarsella is the director of the Boys & Girls Club of Buffalo (Beecher Clubhouse). Joe puts in a great deal of time with these kids, being a positive role model for them and introducing them to the great game of hockey. The city of Buffalo and the Buffalo Fire Department all came together to help build this outdoor rink for the Boys & Girls Club. Thought you and your readers might enjoy.
Mike Sengbusch
Buffalo, N.Y.

Don Cherry would agree; never too many kids on the ice.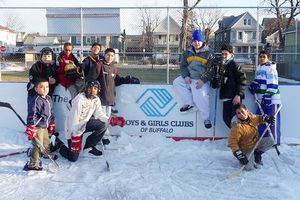 John Buccigross' e-mail address -- for questions, comments or crosschecks -- is john.buccigross@espn.com.