Shot of the Week
It's back. You know how it works: We present an NHL photo, and Bucci provides a caption. E-mail him your suggestions (include your name and hometown/state), and we will use the best ones and provide a new photo the following week.
LAST WEEK: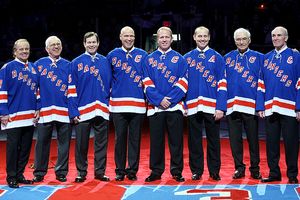 John Tortorella's Plan A. (Getty Images)
Your captions:
"We need one more for softball. Is Avery available?"
-- Andrew Bux (Pottstown, Pa.)
Duck, Duck, Duck, Moose!
-- Pete Calabrese (Absecon, N.J.)
"Psst ... Leetch, put your hands down. This isn't the Arsenal offside trap."
-- Alison Namour
"OK, boys, the next item on the list is teeth. Who has teeth?"
-- Duke (Phoenix, Md.)
"Screw the Gatorade; we want Geritol."
-- Joel Mattie (Largo, Fla.)
THIS WEEK: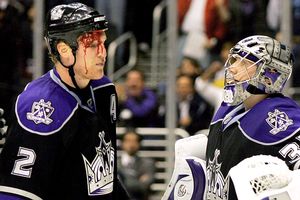 "Dude, O'Donnell put tomatoes in your helmet again." (Getty Images)
Our earliest experiences -- good, bad, evil and tender -- often shape us for life.
I was lucky. I had two affectionate parents, went to a good public school and lived in a friendly, hardworking man's neighborhood in a rural Pennsylvania college town of about 12,000. It's hard to lose with a start like that. It's like leading 5-1 after the first period. I had some bad experiences as a kid, but nothing much worse than receiving a power wedgie from a neighborhood upperclassman or throwing up in church.
There were seeds strewn everywhere, and I cultivated most of them through my own curiosity, a daily sugar high from three bowls of Apple Jacks and the support of teachers, coaches and family. The hockey seed was planted next to an old, white, AM-only radio my dad kept on his desk in the bedroom of our small, oddly shaped home. We had the Boston Garden/Chicago Stadium of homes: old, warm, small, nooks, crannies, obstructive views and a great family room/kitchen area for floor hockey games. My sister once broke her foot during a Sunday morning pre-church game. Thou shalt not covet thy brother's goal crease.
This was the 1970s, and there was no cable television yet in our neighborhood. Televised hockey games were jewels, the pink Starbursts of sports programming. The radio was the only reliable companion. My dad's ritual was to listen to the great Boston Bruins teams of the 1970s on WBZ Radio while he fiddled with his stamp collection at night. I was always stuck to Dad. The radio signal was 438 miles away, but as clear as your local station today and with a stronger, fuller sound than today's tiny satellite radio signal. In 2009, you can't hear WBZ in Connecticut thanks to all the atmospheric disturbances. In the 1970s, there was more space on Earth.
As I'd hear the goals scored through the white AM radio with the circular dial, and there were a lot scored by the Boston Bruins of the early 1970s, my dad would meticulously write down the scorers, in pencil, in a notebook. This possibly influenced my love of numbers and statistics. On Friday nights, he went out to dinner with Mom, and I would listen to the game and write down the scorers for him in much messier handwriting. He must still have that notebook because Dad saves everything. He still has canceled checks on his Buick LeSabre from 1978.
(My dad has bought five consecutive Buick LeSabres. C'mon, Buick! You owe him one. Sadly, the last LeSabre rolled off a Michigan assembly line on July 22, 2005. My dad poured a 40-ounce Miller Lite on the hood of his 2001 LeSabre as a tribute. He still drives it.)
Because I was raised on NHL radio, I am very sensitive to play-by-play announcers. Sadly, for me, they sometimes influence my overall enjoyment of a hockey game. They matter. Bob Wilson's one-man show on WBZ Radio 1030 was quite the show to measure others against. Wilson had an incredible voice with a powerful goal call that never lost its composure. People such as Wilson and the great Dan Kelly -- who called Bobby Orr's Stanley Cup-winning goal in 1970 on network television, as well as some of the great Canada Cup tournaments -- are yardsticks that shape children and help cultivate fans.
Nothing in sports is more parochial than the fan's tie to a local play-by-play announcer. The bond with the fan is created over time as the listener continually sees and interprets the game through the same prism as the broadcaster sees it and verbalizes it. Wilson's perspective became my perspective. This was especially true with radio announcers. We trusted them with the paintbrushes.
The local fan in, say, the case of the Buffalo Sabres, watches the game from the home team's point of view. The Sabres' play-by-play announcer, in most cases Rick Jeanneret, also does this. He does this primarily because he is paid by the team. He is the lead marketer. For someone such as Jeanneret, this becomes a natural exercise as a result of his long relationship with the team. He sounds as if he is rooting for the Sabres to win because he is, but he does it in a slightly different way than the viewer does.
Repetition, relationships and money with every playoff series won certainly creates a situation in which the local announcer "roots" for the home team or at least calls the game with it in mind. The announcer travels with and hangs around a team, so he or she gets to know the players and coaches. Also, in some small way, the announcer feels a part of the team, and there is no warmer feeling than being part of a group of people striving for the same thing passionately and collectively. The play-by-play announcer wants the team to win for many reasons: more people watch, it's more fun to talk about a winner and there's extra pay the deeper the team goes into the playoffs.
And I have no problem with any of this. I hear fans say, "He's a homer." Of course he's a homer. That's the local play-by-play man's job. Jeanneret is the Sabres' play-by-play announcer, so he must watch the game from a Sabres perspective. By doing that, he serves the customer. He is selling the Sabres' on-ice product. Just think of all the legends Jeanneret has created in Buffalo with his unique and insane descriptions. He has made some Sabres legends for life. I want the local play-by-play man to call the game from the home team's perspective. It's more fun.
Two issues, however, arise from this for you, the viewer:
Issue No. 1: You see the game only from the perspective of your team. As a result, you know your team better than anyone else does. You watch your guy fore check, and not the opposition's defenseman quarterbacking the breakout. You are watching from the perspective of how your guy angles on the forecheck, how often he anticipates correctly, how hard he is on the puck and a host of other details that national broadcasters and media don't know because they don't watch your team the way you watch your team. That's why I try to watch every game and get that home-team viewer's perspective for every team. That's why I respect your opinion of your team's players. You watch them from your perspective all the time. You know them better than most.
Issue No. 2: You have a hard time formulating an argument for opposing players because you don't watch them much, and when you do watch them against your favorite team, you still watch them from your team's perspective. One of my old "NHL 2Night" lines was that after Barry Melrose would accuse me of having a favorite NHL team, I would say, "Barry, I love all 30 teams equally."
Hosting a national NHL highlights show from 1998 to 2004 and writing this column from 2001 to present ("Murray. Prisent. Jemaine. Prisent."), I had to watch as many games as possible and watch them neutrally. But I soon found out that you don't learn as much watching a game that way. You learn far more from picking a team, watching the game from its perspective and temporarily becoming a fan of that team. So now, I take turns watching a game from one team's perspective and switching it off later; or, for the sake of judging a player or team, I just watch the whole game from that perspective. If you try to watch everything, you end up watching nothing. To get a true sense of what is happening, you sometimes have to put yourself in the other team's CCMs.
Understanding this dynamic helps to explain the great loyalty the home viewer has to a play-by-play announcer, especially one who is in a place for a long time. Jeanneret (Buffalo), Mike Lange (Pittsburgh) and Bob Miller (Los Angeles) have been in the same place for decades. Besides being great at what they do, they also have been calling the game from the home team's perspective for decades. And, as I said above, they should do this. The announcer creates a lasting bond with the local fan because he validates the viewer's interpretation with just about every word.
Just about every local fan thinks his announcer is the best because of the shared interpretation and judgment of events and an often-shared enthusiasm. A beloved local announcer needs to exude pain as well as pleasure. This is when he becomes loved. It also is a pleasure when an announcer such as Jeanneret acquires so much equity that he can call out a bad play by the Sabres or admit an official made the right call even if it was close and went against Buffalo. This is what we all should strive for: seeing and interpreting the just cause despite our perspective.
This attempt at neutrality also is why national broadcasters almost always are universally hated. They don't broadcast the game through one team's perspective, so fans interpret their broadcasting as not wanting their team to win. National announcers don't continually validate what one specific team is doing. I have been writing the following in this space for years and years: Barry Melrose, Keith Jones, Brian Engblom, Ray Ferraro and most other national announcers do not care who wins.
Once in a while, I receive a "why do you hate my team" e-mail, but not many. Viewers think this because the analyst is not watching the game exclusively from their perspective. It's one reason some nations war and some mothers and daughters or fathers and sons stop having a growing and vibrant relationship; one side never even considers the other side's perspective.
Joe Buck is my favorite play-by-play announcer in baseball, and I can't imagine anyone not enjoying his complete understanding of the game, the economy of words he chooses, the excellent big calls he makes and his voice inflections. But, a lot of fans think he and Tim McCarver actually care who wins, so some fans hate them.
BREAKING NEWS! They don't care who wins, people. Same goes for national hockey announcers. They may have a close relationship with a player on a team and may wish a player success, but it's not a long-term, palpable thing. Most people hate when their local TV announcers are shuffled aside once the exclusive national coverage begins. That's an added dynamic because hockey doesn't have exclusive national announcers like the other major sports. National NHL announcers in the United States also have local gigs, but they all put that aside because they have to try to call the game through both teams' perspectives. It's actually quite natural and not that difficult, and they all do it very well.
Yes, your play-by-play announcer is good. Some of you fans, like in Buffalo, have great ones. But it's hard for you to be the judge of this. Your perspective is one-sided, and you hear just about everything you want to hear. The announcer is preaching to you, the choir, and reaffirming what you see and feel. For the most part, this is fine. We have only so much time on our hands and might as well spend it with people who share our passions and beliefs. But it is very important and necessary to step back sometimes and see things from the other side's perspective. Sometimes, you can learn a lot.
Weekly Tribute to Jack Falla
The following is an excerpt from Jack Falla's "Home Ice." Falla passed away Sept. 14, 2008. We'll honor his memory each week with a few lines from one of his classic books:
"The hardest part of the job is pitching the snow over the 4-foot-high boards at one end of the rink. But by the time I work my way to that end, the job is almost done, and I find the same kind of extra energy one finds in the last few yards of a long run. I plan it that way. It makes the ice new again; that is the final and essential truth of shoveling. New ice is always a joy."
The Mother of All Mailbags
Hi John,
As a very casual hockey fan, I clicked on your season preview article on the ESPN front page because the photograph of a group of people playing outdoor hockey reminded me of Jack Falla. Somehow, just from that picture, I thought you might mention him. Needless to say, I was very sorry to hear why you mentioned him.
Having spent one semester in Falla's sports journalism class while completing my master's degree in 2005, I can say that he is just the legend you make him out to be. By the time a person finishes a graduate degree, he has had more than his fair share of teachers during the course of his life. He was the best I ever had.
His passion -- at 8 a.m. (he insisted on having class early so that his students wanted to be there) -- was entirely real. A class with him was the physical extension of "Home Ice." By the way, my semester with him just so happened to occur during the NHL lockout. You could tell sitting there that he missed his hockey. You could also tell that he knew the NHL was only so important in the grand scheme of life -- even a life built around the framework of hockey.
I hope you eventually do teach classes, and I hope that when you do, you teach them as he did. He will be missed.
Geoffrey Drewyor
"Don't be afraid to give your best to what seemingly are small jobs. Every time you conquer one, it makes you that much stronger. If you do the little jobs well, the big ones will tend to take care of themselves." -- Dale Carnegie
---
John,
No comment on the new U2 CD this week? I guess I can give you a pass since it came out on Tuesday and your column is published on Tuesday. Can I expect a blurb next week about it? Loved the Letterman appearances this week. The songs (as usual) sound much better live!
Bob
I still need some time. I'm a slow study. Track 4 is my favorite so far.
---
John,
I'm slightly offended that in your listing of "best" hockey play-by-play announcers, you failed to mention Rick Jeanneret. Nobody can match his enthusiasm, and nobody brings the game to life better whether you're watching it on television or just listening on the radio. He's been the voice of the Sabres for close to 40 years, and he's celebrated around Buffalo about as much as any player who has come through here. Countless highlights have been made unforgettable and legendary because of Rick. It will be a sad day when he decides to hang 'em up and turn over his mike to someone else. Let's hope that day is a very distant one. Nothing against those other guys you listed, but c'mon now, Jeanneret is the best announcer in the NHL, hands down.
Steve
Buffalo, N.Y.
He is definitely one of the best.
Bucci,
I completely agree with you on Bruins announcer Jack Edwards being insane. It seems every time the B's get near the net, he's going to lose it. His little sayings are so outrageous that NESN went so far as to develop a "Jack Edwards Bingo" card, allowing us viewers to keep track of what Jack yells out during the game. I haven't won yet, but I've been coming close lately. Not to mention he calls a fight so well that I foresee a career in boxing for him later on down the line.
Jake
Amherst, Mass.

Jack Edwards was always one of my role models as a young wannabe sports announcer when he worked in local sports and here at ESPN. What I appreciated about him and have tried to use in my work is the attention to detail. I remember how he did a skiing highlight a long time ago, and he described how the skier was on his "inside edge." It's a small thing, but I think it enlivens a highlight description when one gets technical, and whether that video is on tape or live, it has greater meaning. Now, one can go overboard in describing things and/or overthink them, but Edwards' curiosity and enthusiasm are his strengths. When announcers, or people for that matter, lose their curiosity and/or enthusiasm, they become deadweight and bring down anything they are a part of.
---
Hey Bucci,
How come Pekka Rinne hasn't been getting any Calder talk? Not only did he beat ROY fave Steve Mason in a head-to-head on Thursday, but his rock-solid play is the main reason the Preds are still in the playoff race. Come on, JB, where's the love?
Matt Benenson
Brentwood, Tenn.
If Pekka Rinne were to marry Michael Peca's sister and chose to take her last name instead of her taking his last name, he would be Pekka Peca. The 26-year-old Rinne is a 6-foot-5, 207-pound goalie from Finland. He was an eighth-round pick in 2004.
His numbers rank him among the elite goaltenders in the NHL this season, and he's very close to Steve Mason of the Blue Jackets. Rinne has a better save percentage and goals-against average than Roberto Luongo. Rinne leads the NHL in shootout save percentage. I still give Mason an edge in the rookie of the year category and I still have Tim Thomas of the Bruins as the clear-cut Vezina winner, but there's enough time left in the season for things to change. Everything should be weighted a bit this time of year because everything matters more.
Watching my son's squirt state tournament action this past weekend, I clearly could see how some kids shrink from the experience of heightened meaning, while others rise to the occasion. This also happens in the NHL.
---
Bucci,
I don't understand the deal the Flyers made. I am trying to assume that another deal was in place, but fell through. Moving Upshall was done only to clear cap space for a "big" move, which apparently didn't happen. Any insider info on this?
Chris
My sources tell me the Flyers were never really in on the Jay Bouwmeester dealings, if that was the big move you were talking about. As we mentioned last week, Scottie Upshall will be a restricted free agent after this season and will want a raise of more than the $1.2 million he is making this season. Dan Carcillo is signed at $890,000 for next season.
The Flyers need to save money wherever they can. Mike Knuble's contract ($2.8 million) will be up after this season, and he has proved to be a valuable player. He will turn 37 on July 4, so he wouldn't get any long-term offers from another team. Maybe the Flyers can sign him to a two-year deal with a salary of $3 million next season and $1.5 million in 2010-11. That would bring his cap number down to $2.75 million. Or they could just offer him a one-year deal at $2.5 million. Considering his age, the economy and the uncertainty of the salary cap after next season, it would not be an unfair position to take.
The Flyers also need a goalie for next season. Both of their goalies will be unrestricted free agents. Martin Biron is making $3.5 million, and unless he has an unbelievable playoff run and leads the Flyers to at least the Cup finals, one wouldn't think he'll make more than that next season. Antero Niittymaki's cap number is $1.2 million. If the Flyers believe they need to make an investment in net, they'll need to have the cap space to do it.
The Flyers have made some good decisions with some of their cap-hit contract signings in Mike Richards ($5.7 million), Simon Gagne ($5.2 million) and Jeff Carter ($5 million). They also have made some questionable ones in Daniel Briere ($6.5 million), Kimmo Timonen ($6.3 million) and Joffrey Lupul ($4.2 million). Timonen is the team's best defenseman, so that signing is not terrible. He probably is more of a $5 million guy. Briere's contract is a disaster right now, but if he can get healthy, he could do damage in the playoffs. You would think the Flyers would love to dump Briere's salary this summer, but that will be very difficult. During the next four years, his actual salaries will be $8 million, $7 million, $7 million and $7 million.
At $4.2 million per, Lupul could be a trade candidate at the draft, and he might be a good fit in Los Angeles or St. Louis or a place like that. Both of those teams have defensemen that Philadelphia might covet. The Flyers also could choose not to re-sign Knuble to absorb Lupul's raise.
Don't underestimate the salary cap and how it could heavily alter teams' plans after next season.
---
Bucci
My wife (a Blackhawks fan) and I (a Wild fan) recently debated formidable Q-Stache foes outside of the hockey realm. We came up with three, all with their own style. First, Tom Selleck's 'stache during his "Magnum, P.I." days. That 'stache fought crime and got the ladies. Second, The Walrus, Craig Stadler's 'stache. This 'stache survives the arctic cold and can command a whole walrus colony. Finally, Rod Beck's 'stache (may he rest in peace). This 'stache came with its own mullet for an awesome combination.
Blair
Bloomington, Ind.
Selleck? This one is close. It is a first-rate 'stache, especially when you consider the body-hair backup it gets from a beast like Selleck. Selleck is a rancher, so he is no 'stache poser. He shaved it for a while and found himself as a spa owner. He grew the 'stache back and became a rancher. That is no coincidence, my friend. That's nature. But if you were to do a side-by-side comparison, you would find the Q-Stache a slight winner in girth and coarseness. This might be the best battle yet. Selleck's 'stache was formidable in his prime. The magic of the Q-Stache is that he has gotten better with age. That's the definition of a legend.
Stadler? Stadler is an outdoorsman and loves hockey, but his bushy 'stache could never penetrate the Q-Stache. Q-Stache wins this match-play event easily, 5 and 4.
Beck? You can't let the mullet distract you. That was a fad from the "Full House" era. The 'stache is timeless, and the Q-Stache would take down Beck's 'stache AND John Stamos without even breaking a sweat.
"Courage is the most important of all the virtues, because without courage, you can't practice any other virtue consistently. You can practice any virtue erratically, but nothing consistently without courage." -- Maya Angelou
---
Bucci,
Nice summary response on the Ovechkin goal celebrations, and I agree that heartfelt exuberance is good for the game. But you totally avoided the "taunting" aspect. I'm a Pens fan, and maybe he does it only to get to Crosby, but it's there, and it looks ugly and personal.
Chris Lutzo
I haven't witnessed Ovechkin's taunting anybody, but if he does a little bit, so what? I doubt it would get out of hand. We don't care when fighters taunt benches or each other in the penalty box. We know it's part of the game, the passion that fuels competition. And I want my competition to be personal! It makes it more dramatic and interesting. As long as everyone can control himself and avoid doing violent, stupid things, we win. The Penguins-Capitals game Sunday was an unbelievable display of speed and skill. The game had an extra gear because of the growing animosity. Animosity is caffeine for sporting events.
Ilya Kovalchuk recently brokered a peace mission between Alex Ovechkin and Evgeni Malkin during All-Star weekend in Montreal. He did this for the benefit of the Russian Olympic team. There's a reason not to have Olympic hockey! I want as much fuel as possible in the NHL games I watch, and animosity brings that. There is too much fraternity in professional sports, and it dulls games at times. Animosity in sports is good.
---
Bucci,
I agree with you 99.9 percent of the time, but I think you have the [Santonio] Holmes thing wrong. Yes, he did do the LeBron baby powder throw. But it wasn't until after celebrating with his teammates on the ground, and then getting up and celebrating. In fact, it happened so late that the officials did not see it. If they had, he would have been assessed a 15-yard unsportsmanlike conduct penalty on the ensuing kickoff. The NFL said as much when it announced that he had been fined $10K for the act.
Tim
Canonsburg, Pa.
I would have penalized him 50 yards and fined him $50 million. And I was rooting for the Steelers! I long for the quiet class of Mel Blount. OK, this is a hockey column. No more football e-mails.
---
Bucci,
I just turned 36 on March 3. As I get older, birthday festivities lack most of the pomp and circumstance of days gone by. That was until this morning. I received an e-mail at work (from home). In the subject line, it said "Hi, Dad" and in the body, it said "Call Mom, please ... Love, Emilee." There were three pics attached. The best present I received was found when I opened up the second pic. Man, I am lucky!
Tom
Brian Burke traded your daughter's Maple Leafs Onesie to the Blue Jackets for a sleeve of Blue Jackets golf balls, a Blue Jackets Onesie and a $20 gift certificate to Steak n Shake.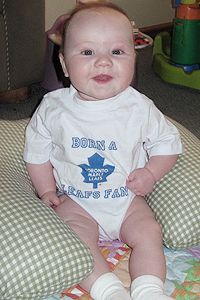 John Buccigross' e-mail address -- for questions, comments or crosschecks -- is john.buccigross@espn.com.