Shot of the Week
It's back. You know how it works: We present an NHL photo, and Bucci provides a caption. E-mail him your suggestions (include your name and hometown/state), and we will use the best ones and provide a new photo the following week.
LAST WEEK: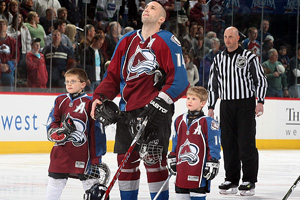 The Avs did whatever it took to increase their draft lottery chances. (Getty Images)
Your captions:
After the trade, the Sedin twins realize Ian Laperriere really IS that big!
-- Tony Thallman (Tiffin, Ohio)
"Someone better check his birth certificate. He's awful big for a mite."
-- Doug Hamilton (McMurray, Pa.)
"Your mother is going to kill me!"
-- Nick (Thunder Bay, Ontario)
"If this is the line they want me to play on, I am SO OUTTA HERE!"
-- Mike (Hawley, Mass.)
"So I guess no beer after the game if we win?"
-- Joel Baron
THIS WEEK: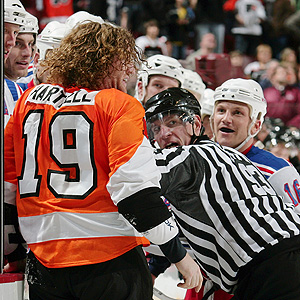 That hair would go great with my mouth full of licorice. (Getty Images)
Hockey has never let me down.
My contact with people in the hockey community is a little less frequent since the salad days of hosting "NHL 2Night," but I still touch base with them from time to time. And just about all of them share the similar qualities: kindness, generousness, human decency and humility.
Add Dave Hanson to the list.
Hanson appeared in the 1977 film classic "Slap Shot" as Jack Hanson, one of the Hanson Brothers, along with his former teammates Steve and Jeff Carlson and the late legendary film icon Paul Newman. Hanson appeared again with his fictitious brothers in "Slap Shot 2: Breaking the Ice" and "Slap Shot: The Junior League."
You can read more about Dave's hockey journey here, or you can check out his new book on his amazing life in the sport. It's called "Slap Shot Original: The Man. The Foil. The Legend." This is obviously a must-get book for hockey fans this summer. Nothing in the pop-culture category of hockey, outside of the Stanley Cup trophy itself, approaches the impact of "Slap Shot." To buy the book and other Hanson Brothers items, go to www.Slapshotoriginal.com.
I recently talked with Dave about his life and new book, written with veteran hockey writer Ross Bernstein.
Question from Bucci: Tell me about your childhood. What did your parents do?
Answer from Dave Hanson: Well, my dad, after getting out of the Navy, eventually settled in St. Paul, Minn. He worked for years at an auto parts warehouse. My mom worked mostly as a punch-press operator in an industrial factory. My mom and dad were typical blue-collar workers. I had a brother and two sisters, and we lived in a sports-oriented household. I played baseball, football and hockey. Between that and spending time at my grandma and grandpa's in Wisconsin in the summertime, I had a great childhood.
Q: Take us through the "Slap Shot" experience.
Hanson: It really wasn't much of an audition. "Slap Shot" came about because we had a player named Ned Dowd on our team in Johnstown, Pa. Ned was a former collegiate player. He had a sister in Los Angeles, Nancy, who was a screenplay writer. He started telling her about the kind of team he was playing for and the fact the mills were closing down in the area and the team might be sold. Out of those conversations, Nancy got the idea for a screenplay.
Eventually, they started to look at casting actors, but they couldn't find enough guys who could skate well enough, and so, they looked at the players. One plan was to give Jeff, Jack and Steve Carlson a chance to play the Hansons because, in real life, they were a real-life line of long-haired, glasses-wearing tough guys. And then the other part, Killer Carlson, was earmarked for me. But then Jack got called up to Edmonton to play in the WHA and they made a decision to pluck me from the Killer Carlson part and stuck me in as the third brother. We filmed the movie during the summer.
Q: How much did you get paid for doing "Slap Shot"?
Hanson: Well, from what I recall, it seemed to be in the neighborhood of $5,000-$10,000 and all the beer we could drink and all the food we could eat. That seemed like a pretty good deal to me. This is what life was all about for us. I was making $225 a week as a player. But I was single and it seemed like all the money I needed.
Q: Tell me about the premiere.
Hanson: The premiere was at Yale University. I can remember it being an odd group of people there. It seemed like a black-tie-and-gown crowd of Yale professors. The only people really laughing during the movie were the cast and crew! And afterwards, at the cocktail hour, everyone was standoffish. Maybe they were afraid of us biting their ears off.
It was also strange seeing yourself on screen and thinking of all of the things they left out. And the movie went by so fast after working on it for so long. But what I do recall at the premiere was laughing and laughing, and Paul Newman of all people just howling out loud. We all thought it was really funny. Nancy Dowd wrote so many great lines. It's kind of interesting. Even before the film came out, Universal Studios attempted to sign us to a seven-year movie contract deal. One script was about a roller-derby team. They had grand ideas for us. We didn't really have a clue. The movie was just a summer job for us. Our desire was the WHA or NHL. And we couldn't work out a plan where we made movies in the summers in our offseason.
Q: What are you doing now?
Hanson: I'm the general manager of the Robert Morris University Island Sports Center outside Pittsburgh. It's the region's premier sports and recreation center, located on Neville Island, nine miles from downtown Pittsburgh. It's open to the public year-round and is on a 32-acre site. We have ice rinks, indoor golf, track and field, and on and on. I spend my days here, and when I'm not doing that, I'm watching my son play hockey or I'm foiling up with the other two boys to try to raise some money for charity. We get hundreds of requests yearly, and we try to dwindle that down and do as many as we can.
Q: Tell me about your son, Christian, who recently wrapped up a college career at Notre Dame and scored his first NHL goal for the Maple Leafs.
Hanson: It's been quite an exciting ride. After watching him play through the growth of Notre Dame hockey and then coming close to winning the Frozen Four last year and then losing as a No. 1 seed this year, it's been a wild, roller-coaster spring. But then, two days later, he signs with the Toronto Maple Leafs. Pride was just bursting when we watched him play his first game in Philadelphia. I watched his first goal on television. Sue, my wife, and I almost put our heads through the ceiling after he scored. It was exciting, and crying [all around] and very emotional. Christian actually started out as a goalie and wanted to grow up to be Martin Brodeur. He actually met him as a kid. To score his first NHL goal against Martin Brodeur in a win is pretty incredible.
Part of a wonderful life in hockey. Read all about it in Dave's book.
The Mother of All Mailbags
Bucci,
What do you think Ovie's reaction would've been if he scored the game-winning goal in the national championship this weekend?
Dan from Hoboken
He would have spun himself through the ice and finished 10 feet underground.
---
Bucci,
First time writing in, and I'm hoping your musical expertise can help me out. But first, I just have to say that the last minute of regulation in the BU-Miami game was awesome, and the ending was heartbreaking to watch. It brought back memories of losing our state high school championship my senior year on a similar deflection.
This fall, I'm going to be running my first marathon and I need help figuring out where to put "Where the Streets Have No Name." It has qualities for a good starting song to get me pumped and ready for a good, long run, but it also has that pick-me-up quality that would be great for around miles 16-18 to get that last bit of energy ready for the final stretch. So Bucci, where should I put it?
Bob B.
Chicago
Definitely first, Bob. Save "Beautiful Day," "I Will Follow," "City of Blinding Nights," "In God's Country" and "Sort Of Homecoming" for your stretch run. "Bullet The Blue Sky" would be a good song to help get you through a wall.
---
Hi John,
Pretty sure I heard you drop a quick Bobby Orr reference during Top Plays tonight. It just happened to be Top Play No. 4 -- nice one! What are your thoughts on a Sharks-Caps final? If Theodore can come through and became phenomenal, I can see the Caps getting through anyone in their way, including the Bruins. For the Sharks, it'll come down to the leadership and performance of Big Joe and Captain Pat. What a final series that would be!
Ben Givarz
San Francisco
Whenever I do SportsCenter's Top Plays and I have the even-numbered plays, I say "No. 4, Bobby Orr." Sometimes I will throw in a "No. 2, Brian Leetch." Sharks-Caps final? Possible. Right now, I am leaning toward a Penguins or Capitals versus Sharks or Blackhawks final.
---
Bucci!
I know you want to talk playoffs, but my team is out and I'm just wondering how many more changes you think are in store for the Avs. Personally, I'd like St. Patrick to come on under Pierre Lacroix as an AGM for a year before fully taking over and maybe see Dale Hunter find his way back to the NHL again behind the Avalanche bench. If you were Lacroix for a day, what would you do?
Mark
Fairbanks, Alaska
The Avs have a lot of bad contracts on their roster. If I were them, I look to trade the older players and begin the process of getting younger. I would trade Milan Hejduk now while he has some value; at one year and $3.9 million, I think there would be a lot of teams interested. I think this organization is a ways off. If I'm Patrick Roy, I don't take over the team now. I would trade everyone I could, basically give up on next season and get another top draft pick. Then, I would look to make a move with Roy in the summer of 2010. Then again, next season could be a good year for Roy to get his feet wet as an NHL coach.
---
John,
First off, thanks for plugging [Evgeni] Malkin for the Hart Trophy. This may be sacrilegious around here, but I like watching him over Sidney Crosby.
Just a quick note on the entire "GPS puck" idea -- it's entirely doable, just not with GPS technology. It would be much easier to incorporate those things into a solid puck as opposed to a hollow football, so I can't imagine it's too far off.
Andrew
Pittsburgh
The Penguins have 13 scoring titles in the past 21 seasons -- Mario Lemieux (six), Jaromir Jagr (five), Sidney Crosby (one) and Malkin (one). Malkin won this season's crown with 113 points. Crosby finished third (103).
---
Dear JB,
Looking at the MVP situation, now that Malkin has won the Art Ross, it seems clear cut to me. I mean, last year, Ovechkin was the one on a team who finished lower in the standings to the Pens and edged Malkin 106-102 in the scoring race. This year, Malkin is on the team that finished lower in the standings to the Caps (i.e., the Caps were the better team this regular season) and edged Ovechkin 113-110 in the scoring race. The situations are almost identical and it would be hypocritical on the league's part to short-change Malkin who is also clearly the better two-way player. This was Malkin's year from start to finish and the Hart should be his. You feelin' me on this one?
Zach
I'm feelin' ya, yo.
---
Bucci,
First off, I just finished reading "Jonesy" and it was one of the most uplifting books I've read in a long time, not to mention entertaining. That "What do you mean drafted? We're going to war?" line from Jonesy to his dad had me laughing for hours. You both did a fantastic job bringing his story to life! Second, in keeping up with the tradition of fans discussing their significant others, I gotta mention my girlfriend Ashley, who I've been dating for almost two years now and who also bought me your book! She even went so far as to e-mail you, asking you to sign it, to which you graciously said yes, but it wouldn't have gotten back to me in time for Christmas so it didn't happen (but your thought was there, so no hard feelings!).
She was born and raised in Florida, lives and dies for the FSU Seminoles and never knew a thing about hockey until I arrived from New York. Needless to say, she's slowly becoming as big of a Rangers fan as I am. I gave her my old Gretzky jersey, and whenever I'd be having a bad day, she'd put it on just to make me smile. I attached a photo of us together at the Rangers/Lightning game this past season. As I've heard so very often in your column, "She's definitely a keeper!"
Frank Filipo
I'm a sucker for a "Jonesy" reference and a beautiful lady who shares in your passions. Well played, Frank. Well played.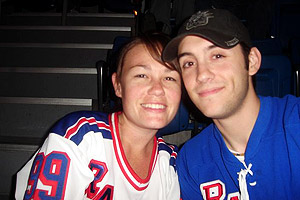 John Buccigross' e-mail address -- for questions, comments or crosschecks -- is john.buccigross@espn.com.