Stock Up, Stock Down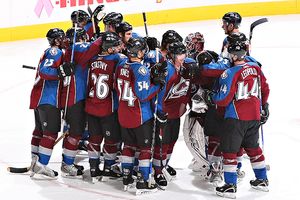 Stock Up: Despite all preseason prognostications that suggested the Colorado Avalanche were headed nowhere this season -- and a 0-3-0 start that reinforced that notion -- they suddenly are the hottest team in the NHL. After defeating undefeated-in-regulation Buffalo in a shootout Saturday, the Avs have an NHL-best five-game winning streak. Sixteen different Avs have scored at least one goal under new/old coach Tony Granato.

Stock Down: Only in Philadelphia does a fan throw some sort of incendiary device on the ice. As the Devils and Flyers were embroiled in a dramatic overtime session late Saturday afternoon, some moron threw what looked to be some kind of highway flare onto the ice, creating a cloud of yellowish smoke near the Devils' bench. Guess locals were all out of octopus.
Moments later, Jeff Carter scored the winner for the Flyers, who took both ends of a home-and-home series with the Devils this past weekend. Two points in the standings, and another black eye for Philly fans. Not that they care much about what other people think of them. This is the team, after all, whose playoff slogan was "Vengeance Now." What is it this season, "Bombs Away"?
-- Scott Burnside
1. Is Barry Melrose or Len Barrie pulling the strings in Tampa Bay?
We watched with interest during "Hockey Night in Canada's" weekly Hotstove segment Saturday -- and not just because our pal Pierre LeBrun was in his usual seat on the panel.
Veteran hockey writer Al Strachan reported that sources told him that during the Lightning's season-opening weekend in Europe, co-owner and former NHLer Barrie was in the dressing room diagramming power-play and penalty-killing strategies. Strachan suggested the Bolts were "imploding" and that "the league over/under" on Melrose was mid-November.
On Sunday, Lightning co-owner Oren Koules, who was in Europe for those two opening games (both losses) versus the New York Rangers, told ESPN.com that the report was "a blatant lie. It never happened."
We happened to be in Europe as well, and although we didn't hear any buzz that Barrie was offering his assistance to the coaching staff (or interfering), we weren't in the dressing room for pregame sessions. Still, Koules said that Barrie has been very hands-off and respectful of the staff, which includes former Minnesota Wild forward Wes Walz, longtime NHLer Rick Tocchet and Cap Raeder, Melrose's former assistant in Los Angeles.
Koules said there are no plans to make changes with the coaching staff. "We're actually very happy."
During the preseason, most observers believed that the team, the subject of a dramatic overhaul, would struggle with its goaltending and team defense. Yet, seven games into the season, Mike Smith leads all netminders with a .941 save percentage, and the team is seventh overall in goals allowed per game. The Lightning are 1-3-3.
But the team has fallen far short of expectations on the offensive side of the puck. The Bolts have managed to score just 11 goals in seven games, the worst in the NHL by a wide margin.
Ryan Malone and Radim Vrbata, who each had 27 goals last season, have combined for one goal and one assist. No. 1 draft pick Steven Stamkos has yet to register a point, and his performance has created all kinds of rumors that he'll be sent back to junior.
But that won't happen, Koules said. The Hollywood producer added that Stamkos is in it for the long haul, and he thinks it's only a matter of time before the Lightning's offense will round into shape.
"I think our problems are fixable," Koules said.
2. Who cares how much the Wild have offered Marian Gaborik?
Marian Gaborik's agent, Ron Salcer, has gone to great lengths in recent days, including talking to ESPN.com's Pierre LeBrun, to dispel what he says are misconceptions about how much money his client is looking for and/or been offered by the Minnesota Wild.
Fair enough. But who cares?
The issue isn't whether Gaborik is looking for $9 million or $10 million annually over six or seven or eight years; the bottom line is, he isn't worth a fraction of that. He's not worth it to the Wild, and unless another GM takes leave of his senses (hey, it happens more than one might imagine), no one will come close to giving Gaborik that kind of money.
Although immensely talented, Gaborik is injury-prone and has a history of disappearing come playoff time. Witness his spectacular fade last spring when he tallied just one assist in six games of the Wild's first-round loss to the Colorado Avalanche. In this salary-cap world, few teams can afford to pay a franchise player to perform at less than a franchise-player level, and they certainly can't afford to do that over seven or eight years.
As attractive as Gaborik's skills might be, his inability to lead the Minnesota Wild anywhere close to contention will be a giant red flag to every other team in the NHL. Or it should be. The good news for Minnesota GM Doug Risebrough is that his team has yet to lose in regulation while playing mostly without Gaborik, who is hurt again. That means there's little external pressure to move Gaborik in the near future. The bad news: At some point, Risebrough may end up having to dump the gimpy Slovak forward for far less than one might have imagined. Gaborik can become an unrestricted free agent in July.
3. Speaking of potential free agents with diminishing value, what's up with Jay Bouwmeester?
Good question. The Florida Panthers are off to a typically uninspired start (4-4-0) and are pretty much where you'd expect them to be in the standings, 10th in the Eastern Conference.
As for Bouwmeester, the big defenseman is again leading all NHLers with an average of 29:27 in ice time per night. He led the league last season, too. But what he's doing with all that ice time has been bedeviling observers. In 2007-08, Bouwmeester managed just one point in his first eight games. This season, it's more of the same from Bouwmeester (one lonely assist in the Panthers' first eight games), who can become an unrestricted free agent in July. For a player who looks ready to be an elite defenseman and presumably wants to be paid like one by either the Panthers or another team, Bouwmeester isn't doing much to create a hot marketplace for his skills.
Bouwmeester's lack of offensive production, coupled with an early injury to newcomer Bryan McCabe, has left the Panthers tied for 26th overall in goals per game, again making them a team that will scramble to stay in the playoff hunt. Until Bouwmeester starts putting up some points, getting good value for him will be an increasingly difficult job for GM Jacques Martin.
4. Is signing veteran defenseman Bret Hedican another trip down memory lane for Anaheim GM Brian Burke?
Ah, not quite. Unlike the case of last season's ill-advised signing of Todd Bertuzzi, Burke seems to be going with his head, not his heart, on this one. Hedican and Burke do have a history, just not a warm and fuzzy one.
"I don't think there's a real comfort there," Hedican told ESPN.com. "He traded me out of Vancouver."
Burke is less diplomatic.
"He was sour. He was sour when I moved him," Burke told ESPN.com. "He didn't talk to me for about a year and a half."
That was in January 1999, when Burke was forced to move star forward Pavel Bure (in a deal that included Hedican) to the Florida Panthers for Ed Jovanovski. Burke went on to win a Cup as GM of the Ducks in 2007, while Hedican won a Cup in Carolina in 2006.
The two hope their second go-round will have a happier ending than the first.
The Ducks, who are off to a slow start, were hoping that Kent Huskins could play four minutes along the blue line with Scott Niedermayer, Chris Pronger and Francois Beauchemin. "But he had some early struggles," Burke said.
Hedican, 38, had turned down a trade to San Jose at the deadline in February, preferring to gut it out with the Canes. "I just didn't want to quit on my Carolina Hurricanes," he said.
In the offseason, though, Hedican relocated to the West Coast with his wife, former Olympic figure skating champion Kristi Yamaguchi, and their two children, and was looking for a good fit.
Although he received offers from a handful of other teams, Hedican had hoped there might be an opening in Anaheim, especially after Mathieu Schneider moved on to Atlanta. Burke was looking for a defenseman who could help move the puck and who didn't have to learn on the job. Hedican has joined the team but has yet to see action, although that seems to be just a matter of time.
After starting the season with four straight losses, Anaheim has now won four of five, including three straight over Toronto, Ottawa and Montreal.
5. Does Sergei Samsonov's start come as a surprise to anyone?
If you had to pick one player who got a nice offseason paycheck but was likely to come up flat, wouldn't Sergei Samsonov have been at the top of your list? If not, then certainly he should be now. Samsonov was one of the feel-good stories of last season, when he was reclaimed off the NHL discard pile by the Carolina Hurricanes. But he has come up empty in the early parts of this season.
Samsonov had essentially been run out of town by both Montreal and Chicago before Carolina GM Jim Rutherford caught lightning in a bottle by claiming the forward off waivers on Jan. 8. Carolina was decimated by injuries, and Samsonov chipped in 32 points in 38 games as the Canes fell just short of a playoff berth. The Russian scored two game-winners and was a plus-6. But after signing a three-year deal worth $7.6 million in the offseason, Samsonov has recorded zero points and is minus-3.
Scott Burnside covers the NHL for ESPN.com.