Stock Up, Stock Down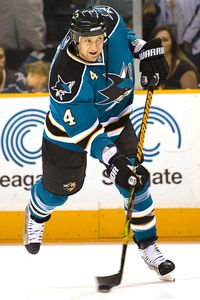 Stock Up: San Jose's Rob Blake, the soon-to-be 39-year-old defenseman, started the season like a man with a bit of rust on his game, putting up just five points in his first 13 games after signing with the Sharks as an unrestricted free agent during the offseason. Of late, though, Blake is showing he still has a lot left in his legs, as he has collected 13 points in his past nine contests, including a four-assist effort against Washington on Nov. 22. Blake began the week third among all NHL defensemen with 20 points.

Stock Down: Mike Ribeiro managed to pot a goal in Sunday's 4-3 Dallas win over Edmonton. Maybe this will be the start of something good for him and the Stars, both of whom have been poster kids for underachieving so far this season. In 2007-08, Ribeiro was the toast of Dallas, an All-Star, leading the Stars with 85 points and finishing second on the team with a career-best 27 goals. Dallas management was so impressed they signed Ribeiro to a five-year contract extension in January. Sunday's goal, however, was just the second in the past 15 games for the Montreal native. And the Stars? Despite their win, they remain dead last in the Western Conference.
-- Scott Burnside
1. Whatever happened to that really good player Alexei Kovalev?
Unfortunately for the Montreal Canadiens, the great Alexei Kovalev -- the one that generated Hart Trophy talk and ended up leading the NHL in power-play points last season -- has gone AWOL. Poof. After the Habs' 3-2 win Saturday against Buffalo, Kovalev has gone 13 games without a goal. He has just five goals so far and is fourth in team scoring.
We know the what; the why is harder to figure out. The Habs have more offensive tools this season with Alex Tanguay and Robert Lang coming aboard, and whether that has somehow disrupted Kovalev's karma is unknown, but the gifted forward definitely has become more pedestrian after embracing a leadership role with the team last season. One thing is certain: The lovefest with the Russian is definitely waning, as the Habs are just 4-4-2 in the past 10 games. Kovalev's failure to put up meaningful numbers puts more pressure on GM Bob Gainey, who has a slew of potential unrestricted free agents coming up at the end of the season. Would Gainey consider moving Kovalev at the trade deadline if his protracted slump continues? Interesting times ahead, to be sure.
2. Has Rick Tocchet turned around the fortunes of the Tampa Bay Lightning?
Uh, no. Maybe it wasn't all Barry Melrose's fault after all. After Melrose was unceremoniously ousted 16 games into his return as a head coach, the Lightning are 1-3-3 since Tocchet took over and have sunk to the bottom of the Eastern Conference standings, tied for last with Southeast Division foe Atlanta.
One of the team's many problems has been its inability to get out of the gate. The Lightning have given up at least the first goal in 14 of 23 games and have won just twice in those contests (2-8-4). That speaks to a team's unfocused mindset, one whose preparation is lacking. And it's not much better when the Lighting do score first: They are 4-2-3 (tied for last in the NHL) in those games. The ever-shifting lineup is likely contributing to the inconsistency, but it's clear Tocchet has his hands full in trying to turn this ship around.
3. Does it really matter how good your power play is?
No. But we also think goaltending is overrated, scoring is luck and it's OK to announce your home crowd as 18,000 even if you've given away half your tickets and there are only 500 real human beings in the building.
OK, a little sarcasm there.
Yes; in this NHL, if you can't produce on the power play, your chances of making the playoffs diminish dramatically, and the probability of advancing in the playoffs starts to fall off the map.
Last season, seven of the top 10 power-play producers made the playoffs. Out of the top five -- Montreal, Philadelphia, Detroit, Pittsburgh and Tampa Bay -- only the Lightning didn't make the playoffs (they were dead last; go figure). Meanwhile, Montreal advanced to the second round, Philadelphia went to the Eastern Conference finals, Pittsburgh went to the Cup finals and Detroit won it all.
On the penalty-killing side, seven of the top 10 teams made the playoffs, but only one of the top five teams (Dallas) advanced in the postseason.
This season, Detroit is the runaway leader in power-play efficiency (32.3 percent) compared to No. 2 Minnesota (24 percent). St. Louis, Boston and San Jose round out the top five. With the exception of St. Louis, all of those teams are almost certain to make the playoffs, and there's a pretty good chance your 2009 Cup champ comes out of that group.
On the penalty kill, Minnesota (see a trend with Jacques Lemaire's squad?), the New York Rangers, Buffalo, Ottawa and Philadelphia round out the top five. There are certainly fewer Cup favorites among this group.
4. How does Brian Burke's arrival in Toronto affect the possible formation of the U.S. Olympic coaching staff?
Don't know for sure, but it does set up an interesting dynamic. The Olympics are always an emotional time, and no matter what anyone says, there will always be bitterness on the part of those overlooked. This will be especially true in 2010 in Vancouver, as there is a strong possibility this will be the last go-round for NHLers at the Games.
In 2002, Wayne Gretzky was essentially a free agent when it came to naming a coaching staff and roster for Canada's team. He didn't have to worry about coming back after the tournament to a sulky player. Ditto for Steve Yzerman, who will build the 2010 Canadian team. In 1998, however, there were questions raised after GM Bob Clarke named Eric Lindros captain of the Canadian squad (Lindros also played for Clarke in Philadelphia). Canada underachieved, and Lindros ended up leaving the Flyers after a bitter feud with Clarke.
This brings us back to Burke, the GM of the U.S. squad for 2010. There aren't any Americans on the Leafs' roster who will garner attention for an Olympic spot (with all due respect to Jason Blake), but there is the now potentially awkward situation with Leafs coach and longtime friend Ron Wilson.
Once upon a time, Wilson would have been a no-brainer to be the U.S. coach, but that was a long time ago. He led the Americans to a seminal victory in the inaugural World Cup of Hockey in 1996, but the U.S. team coached by Wilson in Nagano in 1998 embarrassed themselves, on and off the ice. Wilson was back to coach the U.S. squad at the 2004 World Cup of Hockey, but there were problems with veterans like Brett Hull, and the Americans appeared as though they could hardly wait for the tournament to be over.
Hurricanes bench boss Peter Laviolette, a Cup winner in Carolina in 2006, coached the 2006 U.S. team in Torino. John Tortorella, currently a broadcast analyst in Canada and a Cup-winning coach, headed up the U.S. squad at the World Championships last spring. There's Mike Sullivan, once again an assistant in Tampa Bay, who was also an assistant in Torino and will likely be part of any U.S. coaching staff.
Burke will likely name his coaching staff late next summer. What if Wilson isn't on it? How does that affect the relationship in Toronto, where there is a long road back to respectability? If Wilson is named coach, will it be because of their relationship, both on and off the ice? The problem is, Wilson isn't likely to earn the head-coaching job based on his recent résumé. He was fired after being unable to get a talented San Jose Sharks team over the hump, and is not likely to get the Leafs to the playoffs this season. Did we mention this could be awkward?
5. Remember when Ilya Bryzgalov looked like manna from heaven?
Yes, Ilya Bryzgalov's arrival in Phoenix on Nov. 17, 2007, helped keep the Coyotes in the playoff hunt until past the All-Star break. Back then, it was Phoenix's lack of offense that kept it from the playoffs, not the play of the charmingly flaky Bryzgalov. Not so this season. With expectations raised in Phoenix (unrealistically so, as it turns out), Bryzgalov has been between ordinary and miserable. After giving up two goals on the only two shots he faced against San Jose on Saturday, Bryzgalov was given the heave-ho by coach Wayne Gretzky. Perhaps it's been the challenge of becoming a No. 1 netminder for an entire season, but Bryzgalov has gone off the rails and hasn't won in six straight appearances.
It's a good thing the Coyotes have a solid backup (a relative term) in Mikael Tellqvist. In four starts since Nov. 22, Tellqvist has helped stabilize the up-and-down Coyotes with a 2-1-1 record and has given up two or fewer goals in three of those games.
Tellqvist, the 70th overall pick in 2000, was once the darling of the Swedish national program and the heir apparent to the goaltending throne in Toronto. Although he's slated to become an unrestricted free agent this summer, look for the Coyotes to offer Tellqvist a one-year deal to hang around the desert. Still, if anyone thinks Bryzgalov is done in Phoenix, they'd better think again. Former NHL netminder and longtime broadcast analyst Darren Pang said he thinks Bryzgalov still has great tools.
"I think there's no question Ilya Bryzgalov has the talent to be a top-five goalie in this league," Pang told ESPN.com on Sunday. "[But] the process of learning to be a No. 1 goaltender isn't just in the net. It's working hard in practice; it's endearing yourself to your teammates.
"I think he's going to be fine, but right now, Tellqvist is on top of his game and playing better," Pang said.
Scott Burnside covers the NHL for ESPN.com.