Stock Up, Stock Down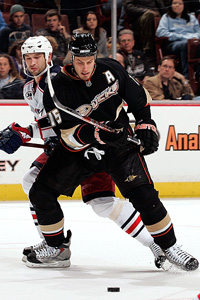 Stock Up: Ryan Getzlaf has recorded at least one point in all but two matches. He single-handedly dispatched Columbus on Sunday with a hat trick and is fourth in NHL scoring with 34 points.

Stock Down: When Rod Brind'Amour collected an assist and finished Sunday's victory over Washington with a plus-2, it stopped a streak that had seen him with a zero or minus rating in 20 straight games. Overall, Carolina's inspirational leader is minus-20 on the season, dead last in the NHL.
-- Scott Burnside
1. Are we about to see a changing of the guard in the Norris Trophy balloting?
Well, it's early, but returns so far suggest we will see a serious challenge to Mr. Norris, Nicklas Lidstrom of the Detroit Red Wings. Lidstrom is still a great player, no question, but he ranks 12th among NHL defensemen in scoring and is a rather ordinary plus-7 on a Red Wings team that has struggled defensively at times this season.
The guy we're interested in is at the top of that scoring list, Shea Weber of Nashville. A lot of people were amazed at his play at the 2005 World Junior Championship, when he shined on a Canadian team with luminaries like Dion Phaneuf and Braydon Coburn. Injuries hampered Weber's development last season, but he has slowly established himself as one of the best young defensemen in the game. He leads all rear guards with 25 points and 11 goals, two of which have been game-winners.
"I think Shea is more like the tortoise in that his steps are a little smaller, but he just keeps moving forward," Nashville coach Barry Trotz told ESPN.com.
Last season's high-ankle and knee injuries limited him to 54 games and affected the velocity and accuracy of his shot, Trotz said.
This season, that's not an issue, and Weber has used his cannonlike shot to help the Predators stay in the playoff hunt in the Western Conference. Weber, who is second in team scoring, also came to camp more filled out.
"He just got massive," Trotz said of the 6-foot-3, 213-pound Weber. "He's just gotten better and better. He's going to be as good a defenseman as there is in the National Hockey League."
Trotz added that Weber's stick play and ability to block passes and disrupt offensive opponents have also improved.
"He has good self-analysis. His leadership is starting to come out, too," Trotz said. "I always say he reminds me of a young Rob Blake."
Hmm. Could make for some interesting choices come voting time in the spring.
2. Do you think the Atlanta Thrashers will trade Ilya Kovalchuk?
It's hard to imagine any circumstances under which Ilya Kovalchuk will want to remain in Atlanta beyond the end of next season, when he can become an unrestricted free agent. But the main question that has to be answered by ownership is who is going to be running this team. At one point last spring, there was serious discussion about moving GM Don Waddell into a non-hockey role, but ownership couldn't decide on that and Waddell remains the only GM the team has had.
The Thrashers moved into 14th in the Eastern Conference after beating the New York Islanders on Saturday, but have the second-fewest points of any team in the NHL and will almost certainly be a draft lottery team for the second straight season. The season-ticket base has dwindled, and there is little in the way of help coming through the system.
So, ownership, embroiled in legal battles and infighting, must at some point get their heads out of the sand and make a decision on the future of this club, and the future starts at the top.
If Waddell is the man, if the Thrashers really believe he can get full-market value for Kovalchuk, not to mention draft another cornerstone prospect after selecting Zach Bogosian with the third overall pick in June, then they should sign Waddell to an extension and tell everyone they've done so. (In the past, they've curiously kept those decisions to themselves, as though it was some sort of state secret instead of a chance to promote their product.) Then, they should instruct Waddell to get what he can for Kovalchuk.
The package Waddell got in return for last season's Marian Hossa trade, another star who saw no future in Atlanta, doesn't appear to have given the Thrashers fair market value. The Thrashers received a first-round draft pick and a character player in Colby Armstrong, but Erik Christensen isn't delivering much offense (three goals in 31 total games with Atlanta) and prospect Angelo Esposito remains more a project than a given. So, does ownership entrust Waddell with selling off another major piece of the franchise? Asked and answered.
There's no hurry to move Kovalchuk, but this spring's draft has a couple of sure-fire building blocks at the top of the class, and Kovalchuk, whenever he is moved, should offer a decent package of top-end prospects, top picks and at least one position player. Given the sorry state of the current team, there's no reason to drag out the process. Might as well start building now as opposed to next summer or the summer of 2010.
As for alienating fans, it's far too late to worry about that in Atlanta; the question is who should be pulling the trigger on what will be the franchise's most important trade.
3. Is this the week Mats Sundin decides where he's going to play?
Sweet mother of hockey pucks, we really hope so. We haven't slept a wink since the start of the season, waiting for the big guy to bring down word from Mount Olympus on where he will suit up for the rest of the season. I just hope there's enough space on the World Wide Web to fully honor Sundin's decision when it happens. Just wondering whether the announcement will come in the form of smoke signals, a la the Vatican? No doubt network television programming will be interrupted to acknowledge the moment. Years from now, people will reminisce, "Where were you when Mats made his decision?" No doubt Sweden will be minting a new postage stamp to honor the event. We just hope the anticipation doesn't cause hockey fans and writers to spontaneously combust before it happens.
4. Aren't you sick of all the Sean Avery talk?
Yes, but it won't stop us from offering this thought. Why does everyone seem so caught up in comparing Avery's six-game suspension (about the right amount) with many of the other suspensions handed down for on-ice aggression -- suspensions we agree are, more often than not, pitifully weak? The two have absolutely nothing to do with each other.
You want to argue whether Doug Weight should have been suspended for crushing Brandon Sutter? Have at it. Want to wonder about Mattias Ohlund getting four games for breaking Mikko Koivu's leg with a slash last season? All for it. But how on earth does Avery's six-game suspension for his loutish comments last week relate in any way to on-ice discipline?
The NHL has, admirably we suggest, established some standards for off-ice behavior. Mark Bell received 15 games after pleading guilty to a drunken-driving incident in San Jose in which he nearly killed an innocent man and then fled the scene. Rick Tocchet essentially received a two-year ban while the NHL and the legal system sorted out the gambling fiasco in which Tocchet was involved in Phoenix. Last season, unbeknownst to many, Darren McCarty visited with commissioner Gary Bettman to talk about his efforts to overcome alcohol and drug problems and return to the NHL. Bettman decided it would be better for all concerned if McCarty rejoined the game as opposed to suspending him, as Bettman could have done for McCarty's admission that he had used marijuana. In the end, McCarty and his family celebrated his fourth Stanley Cup victory, and his story remains an inspiration to many.
We've been beating the drum about the NHL's need to dramatically revise how it handles on-ice discipline. It's flawed and wildly inconsistent. But it has nothing to do with Sean Avery, and to suggest it does merely muddies the waters.
5. Do you think Paul Holmgren is happy he wasn't able to move Jeff Carter at last season's trade deadline?
No, he'd probably rather have the soft, rosy-cheeked Tomas Kaberle being knocked off the puck every five seconds than have the NHL's leading goal scorer. Ha, ha, ha! But, seriously.
They often say the best trades are the ones a GM never makes. Sure, Holmgren was looking to bulk up on the back end for the stretch run last season. Remember, the Flyers weren't even guaranteed a playoff berth when the trade deadline passed in late February. The Flyers seemed to have plenty of offense, and Carter, who had scored four goals in the first five games of the season but then had just seven over his next 27 games, looked expendable.
Had Kaberle, one the famous Muskoka Five in the Leafs lineup who refused to waive his no-trade clause at the 2008 deadline, agreed to the deal, Carter would be the centerpiece of Brian Burke's rebuilding program in Toronto. Instead, the dynamic 23-year-old center has blossomed this season with a league-best 19 goals (tied with Thomas Vanek of Buffalo).
Carter's size (6-foot-3, 200 pounds) and laser shot have made him an important part of a Flyers offense that ranks fifth in the league in goals per game and has renewed visions of a long playoff run. More impressive, Carter has chipped in four game winners, and 12 of his 19 goals have come at even strength. So, what was the question again?
Scott Burnside covers the NHL for ESPN.com.