Stock Up, Stock Down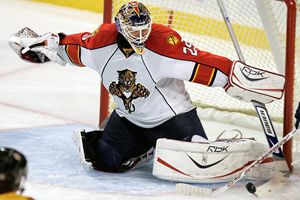 Stock Up: After a miserable start to the season, veteran netminder Tomas Vokoun, who also happens to be the Panthers' second highest-paid player behind Bryan McCabe with a $5.5 million ticket this season, is finally starting to round into form. Vokoun is 3-0-1 in his past four starts and hasn't allowed more than two goals in an appearance over the past month. Along with the surprising Craig Anderson, Vokoun has given the Panthers the kind of consistent goaltending that playoff teams almost always boast. In the past 10 games, the Panthers are 7-2-1 and have crawled back to within three points of eighth place in the Eastern Conference with two games in hand.

Stock Down: No NHL team has fewer road wins than the Ottawa Senators (three) and no team has scored as few goals on the road (22). All of which explains why the Sens look to be a long shot to make the playoffs. Two seasons ago, when they went to the Stanley Cup finals, the Senators were the highest-scoring road team in the NHL.
-- Scott Burnside
1. What do you think of the "code" everyone talks about in hockey?
Code Schmode. It's like an area code: It changes from team to team, state to state, province to province. In general, the "code" goes something like this:
Don't be a jerk unless being a jerk on the ice gets the other team off its game and enhances your chances of winning. Don't embarrass yourself or your teammates, especially in public or to the media, and have your teammates' backs, even if they are, well, jerks.
There are variations, of course, but that's basically it.
At the end of the season, though, it's entirely possible the "code" will have cost the Columbus Blue Jackets their first playoff berth. During a tough, sometimes chippy game in Dallas on Thursday, the team's top young center, Derick Brassard, took offense to a hit on teammate Fedor Tyutin. We were at the game and don't recall it being an egregious hit, but that's neither here nor there.
Brassard challenged another rookie, James Neal, to go, and they went. But it was brief. After a few seconds, the 21-year-old Brassard could be seen saying, "Stop, stop." That's because his shoulder was already injured. Neal, a quality young man, did stop before doing further damage.
Later, as the Blue Jackets headed for their bus and a charter flight to Phoenix, Brassard stopped by the Stars' workout room to thank Neal. By that time, Brassard's arm was in a sling. The team later announced Monday that the rookie will have season-ending surgery in January to repair his dislocated right shoulder. Brassard was tied for the NHL rookie scoring lead with 25 points (10 goals, 15 assists) in 31 games and was an impressive plus-12.
Brassard told Columbus Dispatch beat writer Aaron Portzline he knew it wasn't his job to fight, but that it was good for team chemistry.
"We've talked in the dressing room now for a couple of weeks about creating a really close team here," Brassard told Portzline. "I figured if I do it, maybe I can help create something here."
It's hard to argue with those kinds of sentiments, but it's the logic that seems at fault.
The Blue Jackets, who lost 2-0 to Phoenix on Saturday, are 11th in the Western Conference, three points out of the last playoff berth. They are 18th in goals scored per game and last in the NHL on the power play. Losing Brassard for any length of time won't help those numbers and may in fact mean the difference between Columbus' first playoff berth and another spring of disappointment in Ohio.
But the code is firmly in place in the Blue Jackets' dressing room.
2. Speaking of bad luck, what about poor Patrice Bergeron?
We've been following Patrice Bergeron and Boston Bruins teammate Manny Fernandez periodically this season. Both are coming off devastating injuries that saw them miss most of last season. Both have played key roles in the Bruins' dramatic ascent to the top of the Eastern Conference standings.
But on Saturday afternoon, Bergeron, one of the team's best young two-way players, tried to check Carolina defenseman Dennis Seidenberg, but Bergeron's head ended up awkwardly hitting Seidenberg's shoulder pads and Bergeron crumpled to the ice. GM Peter Chiarelli said in a statement Sunday that Bergeron was released from the hospital and has been diagnosed with a concussion. His return to the lineup is unknown. Bergeron had 18 points and was averaging 18:02 a night and killing penalties, as well as spending some time on the Bruins' power play.
Bergeron missed most of last season after Philadelphia's Randy Jones piled him into the end boards from behind in late October 2007.
"He felt pretty good yesterday; he improved greatly over the course of the night," Chiarelli told ESPN.com on Monday. "It's a lot different situation in terms of the degree of severity of concussion from last time. Last time, he was very sensitive to light and he was seeing stars. He's already back to normal in the sense that he's a person with a concussion, but other than headaches, that's all he's got."
One of the interesting things from our visits with Bergeron and the Bruins is seeing how highly respected he is. Chiarelli told us he has seen nothing in Bergeron's play to suggest timidity or hesitation and the forward returned to the high-traffic areas that he frequented before his injury. It was that kind of attitude that led to this latest injury. Now comes the worst part of the concussion business for any player: the waiting game.
3. How bad was this past weekend for Anaheim?
Bad. The Ducks must now confront life without graceful veteran Teemu Selanne, who managed to somehow slice open his thigh with his own skate Friday night against Edmonton and is lost for four to six weeks.
The Ducks had found a much better offensive groove this season than last, when Selanne and Scott Niedermayer took the first half of the schedule off to contemplate whether to return to the NHL.
Anaheim ranks 16th in goals per game, while Selanne was the runaway leader with 13 power-play goals (the next best power-play total is nine). Selanne's absence will put more pressure on top prospect Bobby Ryan, who has 11 points in 15 games and is a plus-9 since being recalled from the AHL. Both Ryan and Brendan Morrison, who has just eight points in 32 games, will be expected to help take the pressure off the team's dynamic young offensive stars, Ryan Getzlaf and Corey Perry.
The Ducks had built themselves a bit of a cushion in the Western Conference standings (tied for fifth with 39 points); but the standings are so tight, any prolonged drop-off in points could mean a struggle to make the playoffs at all.
4. Speaking of points, what's up with the Minnesota Wild?
Excellent point (isn't that always the case in this forum?), but it wasn't all that long ago that the Wild were looking like a team that could lay claim to the Northwest Division and boast enough tools to compete with the big boys in the conference.
Uh, not any more.
The Wild are 2-7-1 in their past 10 games and are coming off a disheartening 4-2 loss to the worst team in the conference, St. Louis. And this is with star forward Marian Gaborik back in the lineup.
The Wild, always a conservative team under coach Jacques Lemaire, have dipped to 25th overall in goals per game. Even with Minnesota playing solid defense (second in the NHL behind Boston in goals allowed per game), it is going to have to get more things going offensively if it is going to make the playoffs, let alone be any kind of force.
The Wild began this week in ninth place -- just a point out of eighth -- but after starting the season 6-0-1, this isn't where they expected to be at the holidays. The return of Gaborik has intensified discussion about his future in Minnesota, and the strategy for moving him remains cloudy. No doubt GM Doug Risebrough would love to see Gaborik light it up offensively (he has just two points in three games since returning from a two-month absence thanks to a nagging groin problem); it would give the team some wins and drive up Gaborik's trade value.
Right now, though, Gaborik has little value. Until Risebrough can get his team beyond this, the Wild may continue to languish on the playoff bubble.
5. So, who's the best team in the NHL at the Christmas break?
It's almost become rote to suggest it's the San Jose Sharks. And with good reason. The team has 55 points, more than any team in the league, and has yet to lose in regulation at home (17-0-2).
As a member of one NHL team told ESPN.com last week, you have to be pretty much perfect to beat them given their strong team game and goaltending. But (you knew this was coming, didn't you?) take a look at the Chicago Blackhawks. The Hawks have almost the same goal differential (114 goals for, 82 goals against) as San Jose (116, 80) and are also dominant at home (10-1-4). Chicago also has seven players with 20 or more points, the same number as San Jose.
Over the past 15 games, the Blackhawks are 11-2-2 and have won seven straight, including a nice 3-1 victory over Vancouver on Saturday. During that stretch, Chicago has allowed more than three goals just once, making it possible that coach Joel Quenneville is in line for the Jack Adams Award after he instilled a terrific game plan for his youthful team upon taking over four games into the regular season.
Are we ready to suggest the Blackhawks could best San Jose or Detroit in a seven-game series? Not yet. But that time may be closer than people think.
Scott Burnside covers the NHL for ESPN.com.