Stock Up, Stock Down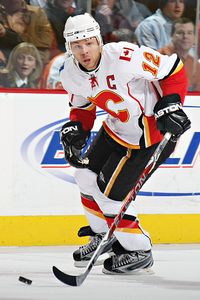 Stock Up

Jarome Iginla, Calgary Flames: Remember when people were wondering when the Calgary captain was going to start scoring again? They can stop wondering; he has 10 goals and 19 points in his past 19 games.
Stock Down

Anaheim Ducks: The Ducks have lost three in a row and are 3-6-1 in their past 10 games as they sink slowly out of the Western Conference playoff picture.
-- Scott Burnside
1. Do the recent struggles of the Boston Bruins, San Jose Sharks and Detroit Red Wings suggest there is hope for the rest of the playoff fields in both conferences?
No. Well, sort of. The Sharks have hit a soft part in their schedule. They have lost four in a row and are 1-4-1 in their past six games, a slide that has cost them the top spot in the NHL (they were tied with Detroit for second overall behind Boston as of Monday morning).
But the Sharks are without netminder Evgeni Nabokov, who missed time with the flu and now is out with what is believed to be a groin injury. Brian Boucher simply hasn't gotten the job done. Couple that with a severe bout of flu that ravaged the entire team in recent days, and the Sharks are off kilter. Assuming Nabokov returns at full strength, the Sharks still look like the odds-on favorite heading into the postseason.
The Bruins, meanwhile, probably are in the worst shape of the NHL's big three heading into the final five weeks of the regular season. They have just four wins in their past 13 games, and while they still have an eight-point lead over New Jersey for the top seed in the East, this isn't how a team that still has some doubters wants to hit the postseason. Adding Mark Recchi (two goals in Saturday's victory over Chicago) and veteran defenseman Steve Montador should help the team's psyche.
The Red Wings are an interesting case in optics. They have caught the Sharks for first overall in the NHL (although the Sharks have two games in hand) and have 12 wins in their past 17 games. But this is a team that lately has shown a troubling tendency to get blown out of contests; the Red Wings lost 8-0 to Nashville last week and 8-2 to Columbus on Saturday, making a lot of the NHL's pop-gun offenses look positively juggernaut-ish. Most will simply point to goaltending, and while Chris Osgood is just back from a team-imposed vacation and Ty Conklin has looked mortal of late, the losses speak to an issue of focus. Maybe it's natural. Maybe the Wings have enough experience to be able to get their eyes on the prize in the next month. But, no matter how good and experienced a team is, there is no "on" switch to flick come playoff time.
2. What should we make of the latest Steve Downie episode?
This one is very interesting. As you know, Downie's career has been marked by a number of on- and off-ice transgressions and blowouts, including a 20-game suspension during the 2007-08 season for his from-behind hit on then-Ottawa Senators forward Dean McAmmond during a preseason game.
Last week, Downie, currently with the AHL's Norfolk Admirals, was suspended a whopping 20 games for allegedly slashing linesman Mike Hamilton in the shin or foot. Well, we've looked at the YouTube clip many times, and while you can never tell everything from a snippet of video, it looks like Downie merely took a wild swing at the puck off a draw at center ice.
We asked to talk to AHL commissioner Dave Andrews, who is a thoughtful, classy man, but he declined pending Tuesday's appeal hearing by Downie's team. The Admirals are being supported in this appeal by Downie's NHL club, the Tampa Bay Lightning, who acquired Downie in a deal for defenseman Matt Carle earlier in the season.
What seems puzzling in this case is the video doesn't appear to show any kind of confrontation or retaliation against the officials. Further, sources tell ESPN.com Downie was never interviewed before the suspension. Makes you wonder whether this is a rush to judgment of a player with a long history of transgressions and whether this is a suspension based on who he is, not what he did.
3. What's up with the Atlanta Thrashers and the New York Islanders? They trade away players and show signs of life?
Kudos to first-year coaches Scott Gordon (Islanders) and John Anderson (Thrashers) for not just keeping their teams focused, but actually winning in the wake of the March 4 trade deadline.
The Isles sent defenseman Chris Campoli and center Mike Comrie to Ottawa and Bill Guerin to Pittsburgh, and are without Doug Weight and Rick DiPietro, but are 4-1-0 in their past five games, including wins over New Jersey and Buffalo.
Atlanta, meanwhile, is playing its best hockey of the season after dealing two top defensemen, Mathieu Schneider and Niclas Havelid, to Montreal and New Jersey, respectively. The Thrashers are 7-4-1 in their past 12 games and have defeated Calgary, Montreal and Carolina along the way.
Although teams sometimes fold their tents after the deadline because they simply don't have the talent or the will after veterans are traded, the Isles and Thrashers are examples of teams on which young players like Kyle Okposo on Long Island and Zach Bogosian in Atlanta are getting more responsibility and thriving. Definitely positive signs for franchises that have had little in the way of positive news and remain in a battle for the first overall pick in June's draft.
4. Why is there any discussion of a goalie controversy in Philadelphia?
We don't get it, really. Martin Biron is 5-2-0 in his past seven decisions and has stopped 259 of the 275 shots he's faced over his past eight appearances. The Flyers, seven points back of New Jersey with a game in hand, still have a shot at the Atlantic Division crown. Yet, listen to the buzz about this team, and you'd think it was sinking like a rock because of its goaltending.
5. What is the trade deadline like for players?
Sometimes, we get caught up in the implications of trades and forget about the human element these transactions have.
Had a chance to talk to Glen Metropolit this week. The journeyman forward signed a two-year deal with Philadelphia in the offseason after working his way back into the NHL following the lockout. The Flyers put him on waivers before the trade deadline in order to clear cap room to allow Daniel Briere to return to the lineup and possibly pave the way for another deal at the March 4 deadline.
Metropolit, 34, was with his teammates at the morning skate on the Friday before the deadline, preparing for a home game against Montreal. Flyers coach John Stevens called him over and told him not to worry, that it didn't look like anyone was going to claim him. Further, Stevens told Metropolit to get ready to play against Montreal in case Briere couldn't go. "He said, 'Just be ready,'" Metropolit said.
A bit depressed at the uncertainty that surrounded his status, Metropolit went home and later received a call from GM Paul Holmgren.
"He said, 'Well, Metro, I've got some good news and some bad news for you. The good news is you're playing tonight. The bad news is you're playing for Montreal,'" Metropolit said.
"I said, 'Are you kidding me?'"
At about 5 p.m. that day, Metropolit found himself walking into the Wachovia Center, heading to the visiting locker room and his new teammates. He joked he was trying to remember all his high school French along the way.
The move reflects a couple of things, Metropolit said. First, this is a business. Second, never give up.
"It kind of gets depressing every now and then," said Metropolit, who now is playing for his sixth NHL team since 1999-00. "But I'm blessed."
The Habs must have liked what they got in Metropolit, as they stood pat on trade deadline day, even though there was speculation they would try to bring in another forward.
"A good team wanted me. That says a lot," Metropolit said.
Scott Burnside covers the NHL for ESPN.com.