PITTSBURGH -- Sidney Crosby pauses as he walks down the hallway of the Children's Hospital of Pittsburgh. He hears the happy cries of a boy in one of the rooms just visited, so he stops, retraces his steps and disappears behind a curtain in the room.
"Hat fit OK, buddy?" Crosby asks the boy, who can't speak.
A behind-the-scenes look at Sidney Crosby during a recent visit to Children's Hospital of Pittsburgh.
There are more excited noises.
Crosby is part of a small group of players moving from room to room, handing out fuzzy Hockey Fights Cancer blankets and signed Pittsburgh Penguins hats, game programs and posters during the team's annual visit to the Children's Hospital of Pittsburgh.
There are no cameras in the room to capture this moment; the television crews chronicling the team's visit are waiting for Crosby in the next room.
Yet, here he is, in a moment away from the cameras, the buzz, the crowds. A quiet moment in a life that is rarely quiet.
Rarely has one so young been asked to do so much for a sport. Rarely has one so young delivered so much.
The youngest scoring champion in any major sport, the only teenager to win an NHL scoring title, the youngest player to win the Lester B. Pearson Award (the players' MVP award). A star whose impact has raised the game's profile at a time when the NHL desperately needed someone to lead the game out of the wilderness created by the lockout.
Crosby's life almost always is measured in magnification and superlatives, in multimillion-dollar contracts and endorsements.
But the story of a 20-year-old's existence and his efforts to just simply fit in often is told in those small moments.
Crosby is well-acquainted with an NHL view few players see -- service elevators, kitchens and side entrances of very fine hotels.
"I think that's kind of like automatic now," Crosby told ESPN.com in a recent interview. "'OK, where is it and what time are we going to meet there?' If anything changes, it's almost like, 'OK, I'll see you in the lobby.' We probably meet more often in a service elevator."
But Crosby receives a rare treat when coach Michel Therrien gives the team a day off the day before the Penguins' game against the Thrashers in Atlanta. Crosby takes advantage and heads to a mall with some teammates. It's a bit of heaven as shoppers recognize the group as hockey players but not Crosby as "the" hockey player.
"It was cool," Crosby said. "It's not like I haven't shopped before, but it'd been a while since I walked around a mall and not gone out quicker or just been kind of in and out. It was nice to just kind of wheel around for a bit and check out some places."
It wouldn't last long.
Saturday is game day in Atlanta, and some two dozen fans stand outside The Ritz-Carlton near Philips Arena. Hockey has a tenuous hold in this city, so the crowd speaks to the drawing power of No. 87.
The group waits as players and coaches exit the hotel to board the bus to the morning skate. Crosby is nowhere in the main group because he's being led out a side entrance and onto the bus.
"It's like this everywhere," says Frank Buonomo, senior director of team services and media relations for the Penguins.
Fans congregate again at the Ritz several hours later, still waiting for a glimpse of Crosby. They finally get their wish when he exits the main entrance, clutching a white shopping bag, signing autographs before heading to the game.
All requests for Crosby's time are filtered through the prism of, "How does this affect my teammates?"
Interviews and photo shoots often are carried out in the morning before other players arrive.
"For me, it's understood that's the way it's going to be," Crosby said of the attention. "For me, being on the road, it's more about your teammates, too. You want to spend time with them when you're on the road. You don't want them to have to go through all the stuff that you have to go through, too.
"I don't want to say I drag them down, but sometimes there are situations where they have to wait for me if I'm signing or people come to the table and things like that. It's probably something I don't want to put them through. So, it's the best for everyone if we can kind of just pick our spots."
Ryan Whitney is among a group of young Penguins players who have grown up in the NHL together. Five years older than Crosby, Whitney is shocked at the Crosby-mania.
"It was weird for me to see at the beginning because I'd never seen that much attention paid to just one person," Whitney says.
He remembers 8,000 people showing up at a practice in Montreal to watch Crosby and recounts how Sid parks his car near, but not at, the team's practice facility before catching a ride with teammates or staff because otherwise it would take him hours to get out of the facility.
Even something simple, like going out for dinner in Toronto, has to be planned out like a military operation. Crosby and friends have to call ahead for a private room, have to make sure there are cars ready to drop them off and pick them up so they're not standing around drawing a crowd.
Whitney imagines it must get frustrating at times. "Not that he'd ever say it.
"You forget who he is until you get outside of the hotel."
When Crosby gets to the television remote first, he clicks madly from channel to channel. It drives road roommate Colby Armstrong mad.
How can you tell what's on when you click like that, Armstrong asks?
You can't. Which is why he prohibits Crosby from taking control of the clicker.
Then, there's Crosby's show selection.
Armstrong is an A&E guy, biographies, cold case shows.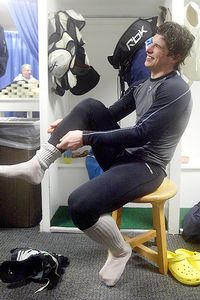 Crosby?
"He doesn't know anything about TV shows, not like I do," Armstrong confides. "He likes 'Friends.' I know. It hurts."
Crosby's rebuttal: "He's into those reality shows and that celebrity stuff, and I'm not too big on them.
"We'll get in late, and it always seems like they have those National Geographic shows on at 2 a.m. in the morning in the hotel, so we get stuck watching stuff like that ... For the most part, he likes things like 'American Justice' and 'Cold Case' and things like that."
Crosby then says his roommate has a television secret of his own ... "Ellen."
"I'm going to throw him under the bus on that one. He loves Ellen DeGeneres," Crosby says.
Right before a pregame nap?
"No, it's right after. It's hilarious. To a T, we wake up from our nap and that show's coming on and she's dancing."
When Armstrong finds out Crosby has spilled the beans, Armstrong drags a reporter over to Crosby and announces loudly that he wants to do the interview over, that he's going to reveal Sid's affection for Chandler on "Friends."
Crosby interrupts, revealing that not only does Armstrong love "Ellen" but he also likes to dance along to her show opening.
The two players are in stitches.
Armstrong is a perfect foil for Crosby. He is a physical, dogged player. Off the ice, he is irreverent and jocular. It is no coincidence Crosby gravitates toward him.
"I look at my friends from junior or now, the pattern never changes. There are always those kinds of guys. I don't think it's by fluke," Crosby says. "When you're around each other, you know what's going on, whether you're having a bad day, a good day, that kind of thing.
"Those guys are guys who keep everything light, and [it's] kind of always a good feeling to be around those guys, just guys that are fun to be around. Sometimes, you can't do the things that they do, so I always kind of live through him sometimes."
Like the time the two stopped for coffee in a Montreal store. Inside was a life-size cutout of Crosby promoting the World Junior Championship for a Canadian TV network. Armstrong grabbed the cutout and danced around the store.
Everyone howled. Then, Armstrong said, the Crosby "radar" kicked in. People filled the store before the players escaped in a cab and headed to the rink.
Armstrong, not surprisingly, makes sure Crosby doesn't get any special treatment among the team.
"Every little thing, I'm all over him about it. It's my only chance," Armstrong says.
And Crosby gives as good as he gets.
For every comment Armstrong makes about the size of Crosby's butt ("It's kind of big"), Crosby will chide his friend about the way he eats and the noises he makes when he sleeps.
"He rips me about the way I sleep because I'm a mouth breather," Armstrong says. "He rips me to my face in front of the whole team. Can you believe that?"
Armstrong also kids Crosby about his choice in clothes -- all blacks and dark blues and pinstripes.
"He's a pretty old-fashioned kind of guy," Armstrong says. "His suits are black and blue, nothing fancy. He's just a kind of old-fashioned kind of guy. He's always saying, 'That's the way it is in Nova Scotia.' What you see is what you get with him."
Does Crosby see himself as old-fashioned?
"Yeah, I think that I'm pretty simple," he said. "I think that's part of just trying to be one of the guys, I think. I don't want to stick out much. I think class is always something I was taught, so I just to try to do that."
There is a giddiness about the Penguins' practice facility. The team has just enjoyed a spirited session of on-ice baseball, a complicated (to the uninitiated) game that involves flipping the puck high into the air and scoring against a group of defenders ... or something like that.
Enforcer Georges Laraque races into the locker room, looking for help to move Kris Letang's car from the team parking lot while the rookie is still on the ice.
Veteran Petr Sykora regales teammates with a grisly story about a dead deer he encountered while he was with the New Jersey Devils.
Whitney chases Jordan Staal into the room, hurling his gloves at the big center and complaining Staal has broken his stick deliberately, a claim Staal vigorously denies.
"Put a shirt on," Armstrong mocks as Crosby wanders by.
It's not a refuge but a shared experience for all the players in the room regardless where they're from or where they're going. Crosby is just another guy on the team.
Being captain brings different responsibilities, but, Crosby says, "You still want guys to feel the same and treat you the same, and I think that's the way things are here.
"I like that atmosphere. I like being in the room. I'm young, still enjoy things, and I don't think I'm any different than anyone else."
Pranks included.
"I haven't got anything too severe. I try to stay out of that," Crosby said. "Once you get involved in that stuff, you can't get out of it; you're either retaliating or somebody's retaliating against you. I get shaving cream in my shoes or in my towel or baby powder on my towel. Just stuff like that. Guys know that I don't want people to mess around with my equipment, so they usually stay clear of that."
Netminder Marc-Andre Fleury smiles when asked what the best Crosby prank might be. For a moment, Fleury appears ready to tell the story, but he hesitates.
"No, I can't tell you. It's personal."
But Fleury does give us something. During a time when opposing players and critics were accusing Crosby of whining too much to officials, his teammates regularly hid baby clothes or baby shoes in Crosby's dressing room stall.
Did Crosby think it was funny? Not really, Fleury admits.
Still, there isn't a hint of any acrimony between Crosby and his teammates. There is a heartfelt awe of the young man, and more than a little protectiveness.
Darryl Sydor was brought in during the offseason to provide some veteran stability to the Pens' defense corps. The two-time Cup winner has played with some of the game's biggest stars -- Vincent Lecavalier, Brett Hull, Mike Modano and Wayne Gretzky.
When Gretzky went to Los Angeles and helped establish a beachhead for the game in California, he was a veteran player. Not like Crosby, who was absorbing pressure and attention even before the Penguins won him in the post-lockout lottery.
"It really is like paparazzi following a movie star," Sydor said. "He's accepted that.
"What I'm amazed at is how he handles himself through it all and how he keeps himself focused," Sydor said. "He's not a real young player, he's a young man." To be Crosby, "It'd be tough. You'd have to be mentally strong."
A recurring theme of the Gretzky persona is his ability to make everyone on every team he played on or coached feel part of the process, from trainers to team presidents.
There is a similar trend with Crosby.
After he signed a big endorsement deal with Reebok, the company wanted to send promotional material to Crosby. He said he didn't want anything unless his teammates and staff got the same.
Basic manners sometimes are forgotten by stars, but not with Sid.
Crosby frequently keeps in contact with a wheelchair-bound girl from Montreal. When the Pens are in town, Crosby gets tickets for her and her family and always manages to spend some alone time with them. On one visit, Crosby invited her down for the morning skate. He gave her signed Pens gear and made sure players gave her high fives on their way to the ice.
Not long after the visit, Montreal's training staff received a text message from Crosby, thanking them for helping with the visit.
It's conceivable Crosby would sign every autograph and answer every reporter's question. For that reason, the hockey gods made Buonomo. As Pittsburgh GM Ray Shero puts it, there aren't many folks waving "We Love Frank Buonomo" placards. When it's time to drag Crosby away, Buonomo is the bad guy.
He filters the dozens of requests for interviews and photo shoots that pour into the Penguins' offices. He works with Crosby to schedule appearances mandated by rights holders and the league.
"You'd think it might die down, but it hasn't," Buonomo says. "Every day, you get something."
As we speak, there are requests from Time, local television stations wanting one-on-ones for sweeps weeks, The Associated Press for pre-All-Star coverage, a television show in Toronto.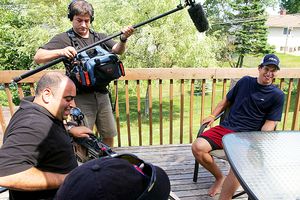 Before the Penguins go on the road, Buonomo ascertains what the team's hotel security provisions are at each stop to ensure the hotel is prepared to deal with anywhere from a dozen to a hundred fans.
At a recent stay in New York, security plans went awry and Crosby had to make his way through a massive throng to the team bus. Next time, there will be police to handle the situation.
But one of the most important things to Crosby is that he not be seen as someone who doesn't want to sign autographs, especially when kids are involved. It is important to him that kids get a chance to get close to him.
"I can always put myself in their situation. I easily reflect back on being young," Crosby says. "I have a younger sister; [Mario Lemieux's] got four younger kids. There's something about younger kids that I just, I want to see them be happy."
During the playoffs last year, when the Penguins were in Ottawa, Crosby spied a group of children within the hundreds of fans and whispered to Buonomo to bring them over so he could sign for them.
"It has to be the right balance. You can't burn the kid out," Buonomo said. "But he understands it. He gets it. I always tell him to be honest with me."
"I guess I don't look at media things, as far as interviews, as a building block," Crosby says. "If it's good attention because things are going well, then I'm not going to look down upon that ... "
"It's like waking up and putting my skates on every day. ... For me, I need to be at my best, I don't need the interviews every morning. But if that's what comes along with it, doing something good, so be it."
Everyone seems to want a piece of Crosby. It's not a new phenomenon.
Jack Johnson, the third overall pick in the 2005 draft, also known as The Crosby Draft, has known Crosby since they were youngsters at Shattuck-St. Mary's, the prestigious hockey prep school in Faribault, Minn.
Johnson remembers visiting Crosby's home in Cole Harbour, Nova Scotia, after their freshman year and seeing people camped out on the property, sometimes slipping items under the door for Crosby to sign.
"I always get a big kick out of it because I've always known him as Sid the person," Johnson says. "I always laugh when people are going bananas for him. He was always just as much a normal kind of kid as anyone.
"He's still like that. It's just that most people don't see that."
Somewhere down the line, Crosby is going to make room in his life for more than his favorite stick and his dog, Sam. It's only natural. He knows that. But doing ordinary things, such as meeting a girl, calling her and going out for dinner? Well, it's just not that easy when you're Sidney Crosby.
As agent and mentor Pat Brisson pointed out, in this new age with Facebook and YouTube and MySpace, anyone with a cell phone suddenly can go into paparazzi mode should she by chance meet someone like Crosby on a date.
Look at the Tony Romo-Jessica Simpson brouhaha during the NFL playoffs. Tom Brady's love life is the stuff of tabloid heaven. Earlier this season, compromising pictures of Toronto Maple Leafs rookie Jiri Tlusty appeared on the Internet.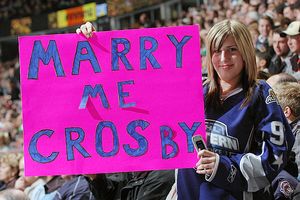 "It's a little bit more difficult for me," Crosby said of the dating scene. "I'm pretty picky, too. I think that just comes from having a routine. I'm so into the routine that I have; if you're going to be in a relationship, somebody's going to have to be pretty understanding. I think that's just something I'm not in a huge rush [about]. I'm going to just kind of go with the flow."
And as Crosby gets older, he finds he is more cautious about how much he reveals.
"I think more guarded, for sure. Just because I realize that I have other responsibilities -- family, friends. I understand that hockey is a big part of my life; but also, as I get older, I realize there are other things that are important to me -- family, things like that."
It makes sense he is more cautious about people's motives, and likewise treasures the times away from these pressures. He still lives with Lemieux and the owner's family and enjoys the quiet of their neighborhood and its nearby parks. He also bought a house about 20 minutes outside Halifax, Nova Scotia, that has become his offseason retreat.
"In the summer, I just love to fish. I fish pretty much every day. My dog -- I got a dog here last year at the start of the season -- she's with my family now, but I just like to try and get away. My house is in the woods. I love it. I love being away.
"All year round, I don't know if I would enjoy that just as much, but I think for the amount of time I'm there -- three and a half months at most, probably -- it's really something where I can really recharge a bit. You know, I'm still working out and things like that, but it's definitely a special place, and there's not too many places like that I've been to, so I really enjoy it."
When describing his new place to an interviewer last season, Crosby was asked whether he just ran around naked in the woods and joked that he wore a loincloth.
"Yeah, I'm one with nature now," he joked.
Crosby enjoys decorating his new pad.
"I'm not a huge shopper, but now that I've got a house, it's kind of something that's fun," he says. "I've got a shuffleboard table. That was something I was pretty happy to get."
We are standing in the Penguins' dressing room shortly before the team's hospital visit. Former Pittsburgh defenseman Phil Bourque -- a man who won Stanley Cups with the Pens in 1991 and 1992 and is now a broadcast analyst with the team -- leans over and quietly explains that sometimes when he's faced with significant decisions in his life, he finds himself wondering, "What would Sidney do?"
When the story is related to Crosby's agent, Brisson seems nonplussed.
"I think there are a lot of people who ask themselves that, 'What would Sidney do?'" Brisson said.
The hospital visit is close to wrapping up, and all the players have reconvened in a noisy playroom. Some are doing puzzles; others are chatting and posing for pictures.
Crosby ends up shooting a game of pool with a young man who has suffered a second sports-related concussion. Crosby chats with the boy while his father snaps pictures with his cell phone.
After turning his back for a few seconds, Crosby asks the boy, "Hey, you just didn't throw down a couple of balls, did you?"
The boy grins and later asks Crosby to sign his hat.
"You can put down that you beat me at pool."
The cameras are whirring, and pictures are being snapped. It doesn't seem to matter to Sidney Crosby, or to the people around him.
Scott Burnside is the NHL writer for ESPN.com.