---
W2W4: Blackhawks at Predators
Fisher taking Predators to new levels

By Scott Burnside
ESPN.com
Archive
NASHVILLE -- If all transactions were as easy as the Mike Fisher deal, if they all worked out as smoothly and paid the dividends that this one has, well, Nashville Predators GM David Poile would sleep a lot better than he does.
Not all hockey deals are that easy, of course, and the specter of what will become of Ryan Suter and Shea Weber still hangs over this hockey club.
But make no mistake, the acquisition of Fisher a year ago wasn't just symbolic, it wasn't the Predators showing Suter and Weber they mean business so they'd want to hitch their hockey wagons to the franchise long-term. Although given the rate at which Fisher is currently scoring and what he means to this team's character and leadership, it should be a reminder that the Predators do, indeed, mean business.
"That was a real good move for us," Poile told ESPN.com on Monday in advance of Tuesday's home date with the Central Division-rival Chicago Blackhawks. "He's playing the best he's ever played for us right now."
After a slow start directly related to offseason shoulder surgery, Fisher is tied for the team lead with 17 goals, of which eight have come in his past eight games. He is clicking at a point-a-game pace over the past 18 games. The Preds are 18-2-3 when Fisher records a point.
"He always plays a hard-driving game," coach Barry Trotz said. "You look at all his goals, they're all around the net, second pucks; a lot of times he'll score after the second shot, retrieve a puck because of the work ethic and quick play and throw it back at the net, and he's doing that and they're just going in."
Playing mostly with Sergei Kostitsyn and Martin Erat, Fisher's strong two-way play has helped make that unit the team's most important.
Every time Kostitsyn steps on the ice with Fisher, his game goes up a notch, former NHL head coach and longtime Predators analyst Terry Crisp told ESPN.com.
The trio's success has also helped make the Predators, traditionally a team that has struggled to produce offense, a more dangerous team and hence more difficult to play against. As of Monday, they were tied for fourth in the Western Conference in goals per game and their power play ranked second. In fact, the team's 41 power-play goals equal its total for all of last season.
Poile pointed to last weekend's entertaining tilt against the defending Stanley Cup champion Bruins as the kind of game Fisher is going to be counted on in down the stretch. Boston had struggled of late and the Predators knew they were going to get a hungry, difficult team. Although the Predators did give up a late lead (provided by Fisher's 17th goal) and lost in a shootout, it was a good test for what is still a very young Nashville team.
"Mike Fisher's been to the Stanley Cup finals. He knows what it's going to take," Poile said. "We're counting on his play and his leadership."
Still, when you talk to Crisp about Fisher, it's not the goals but the character that the longtime player and coach points to immediately.
"The first word that comes to mind is 'class.' He's a class act," Crisp said. "Mike Fisher is what a professional is all about. He's just the consummate pro, and that's what I love about Mike Fisher."
Fisher admits that it took a while for last year's trade to sink in -- the Predators sent a first-round pick and future considerations to Ottawa in the deal -- but now that it's been a year, he feels fully integrated into both the city and the franchise.
"I definitely feel part of this group," he told ESPN.com. "I'm loving it.
"I think the last month has probably been one of my best offensive months in a long time."
There is about Mike Fisher an almost unnerving sense of normalcy, in spite of a life that is far from normal. Not only is he a talented, highly paid hockey player, he is also married to international singing star Carrie Underwood.
Yet Fisher, 31, said the easygoing nature of Nashville has made it easy for him and his wife to enjoy time away from the rink without being overwhelmed.
"People in Nashville are just so friendly," he said. "It's probably a little more laid back, which is perfect for us and for me."
As was the case in Ottawa, where Fisher played for parts of 11 seasons after being drafted by the Senators in the second round in 1998, Fisher has thrown himself into the fabric of the community in Nashville. He was involved in a biography aimed at young people called "Defender of Faith: The Mike Fisher Story" that was released in the fall. Proceeds from the sale of the book go to a variety of charities.
The devout Christian said he recalled reading stories and books about Christian athletes when he was growing up, which inspired him to write his book.
"I thought it would be a nice opportunity to kind of share a little bit about myself and hockey and my life and my faith," Fisher said.
He is also active in charities that work with local homeless people and at-risk youth. This involvement isn't just about donating money; Fisher is a hands-on volunteer, often with little or no fanfare or media attention.
Fisher feels he has a duty, given the talents he's been given and the platform he enjoys as a professional athlete, to give back, to do what he can to help people.
"Your faith is who you are and how you live," he said.
That means as a teammate and as a member of the broader community.
So far, the Predators have been rewarded for the faith they have put in Fisher.
Scott Burnside covers the NHL for ESPN.com.
Stay On Your Skates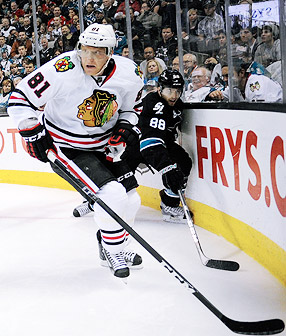 Getty Images
Marian Hossa is one the Blackhawks' big guns. So, given all this talk of slumping, where does he stand among all league forwards? Front Line »
Forecaster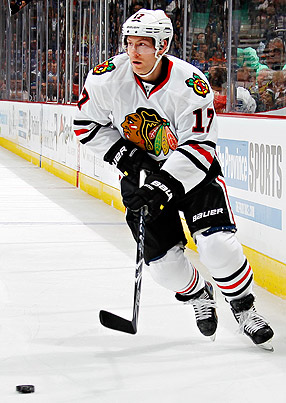 Getty Images
How will the Blackhawks fare this week? Will the secondary scoring forwards, such as newly acquired veteran Brendan Morrison, step it up? Fantasy Forecaster »
Stats & Information


Key points about Tuesday's game:
• The Blackhawks rank 28th out of 30 teams in penalty-kill percentage (77.5 percent), while the Predators boast the second-best power-play percentage in the league (21.8 percent).
• The Blackhawks' Jonathan Toews and Patrick Kane each have 10 goals and 15 assists in 25 regular-season games against the Predators.
• The Predators feature nine players who have scored at least 10 goals this season, which is second in the league to the Red Wings, who have 10 players with 10-plus goals.
• The Blackhawks' Marian Hossa has not scored a goal in his past seven games. Hossa's last goal came Jan. 21 on the road against the Predators.