Ducks at Avs: Robidas eager to jump the boards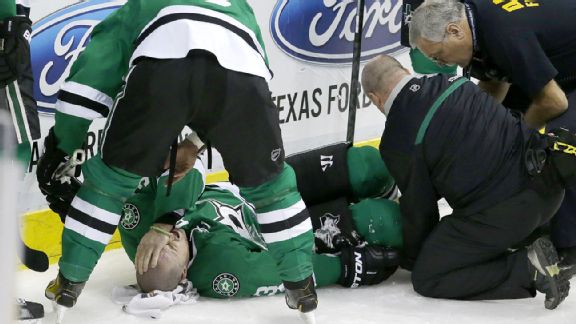 AP Photo/LM OteroStephane Robidas was pondering his future after breaking his leg in two places in November.
It's funny where your mind can take you, even in the face of excruciating pain.
Lying on the ice near the end boards behind the Dallas Stars' net at American Airlines Center, his leg broken in two places, Stephane Robidas wondered: What now?
"My skate got stuck in a rut and my foot just went sideways," Robidas told ESPN.com this week. "Right away, I knew it was broken. It was pretty tough. While I was laying on the ice, the first thing that I thought, my season's over, what's going to happen?"
This was on Nov. 29. At the time, Robidas was 36 (he turned 37 on March 3) and in the final season of his contract with the Stars.
He knew the injury was bad -- it turned out he broke both the tibia and fibula -- and as he waited for the trainers to attend to him, he wondered not just about this season but beyond. Would the Stars want him back? Would someone else? Where would he go? Was it over?
"All this stuff, you start thinking what's going to happen ... all the stuff like that," he said.
The injury took place on a Friday night. On Monday, after surgery was performed to repair the breaks, Robidas began rehabbing the leg.
"I really haven't stopped since," he said.
So, here's the thing. If you know anything about Robidas, if you've watched him play over the years, if you've played against him, certainly if you played with him -- none of this really should come as any surprise.
In a world of hyperbole and "best this," "greatest that," Robidas is simply living proof of the ideals on which the game and its innate attractiveness are built: toughness, loyalty, humility.
Robidas, from Quebec, possesses these qualities in large quantities. It is what made him beloved in the Stars' locker room since he signed with the team after the 2004-05 lockout and earned him an invitation to Canada's orientation camp before the 2010 Vancouver Olympics.
And it is what led him to be acquired by the Anaheim Ducks last week at the trade deadline, in spite of the fact Robidas has not played in a game since that November night in Dallas.
Coach Bruce Boudreau isn't exactly sure what he's getting with Robidas, other than a guy who already has been embraced by teammates in the short time he has been in Anaheim working out. He has stayed late after practice working on the little things and has reinforced his reputation as a gamer.
"His reputation is that he's an in-your-face kind of guy and does whatever it takes for the team," Boudreau told ESPN.com, ahead of his team's big conference matchup Friday against the Colorado Avalanche.
Corey Perry is among those happy to see Robidas on the Ducks' side of the ice.
"Corey Perry hated playing against him. They'd go at it every single night," Boudreau said.
You look at the struggles Steven Stamkos, who is 24, had coming back from his serious leg injury and you wonder how it will turn out for a much older player such as Robidas. But quite simply, few players in the league are like Robidas. And if it works out the way the Ducks -- in the midst of a post-trade deadline funk -- hope, he'll bring a needed right-handed shot to the lineup. And if he can fire the puck the way he has in the past, it might help jump-start a Ducks power play that has lacked firepower from the back end.
That's short term. Long term, the hope is that Robidas becomes that piece to the playoff puzzle for a team that has been among the best all season and has serious Stanley Cup aspirations.
Former goalie Marty Turco figures he sat next to Robidas in the Stars' locker room longer than any other teammate in his career.
"One of my fondest memories of playing was having him there all the time," Turco told ESPN.com.
Whether it was in the dressing room -- where his calm demeanor was a welcome, integral part of the Stars' identity -- or on the ice, where he simply refused to back down, Robidas was the consummate teammate, Turco said.
Few players approached the game with such enjoyment. Even during the hard parts -- rehabbing through an injury, working out postgame to keep the body in the proper condition -- Robidas embraced it all with a smile on his face, Turco said.
"What he embodies for me, ultimately, is a winning attitude," Turco said. "He can play. He can log big minutes, he can play sparingly. All he wants to do is play."
For Robidas, the past week or so has been a bit of a blur.
He has used his rehabilitation these past months as an outlet for his anxiety about the future. Keep pushing forward and see what happens, don't worry about the things beyond his control -- like next season.
The doctors initially told him that it would be three months until he would be able to skate, four to six months before he could play. He is ahead of that timetable, having skated in full practices leading up to the Olympic break and then pretty much every day since. He took extra time with the Stars' coaching staff, so he could be ready to play the moment doctors cleared him.
"I wanted to play so bad and get in the playoff and have a chance to win a Stanley Cup," Robidas said.
That such a chance might come with another team hadn't been part of the thought process until the days leading up to the March 5 trade deadline.
#3 D
Anaheim Ducks
2014 STATS
GM

24

G

4

A

1

PTS

5

+/-

7

PIM

12
Dallas Stars general manager Jim Nill told Robidas that two contending teams were interested in acquiring the veteran defenseman. Nill explained that these kinds of opportunities don't come along every year and that if Robidas, who had a no-trade clause, was interested, he would explore a deal.
Nill didn't tell him the teams involved (although it's believed the Boston Bruins was the other). On the morning of March 4, the day before the deadline, as he was preparing to go on the ice with the Stars, Robidas was told he would be going to the Ducks.
He had conflicting emotions.
Robidas had become ingrained within the Stars' organization, part of the fabric of a team that has gone through significant upheaval in recent years, with new ownership and agonizingly close brushes with playoff berths that ultimately eluded the team's grasp.
He did not want to be thought of as a guy who would jump at a chance to go someplace better. But he also understood the opportunity being presented, and there is a desire to make sure the Ducks' faith in him was not misplaced.
The idea that another team, "and not just any kind of team, but a team that wants to win a Stanley Cup and a team that thinks I might be a piece of the puzzle" would want him is flattering, Robidas conceded.
The Ducks are in no hurry to rush Robidas into the lineup, although that patience is balanced with wanting him to play games and become familiar with his new teammates and a new system.
And, of course, there is the fact he hasn't played since late November.
Still, he said he had experienced his first workout without any sign of his injury. "Yesterday was the first time that I didn't feel a thing," he said.
In his mind, Robidas is targeting Tuesday's home date with the Capitals as a possible debut with the Ducks.
Not that the move has not been without its personal toll.
Robidas has a son who turned 11 this week and a daughter who will turn 9 in April.
"That's the tough part," he said. "All they know is Dallas. That's where they've been raised.
"It's a big commitment for my family."
But the kids are old enough to understand what this opportunity means to their father.
One of Robidas' first tasks is to get a Ducks hat and get autographs from Ryan Getzlaf, Perry and Teemu Selanne.
"So I've got to get that taken care of," Robidas said, with a laugh.
ESPN Senior Writer
Covers hockey for ESPN.com
10 years at Toronto Sun, Windsor Star and National Post
Wrote best-selling true crime book "Deadly Innocence"
W2W4: Ducks at Avs
Ducks (93 points) at Avalanche (91 points), 9 p.m. ET

• Colorado is 1-0-0 vs. Anaheim this season, winning 6-1 on Oct. 2
• Colorado is 3-1-0 in past four home games vs. Anaheim.
Anaheim (43-16-7):
• Scored two or fewer goals in seven of their past 10 games.
• 0-2-2 in the past four games; eight goals, 1-for-15 in PP.
• Getzlaf: four assists in past five games played.
Colorado (43-18-5):
• Three or more goals in eight of past nine games.
• 6-1-0 in past seven games; two or fewer GA in six of those, 13-for-18 on PP.
• Duchene: Nine-game point streak (5 G, 9 A)
Stay On Your Skates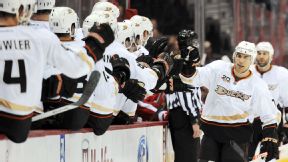 AP Photo/Nick Wass
Don't look now, Anaheim Ducks, but the San Jose Sharks are closing in for the kill.
LeBrun »