---
W2W4: Penguins at Rangers
Rangers have something to prove vs. Penguins

By Pierre LeBrun
ESPN.com
Archive
BOCA RATON, Fla. -- It seems strange in many ways that the New York Rangers, front-runners all season long in the Eastern Conference, would have any need to prove anything to anyone Thursday night.
But it sure feels that way, right?
With the white-hot Pittsburgh Penguins arriving at Madison Square Garden with Sidney Crosby in tow, there's an unmistakable sense around the league that the 2009 Cup champs are the team to beat now that their franchise player is back on board.
"They're obviously, I think, the best team in the league," Rangers GM Glen Sather said after the GM meetings wrapped up Wednesday. "With [Crosby] back, it's certainly going to make it a lot more difficult."
Whether or not that was gamesmanship on the part of the savvy, veteran GM or not, he speaks the words many people in the hockey world now believe.
The Penguins have won nine straight without Crosby and top defenseman Kris Letang.
"It's not like they needed help," said Philadelphia Flyers GM Paul Holmgren, who's team is in line for a possible first-round matchup with Pittsburgh.
"Obviously, Pittsburgh over the last couple of years have been a tremendous team. There was a period of time last year where they had Sidney and Evgeni [Malkin] out and they still continued to march along.
"They're certainly one of the top teams in the East and they have been for a long time."
Talk about the perfect stage for Crosby's return on Thursday night: the most famous arena in North America, the first-place Rangers trying to hold off the charging Penguins and a crowd that's electric.
"I think we'll be excited to play," said Sather. "They're a great team, they've got their full lineup. We're missing some people. It's going to be a good contest. We'll give them a fight."
Some games just stand out above others. This is one of them.
"They've been the top team in our conference all year," Penguins GM Ray Shero said Wednesday, returning the compliment to the Blueshirts. "They've got a series of home games here that they want to take advantage of, and they're off to a good start. It's going to be a real test for us but hopefully it's going to be a real good game."
The Penguins trail the Rangers by six points, although they've got a game in hand. The two clubs also play one more time on April 5 in the penultimate game of the regular season. And there could be a lot riding on the line then.
But then again, the Rangers have treated every game this season like that. People questioned their blue line before the season. They weren't expected to challenge for the conference lead. But they've been an impressive group from wire to wire, among the hardest-working clubs in the league fueled by a stingy defensive acumen.
"Every game we've played this year has been intense," said Sather. "Our team has worked hard. We've got a good bunch of young kids, the chemistry is good.
"I'm happy with the way the team has been playing," Sather later added. "It's been a good year so far. The difficult part is coming up in the next two months."
Holding on to the top spot has obvious importance for the Blueshirts. Falling back into a 4-5 first-round matchup with either Philadelphia or New Jersey doesn't seem as attractive as a first-round date with a No. 8 seed like Florida or Washington or Buffalo. There are no easy playoff matchups, but the latter is certainly preferable.
"Our goal is just to get into the playoffs," said Sather. "Whatever happens after that is just a bonus as far as I'm concerned."
Pierre LeBrun covers the NHL for ESPN.com.
Stay On Your Skates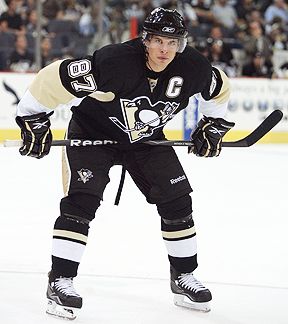 Getty Images
The potential return of a star from injury is the best thing to boost your fantasy team for the final stretch of the season. Front Line »
New York Hockey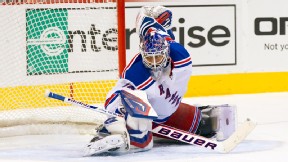 US Presswire
Keep up with the world of hockey in New York. Katie Strang brings you all the latest news and analysis on the Rangers, Devils and Isles. Blog »
Stats & Information


Key points about Thursday's game:
• Evgeni Malkin has tallied at least five points in three different games this season. Since 199899, the only other NHL players to score five or more points in three different games in one season are Alex Ovechkin in 2007-08 and Sidney Crosby in 2009-10.
• Malkin has six multigoal games this season, including a two-goal performance Jan. 19 against the Rangers.
• Henrik Lundqvist is the fourth goalie in NHL history to win 30-plus games in seven or more consecutive seasons.
• Marian Gaborik has 30 points (11 goals, 19 assists) in his past 27 games, including 11 points (five goals, six assists) in his past eight games.
Crosby's return:
• Sidney Crosby had four points (two goals, two assists) in his first game back (Nov. 21, 2011) against the Islanders after a 61-game absence due to a concussion. It was Crosby's 21st career four-point game.
• Crosby had four multipoint games in the eight games he played before he was put back on injured reserve Dec. 17.
• Crosby led the Penguins in goals (32) and points (66) in the 2010-11 season despite playing just 41 games.
• Since Crosby's rookie season in 2005-06, he has averaged a league-best 1.39 points per game.