Bruins at Canucks: Luongo learns to laugh
VANCOUVER -- So much has happened in these parts for Roberto Luongo since the Boston Bruins last visited.
In just two and a half years since the June 2011 Stanley Cup finals between the Bruins and Canucks, Luongo has enough material to write a novel.
It's a book that would make you laugh, and cry.
And so with the Bruins' visit here Saturday night, it's a chance to sit back and ponder the journey Luongo has been on since losing a heart-breaking, seven-game series to Boston.
For starters, Luongo came back from that finals loss a different person, perhaps humbled, but certainly beginning to show a different side of himself.
The funny Roberto emerged, eventually leading to his Twitter stardom.
"You learn as you grow up, as you go through things, and you learn more from the bad experiences than the good ones," Luongo told ESPN.com Thursday after practice. "Obviously I went through a lot during that Stanley Cup final with things that happened on the ice and mostly things that happened off the ice. That, plus my situation the last two years when I lost the net ... (humor) helps you cope with things, it helps you get past certain things. At the end of the day, we're playing hockey, we're playing a sport that we love, we're very privileged. When things get tough, you always want to put things into perspective."
It's ironic, really, just how much has changed since the 2011 Cup finals, when Luongo was vilified, perhaps ridiculed by some, for his verbal jousting with Tim Thomas, who at the time was still playing the blue-collar, underdog persona en route to a Conn Smythe Trophy as playoff MVP.
Since then, well, things unraveled in a hurry for Thomas after his controversial White House snub and bizarre exit from the Bruins.
Luongo? Between his tweets and his hilarious spoofs on TSN with James Duthie, there has definitely been a growing sense of admiration for the 34-year-old netminder, particularly in the backdrop of how he handled losing the No. 1 goalie job to Cory Schneider after patiently waiting for more than a year for a trade that never materialized.
Through it all, he never let it affect his craft.
"He's just been great through the whole thing," Canucks captain Henrik Sedin said. "There's never been a problem in here. I know you hear other teams say that about their players, but this is the absolute truth with him. He's just been a very good teammate through it all."
Added veteran Canucks blueliner Kevin Bieksa: "Roberto has dealt with it so well. Behind the scenes, I saw the pain he went through. Not to mention he was here without his family for a long time because he was in limbo not knowing where he was going. He's handled it so well. Especially for a guy of his stature that's been in the league for a long time, and paid his dues, he's had to go through a tough time."
Luongo's wife and kids moved back to Vancouver last week, a welcome relief for the netminder, who didn't see the point in having them with him last year because he thought he'd be traded during the season.
His trade limbo situation was tough enough last season, but doing it while living alone in a hotel room with your kids across the continent, that adds another layer of adversity.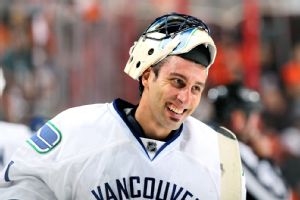 Len Redkoles/NHLI via Getty ImagesRoberto Luongo says he's always had that humorous side to him but just didn't show it publicly.
It's no surprise that the emotion exploded out of him at the trade deadline last spring after a deal with Toronto fell through. He had been run through the ringer.
But little did he know what was in store for him. He went into the offseason hoping/thinking finally he'd be gone.
Rather, the June draft brought one heck of a shocker: Schneider was dealt instead. Canucks owner Francesco Aquilini came to Luongo's South Florida home to break the news just before Gary Bettman announced the trade at the draft.
Luongo was stunned. So was Schneider.
Well, so was nearly everybody.
"I was in the kitchen back home (in Sweden), our agent called us. It was surprising," Sedin said. "We all know everything that happened before that. We had two world-class goalies and we didn't have room for both. We thought Lu was the one being traded, but that's part of business."
It was so much to absorb for Luongo and he needed time to process it all.
"Oh yeah, definitely," Luongo said. "After all that had happened over the past year and a half, I was in the mindset that I was ready to move on with my career. So when the full 360 happened, I had to come to terms with that. It took me a bit of time to wrap my mind around it. That's why I tried to stay quiet during the summer and really tried to make sure I got into the right mindset and emotion and frame of mind to attack the season with a good, positive vibe."
He's returned and been the pro that he's always been, off to a solid start for the Canucks.
On Friday night, with dangerous winger David Perron staring him down on a 2-on-1 break, Luongo flashed the glove in a beauty of a save off the dangerous wrist shot, igniting chants of "Looooooo" from the Rogers Arena faithful en route to a 19-save shutout, his third of the season.
One of the first things new Canucks head coach John Tortorella did last summer was do a little research on Luongo given the drama that had played out here.
"I talked to people that knew Roberto, that had coached Roberto, and he has shown exactly what they said to me: that he's just a great pro, he's a good man, has matured as far as this stuff is concerned media-wise and all that, and he has done nothing but impress me as far as how he's handled this situation," Tortorella said Thursday. "I think his play is getting better and better as we keep on going through here."
Tortorella said he also reached out to Luongo last summer in conversations that Aquillini and GM Mike Gillis were also present for.
"We had a couple of conversations," Tortorella said.
"He was a bit all over the map mentally and rightfully so I guess in that situation. But I think he has just stood in there and concentrated on what he needs to do to help his teammates. And that was my biggest message to him: 'You're not playing for me, you're not playing for the owner, you're not playing for the media or the fans, you're playing for your teammates first and foremost.' And I think he's stood in there and handled himself very well."
Luongo has indeed re-established himself as a No. 1 netminder.
"I do still believe Luongo is an elite goalie," a goalie coach from a rival Western Conference team told ESPN.com Thursday. "This is a guy who has won a gold medal, and came within one game of a Stanley Cup championship. Not many teams have that. He's not the best goalie in the NHL anymore like he once was, but he is still more than capable of stealing games. Playing in a Canadian market, every goal he lets in has been scrutinized and dissected, and it's hurt his value. This guy is still a dominant goalie at times. If anything, for the Olympics his experience and leadership qualities would be of high value, not just his goaltending."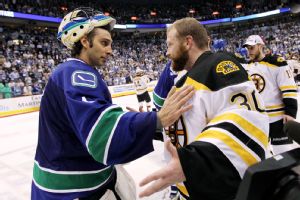 Bruce Bennett/Getty ImagesA lot has changed since Roberto Luongo and Tim Thomas faced off in the 2011 Stanley Cup finals.
Said Bieksa: "He looks confident right now and that's a big thing with him. When he's feeling confident, he looks tall in practice and he looks tall on the ice. He's on his game right now. He's been consistent."
Luongo is into the fourth year of his 12-year, $64 million contract, so it does beg the question that, while he's returned to Vancouver and been the ultimate pro this season, just how long will the arrangement last?
"We'll just take it as it goes," Luongo said. "We all know we can't predict the future. It's impossible. I have a long-term contract and I'm with the Vancouver Canucks. Right now, the team is playing well, I'm having a good year, I'm happy here. So we'll see where it goes."
If there's one thing Luongo has learned over the past couple of years, it's about living in the moment. Saturday's tilt with good ol' Boston, for example. He hasn't faced the Bruins since 2011, Schneider taking in the one game in Boston in 2011-12.
"It's going to be a fun game, no doubt, there's the history and people are making a big deal of the game," Luongo said. "To us, it's just like a game against the Blackhawks or the Kings, teams that we've faced a lot in the playoffs, there's a rivalry there, those are fun games to be part of, games with a good playoff atmosphere in the building. That's the way I'm looking at it. It'll be fun, it'll be a good game."
Then, there's the Olympics in February. Luongo is almost surely making the team, having been in net when Canada won gold in 2010, but whether or not he's starting or playing behind the likes of Carey Price or Mike Smith remains to be seen.
"I'm happy that I was able to get out of October not too badly with the stats," Luongo, a notorious slow starter every season, chuckled when gauging his Olympic chances. "We'll see what happens; I'd love to obviously start but first and foremost I want to be part of the team, and whatever role they give me I'll be OK with that."
In the meantime, well, there's always Twitter, where he goes under the handle @strombone1.
Some of his latest gems:
After Henrik Lundqvist signed a seven-year extension:
You sure about this @HLundqvist30 ???

— Strombone (@strombone1) December 4, 2013
In reference to Toronto mayor Rob Ford and nearly being traded to Toronto at last season's trade deadline:
Also can't stop thinking about how I came so so close to having the greatest mayor in the world. Can't have it all I guess :-(

— Strombone (@strombone1) November 19, 2013
After the Oilers signed Ilya Bryzgalov:
I kinda liked being the only "nutty" goalie in my division.... :-(

— Strombone (@strombone1) November 9, 2013
And there's plenty more.
"With Twitter, at first anonymously, he started to show more of his personality, his sense of humor, he saw that people enjoyed it and maybe realized he was funnier than he really thought he was," chuckled Bieksa. "Now everyone has seen that side of him. I think it allows him to deal with the stress and pressure of the job, being able to joke around. People have loved it."
Luongo says he's always had that humorous side to him but just didn't show it publicly.
"What you see on Twitter is really the type of person that I am," Luongo said. "It's the type of jokes I like to make, I like to make fun of myself and joke around with my teammates."
Don't think we've seen the last twist in the Luongo story. But it's been incredibly interesting already.
ESPN Senior Writer
Covers the NHL for ESPN.com and TSN in Canada
Six years on the "Hockey Night In Canada" Hotstove panel
13 years at The Canadian Press national news agency
W2W4: Bruins at Canucks
Bruins (46 points) at Canucks (43 points), 10 p.m. ET

• First meeting between teams in VAN since game 7 of 2011 SCF
• BOS is 1-0-0 vs. VAN this season, winning at home
Vancouver
• Last game: Home W - shutout - Luongo 19 saves
• won 6 straight, 6GA, 2 straight shutouts, 17/17 on PK
• won 4 straight at home, 3GA
• 11-4-2 vs Eastern Conference this season
• Kesler has 5G, 3A past 7GP
Boston
• Last game: Road W - 4GF - outshot 41-31
• Won 4 straight games, 7GA, 9/9 on PK past 3
• Won 3 straight on the road, scoring 11G
• Krejci (2G, 4A) during a 4-game PT streak

Stay On Your Skates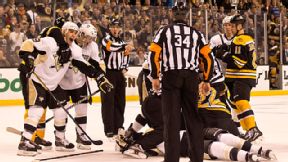 Matthew J. Lee/The Boston Globe via Getty Images
The Bruins will have to play without their enforcer, as Shawn Thornton faces discipline for his actions against the Penguins' Brooks Orpik. Story »
Flashback: 2011 Cup Finals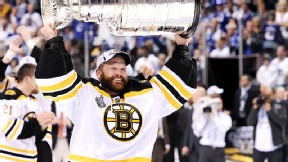 Harry How/Getty Images
The Boston Bruins beat the Vancouver Canucks in seven games to win the Stanley Cup in 2011. Flashback »