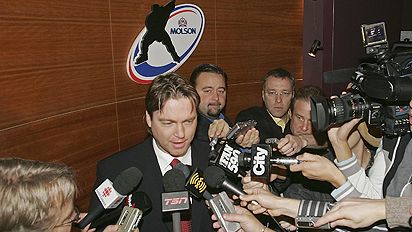 Man Of The Hour
With an NHL-record 551 regular-season wins and 151 playoff victories, Patrick Roy took his rightful place among hockey's elite Monday night when he was inducted into the Hall of Fame.
Story
Hradek: Hall of a dilemma
Thanks to the NHL lockout, the Hockey Hall of Fame has quite the dilemma on its hands for the next batch of recent retirees.


Flashback: 'Miracle' at 25 years
In 2005, ESPN.com celebrated the 25th anniversary of the Miracle on Ice and found out the effects of the historic event are still felt today.


End text -------------------------
WHAT YOU NEED TO KNOW

WHAT
2006 Hockey Hall of Fame inductions
WHERE
Hockey Hall of Fame, Toronto, Canada
WHEN
Monday, Nov. 13, 7 p.m. ET (TSN)
2006 INDUCTEES

NAME
CATEGORY
Patrick Roy
Player
Roy won four Stanley Cup championships and three Vezina Trophies as the NHL's top goalie in 19 seasons with the Canadiens and Avalanche. He retired in 2003 as the league's career leader with 551 regular-season victories.
Terrance "Dick" Duff
Player
Duff played with Toronto, Montreal, L.A., Buffalo and the Rangers during an 18-year career. He won a total of six Stanley Cups with the Leafs and the Habs and finished his career with 283 goals and 572 points in 1,030 games.
Herb Brooks
Builder
Brooks led the U.S. to one of the greatest upsets in sports history, the "Miracle on Ice" victory over the Soviets in the 1980 semis. The Americans went on to win gold. Brooks died in a car accident in 2003.
Harley Hotchkiss
Builder
Hotchkiss was part of the group that moved the NHL's Flames to Calgary from Atlanta. He's still a part owner of the team, and is the chairman of the NHL's Board of Governors.
Peter Maher
Foster Hewitt Memorial Award
Maher has been the radio voice of the Flames since the franchise moved to Calgary from Atlanta in 1980.
Scott Morrison
Elmer Ferguson Memorial Award
Morrison was a columnist and sports editor at the Toronto Sun before becoming managing editor of hockey for Rogers Sportsnet in 2001.
SCHEDULE OF EVENTS

DATE
EVENT
Sat., Nov. 11
Hockey Hall of Fame Game

Canadiens vs. Leafs, 7 p.m. ET
Sunday, Nov. 12
HHOF Legends Classic

Canada vs. The World, 2 p.m. ET
Monday, Nov. 13
HHOF Induction Ceremony

7 p.m. ET (TSN)